Cleveland Design & Remodeling (a division of Innovate Building Solutions) helps homeowners, interior designers, and architects with kitchen, bathroom, and basement remodeling projects. Whether you are on the east or west sides of Cleveland, Akron or the surrounding areas we're here to help.
Bathroom Remodeling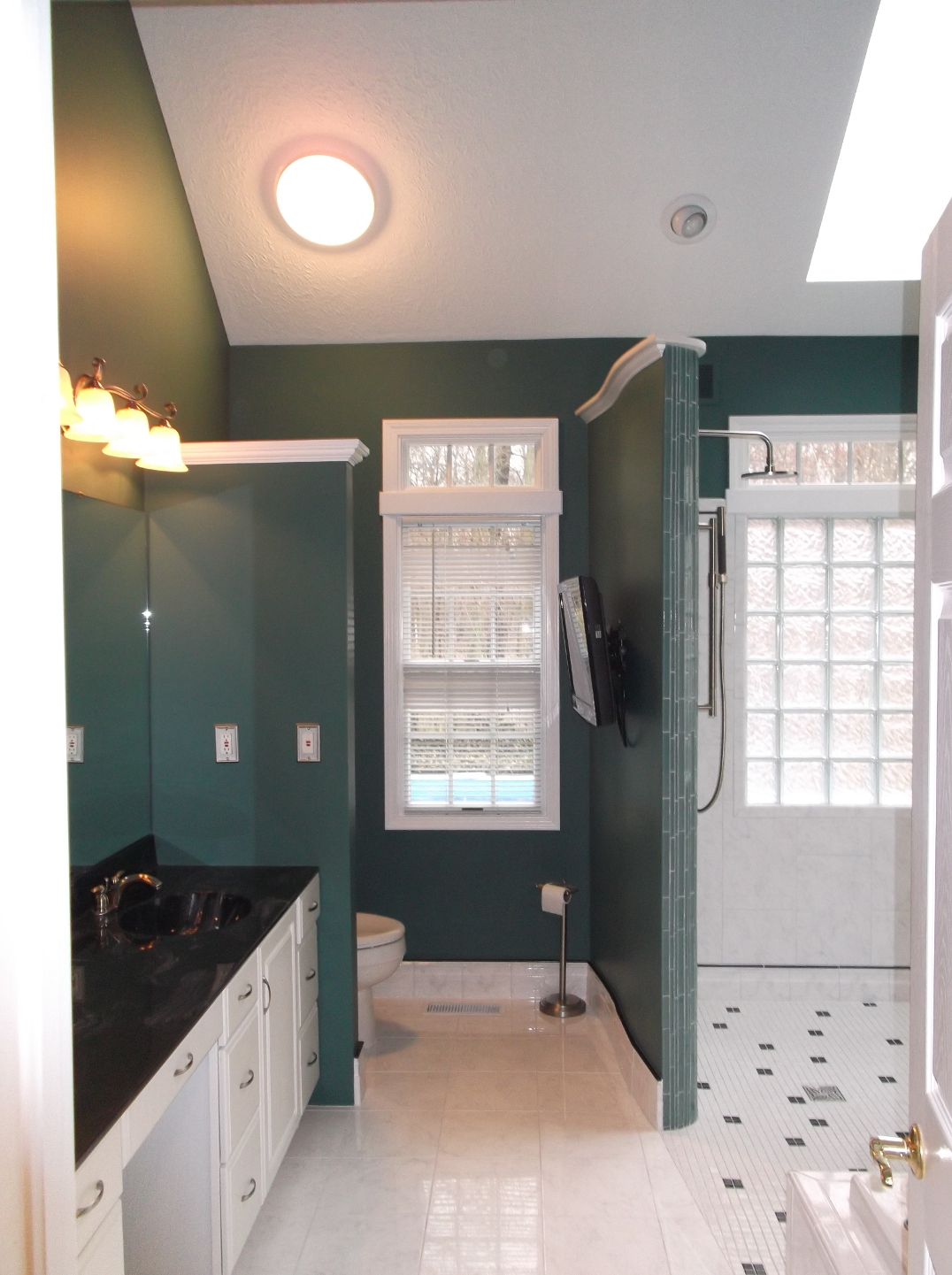 Providing a broad range of products with experienced and thorough contractors is what sets Cleveland Design & Remodeling apart from others. Whether you're looking for a full remodel (involving demo, plumbing, electrical and carpentry work) or just redoing a tub or shower enclosure we can help. We offer items like Fleurco shower enclosures, AKW and barrier free ready for tile shower bases, tile, acrylic or Sentrel wall surrounds as well as popular fixtures through Kohler and Wolverine. If you need help with an ADA accessible design our Certified Aging in Place Specialist can provide the guidance you need.
Bathroom remodeling
Kitchen Remodeling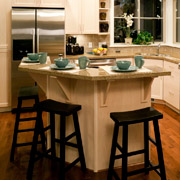 Kitchen remodeling can be a painstaking process. With a myriad of product choices and design considerations getting help from our team can simplify your project. Our Project Specialist can work with you on a complete design if you're looking for a full gut and redo – or just quote you on minor improvements like a new backsplash or countertops. Choose from multiple kitchen cabinet manufacturers like Merillat or KraftMaid or we'll work with your favorite line.
Kitchen Remodeling
Basement Remodeling & Finishing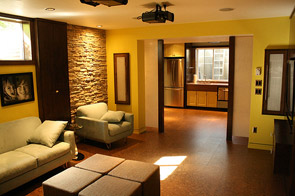 Remodeling an unfinished lower level basement into fun (man caves, recreation rooms, play rooms, home theaters, wine cellar) and functional rooms (like bedrooms, bathrooms, workshops) is a lot better on the budget than a room addition. Our ability to perform the multiple trades required to do a complete basement remodel will make it easy for you to get a high quality finished project.
Basement Remodeling
Accessible & Universal Design Remodeling: Bathroom & Kitchen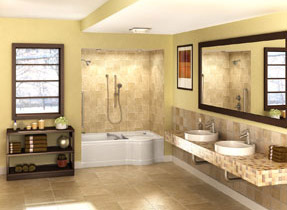 Whether you need a handicap accessible shower or a new kitchen remodeled to provide room and function for a wheelchair our design team (and Certified Aging in Place Specialists) can help you with the right product decisions - and our contractors will build it right the first time. We've worked with diverse customers ranging from veterans who have used VA grant funding to convert a bath to a shower to luxury universal design high end kitchen. With specialized accessible products from companies like AKW, Accessibility Resources, Great Grabz and Kohler to name just a few – we've got the products and personnel to deliver a custom solution for your families' needs.
Universal and Accessible Remodeling
Installation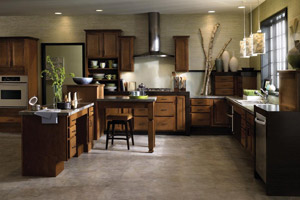 Our project managers and installation crews are experienced in multiple trades (rough and finish carpentry, plumbing, heating, electrical, flooring, etc.).
We focus on providing a solid structure as well as a stylish finish.
Our installers are EPA lead-safe certified.
We have the ability to do any size or scope of project, from small projects (like adding interior moldings) to full kitchen and basement remodels.
Project Specialists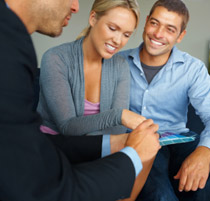 Our goal is to learn how you want to use your space and to turn your vision into reality. Our project specialists believe in a no-hassle sales approach and use the free consultation as a chance to seek your input.
We perform a site analysis of your space and provide you with design and product ideas.
We work hard to communicate well with you. Before your free consultation, we will send you our Project Specialists' bios (and an appointment reminder). After we complete your project, we will send you a "report card" so you can grade our work.
Company Facts
Our corporation was started 35 years ago.
15,000 office and product warehouse in Cuyahoga Hts.
Angie's List, Consumer's Choice winner, & BBB accredited
Selective hiring practices.
Debt-free company

Serving Cleveland, Akron, and all of Northeast Ohio