Supply great products, earn better margins, with in stock products to 
WOW your customers!

Become a dealer of our innovative bathroom/shower wall panels and shower pans today.
If you're a shower wall panel and shower pan dealer, a builder or general remodeling contractor, you know completing bathroom projects profitably, on time and under budget is not simple. Let Innovate Building Solutions introduce you to our in-stock laminate wall panels and 'ready to ship' solid surface shower pans. Our dealership opportunity can help you conquer your bathroom project problems, get jobs done quickly and differentiate your offerings !

Talk to Mike to learn about becoming a dealer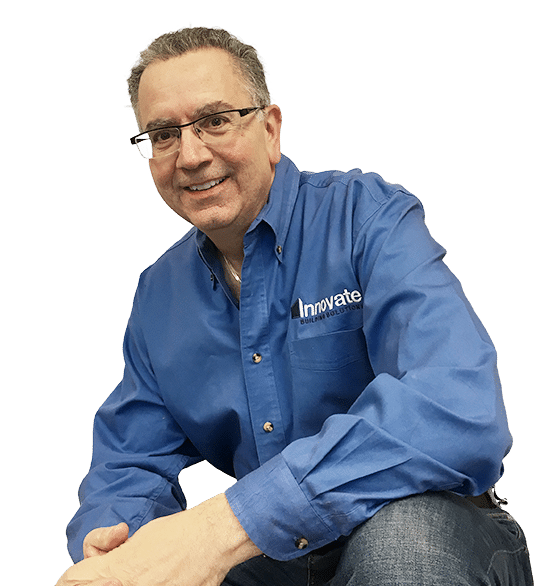 Our system can help you:
Improve efficiency on bathroom remodeling or new construction projects
Differentiate your products from low-priced competitors
Get projects started NOW with in-stock products 
Try our new interactive bathroom visualizer tool!
NEW
Explore limitless combinations of wall panels, shower pans, glass doors, tubs, cabinets, accessories and more — for a truly personalized bathroom creation for your customers!
Try the Visualizer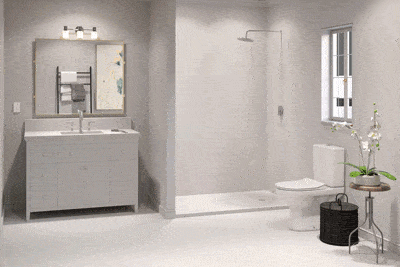 Don't just take our word for it — hear from two of our dealers about why they chose to partner with Innovate Building Solutions!
1
The problem
with the status quo
It can be a struggle making money on bathroom remodeling or new construction jobs. I bet you'll relate to these 9 problems:
Problem #1

It takes FOREVER to get wall panels and a shower pan

The lead time to get the solid surface shower pans and walls can be up to 12 weeks and acrylic wall panel manufacturers lead times aren't much better. Your customer wants the job done NOW. Will your lead times kill your chance of selling the job?

Problem #2

Your installers damaged the customer's home bringing shower wall panels up the stairs and into the bathroom

Your crew struggled to get the 130 pound 60" x 96" cultured marble back panel through the door and into the small 2nd floor bathroom. In the process, they nicked the walls. Your customer wants a 'price adjustment.' The razor-thin margin you 'had' (past tense) is now down to nothing.

Problem #3

Your shower pan and wall panels look like they were designed when cultured marble vanity tops and framed shower glass doors were hot (years ago)

Are you still 'trying' to wow customers with white smooth acrylic wall panels, out of date cultured marble shower pans or bulky acrylic base which were 'hot' when mullets were in? If so, you're missing sales from people who don't want to 'settle' for a simple grout free shower or tub surround but want to improve the looks of their newly remodeled bathroom.

Problem #4

You lost another deal because your wall panels look and feel cheap

Your sales rep comes in with a long face. You asked him why. He said he lost ANOTHER deal to a remodeler doing a tile shower. He shouted with disgust on his face, "The customer thinks our acrylic wall surrounds look cheap, plasticky, and behind the times." In the back of your mind- you silently agree.

Problem #5

Your tile subcontractor delayed your job... again

You're going to have to call your customer, Wanda Worry-A-Lot, for the second time. You're breaking the news her home will be delayed because the tile crew (the one you had to practically beg to do your job) didn't show. They're completing a 'big job' for the massive production builder in town. You need to get this tile guy in there. You need your draw. Your cash flow is not flowing.

Problem #6

You lost the deal to the infamous low-baller, Carl from Cut-Rate-Contracting

You finally get Frank Frugali on the line. You can't understand why he hasn't called you back after 5 phone calls. You had such good rapport on the initial sales call. You're crushed when he blurts out, "I bought the wall panels and base for 25% less from Carl at Cut-Rate-Contracting." You ask yourself, "why does the acrylic and cultured marble manufacturer sell their lines to every Carl, Craig, Chris, Joan, Jill and Janet on the planet. You know Carl is such a sleaze-bucket. However, if you're product is the same as Carl's LOTS of people love 'a bargain' (until they 'experience' Carl's work).

Problem #7

The warranty call from the customer from 'H E double hockey sticks'

When you heard it was Francine Fanatical on the line you started to cringe. You thought you were DONE with her. She called to tell you she has grout joint cracks in 5 rooms of the home you built 9 months ago. You think, "If I could only find an alternative to tile– then I wouldn't take calls like this from the 'Francine's of the world."

Problem #8

You're debating whether to fire your technically 'best' installer – Paul Primadonna. He can't seem to work with anyone

It's always a good thing when your best quality installer can work with others. However, since you need 2 people to install your solid surface, cultured stone and acrylic panels you're not sure what you're going to do with Paul Primadonna. He's a pain. He can't work with anyone. However, finding anyone with a pulse to do bathroom remodeling is tough. If only you could find a bathroom wall panel system where Paul could work alone.

Problem #9

Your wall panels didn't fit the client's décor, so they went with tile

While you know you can't win all the jobs it was still demoralizing when your client's decorator, Irene Interiorza said they chose tile. She explained your cultured granite and acrylic wall panels 'didn't work' with the Modern Farmhouse look her client wanted. Come to think of it, you're not doing too well when clients want Mid-Century Modern, Minimalist, or Contemporary bathrooms either. If only there was a better alternative...
2
The solution!
Laminate shower and tub wall panels & modern low profile solid surface shower pans
Would you like to improve your profit margins on bathroom jobs? Would you like better designed, more unique products and a thoughtful industry partner who cares about you? If so... Innovate has 2 products (IN STOCK) you need to check out. They are (1) laminate wall panels and (2) solid surface shower pans. 
Laminate shower and bathroom wall panels. An alternative to acrylic, fiberglass, cultured stone, solid surface and tile wall systems.
Laminated wall panels are manufactured in approximately 2' x 8' sheets (the exact size is 23.6" x 94.4" or 600 mm x 2400 mm). They have a high-pressure laminate top surface over a 7-layer birch marine grade plywood with a vapor barrier on the back. They are 100% waterproof (using the patented AquaLock system) and have been tested in environments even more stringent than the United States.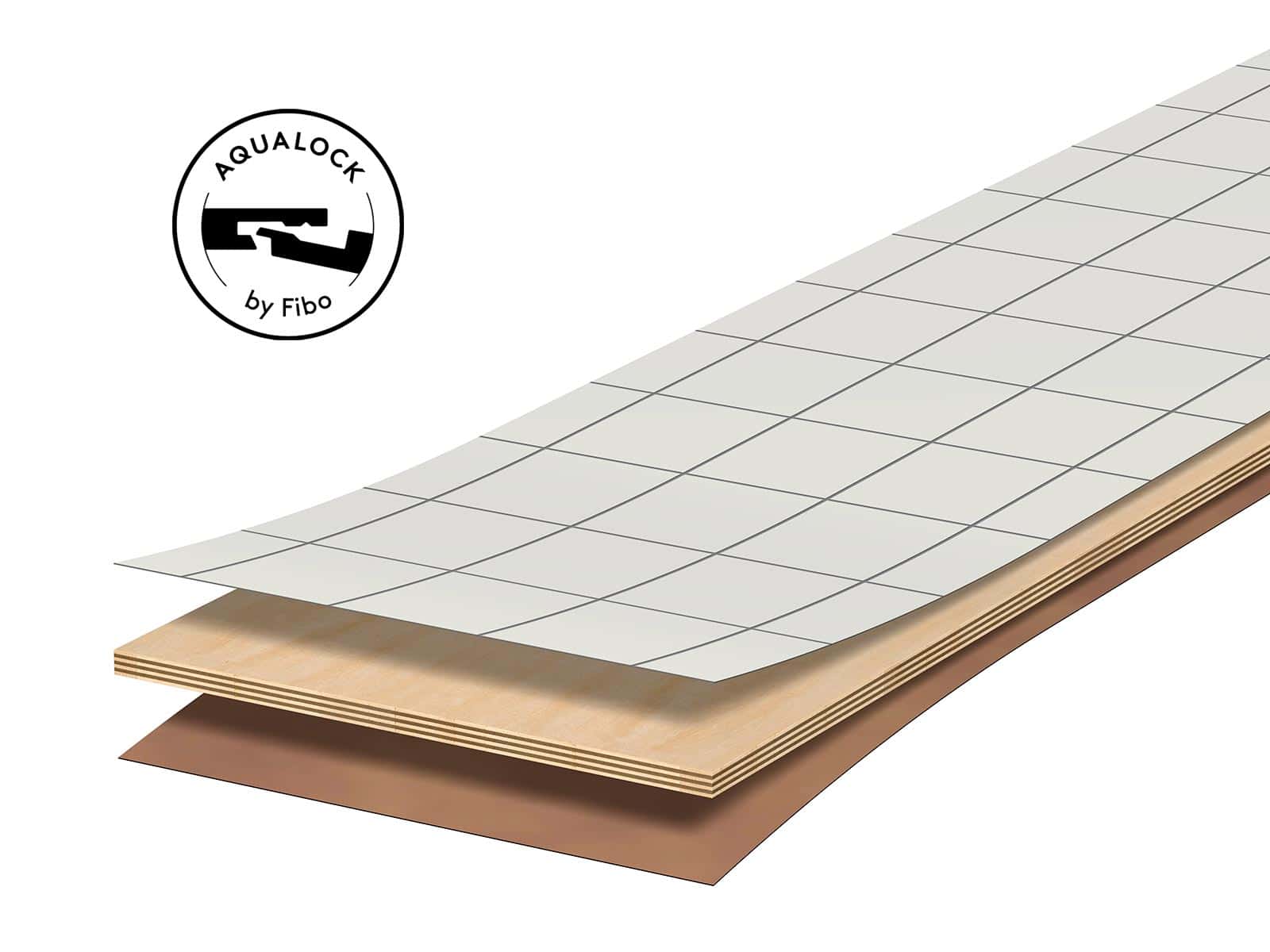 Available in a wide variety of colors & patterns
Where can you use the panels?
Since these panels are waterproof, they're installed in 'wet spaces' like showers, bathtub surrounds, bathroom walls, laundry rooms or kitchen backsplashes. They can also be used in bedroom feature walls and living rooms.
How the product installs
These modular wall panels can be installed by one person (or in a 2-person crew if you'd like). They use a 'tongue and groove' installation system (like flooring and roofing products you may have installed). The panels have a hybrid polymer sealant between them and simply click together. They have 41 year track record of success in Europe. Learn more about installation here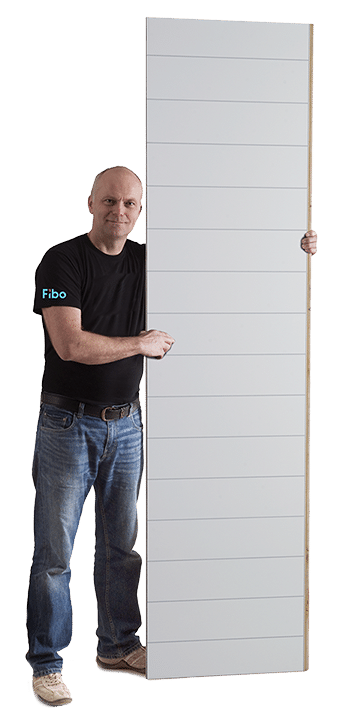 ---
Modern Low Profile Solid Surface Shower Pans
The InnovaStone low profile shower pans have textured tops, are waterproof and anti-bacterial. Since they have a low curb (only 1 1/6" tall) they're perfect for tub to shower conversions for someone with limited mobility or for a client who wants a clean, contemporary look. InnovaStone solid surface pans are in stock, ready to ship and durable (they're made of resins, crushed stone dolomite minerals with a gel topcoat).
Choose from a variety of colors and decors (and in-stock sizes which range from 48 x 36 to 60 x 32 to 60 x 36) to turn a boring shower pan into a show-stopping (and durable) feature in your next bath remodel.
Where can you use InnovaStone low profile solid surface pans?
Since the PVC flanges are added during installation – (and because these pans have curbs around all 4 sides) – the same shower base can be used in 5 different layouts (in an alcove, a left-hand corner shower, a right-hand corner shower, for a side entry or a 3-sided glass shower). This flexibility can save you (and your customer) money vs. buying a custom shower pan and will speed up the time to finish the job.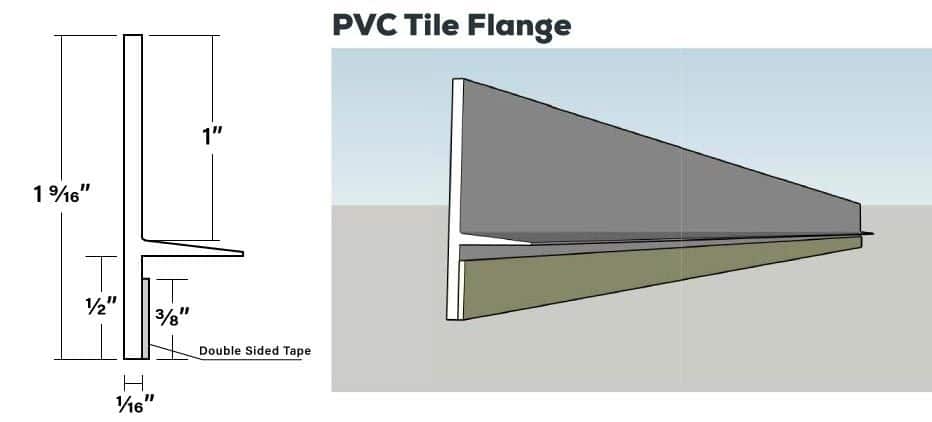 ---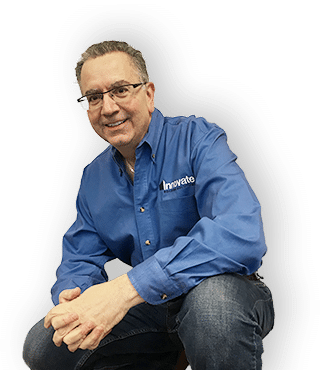 Ready to become an Innovate Dealer? Talk to Mike!
3
Dealership
Opportunities
Thanks for exploring this dealership opportunity. Below we'll give you insights on our dealership philosophy, how we're looking to help dealers grow and who we think will make good dealer partner with us. We hope you'll want to join us on this journey!
A simple dealership philosophy.
We ARE NOT here just to be your vendor and push products. Our goal is to work together so both our businesses grow.

First, we'll seek first to understand your business.

Second, we'll look to help you with products and/or business input to help your growth (and ours as well).

Third - we have products in stock. We know if it takes months to get shower products you may lose the order to someone else.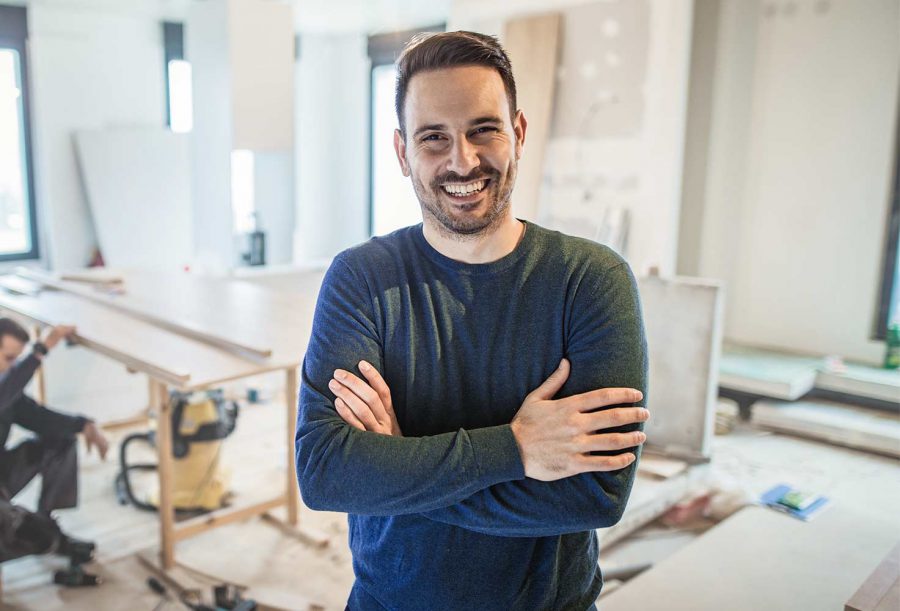 How we're looking to help our dealers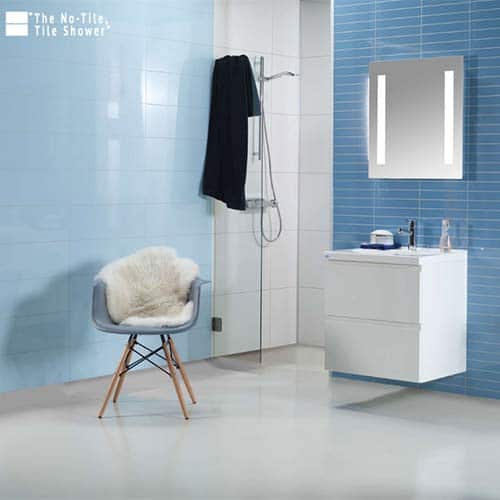 Innovative products
Our lines include fashion-forward laminate wall panels and low profile solid surface shower pans. We also have complimentary glass shower doors and shower accessories. Other niche products include glass block shower and glass block window systems.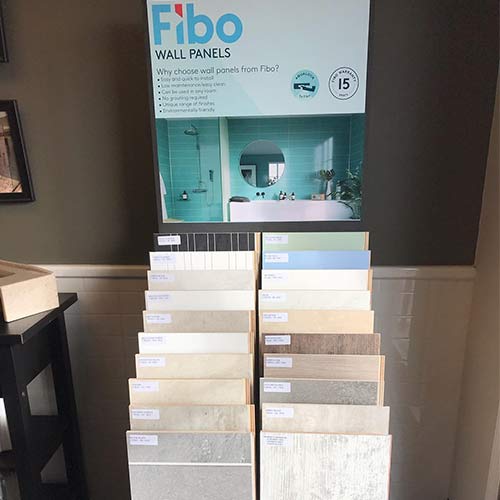 Tools to help you sell
You need tools to succeed. It's our goal to create those tools for you. An in-home demo kit, tri-fold brochures and display boards for trade shows and in-home appointments. Floor displays for your showroom. Technical details to make sure you do the job right the first time.
Check out our dealer kit and the contents inside!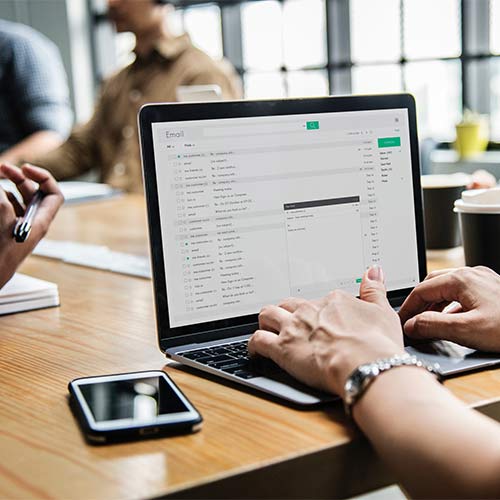 Help your business grow
We give dealers leads free of charge in your local markets which come from our digital marketing efforts. These efforts include a blog reaches 200,000 people per month and an email list which is distributed to over 41,000 people weekly. We would also love to blog about your cool projects using these fun laminate wall panels and solid surface pans. Let's grow together!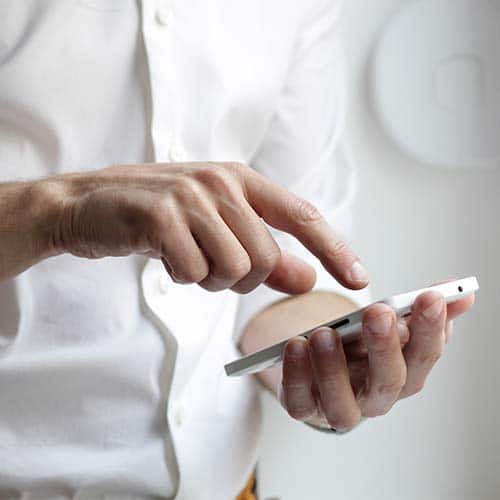 Down in the trenches insights
We know bathroom remodeling can be funky because we have a remodeling division of our own. If you run into installation problems, feel free to call our V.P. of Operations, Rob, for job-by-job technical project insights. Or if you need Marketing insights ask for Mike (our President).
What we're looking for from our dealers
Our goal is to find innovative companies and people. We need organizations (and their teams) which are knowledgeable about installing bathroom products (either in remodeling or new construction) and have a desire to grow. There are no royalties' fees or percentages to pay. Here's some additional expectations we have for our dealer partners:
Invest in marketing
We have demo kits, floor displays, brochures and display boards to promote these products. We are looking for partners who will invest in increasing market awareness.


Not afraid of innovation
We're looking for partners who aren't afraid of innovation and trying new things along the way. Times WILL change, we have to change with them.
Installation capabilities
You must have the ability to install wall panels and shower pans– or have a contracting team you partner with to do it for you.
Residential or architectural sales expertise
You need the ability to meet with homeowners to explain the benefits of working with our lines.


Ethical business practices
We're not looking for any 'Danny-Devito-ish' Tin Men representing this line. We're looking for honest companies who want to make a fair profit.
Does this opportunity sound right you and your team? If so, get in touch!
4
Frequently Asked
Questions
Still have questions? We've got the answers.
Question #1

Are laminated wall panels new?

Yes and no (how's that for a straight answer).

Yes – laminated wall panels are new to the United States (Innovate Building Solutions is an original importer of this product made by Fibo Systems). We are the first to offer non-stocking dealership opportunities to select builders, remodelers and bathroom wall panel dealers and installers.

No – laminated wall panels are not new to European markets. In fact, in Norway it's estimated these grout free panels are used in 30% of all homes. The product was first introduced in 1952.

Question #2

How does this system work? How long is the warranty?

Laminated wall panels install much like tongue and groove flooring – except they are put up on vertical surfaces (direct to stud) and are waterproof. These easy-to-work with 2' x 8' panels (their actual size is 23.6" x 94.4") simply click, seal and lock together. They come with a 15-year warranty.

Question #3

Where can laminate walls be used?

The biggest application are shower surrounds, tub alcoves, bathroom wall panels, laundry rooms and in kitchen backsplashes. The system is 100% waterproof. They can be used throughout the bathroom in place of higher maintenance alternatives like tile, stone, drywall and plaster walls.

Question #4

Can I use these laminate wall panel systems with premade bases with flanges, site-built tile shower pans or wet room systems?

Yes – these panels can be used with either a flanged base, a wet room system or any of the available tile shower pan.

Click images to view full-size

Question #5

Why should I offer laminate wall panels as an alternative to the acrylic or cultured marble wall panels I sell, install (and know so well) today?

Acrylic and cultured marble don't fit today's contemporary bathrooms. Here are a few reasons you and your customers will prefer laminate walls over what you offer today:

They look and feel better. These panels have a textured front surface with indented 'faux grout' joints. They're 3 times thicker than acrylic (3/8" total thickness). They aren't (and don't look) pressed out of a mold. They look like real tile, stone and high-gloss finishes.

They're easier to install – and can be put up with 1 person. Since the panels come in 2' x 8' pieces they are simple to get into a small bathroom with one person moving them around.

They come in styles to fit multiple design themes. Acrylic and cultured stone wall panels are not modern looking. Laminate wall panels, on the other hand, are available in high gloss, rustic and weathered Modern Farmhouse and even wood textures which work in Mid-Century Modern designs.

They'll make you successful selling higher-end jobs with better profit margins – When you get beyond the middle-income markets, few people are using acrylic in their bathrooms. It just doesn't match the quality standards of this market. Offering laminate wall panels will give you 'grout free' options your customers want with a look (and low maintenance features) they will enjoy for years.

You won't end up 'slugging it out' with your low-priced competitors – Everybody and their brother and sister have a line of acrylic and cultured granite wall panels (it's not tough to be a dealer or franchise of these lines). The business used to be more profitable – before it got flooded. Get in on the ground floor with a growing product which looks like real tile. That would be laminate wall panels – also known as "The No-Tile Tile Shower."
5
Product
Videos
Take a look at the videos below to see the product in action!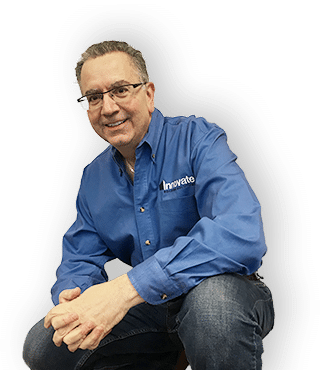 Ready to become an Innovate Dealer? Talk to Mike!