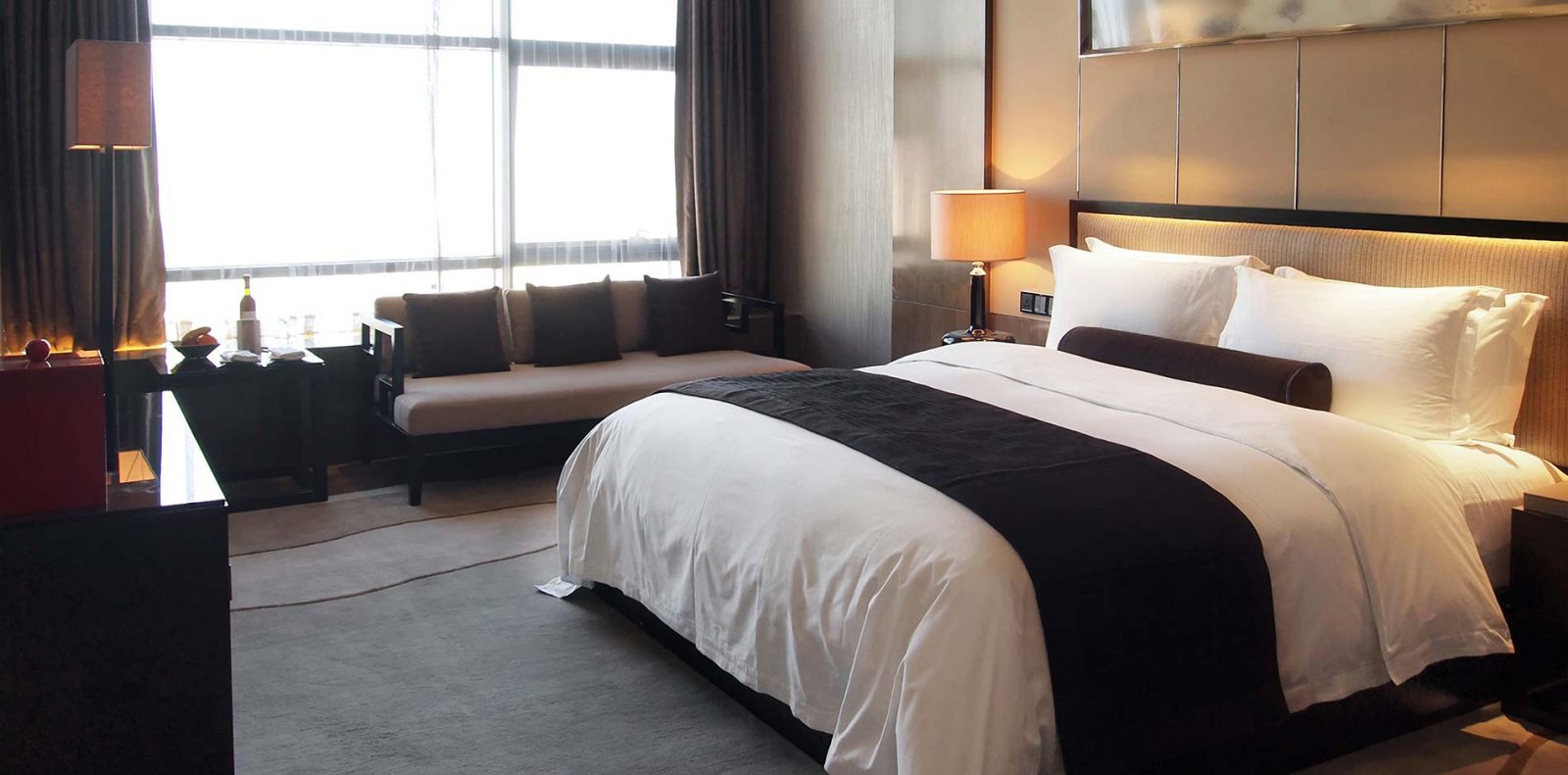 Hotels & Hospitality
Shower and bathroom wall panels for large or boutique hotel bathroom designs
The challenges in your industry
Making money in the hotel and hospitality industry is not easy. When you're planning, building or maintaining bathrooms in your properties these problems are all too familiar:
The need to differentiate – With 200 hotel brands and counting, everyone is looking to create a distinct niche. How can your new or renovated bathrooms stand out without busting the budget?
The challenge of opening quickly and efficiently – Investors want a return on their investment ASAP. Construction delays from endless punch-list items (including frustrating bathroom tile problems) don't help your cause. If you're remodeling you want to get the rooms generating revenue FAST.
Higher guest expectations – Sometimes it feels impossible to please your guest. The stakes are getting higher. Dirty grout joints or yellowed shower surrounds not only cause guests to not return but will 'win' you bad reviews (you can't fix) living on your digital 'permanent' record on the Internet. How can you choose materials for your hotel bathroom renovation to get a sharp look without spending a lot of money?
Finding field crews to install and maintain your properties – Construction crews and maintenance staff don't grow on trees. You need products which are simple to install and maintain.
Runaway construction costs – Fancy bathroom products are fun to look at, but you also need to keep construction costs down. 
---
The solution is laminated bathroom and shower panels for hotels
So, if you're designing a bathroom for a new boutique, luxury or select service hotel, or looking to renovate or rebrand an existing unit, is there a choice for shower, bathtub or bathroom surrounds to get your arms around the problems above? The simple answer is yes.
Interested? Click below to request samples and receive a free consultation
Free Samples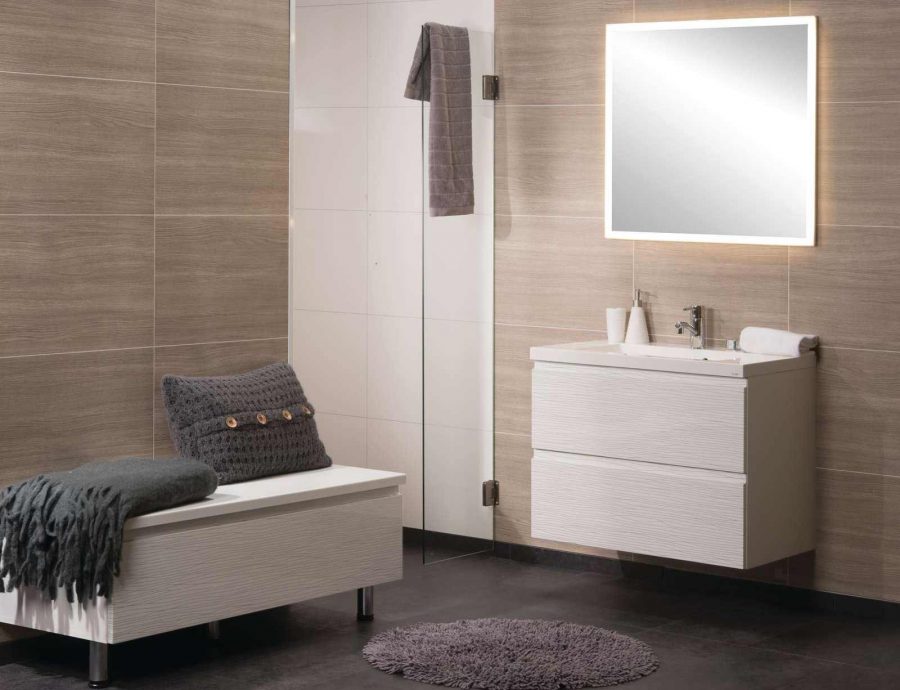 If you're unfamiliar with these 100% waterproof Norwegian-made laminate shower and bathroom wall panels see how the benefits and features below will help solve your problems.
Eliminate dirty tile grout joints your guests hate! – Although these 2' x 8' x 3/8" thick panels look exactly like tile (with an authentic indented faux tile joint), there will be ZERO grout joints for your cleaning crews to labor over. You'll eliminate bad reviews due to yucky tile joints or yellowed surrounds.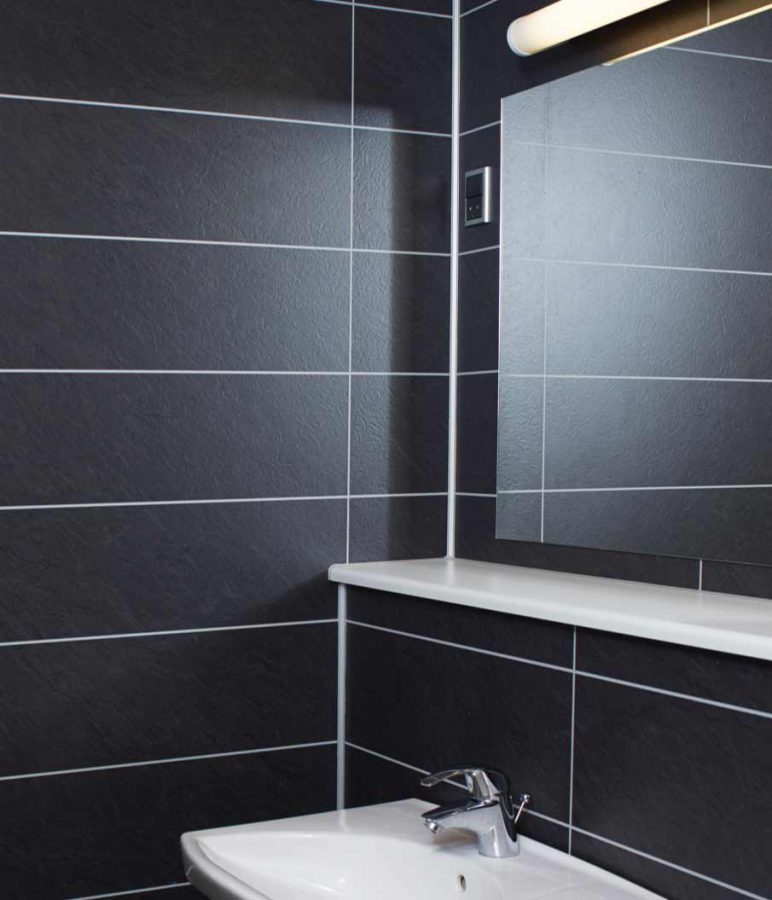 Can be installed by your maintenance team or in a new property by carpenters in a fraction of the time – There's no need to install messy and time-consuming ceramic tiles (and hope you can find expensive tile setters) for a new construction or hotel renovation project. These panels are a direct to stud installation. They can be done by carpentry crews or your maintenance team. You'll not only cut construction costs, but the project will be completed in 1/6 to 1/3 the time of a traditional tile job. Your rooms will be generating revenue quicker.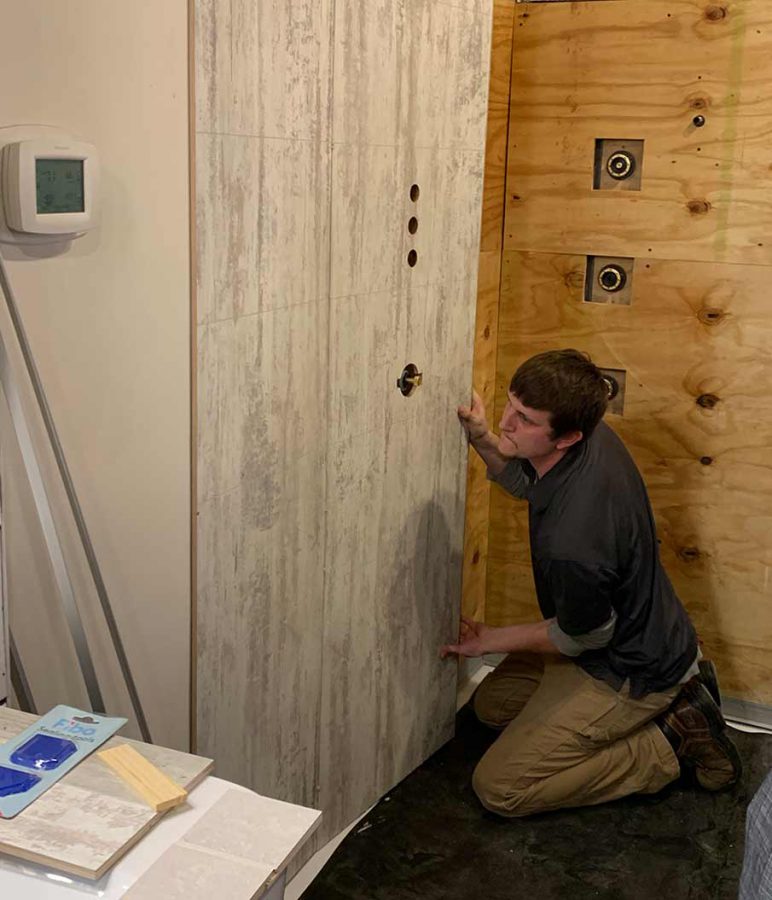 Up to date design styles – Wall panels of yesteryear (including clunky cultured stone or cheap-looking acrylics) aren't cutting with the demanding customers of today. You can use these luxury bathroom wall surround products to fit your Modern Minimalist, Shabby Chic or Modern Farmhouse motif. With over 700 selections (and 21 stocked in the United States available for immediate shipment) you'll find an interior look to create the differentiated hotel experience you want.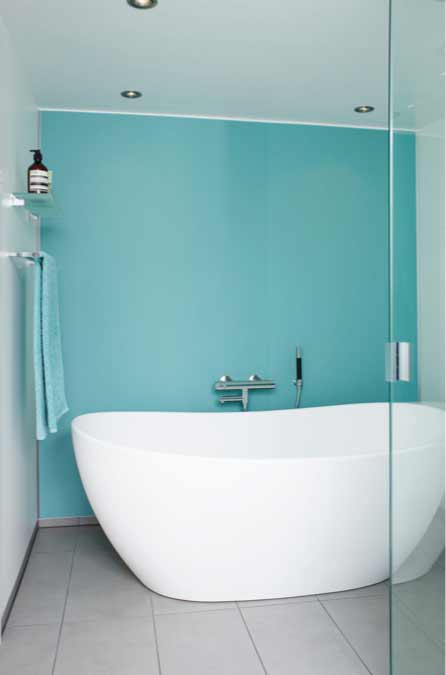 ---
Do you want to learn more about these wall panels for your new property, rebranding initiative or remodel? Click below for free samples or budget pricing and design assistance.