Why pick cultured marble shower pans for your commercial or multi-unit project?
Shower pans are often overlooked – that is until a unit becomes unrentable or out of use because the shower base has failed. And what's even worse – it's often impossible to replace only the shower pan when it fails. In this situation you're forced to replace the shower walls and accessories as well. These are the reasons you'll want to learn about cultured marble shower pans for your hospitality, student housing, senior living or multi-unit project. Advantages of these pans include:
They're durable – Cultured marble shower pans are strong, have an abrasion resistant gelcoat top surface and won't yellow, chip or scratch.
You'll save housekeeping and maintenance staff costs – Cleaning tile shower pans or replacing cheap fiberglass or acrylic bases is not only no fun, but with skyrocketing housekeeping and maintenance wages, costs are getting more expensive by the day. This easy to clean surface will save you time because there's no grout joints to clean.
Save money vs. tile shower pans – Tile pans may look good when they're first installed, but they're expensive, can be a breeding grounds for mold, and are a pain to maintain. Cultured stone shower pans can be cheaper than tile bases (when bought through Innovate's Multi-Unit Pricing Program)– and you'll continue saving money because they're time-efficient to clean.
A wide variety of size, shape options and entry options – Whether you're looking for a small stand-up corner shower for a hotel in the city, an ADA shower pan for an assisted living facility or a simple center drain base for a student housing project, you'll find a cultured marble pan which will work (and can be matched with grout free shower wall panels as well).
Benefits of cultured marble pans for multi-unit or commercial properties
Colors and finishes for any style – Choose from 9 colors and matte or gloss finishes.
Safe designs – Choose from a variety of non-slip designs or ADA accessible cultured marble shower pans so you can accommodate any resident, renter or hotel or Airbnb guest.
Quick installation – Since these pans come as seamless ready to install units (with integral flanges on most models), you'll save on field labor costs vs. tile shower pans (which require a multi-day installation process). And it's nice to know they're available in standard and custom sizes.
Anti-microbial surface – Cultured marble bases are hygienic and won't be a breeding grounds for mold and mildew.
---
Product Options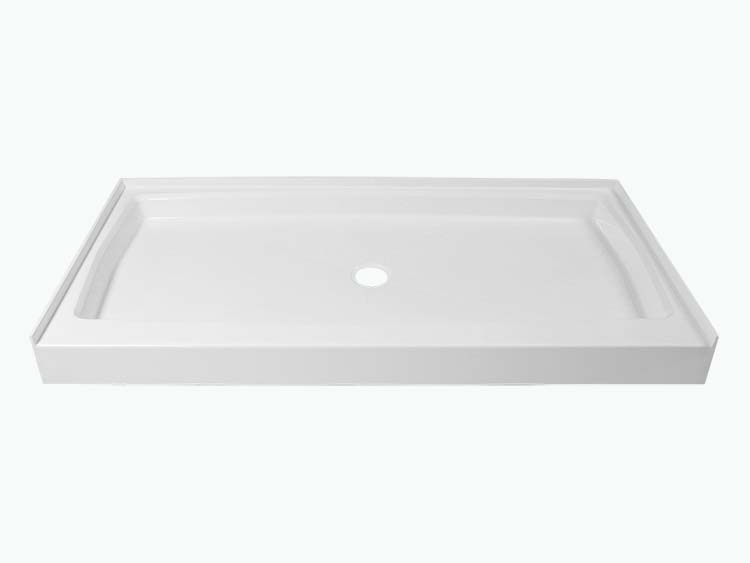 Center Drain Pan
One-piece cultured marble pan, available in matte and gloss finishes, with flanges and a non-slip design
Sizes: 36 x 36, 38 x 38, 42 x 36, 48 x 36, 60 x 30, 60 x 32, 60 x 34, 60 x 36, 72 x 34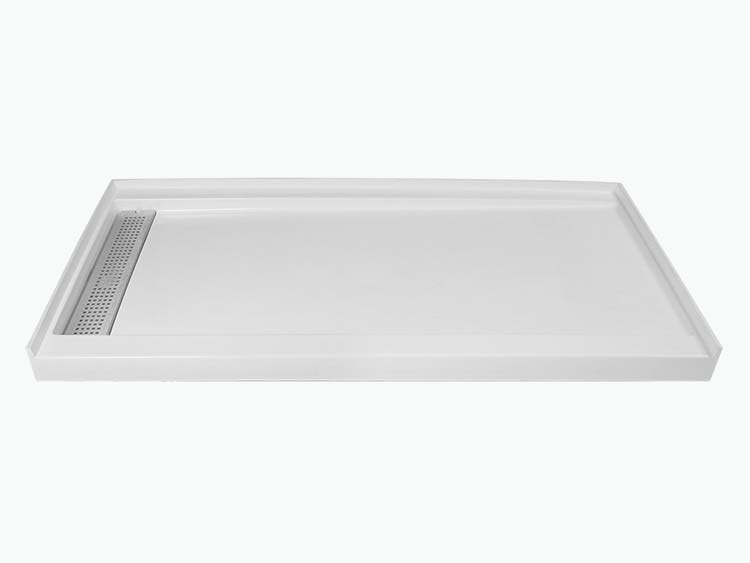 Trench Drain Pan
One-piece cultured marble pan, available in matte and gloss finishes, with flanges and a non-slip design (note – drain cover is not included)
Sizes: 59½ x 32, 60 x 30, 60 x 34, 60 x 36, 72 x 34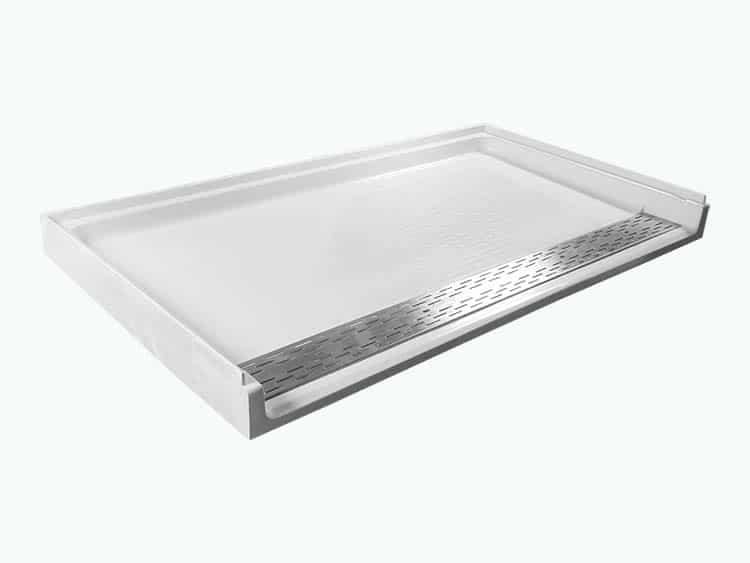 Roll-in Trench Drain Pan
One-piece cultured marble pan, available in matte and gloss finishes, with flanges and a non-slip design (note – drain cover is not included)
Sizes: 63 x 34, 64 x 30, 64 x 36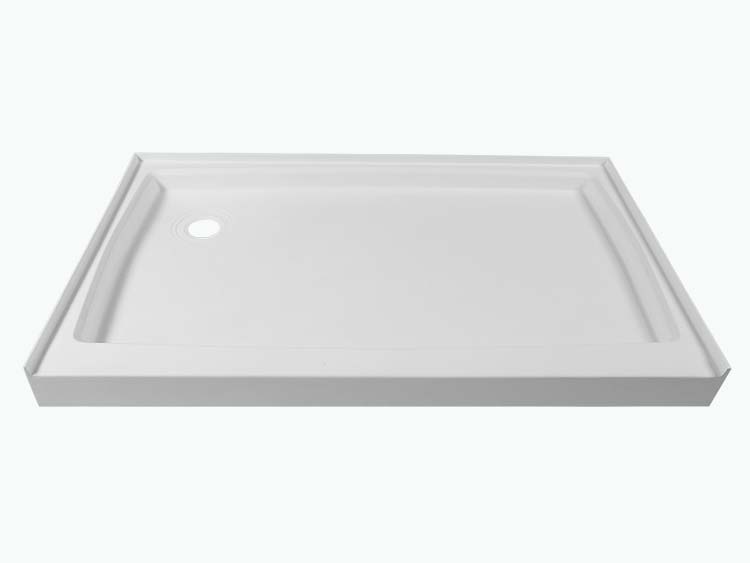 Corner Drain Pan
One-piece cultured marble pan, available in matte and gloss finishes, with flanges and a non-slip design
Sizes: 48 x 30, 60 x 36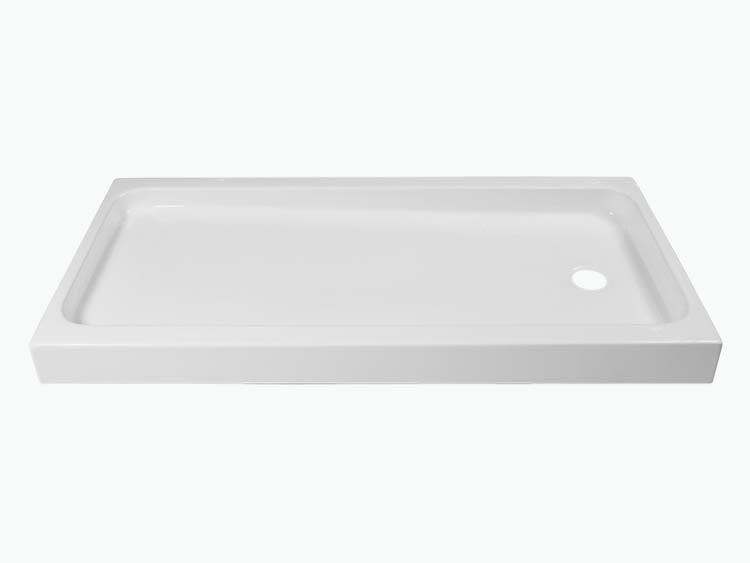 Reversible Drain Pan
One-piece cultured marble pan, available in matte and gloss finishes, with no flanges so the drain hole can be positioned on the left or right sides
Sizes: 60 x 30 – drain hole at 5" or 8" from side, 60 x 32 – drain hole 8" from side, 72 x 36 – drain hole 5" from side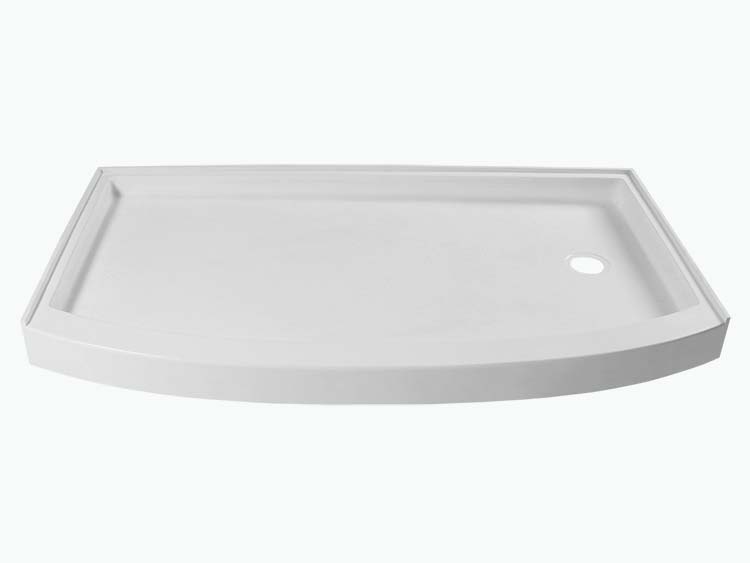 Curved Drain Pan
One-piece cultured marble pan, available in matte and gloss finishes, with flanges with right and left side drains
Sizes: 60 x 36 on the outside of the curve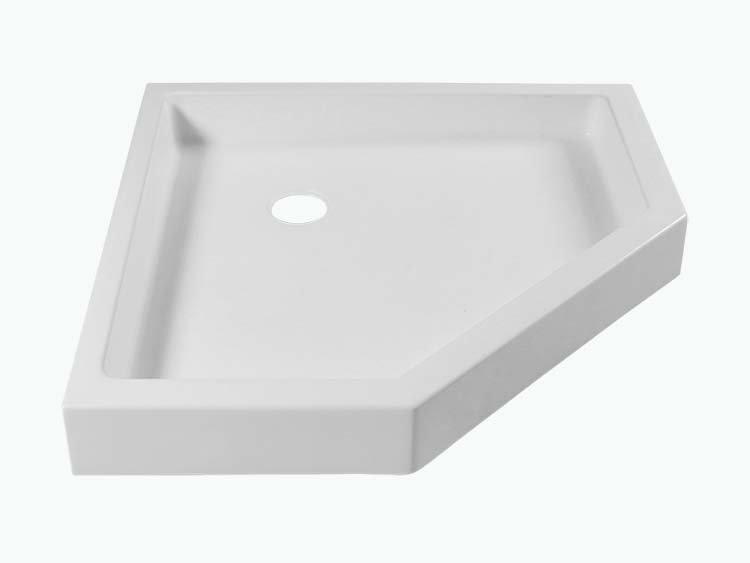 Corner NEO Drain Pan
One-piece cultured marble pan, available in matte and gloss finishes, with flanges
Sizes: 36 x 36, 42 x 42, 56 x 48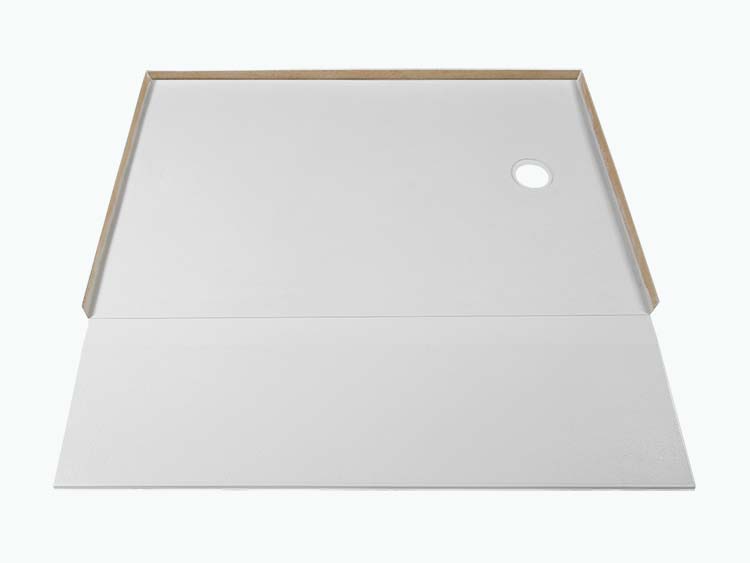 ADA Ramped Drain Pan
One-piece cultured marble pan, available in matte finish, with flanges (except on the ramped portion of the pan)
Sizes: Made to order custom sizes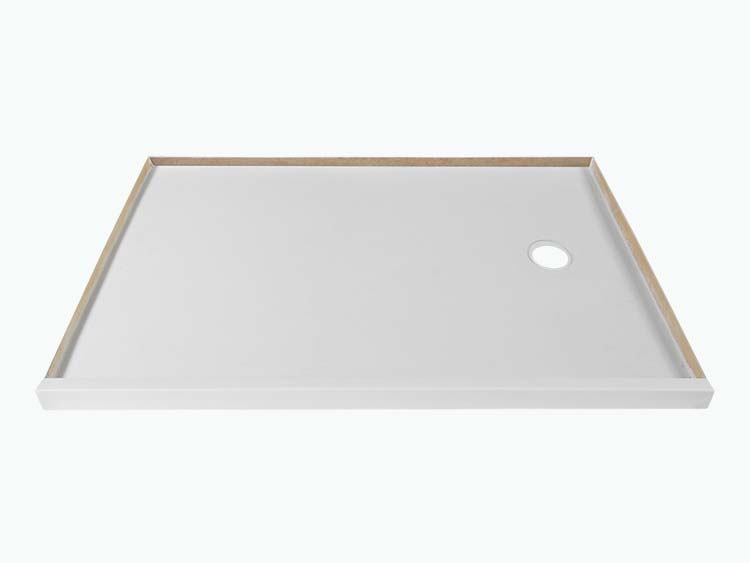 Custom Drain Pan
One-piece cultured marble pan, available in a matte finish, with flanges
Sizes: Made to order custom sizes
Color Options

Firefox Beige

Ivory

Light Grey

Solid Bone

Solid White

Italian Iced

Capuccino

Crytal Almond

Linen
---