Why pick InnovaStone solid surface shower pans?
A long guarantee – with a 10-year warranty you'll know you have a shower base which is built to last far beyond a thin fiberglass pan you find at a home center store.
Won't yellow or look dingy – Prospective tenants or hotel guests have choices. If your fiberglass shower pan looks dirty or unsanitary your chance of signing the tenant or the guest returning are low (no matter how cheap your price is).
A durable product – Made of a solid surface – these showers pans are built to take the abuse of tenants or guests who don't treat them with 'kid gloves.'
Drains which 'disappear' – Most shower drains are round, pitted and have out-of-date finishes. They detract from the looks of your property. The matching drain covers in the InnovaStone pan make for a continuous, sleek look.
Benefits of our low profile solid surface InnovaStone shower pans
Colors and patterns to add style – A shower pan doesn't have to be glossy, a faded white color and boring. With 6 high-style matte colors (including white, gray, black, white marble, black marble, or driftwood) and designs, and 3 popular sizes your property can stand out with InnovaStone pans.
Safe designs – Since these pans have textured low profile curbs (which are 1 1/6" high), they're safe to get in and out of. This can be a big benefit for your residents, renters, or guests in your hotel or Airbnb.
Available from stock – For some projects you need to turn units or rooms over quickly to keep revenue flowing. Waiting months for a shower pan isn't a smart business decision. InnovaStone low profile shower pans are available from stock in various colors, decors, and sizes.
Can be used in multiple bathroom layouts without the expense of a custom shower pan – Since the InnovaStone pan has flanges which are added during installation (and has a curb on all 4 sides) the same pan can be used in 5 layouts (for an alcove, left corner, right corner, 3 sided-glass or side entry shower design).
---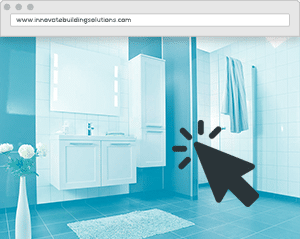 View more details about this product on our main website, or request a catalogue and samples.
Learn More
Free Samples