7 Modular Home Bathroom Ideas to Improve Productivity, Add Style & Grow Sales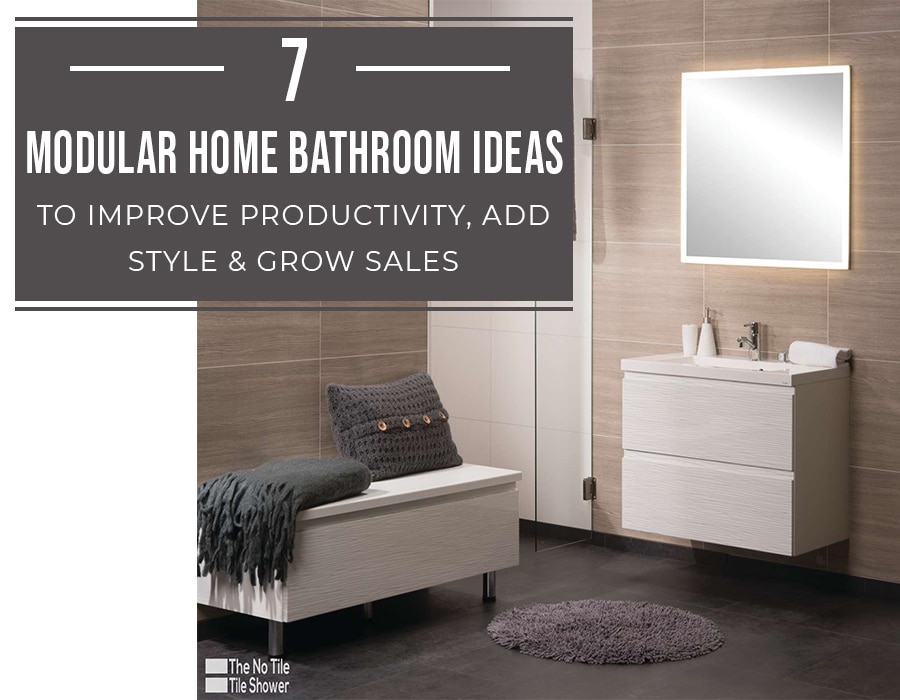 Your bathroom module arrives at the job site. You (and the owner) notice the cracked shower wall tiles immediately. You mutter some words under your breath. Back in the day these words would have had Mom washing your mouth out with soap.
Your customer sees the finished bathroom for the first time. They're not happy how it looks. Now what can you do?
You get a call from your tile sub. He wants to raise labor prices…. again! He knows you don't have a better alternative – so you'll have to pay up.
The humidity in the plant has been soooooo high. The doggone joints in the tile floors and walls won't seem to dry. Your production is already woefully behind schedule.
These are the moments you know operating a modular factory or being a modular home builder isn't for the faint of heart. As you know bathrooms (whether they're in a custom home, hotel development, or vacation rental home) are not simple to do. You also know customer expectations have never been higher.
Whether you're a modular home builder or factory, the question is this. How can you build a home (hotel, accessory dwelling unit you name it) more efficiently, with increased style which not only meets – but actually exceeds – the expectations of your customer?
You're not living in a simple world. Trades are as sparse as the hair on your head (if only you had listened to your spouse and used Rogaine sooner, but that's a story for another day!). Customers are watching shows on HGTV and think everything is as easy as 'seen on TV.'
Here's the hard part. You know you need to not only improve productivity and efficiency, but to add style to your bathrooms to blow away the guy/gal down the street. You need to be more effective in every room of the house – including the bathroom. Not a simple task.
In this article you'll find 7 practical ideas (some from me and others from industry experts Ken Semler of Express Modular Franchising , Gary Fleisher, your Modular Home Coach)  and Todd Griffith of Penn West Homes to ramp up (yes – I threw in that shower pun on purpose – sorry) your bathrooms. Let's dig in.   
Modular home bathroom idea #1 – Don't put yourself in the predicament to eat a HUGE bill on replacement bathroom wall tiles. Use shower panels to cut aggravation and customer 'battles' which have no winners.  
In my conversation with Gary Fleisher he told me a (not so funny if it was you) story. You see a customer wanted to use some fancy-schmancy Italian bathroom tiles. The builder and plant said, not a problem, but make sure they're delivered on time. The tiles arrived on time and intact. The plant had their tile sub put them up. They looked 'marvelous baby!' They were successfully loaded on the trailer. And I bet you can guess what happened next….
They arrived on the site. However, a few tiles were broken. Ouch!
Here's where the story gets really dicey. The blame game began. The factory didn't want to claim the problem (and had already thrown out the offcuts). The transportation company didn't want to claim the problem. The modular builder didn't want to eat it either. The customer threatened to sue them all.
In the end the factory decided to pick up the tab. After all it was only 8 tiles. They were air freighted. How expensive could they be? The tiles (and the bill arrived). Guess how expensive these 8 tiles were? $4,000! Oh s*** (insert your 'favorite' swear word here!).



Problems with tiles chipping, popping or cracking can be eliminated. A better answer are laminate wall panels. These 2' x 8' x 3/8" thick units are installed with a click lock and sealant system (similar to laminate flooring). You and your customer will swear (hope Mom doesn't hear you) they're actual tile or stone.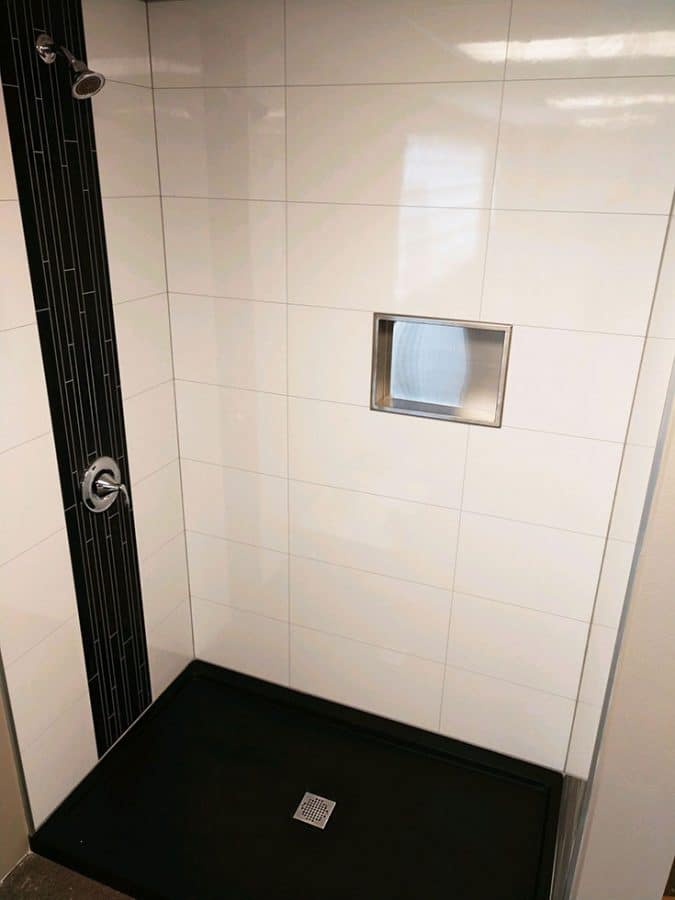 Modular home bathroom idea #2 – Your customer's vision and the off-site manufactured bathroom you build are not the same. Uh-oh! It's time to create a clearer 'picture.'  
There's nothing as upsetting for everyone involved (the plant, the builder and the owner) as expectations which aren't met.
None of us like to let others down. It's an especially big problem if the person we let down is the bill-paying customer.
While in the old days many in the offsite housing industry (especially manufactured homes) had model homes – the cost of land and how quickly the homes become out-of-date make this 'old-school-model' (yes – I mean model both literally and figuratively) challenging and expensive.
This is why my conversation with Ken Semler of Express Modular was fascinating. Ken talked about his evolution into franchising. He talked about the challenge of a 'normal-sized' custom modular builder doing 5 homes a year and struggling to keep up with building, marketing and design trends.
Ken talked about his vision to pool resources of many to show customers the finished designs before building. To create a 'virtual design center' and leverage digital technology. To provide an improved customer experience to grow modular home building. I thought – how brilliant. The more virtual (and realistic) any builder (modular or otherwise) can be, the higher the chance owners will be happy with their bathrooms, kitchens or any room in the end.
Ask yourself, could technology be your answer (and competitive advantage) to customer's loving (and referring) your business more?  
Modular home bathroom idea #3 – Teeny-weeny and itty-bitty have to go! Think and design big.
I remember as a kid loving teeny-tiny HO (OK, I'm dating myself now) and Matchbox cars. I loved how the hoods and doors would open. For those of you old enough, how cool was that?
While itty-bitty and teeny-weeny miniaturization can be fun as a kid, it's a pain in the rear as a builder, plant or a modular homeowner. For example, mosaic tiles have TONS of grout joints which eat up days in the trim process. Mosaic tiles are a HUGE pain to clean. Mosaic (and small) tiles make small bathrooms look smaller.



Since most bathrooms (modular or not) are smaller than owners would like it's time to think (Notorious) BIG to make your bath designs stand out. If you're going to use tile – go with large formats. If you're putting up shower wall surrounds – more contemporary ('er bigger) designs are the way to go. Subway tile patterns aren't the end-all, be-all.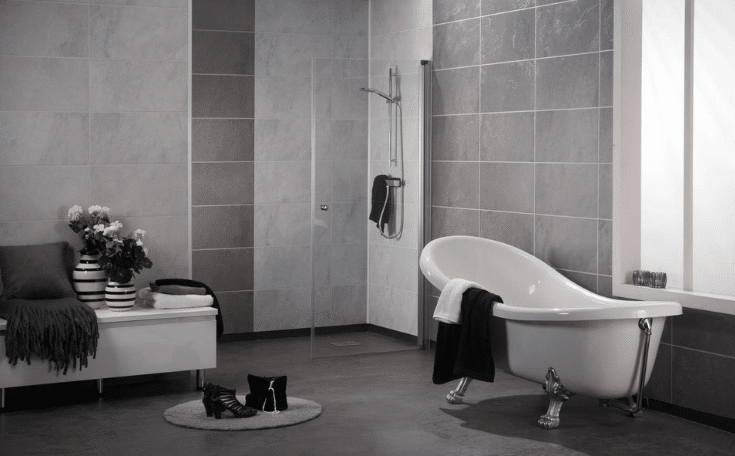 It's time to leave teeny-tiny for the kid's toys, and not bathroom designs. Think big (and easy to install) in your designs.   
Modular home bathroom idea #4 – Tighter homes are good…except when they're not. Use thoughtful bathroom products to eliminate future mold/mildew issues.
As you know energy efficient, buttoned-up-like-a-drum tight homes are a wonderful selling point of modular homes. Precision manufactured and moisture free materials offer an undeniable benefit for homeowners and building owners (like hotels and vacation home operators).
However, moisture control also has its dark side. The moisture which escapes in normal stick-built homes can become trapped in your tighter modular home bathrooms. This 'unintended consequence' doesn't have to be a problem. As Ken told me this problem can be solved with humidistats or fans which continue to run. Another idea is to use material which don't absorb moisture like grout-free shower wall panels or luxury vinyl plank flooring.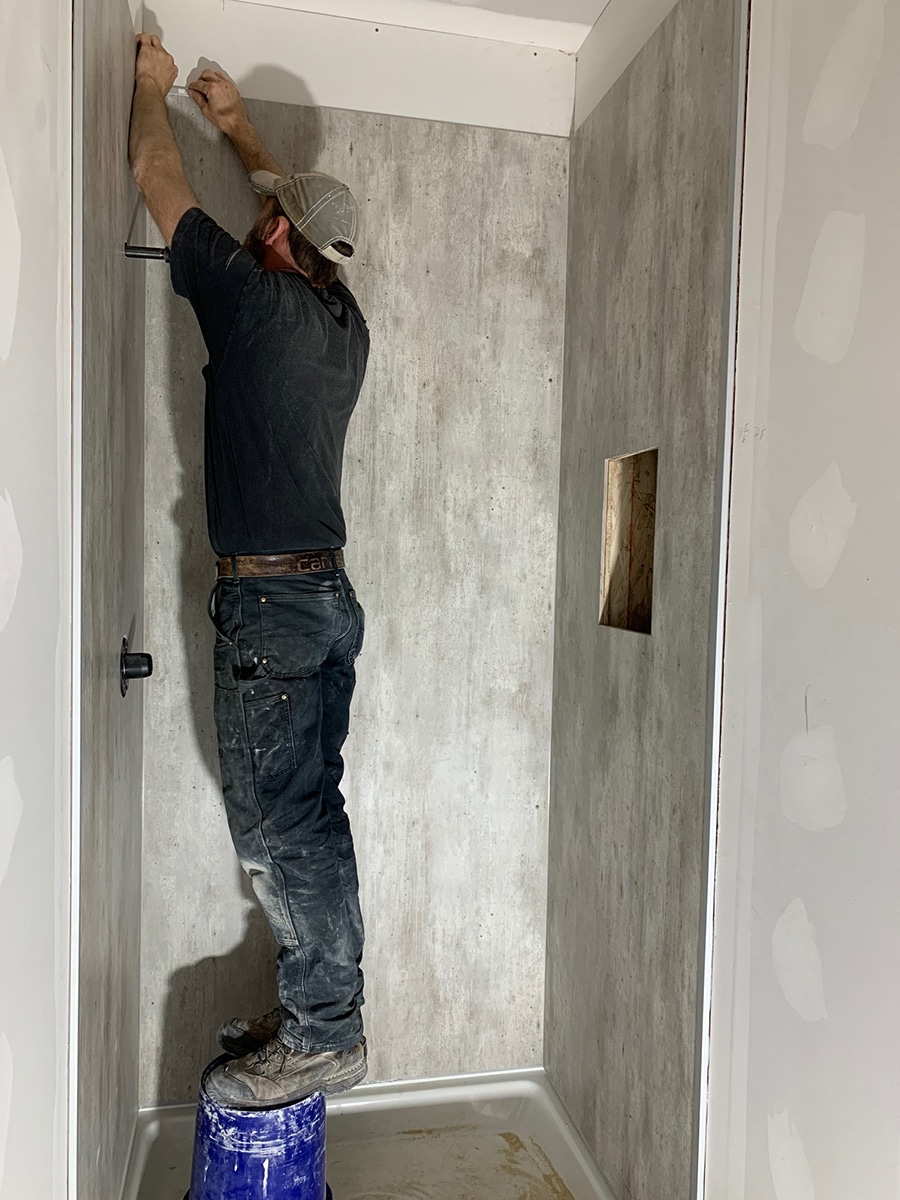 Just remember. Tight is good… except when it's not.
Modular home bathroom idea #5 – Matchy-matchy is passé in interior design and bad for production also. Think contrast for improved profits and looks.
I remember going to a nice restaurant with my wife Rose and the couple next to us brought their (I would guess 10 and 13-year-old) boys out to dinner. They dressed them in matching khaki pants and blue shirts. On one hand we wanted to laugh at the (matching) look, on the other hand we felt sorry for the boys.


Matchy-matchy in clothes (and interior design) is as far-out as your old bell-bottom pants and mood lamps. In addition, if you try to match a white shower pan with white shower wall panels or tiles (from a different manufacturer), you'll come away asking, "Exactly how many shades of white (or gray for that matter) are there? 50 perhaps?"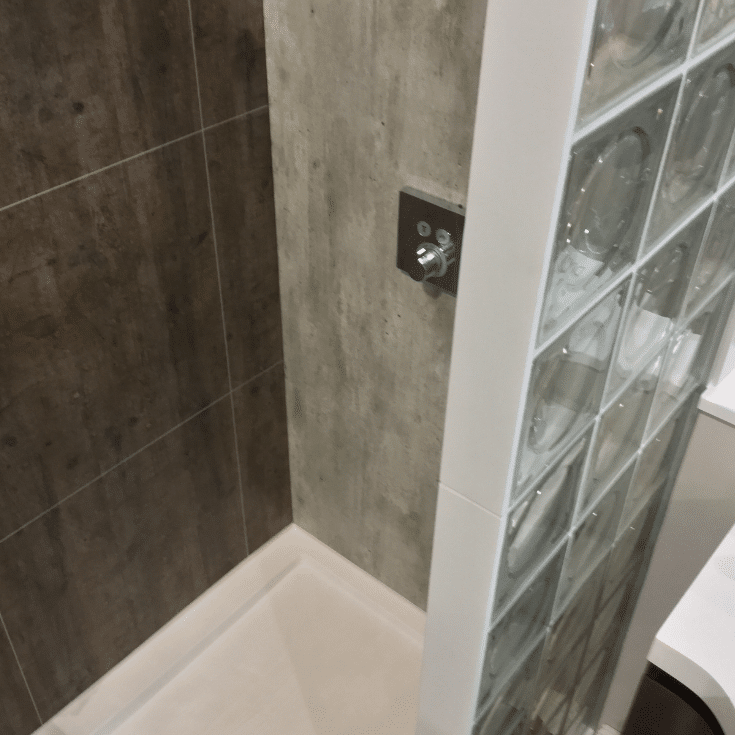 When considering bathroom product selections, stay away from matchy-matchy at all costs. If you choose a contemporary white acrylic base do not choose a white wall surround from another manufacturer. You're asking for it. Choose a textured, patterned or colored shower, bathrooms walls or floor coverings to compliment (not match) your design.
Modular home bathroom idea #6 – Think about your customer's future in their designs. They will thank you later.  
Building a custom modular home can be overwhelming for your client. There are so many choices. The list seems endless. However, that's why they lean so heavily on your expertise as a modular builder. You're there to guide them. They know this isn't your first home-building rodeo.
When it comes to bathrooms the failure to use 'long-term-thinking' (AKA futureproofing) can be disastrous and expensive. Perhaps nothing can be a bigger problem than a shower pan which is 'designed for today' but your customer's 'tomorrow' throws them for a loop (maybe a sickness or injury puts a serious crimp in their lives). Ripping out a shower pan (and the walls and enclosures above it) because your customer can no longer get into their shower is a VERY bad situation.
Instead of automatically using a standard 4-5" shower curb let your client know the advantages of a low profile shower base or a one level wet room (especially if you're working with an empty nester whose is building their 'rest of our lives home' or a vacation rental home shower targeted at those 55+.)' With a lower profile or curbless shower you will not only provide them with a contemporary look, but also with a home (or vacation rental) which will work through health challenges or old age.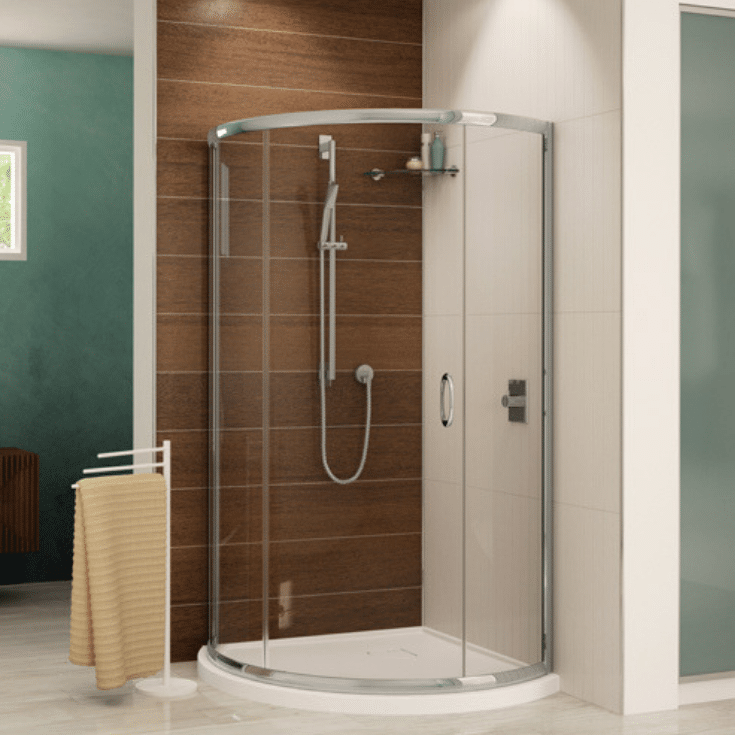 Modular home bathroom idea #7 – It's time to stop holding up the line. Choose products which keep production flowing
It's nice to serve every last whim of your client (or if you're a plant of your builders' client), except when it isn't. Bathroom materials (like tile) which due to humidity, lack of local subcontract trim crews or expense can slow profits and your line down aren't blessings to your business.
If you're a builder you need to recommend products which will not only be beneficial to your customers (saving cost, time and maintenance), but also makes your manufacturing partner happy to work with you (your jobs move through the plant quickly).
One way to do this is to promote 'tile-substitutes' like shower panels for modular homes, luxury vinyl planking or laminate click-lock flooring systems. Time is money. Manufacturing speed is money. For your customer's life, maintenance time can be money (paying The Grout Medic to clean joints) or just a lot of hassle.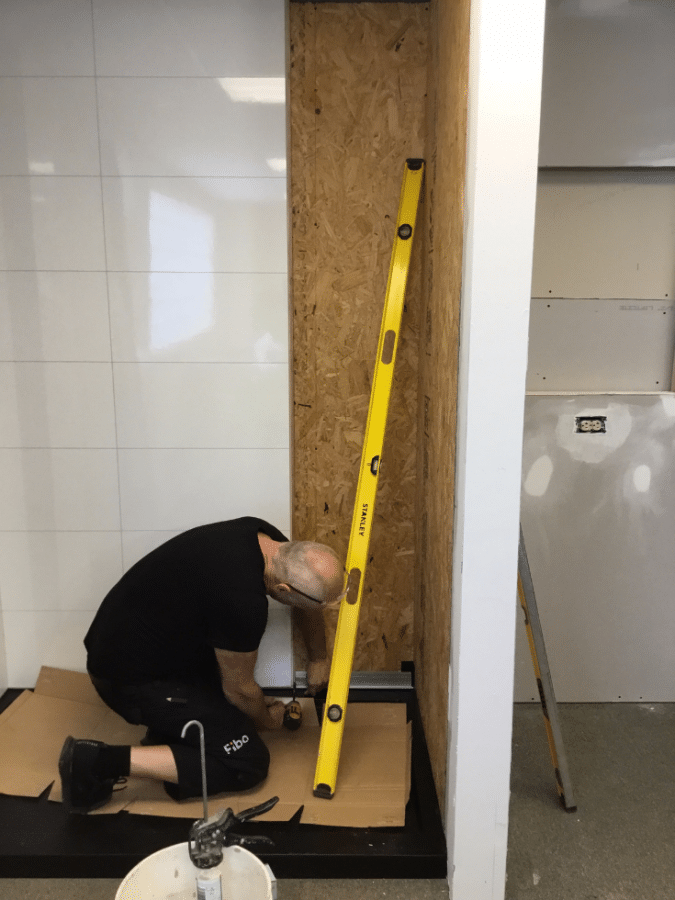 Find ways to make your bathroom EZ on everyone! As Todd Griffith of Penn West Homes mentioned to me, "It's important to keep in mind, the more a modular factory can do for the builder, the better the builder likes it. We try to complete as many of the trades (and use products which keep the line flowing) in the factory for our builders as possible."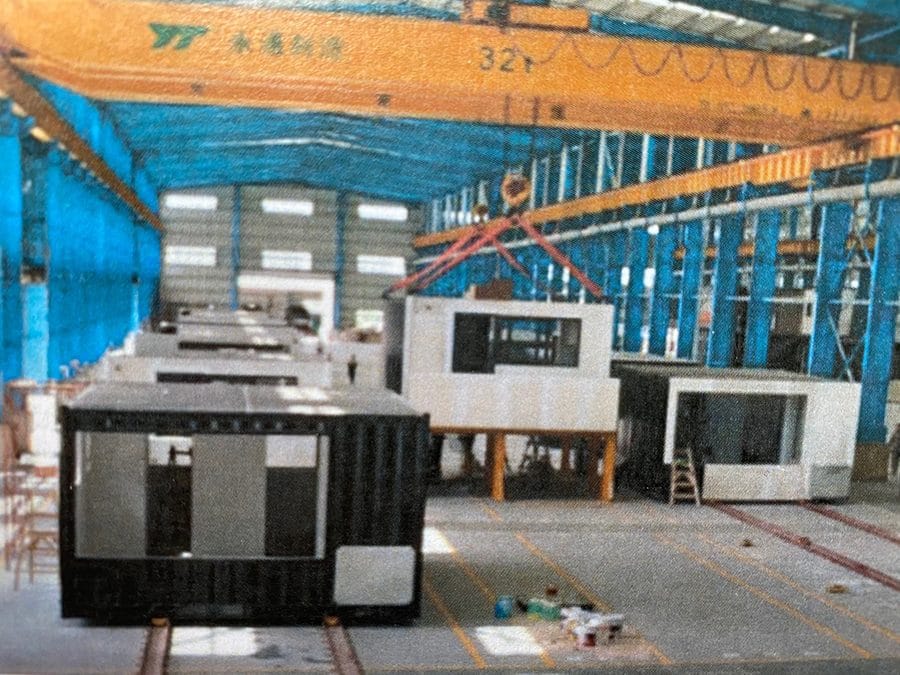 Conclusion
If making money in the modular home business was easy everyone would be doing it! I hope you see from this article it's entirely possible to not only improve the profitability of your bathrooms, but also make spaces which lives better for the long run for your client. However, this goal requires stepping back before pushing forward.
Look at the materials used in your showers, cabinetry and bathroom floors today. Can you make better choices which increase production and serve your clients better at the same time? Could you exceed customer expectations if they could 'see' (through a technologically advanced 'digital showroom') what they're getting? Can innovation be the key to grow your business and improve profits in bathrooms, kitchens, wherever?
It's a brave new world – but IMHO – modular construction can be the leading-edge method for not only more affordable, but better housing (and bathrooms) in the future. Do you agree or am I smoking something funny?
Mike
###
If you're interested in learning about laminate shower wall panels for modular homes or contemporary acrylic bases (or just want to talk bathroom design strategies) contact Innovate Building Solutions (or me – I'm Mike Foti the author of this article) at 888-467-7488. I'd love to help you get more homes sold, more profitably, with the most stylish bathrooms in your market area(s).
If you'd like to connect on LinkedIn, you'll find me https://www.linkedin.com/in/mikefoti/
---
Tags: accessory dwelling unit bathroom ideas, accessory dwelling unit bathrooms, ADU bathroom, ADU bathroom ideas, container home bathroom ideas shower panels for modular homes, container home ideas, Gary Fleisher, Ken Semler, manufactured home, manufactured home bathroom, manufactured home bathroom ideas, modular home, modular home bathroom, modular home bathroom ideas, modular home bathrooms, modular home showers, modular home wall panels, modular vacation home bathroom, modular vacation home ideas, offsite bathroom ideas, offsite shower ideas, shower panels for modular homes, Todd Griffith, vacation home bathroom ideas, wall panels ADU, wall panels for modular homes
Mike Foti
Mike Foti is the President of Innovate Building Solutions.
Mike Foti
Mike Foti is the President of Innovate Building Solutions.