5 Ideas to Get Rid of Mold in an Apartment or Single Family Rental Shower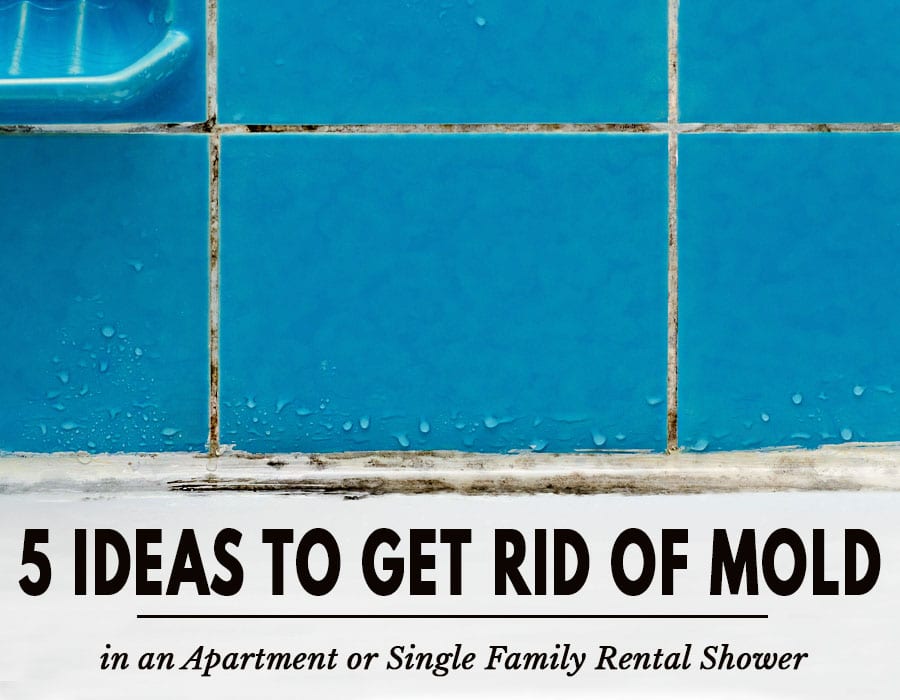 Owning single family homes or multi-family apartment rentals or condos can be a profitable business. However, when you're hit with 'big headaches' like your tenant complaining about health issues due to (what they believe) is mold in your not very pretty (OK, if you're being honest, it's downright-disgusting) tile shower your profits may be headed south.
Your tenant is demanding a solution. You're thinking, "This could get ugly."
While you didn't get into the real estate investing to become a Junior Chemist (you haven't been trained to know the difference between mold and mildew), this isn't the type of problem you can (or should) sweep under the rug (or behind-the-wall in this case).
You've started doing what you always do in tough situations. You've jumped on the Internet for answers. From what you could read (and learn) you think you have a mildew (not a mold) problem. You think your tenant's health issues are unrelated to your shower. However, you're asking, "What if I'm wrong? What type of exposure could I have?"
It's at this moment you hear your Dad's voice in the back of your head, "Better safe, than sorry." While you know to look for the tell-tale signs of mold growth like, musty smells, dark grout joints, spongy or damaged walls, you want to be sure you're not wrong in thinking its mildew, not mold.
The question is what can you do? What should you do?
In this article you'll find 5 ideas to help you not only with your current challenge, but how to keep mold from happening in the first place. If you'd like to stop worrying about the BIG-M (that would be the mold word) you'll want to read this.
Idea #1 to get rid of mold in an apartment or single-family rental shower – Buy a home mold test kit and/or call out a mold abatement or restoration contractor
Since you're not a Chemist, and if my gut is correct you likely don't play one on TV, you're going to need assistance figuring out if this is a surface mildew problem or deeper mold issue.
The cheapest way to address this challenge is to buy a DIY Mold Test Kit. They range in price from $7.99 at Home Depot to a $129 with 'free shipping' (with that price tag, of course the shipping is 'free!).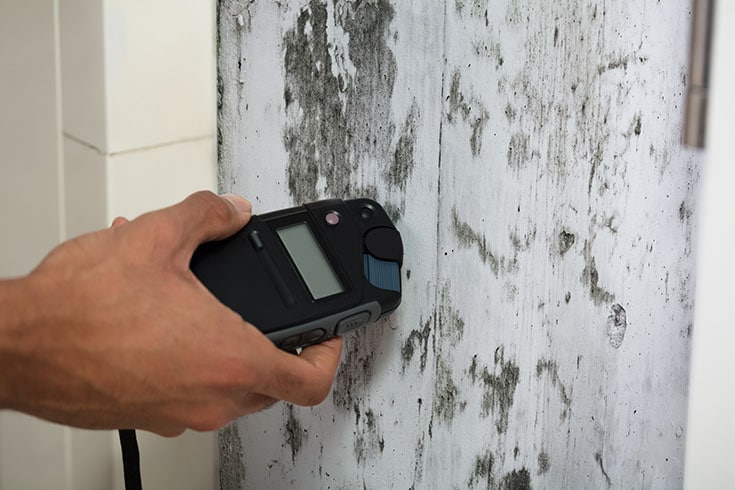 Of course, the $10 million question is, are these test kits accurate? If you read the article below (written by a company which does mold abatement) you're going to say no:
10 Reasons Why Do It Yourself (DIY) Mold Test Kits Are Not Accurate
On the other hand, if you read the following article (written by a company who supplies DIY test kits) you'll come to the opposite conclusion:
Myths and Factors about Mold Test Kits
While I'm by no means smart enough to tell you I know which one is correct (although a few of my Chemical Engineering buddies at my alma-mater Carnegie-Mellon University could intelligently weigh-in on this), here's what I'd recommend.
First, I'd buy a home mold test kit for your apartment rental. Second, I'd call out a mold abatement contractor. Third, I'd compare what you learned from the test kit and the contractor. Since you're dealing not only with potential property damage, but more importantly a tenant's health, it's better to be (as your Mom would tell you) safe than sorry.
Idea #2 to get rid of mold in an apartment or single-family rental shower – Start at the 'bottom.' Get rid of your nasty shower pan
The 'foundation' of your shower is the shower base. If you inherited a tile base built on a mortar which has dark, dingy and moldy joints– God knows what you'll find underneath the surface.
In addition to the mold and bacteria problem your tenant can't avoid (because they HAVE TO step on the base), you also have a constant maintenance challenge. Since most tile shower pans have small mosaic tiles, grout joints are literally EVERYWHERE. The cleaning challenge is endless.
If you want to eliminate this problem once and for all, but don't want to slap-in a cheap fiberglass base which gets yellow and dingy you're probably wondering what options you can turn to? Depending on your budget, I've got 2 alternatives for you.
Alternative 1 – A stylish acrylic base for a more cost-effective budget – In today's competitive rental market you want your property to stand out. You want your property to lease fast (and get income quicker). Creating a bathroom with style (but doesn't cost an arm and a leg) is critical. The big question becomes what can you use? One forward-thinking (and cost-competitive option) are MDF (multi-density-fiberboard) reinforced contemporary acrylic bases. These bases look on-trend. They appeal to difficult-to-please Millennials and the affluent 55+ 'renters-by-choice' market. They're also sturdy.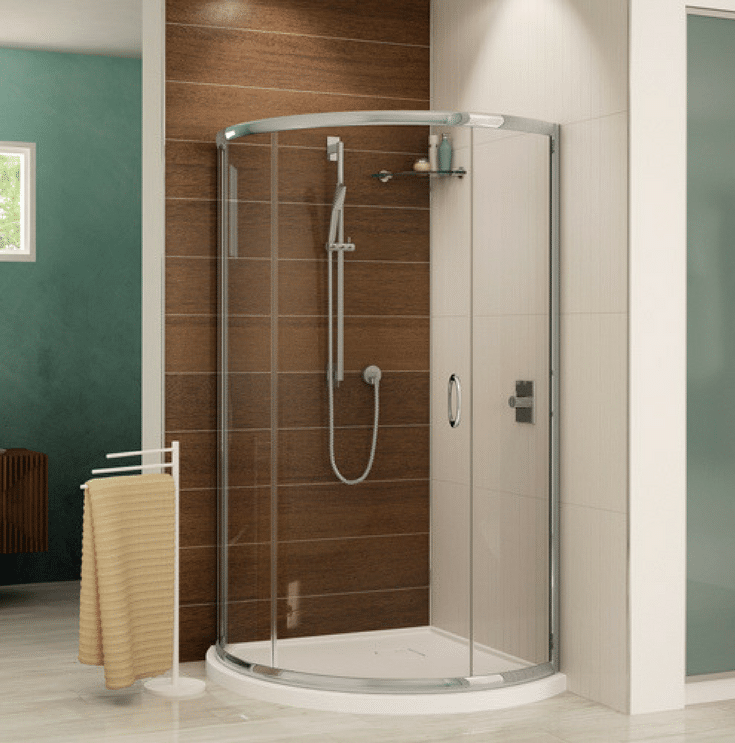 Alternative 2 – A slightly higher cost, yet durable, cultured stone shower pan – If you're worried about renters beating up your property this is the option for you. A cultured stone shower pan comes in granite, solid-color and marble finishes. It's built like a tank. These pans are available in both standard and custom sizes (which is perfect for weird sized shower.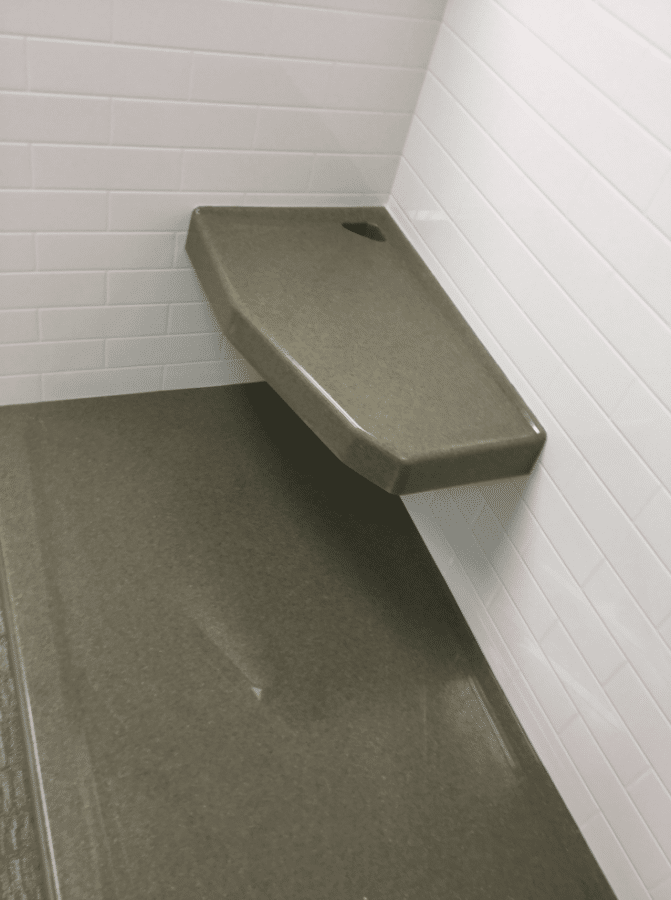 Idea #3 to get rid of mold in an apartment or single-family rental shower – Replace ceramic tile without sacrificing the look of tile. Use laminate wall panels.  
Ceramic tile looks luxurious (especially the day its installed). Cleaning ceramic tile grout joints is not so luxurious (OK, if we're keeping it real, it's down-right nasty).
You could replace ceramic tiles with a cheap plastic fiberglass insert from your big-box store. Or install acrylic wall panels from the 'bath in a day franchise,' or put in dated cultured stone shower panels.
While fiberglass inserts, acrylic or cultured stone wall panels are all options to replace the ceramic tile there are 3 problems with these alternatives.
Problem #1 – They're all – FAKE-LOOKING.
Problem #2 – They're all – MOLDED.
Problem #3 – They're all – A PAIN IN THE REAR TO INSTALL.
As you know it's not fun to regrout the tile after your tenant has 'left your building' and it's not very classy using molded shower wall panels. The challenge is, how can you get a nice-looking, realistic, tile-like wall which looks great simple to maintain?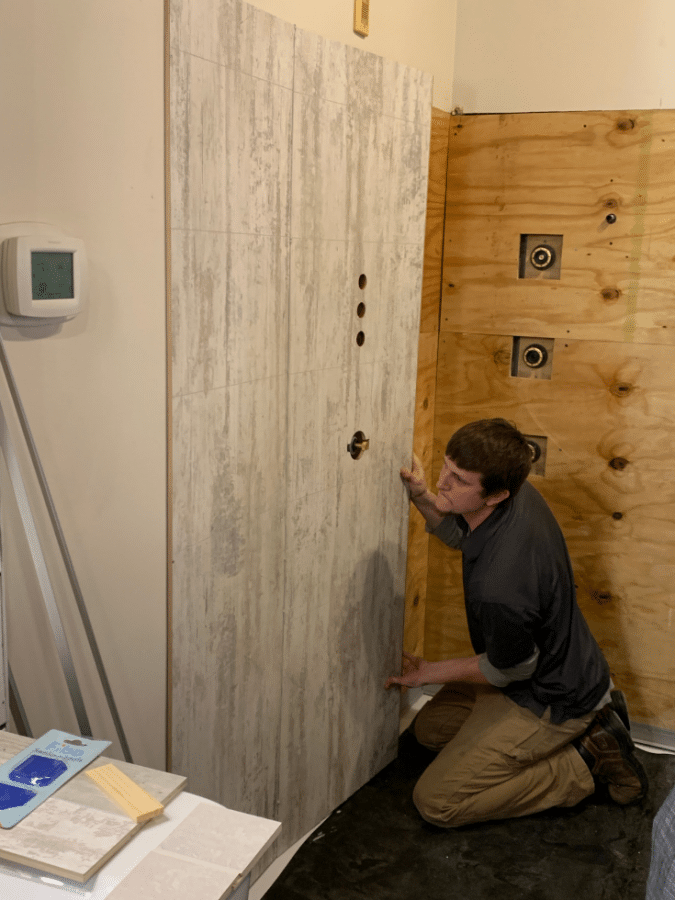 One option for your single-family home rental bathroom renovation are laminate wall panels. These 2' x 8' x 3/8" thick panels can be self-installed or done by your handyman. They have faux joints which are a breeze to clean and are not molded. Prospective tenants will assume they're tile. They'll be even more excited to learn there is ZERO maintenance involved.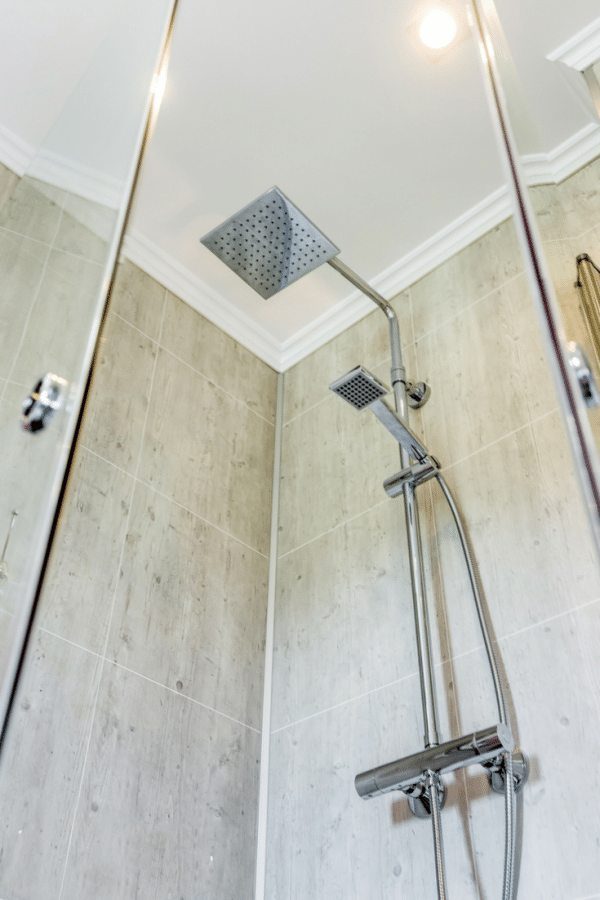 Idea #4 to get rid of mold in an apartment shower or single-family rental – Put moisture removal on 'auto-pilot'  
To put it in simple terms, mold's best friend is moisture. If you can get rid of moisture, you'll eliminate mold.
The challenge with moisture is even if you have the right 'things in place' (i.e. a window or exhaust fan) in a rental you have no assurance your tenant will actually use them. You've got to dummy-proof the removal of moisture. You need to make sure you're not the one holding the bag with mold problems down the road.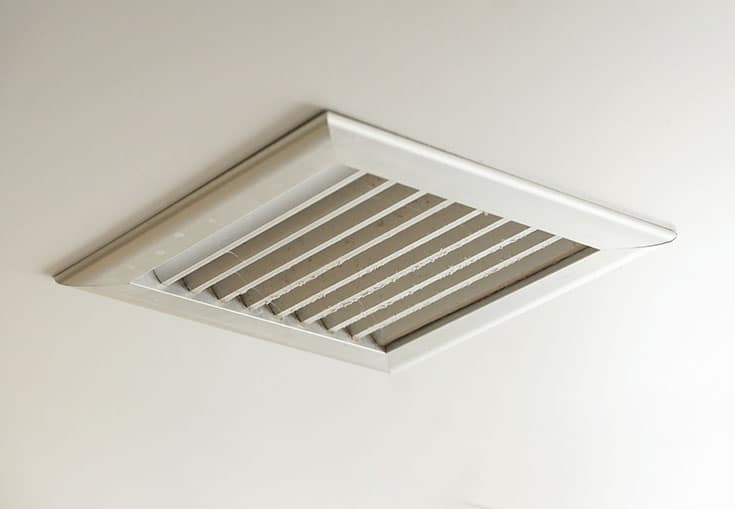 One cost-effective way to get moisture out is to not only have an exhaust fan but have one which goes on automatically when the lights are turned on. Then, kick up your protection another notch and make sure this moisture is directed outdoors, not into your home's attic.
Idea #5 to get rid of mold in an apartment shower or single-family rental – Eliminate mold in the small spaces in recessed soap and shampoo niches.
Mold loves to grow in tight spaces. That's why the custom tile niches (which are such a pain to clean) are prime real estate for mold. So, if you're considering the tile-looking grout free laminate shower panels discussed in idea 3, kick your mold-free shower up a notch with niches and shampoo shelves which WON'T be a breeding ground for mold.
These brushed finish contemporary recessed niches slot in perfectly in the tile-looking grout free panels. They're simple to clean. They WILL NOT show water like polished chrome niches.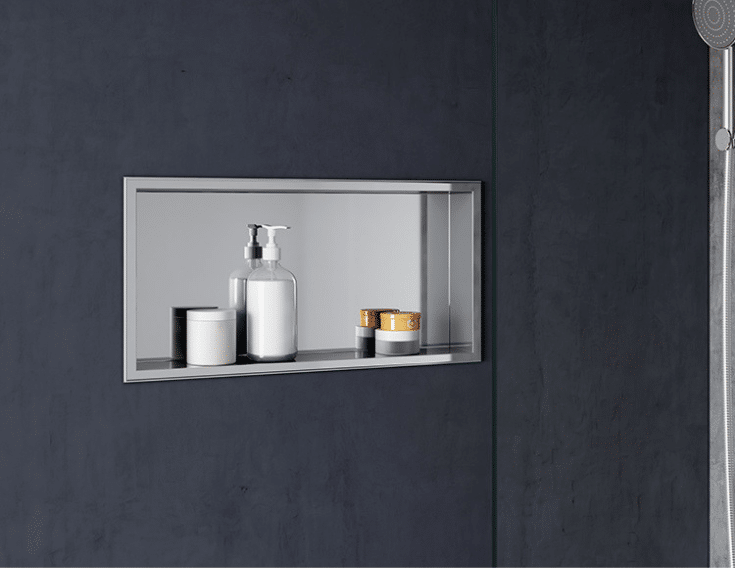 If you don't want to recess your tenant's shampoo and soap storage inside the wall, another alternative is to use brushed finished contemporary corner shelves. They're designed so the soap scum can escape through the bottom of the soap tray, but the separations inside the tray aren't so big the soap is always falling through.
Conclusion
When you have a tenant complaining about mold and health problems in your apartment or single-family home rental it's no small matter. First you first want to be careful and understand what you're dealing with. Is it mold in your shower walls and shower pan, or simply mildew which can be cleaned away?
Whether you've got mold or mildew today, you can eliminate this problem for the future.  
First, consider investing in small maintenance products like an exhaust fan you put on 'auto-pilot' ('er this is one which goes on automatically).
Next, if you want to permanently get rid of your concern of mold rearing it's ugly head you can use tile or stone looking waterproof laminate wall panels or contemporary acrylic or cultured stone shower pans. Cut out problems in the nooks and crannies with grout-free niches and shampoo shelves.
Mold can be tamed. You need to take steps to win the battle.
###
If you're intrigued by the use of waterproof laminate shower wall panels for a single family rental, or reinforced acrylic shower pans (or just want to talk bathroom design strategies) contact Innovate Building Solutions (or me – I'm Mike, the author of this article). We'd love to talk to you about bathroom ideas for your next vacation home bathroom or apartment rental.  
Call 877-668-5888 and ask Mike. I'm looking forward to getting to know you and eliminate bathroom problems.  
If you'd like to connect on LinkedIn, you'll find me https://www.linkedin.com/in/mikefoti/
If you're into Twitter follow me @Mike_Foti or my companies' @InnovateBuild and @InnovateHomeOrg.
---
Tags: apartment shower, apartment shower mold problems, apartment showers, contemporary shower base, contemporary shower pan, cultured stone base, cultured stone pan, fix shower mold, mold in a shower, mold in an apartment shower, problems with rental home showers, rental home showers, shower base for a rental home, shower mold, shower mold problem, shower mold problems, single-family bathroom design
Mike Foti
Mike Foti is the President of Innovate Building Solutions.
Mike Foti
Mike Foti is the President of Innovate Building Solutions.