3 Smart Steps for an Affordable Single-Family Rental Housing Model Which Makes a Difference and a Profit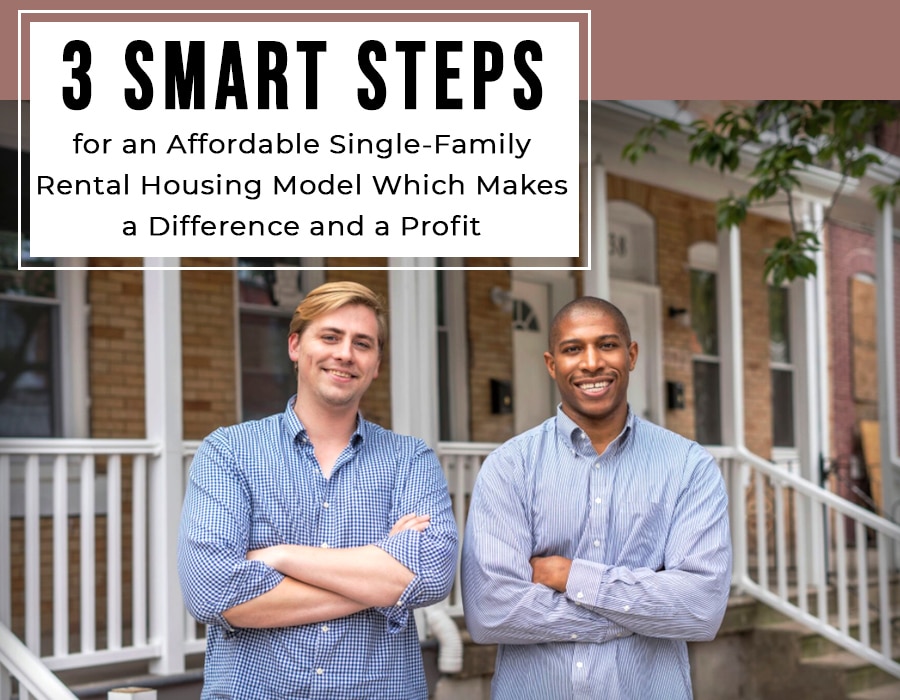 As I'm sure you know making money rehabbing and renting single family homes is a tough business. Here's some things you need to do:
Find the right homes in the best neighborhoods which fits your business model.
Fix homes efficiently.
Make homes attractive so tenants will be motivated to sign your lease.
Find tenants who will stick around and keep your home in good condition.
Offer affordable rents which also give you a strong ROI (return on investment).
As you know it's not a simple making a buck.
Well – imagine if your vision is not only to make a return on investment (for yourself and your investors), but also to make a difference in (and be the 'rising tide which lifts the other boats – 'er housing value') the communities you're working in. Sounds like a lofty goal, doesn't it?
Well this is exactly what the Managing Partners (Travis Robert-Ritter and Brian Grimes) of Bloyd Street Capital are making happen in the distressed neighborhoods of Philadelphia today. And they're making this goal a reality in a BIG way!
You may be asking who are Travis Robert-Ritter and Brian Grimes?
Well they're two smart young entrepreneurs with a big vision. Travis and Brian are going beyond efficiently buying, fixing and making money in the affordable residential rental single-family housing market in Philadelphia Pennsylvania. They're going beyond 'gentrifying' a neighborhood – and getting wealthier people to come back to the city to enjoy its charm.
No, Travis and Robert are on a mission (with the assistance of their financial partners) to rebuild communities for the benefits of the people already living in them today.
If this sounds like lofty – pie-in-the-sky – kind of stuff, I get where you're coming from. However, this is happening for Bloyd Street Capital…and it's a smart model for other single-family home rehabbers and investors to look at seriously for their hometown.
Maybe you're wondering, how are Travis and Brian (along with more than 20 associates in their business) making this happen? This is what this article is about. I'll give you a sneak peek at the 'secret sauce' which Travis and Brian are using to make a nice ROI. They're also elevating the neighborhoods they're working in and helping to plug the shortage of affordable rental housing.
While, I can't claim to know all their secrets, I can admire how they're making a high ROI for investors and increasing properties values in these communities. They're creating exciting housing choices and motivating hard-working people to stay in neighborhoods which have been neglected for far too long.
Let's take a peek at 3 (I'd like to say easy – but nothing is easy, is it?) steps which are driving the success recipe for Bloyd Street Capital.  
(Step 1) Start with the right target market
It would be nice if Bloyd Street's strategy would work in 'any old neighborhood,' but it's not that simple. They're looking at the right target market to make their business concept work. Here is their top criterion.  
Areas where large-scale housing developments are not possible, especially in older, densely populated neighborhoods.
Places with a shortage of affordable rental housing.
Communities where a good percentage of people have stable employment.
Neighborhoods where rental prices don't swing wildly as the economy goes up and down.
Bloyd Street currently looks for single-family 3-bedroom homes which cater to families. Their work is in Philadelphia County Pennsylvania which according to RealtyTrac's Buy to Rent Housing Analysis shows 18% or higher gross rental yields. While rehabbing homes which improve the community is nice, getting a ROI which attracts investors is obviously essential to keep the business model moving.  


(Step 2) Get help. Buy in volume. Understand 'carpe diem' (or the need to 'seize the day) will rule the day.
The single-family home rental business has historically been a 'mom and pop' operation. Individual investors buy homes one at a time at auctions, searching the MLS, scouring CraigLists.com or scores of other sites like Realtor.com, Zillow.com, Loopnet.com or Trulia.com. It's a painstaking process. An efficient process its not.
Like many industries in business today, this 'old-school' business model is being disrupted. Travis and Robert are two who are looking to 'seize the day' and stop this inefficient buying (and fixing up) process to increase financial returns – and make a bigger (and quicker) impact on distressed neighborhoods.
Like other smart entrepreneurs, Robert and Travis have looked for ways to add efficiency to an 'age-old' process. They needed financing and mentoring to make their goals a reality. They got help from Jumpstart Germantown. Jumpstart Germantown is a community development program which provided training, mentoring, networking and financial resources to new developers. They helped bring Bloyd Street's 'buy and fix up in bulk' single-family home rental concept to reality.
They've helped Bloyd Street find financial resources to 'buy and rehab in bulk.' Buying properties in bulk allows them to do their full 'gut and rehab' process at more cost-effective prices, while simultaneously creating more attractive properties (see Step 3 for more about this).  
This focus on the single-family rental home market is timely and smart. Today 'big-money' institutional capital (like the large private equity Blackstone Group LP) and companies like Invitation Homes (who own and operate more 82,000 single-family rental homes) are 'seizing the day' (and the financial returns) in single family rentals.
For example, Invitation Homes has leveraged escalating home prices in high growth regions (like the West Coast and Sun Belt states), along with a willingness of Millennials and 55+ 'renters by choice' to rent vs. own, to deliver rapid growth to their investors.
Bloyd Street is bringing this same smart business concept of 'upsizing' the single-family rental business to distressed regional Philadelphia neighborhoods today. Replace the 'one at a time' approach with a 'buy and build in bulk' strategy.  


(Step 3) Rehab beautifully. Create a product no one else is offering. Junky homes ARE NOT the way to go!  
When most think of 'gut and full rehab properties' in run-down areas of the city the words stylish and beautiful probably AREN'T words which come to mind. Do it 'on the cheap' has historically been the mantra.
However, this is a key area where Bloyd Street has chosen to disrupt the status quo. They've chosen to make a more stylish product. And there are smart reasons they have taken this approach.


In my conversation with Alicia Varela (Purchasing Manager with Bloyd Street Capital) she told me, "Mike, we like the idea of fixing a property to a standard no one else is delivering. Tenants are excited to move into our homes. They jump on our leases because we have fun features they haven't enjoyed before. Our homes are even motivating neighbors to start repainting and sprucing as well!"
If you're a single-family rehabber and are wondering what some of these 'fun features' are, check out a few examples below:
Stone-looking waterproof shower wall panels – These 2' x 8' x 3/8" thick shower panels are perfect for single family rentals. They give the look of real stone or tile (and have the texture to prove it). They install in 1/6th of the time of tile because they simply click, lock and seal together (like laminate flooring). They're also durable and easy to clean. With these panels your kitchens and bathrooms get built quicker and you differentiate your product from the rest of the pack.  

Granite or quartz countertops – With countertop costs coming down, its possible to offer luxury without exorbitant cost increases.
Modern shaker style kitchen and bathroom vanity cabinets – Transitional cabinets in a shaker style are hot. This updated look makes Bloyd Street's homes stand out from older rentals in older Philly neighborhoods.
Full body shower panels and fixtures – Who would expect a sleek luxury feature like a jetted shower body spray in an affordable housing unit? If you said, nobody, you would be correct. Create a memorable rental home. Get your property leased FAST! People stay longer.
At this point you may be wondering why put so much money into these homes. After all, they're in low to low-middle income neighborhoods. Here's the business reasons Bloyd Street finds it makes 'dollars and sense.'
A nicer home reduces turnover and the need to constantly re-lease the properties.
Nicer homes lease faster and get revenue started quicker.
Nicer properties stand out in neighborhoods which have been neglected for years. They start a 'rising tide' which lifts the other boats ('er appraised value of neighboring homes).
Conclusion
If you're a single-family property owner, you may be asking if the Bloyd Street business model makes sense for you. I'm sure the answer is maybe yes or maybe no (how's that for being 'politically correct?'). However, even if an investor-driven, large scale 'buy (in bulk), fix and monetize (on a larger scale) strategy isn't an exact fit for you, there's much to be gained from what Travis and Brian are doing. For example, consider the following 3 ideas:
Idea #1) Maybe you can look to upgrade your properties when no one else in the neighborhoods you're competing in has had the guts to do it?
Idea #2) Maybe you can get help from a community development group and gain access to resources and connections to take your small entrepreneurial (currently mom and pop rehab business) to the next level.
Idea #3) Maybe you can choose to become an investor in the single-family rental market, even if you don't want to 'get your hands dirty' fixing up old properties (in any type of neighborhood).
The reality is the real estate world is changing. Single family rentals are offer HUGE opportunities as evidenced by big-money private equity firms pouring money into the market.
The only question now is, what steps are you going to take to seize the day and take your single-family rehab and rental business to the next level? Can you make a difference and a bigger profit, like Bloyd Street Capital has?
Mike
###
If you're intrigued by the idea of using nicer (yet simple to install) products like the laminate shower wall panels for single family rental homes featured in this article or contemporary shower pans or glass enclosures to get your homes leased quicker, I'm Mike Foti with Innovate Building Solutions and would love to help you.
Call 888-467-7488 and ask for Mike. I'm looking forward to showing you ways to improve the return on your rental assets with unique bathroom products.
If you're looking for a rental home in Philadelphia called Bloyd Street Capital at 215-804-9751.
If you'd like to connect on LinkedIn, you'll find me https://www.linkedin.com/in/mikefoti/
If you're into Twitter follow me @Mike_Foti or my companies' @InnovateBuild and @InnovateHomeOrg.
---
Tags: affordable rental housing, affordable single-family rental homes, affordable single-family rentals, bathroom panels single family rentals, buy to rent housing ROI, gut and rehab properties, increasing ROI on single family rentals, shower panels, shower panels for single family rental homes. Buy to rent housing, shower panels for single family rentals, shower panels which look like stone, single family investors, single family rehabbers, single family rentals, waterproof wall panels
Mike Foti
Mike Foti is the President of Innovate Building Solutions.
Mike Foti
Mike Foti is the President of Innovate Building Solutions.