7 Smart Bathroom Design Features to Win-Over 55+ Luxury Apartment Renters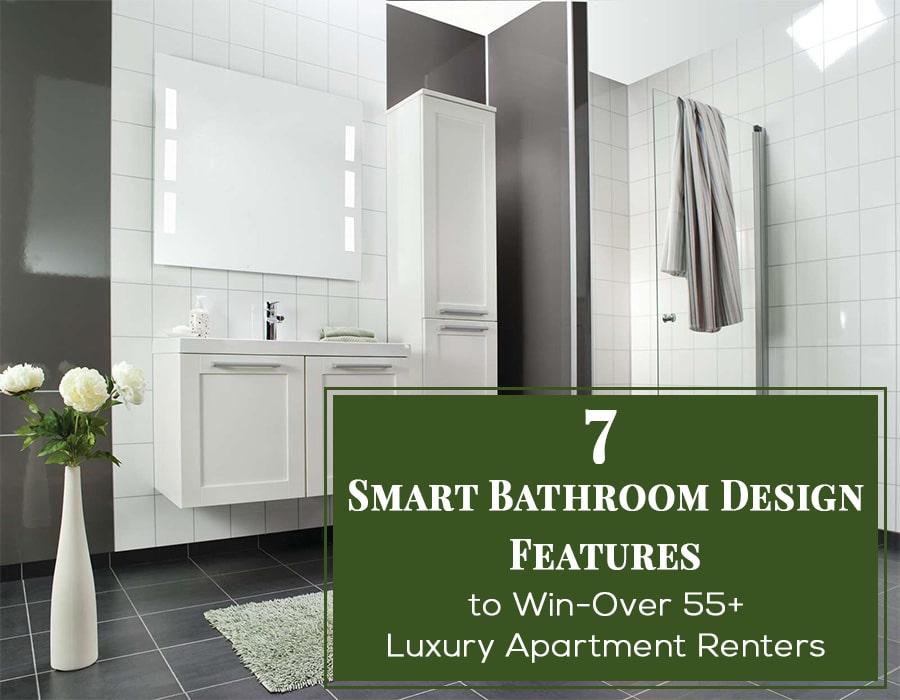 They're the hottest growth segment in the apartment rental market. They're 55 plus. They're not only 'renting by choice,' but they're 'renting with high expectations' of you (if you're the builder or developer).
You see, this isn't their first rodeo. They've lived in apartments. They're beyond being a move-up buyer. They've already lived through raising kids in the big suburban home.
They're smart. They're sophisticated. They're ready to ditch the hassle associated with single-family home ownership and want more time to enjoy life.
Whether they're comparing an upscale urban apartment or downtown suburban condo in a 'walkable neighbor' near their kids (and most importantly grandkids), they've got high standards. They want a location and apartment (or condo) which will work for their needs now and in the future.
The question becomes, "how does your apartment or condo design stack up? Is your bathroom designed to suit the needs of this more profitable (yet demanding) market segment? They're been around the block once or twice before. They expect a higher level of amenities and practical features in all rooms in their unit – including the bathrooms.
If you're renovating an existing multi-tenant property and want to ramp it up from Class B to Class A, or building new, you'll need to be thoughtful and strategic about how and where you spend your money to win over 55+ 'renters by choice.' If you use the right bathroom design features, you'll increase your chance of leaving vacant units to your competitors down the street.
If you're looking to improve your shower and bathroom designs, that's what this article is about. I'll identify 7 smart bathroom design features to help wow (and get signed leases) from luxury-driven empty nesters. These residents want well-appointed (and safe – even though they may not admit this to you), condo, apartment or independent units. Your success will be impacted on how well you deliver on their needs and wants (at a rental rate which is profitable for you). Let's check out the 7-bathroom design features.
Smart bathroom design feature #1 for 55+ apartment renters– The barrier free no-step shower
The last thing a 55+ person wants to be reminded of is that they (shh…I'm going to say this softly) are a little on the older side (OK, I'll admit as a 59-year-old and I may ever-so-slightly resemble this remark). Although the Botox treatments and packages of Miss Clairol hair coloring help, they can't turn back the actual body clock (although they can 'mask' it a little).
This is why bathroom shower design is critical.
To win over the 55 plus renter by choice you'll need to learn what the Europeans have known for decades. A winning shower design starts at the bottom with a one level wet room system. It will not only make a safer bathroom, but also one with a contemporary style.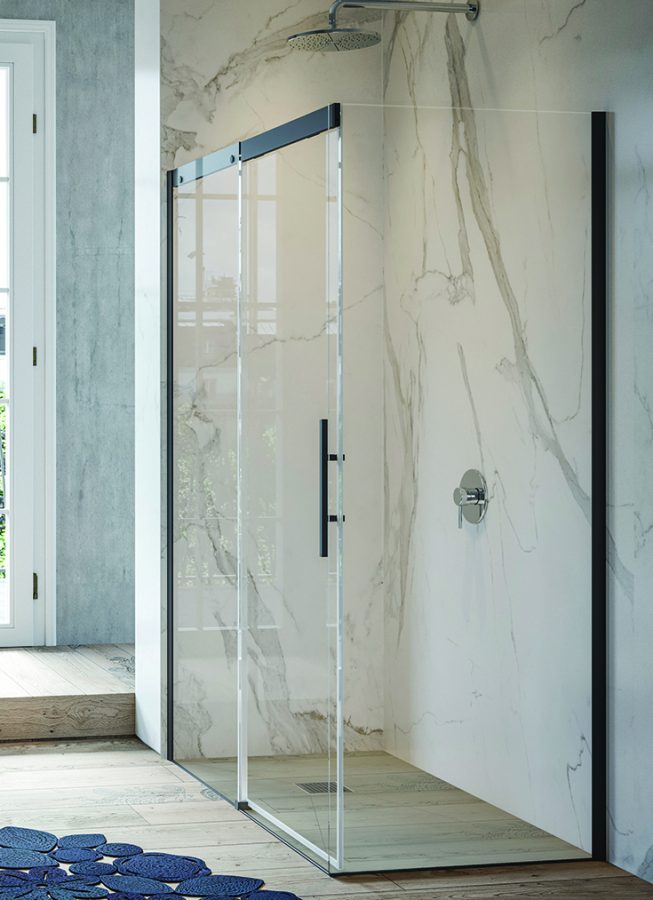 Smart bathroom design feature #2 for 55+ apartment renters– Cut bathroom and shower wall maintenance down to size 
Your 55+ renter-by-choice has 'lived through' the painstaking maintenance of a ceramic tile shower. While these showers look fantastic the day they're initially installed, the 'eventually' gets to them. The dirt, the grime, the 'big M' word (that would be mold) plague the shower for years to come.
While tile showers start out looking amazing, they end up being nasty. The challenge your maintenance team has is 'cleaning up this mess' (both literally and figuratively) after your tenant leaves (whether they did a good job of cleaning the tile grout joints while it was occupied or not).
You may be asking, is their a more effective way to get a cool-styled shower for your 55+ target market? Is there an option which is not only simple for them to maintain, but costs less than tile?
The answer is, yes there is a better way.
This better way is to use 100% waterproof laminate wall panels. These 3/8" thick x 2' wide x 8' high panels are a dead-ringer for tile WITHOUT the hassle (to your renter or your maintenance department). They'll give you the high style to get your unit leased quickly without maintenance costs or hassles for your residents. Since they are a 'direct to stud' installation, they go up quick without the need to find a tile crew. They're a smart bathroom panel for senior apartments.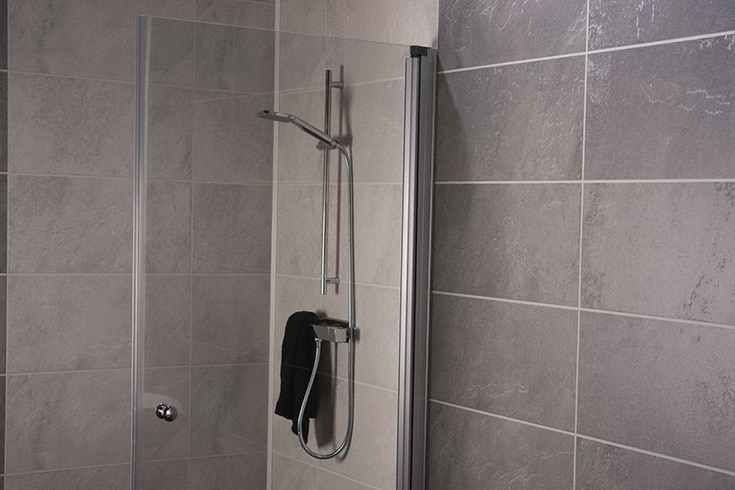 Smart bathroom design feature #3 for 55+ apartment renters – Hard-ware which isn't hard-to-use
Have you struggled to twist off the top of a water bottle and wondered, "I don't know how the heck my Mom or Grandma would be able to pull off this doggone top off!"
Unfortunately, our dexterity doesn't improve (and isn't worth more) as we age, unlike a bottle of fine wine. Operating and turning handles isn't as simple as it used to be – especially for empty nesters.
Its for this reason the hardware selections in your 55 plus bathroom and shower need to be more thoughtfully designed than a space you're creating for Millennials.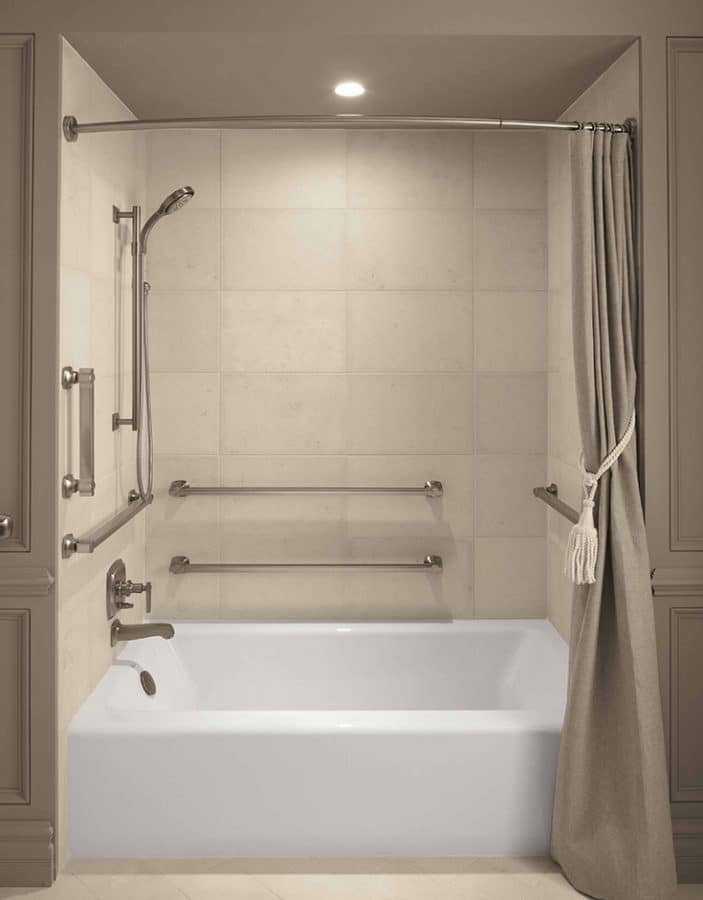 Here's 3 smart hardware ideas your upscale empty nester tenant will appreciate:
Hardware idea #1 – Use lever-style faucet handles. No knobs. They're much easier to operate.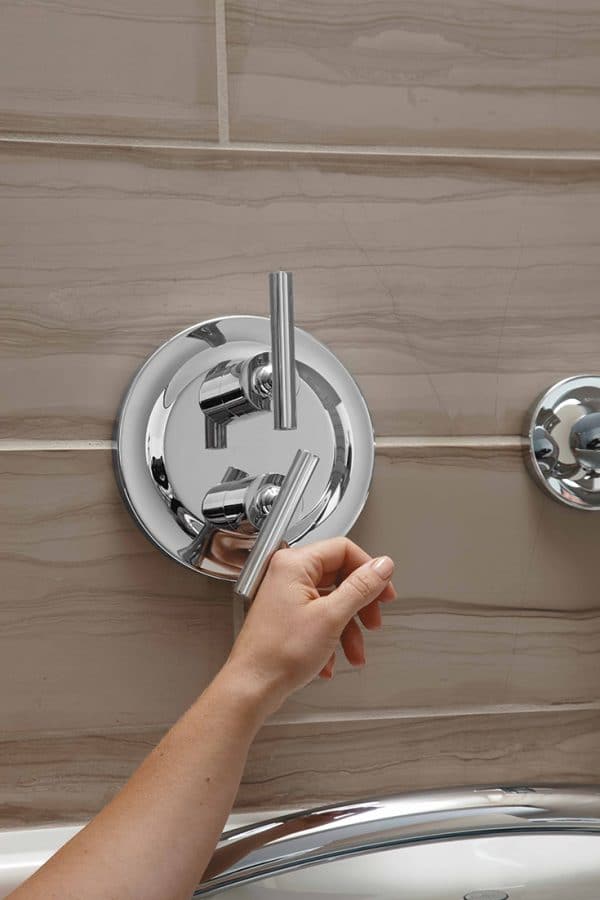 Hardware idea #2 – Include a diverter with a hand-held shower. This option will make the shower simpler and safer.
Hardware idea #3 – Locate the shower valve where it can be turned on without getting wet. Who the heck loves a blast of cold water when getting into the shower anyway?
Smart bathroom design feature #4 for 55+ apartment renters – Relax and enjoy your space with seating
As your tenants age their need for a safe bathroom is more important than when they were younger. Whether they're willing to admit it (or worse yet – talk about it) or not, a 55+ tenant's mobility isn't what it used to be. Even though they may still tell themselves they're the ex-Captain of their High School football team or had the flexibility to lead the Cheerleading squad, their body doesn't work the same as it did in the 'good 'ol days.'
This is where flexible shower seating comes into place.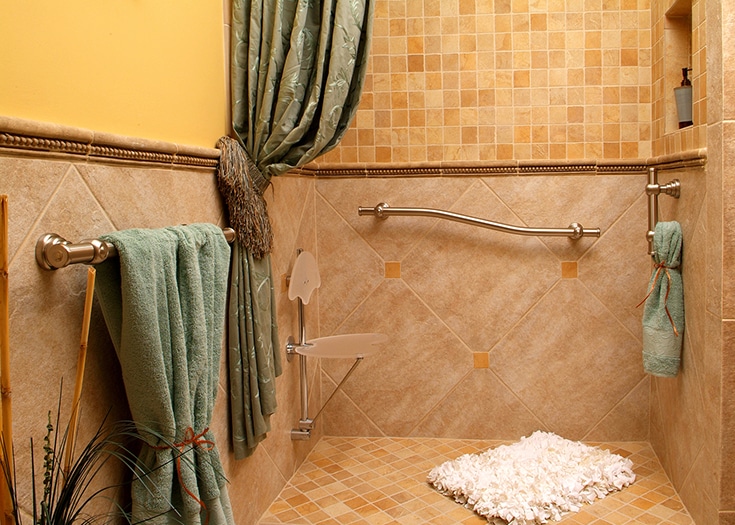 While your units likely don't have the room for a large bench seat, a luxurious teak fold down seat can be a comfort (and safety feature) which keeps on giving.
If you put this feature in, DO NOT sell it as a safety feature. Package it as a luxury amenity in your shower.
Sell the luxury they want; provide the safety they need.
Smart bathroom design feature #5 for 55+ apartment renters – Do the small things to increase comfort. Think through the height of outlets, switches, and toilets.
It's harder to bend down.
It's more difficult to reach up.
It's for these reasons smart 55+ bathrooms are thoughtful examples of universal design (i.e. design which works for people of all ages). If you're building a new facility raise the electrical outlets from 12" above the finished floor to 15". Lower the light switches from 44" to 41". Install a comfort height toilet. Have 36" wide doorways.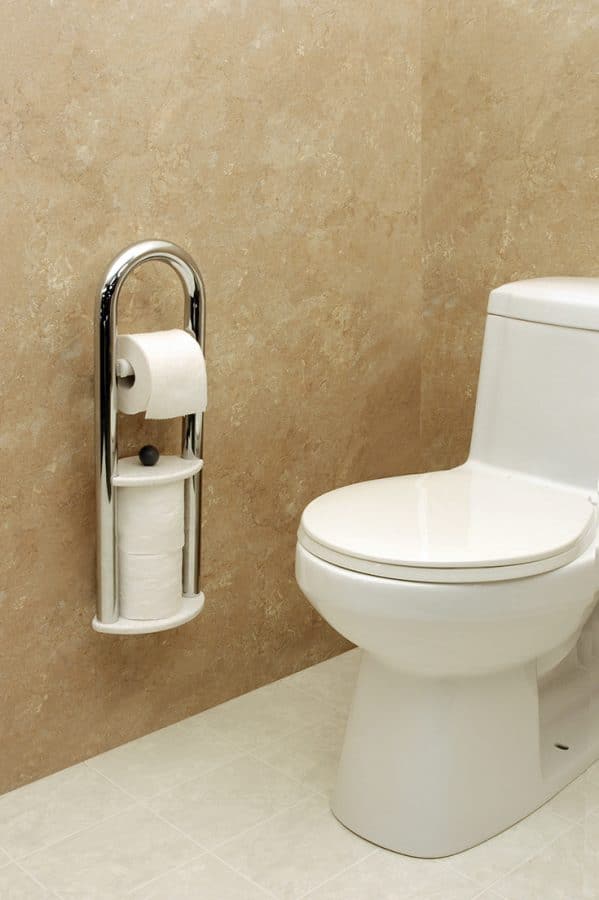 Small things can make a big difference in how your units lives as your tenant ages. Designing with these thoughtful details can be the reason you keep a tenant who experiences mobility challenges after they move in or lose them to another apartment building or independent living facility.
Smart bathroom design feature #6 for 55+ apartment renters– Bathroom storage which REALLY work!
Ask most people to describe the inside of their bathroom vanity cabinet and the word DISASTER is likely to come up. Designed as one 'big open box,' it's no wonder the organization space for their toilet paper, bathroom cleaning supplies and extra toiletries is in complete disarray. This challenge becomes larger when they're now looking to downsize, yet still have significant bathroom storage needs.
Your potential tenant needs a place for more medicines than ever. The size of showering products has never been larger (as my wife likes to say, "The time between wake-up and pretty keeps getting longer as you age. You need more products to keep old age away!).
So, as a thoughtful builder/developer what can you do to delight this 55+ renter and help them stay organized? Here's 3 products to improve your bathroom storage game:
Product #1 – Pull out bathroom vanity drawers – and maybe one for a blow drier or and curling iron – Bending down can be a problem for a 55 plus person. So, the simpler you can make it for them to reach their storage, the better. A simple way to do this in the bathroom is with pull out drawers. A way to blow them away, is with a 'hot pullout' drawer for the blow driers and curling irons (OK – I know that's a bad pun!).
Product #2 – Recessed niche storage – The only thing worse than zero storage in a shower (and hanging an ugly Dollar Store 'shower caddy' over the shower head) is having a corner wire corner basket where the soap falls through! A better idea is to use recessed niche storage. Ramp up your bathroom further by combining the grout free wall panels discussed in Idea #2 with contemporary (and simple to clean) brushed nickel recessed niches. They both have ZERO grout yet offer a fashion-forward look.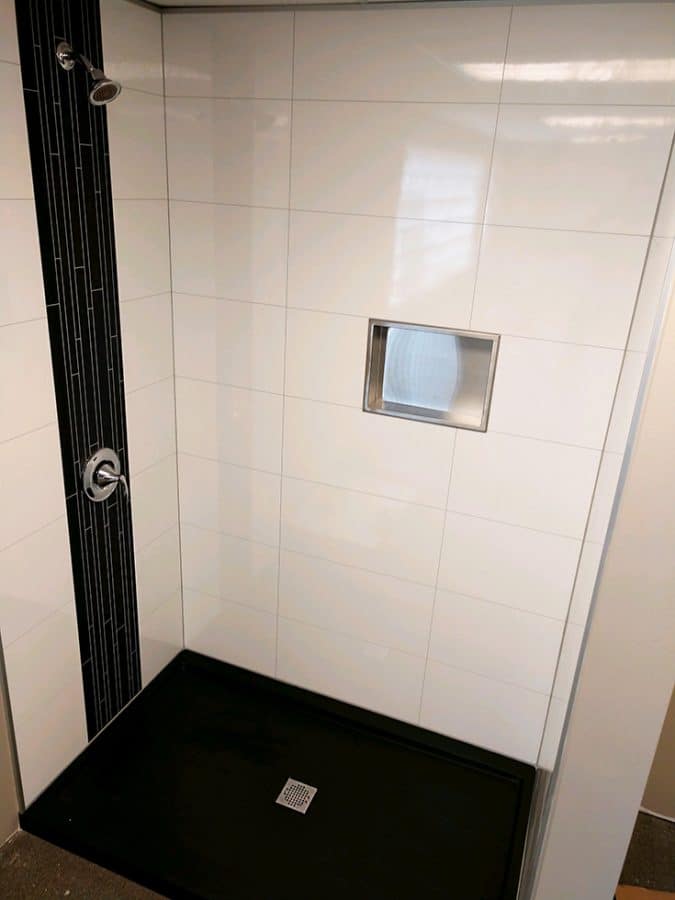 Product #3 – Medicine cabinets – Medicine cabinets can be a wonderful storage element because they use unused wall space to gain more storage. This is especially important when your bathroom isn't as big as you'd like.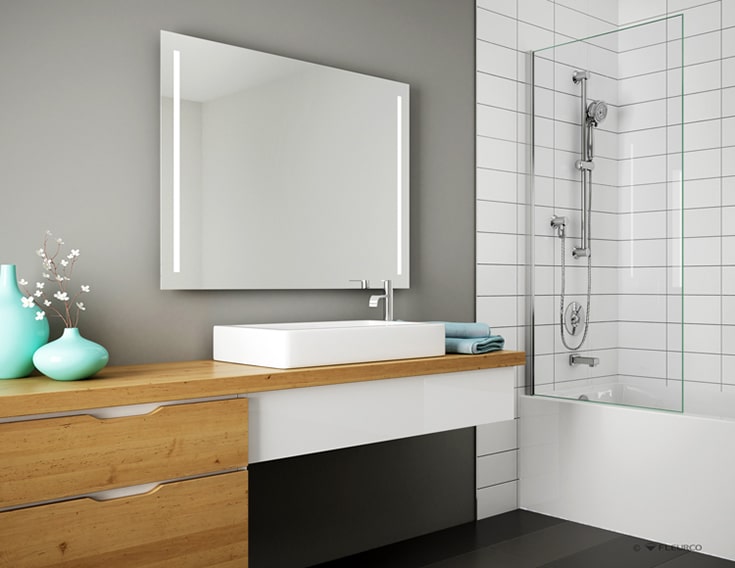 Smart bathroom design feature #7 for 55+ apartment renters – Lots of lighting
It was amazing to watch my kids read in rooms with practically no light when they were growing up. Unfortunately, for those of us greater than 55 (I have to unwillingly raise my hand to that one), our eyes don't age gracefully! It's the cold, hard, blurry-eyed truth.
This is why bathroom lighting becomes an important element for an older customer.
If possible, add natural lighting with a transom window or skylight. If natural lighting isn't possible, consider a 'double-up' feature with a lighted medicine cabinet. You'll gain more storage (like was discussed in idea 6) and get more light – a double bonus.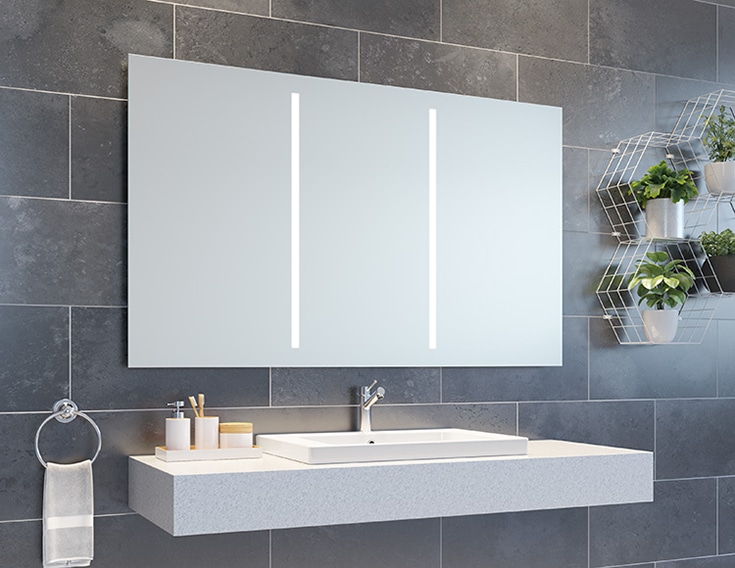 In addition, look to add more task lighting over the bathroom vanity cabinet and/or even LED lighting under the cabinets to make those late-night strolls to the bathroom (yes, even Super-Beta-Prostrate can't solve the too-many-trips-to-the-bathroom problem) a safer (and more stylish) experience.
Conclusion
There is so much emphasis put on kitchen designs and the look of common areas, but too little emphasis is placed on the bathrooms IMHO. As you know a 'wet space,' can be a dangerous place which causes you to lose a tenant overnight (if one bad fall occurs).
Take this sore spot of your existing building or new design and turn it into a strategic advantage to win leases over your competitors for 55+ tenants.
When you identify and use smart bathroom design features your chance of winning over these affluent, experienced and intelligent renters by choice go up dramatically.
Maybe you'll want to add a barrier free shower. Or put in simple to maintain waterproof shower wall panels or simpler to use hardware or outlets.
With the growth and profit possibilities of the Baby Boomer generation, is this a market segment you can afford to ignore any longer in your multi-unit properties?
###
If you're intrigued by the use of waterproof laminate shower wall panels for 55+ renters, or reinforced acrylic shower pans (or just want to talk bathroom design strategies for the 55+ market) contact Innovate Building Solutions (or me – I'm Mike, the author of this article). I'd love to talk to you about bathroom ideas for your next property.   
Call 888-467-7488 and ask Mike. I'm looking forward to getting to know you and eliminate bathroom problems and improve your occupancy rates.  
If you'd like to connect on LinkedIn, you'll find me https://www.linkedin.com/in/mikefoti/
If you're into Twitter follow me @Mike_Foti or my companies' @InnovateBuild and @InnovateHomeOrg.
---
Tags: 55+ bathroom design, 55+ bathrooms, barrier free shower, bathroom design for seniors, comfort height toilet, fold down shower seat, grout free wall panels, hardware design for 55+, laminate wall panels, lighted medicine cabinets, multi-unit wall panels, recessed niches, recessed shower niche, renters by choice, roll in shower, senior apartment bathroom panels, senior apartment shower panels, senior bathroom design, senior renters by choice, shower lighting for 55+, shower panels for assisted living, shower panels for independent living, shower panels for senior apartments, shower storage, shower wall panels, wall panels for multi-unit properties, waterproof shower panels
Mike Foti
Mike Foti is the President of Innovate Building Solutions.
Mike Foti
Mike Foti is the President of Innovate Building Solutions.