5 Ideas to Make Your Senior Housing Bathroom Sexy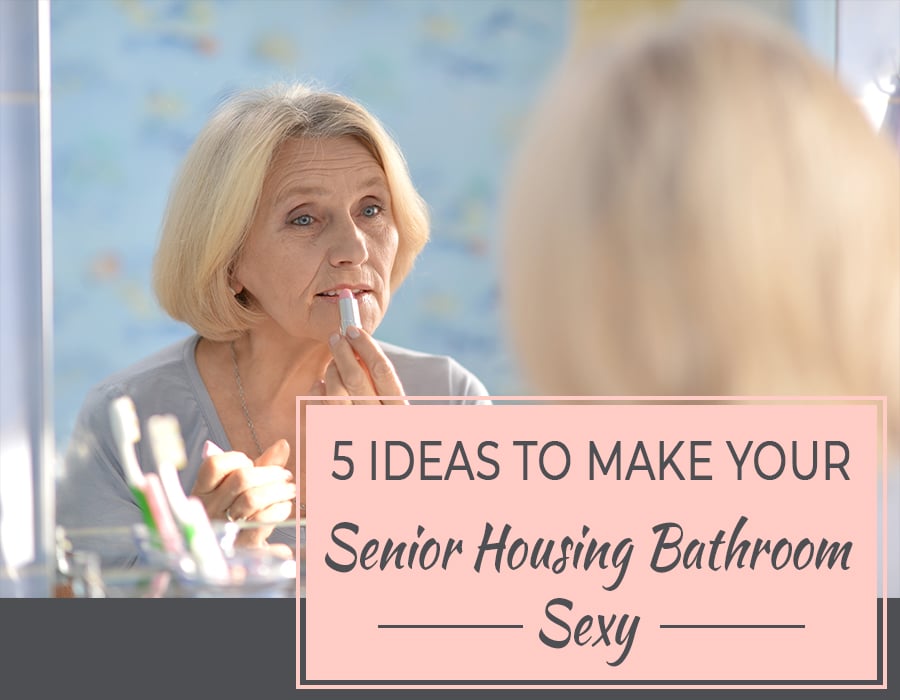 I don't know of a single senior who wants to feel old or live in ugly surroundings. Yet – if you go into bathrooms in senior apartments or independent or assisted living units there's two words which all too often describes the setting. These words are…
Institutional and Old
These bathrooms can look far worse than your Mom or Dad's last remodeled bathroom or last stylish hotel they visited. The challenge is your assisted or independent living bathrooms are designed for U-T-I-L-I-T-Y. After all, bathrooms and showers are wet and dangerous places. There's no escaping the mobility or eyesight of your resident population is not improving. Quite the contrary.
Sure – they need well-designed bathrooms with thoughtful features. Sure, you've placed outlets higher and light switches lower. Doors are wider. Toilets are raised. The bathroom will work better than your resident's old home. But the questions is, are these 'modifications' enough to not only attract, but to keep people in your facilities?
Speaking as a guy whose (very cute I might add) Mother in Law (and deceased Father in Law) have been in senior care facilities for 6 years, I can tell you while safety and utility are important in what senior living facility to choose, for my wife and I  the decision of where to have my in-laws stay went far beyond 'the basics.' We also thought about the care we expected from the staff and 'the feel' of the place were HUGE. And I'm sure we're not unique in our decision-making about where my Mother in Law is living (and enjoying I might add) now.
Here's a few facts about operating a successful senior living facility I'm sure aren't news to you:
Fact #1) Daughters (who are often the key factor in choosing an independent or assisted living facility) DO NOT want Mom or Dad living in an outdated and ugly space. They already feel guilty about uprooting them from their home (and NOT choosing to have them come live with them).
Fact #2) Families have choices – While a family might move Mom in today, if her care is just so-so and your facilities are outdated, they may move her faster than you can say 'Did-our-competitors-just-open-another-new-facility-down-the-street?'
Fact #3) Poorly designed bathrooms are a 'bear' for your maintenance staff to clean – A dirty bathroom is a HUGE turnoff, and as you know– it's soooooo hard to find (and keep) good maintenance staff. You not only need a nice-looking shower and bathroom – you need one which is time-effective to clean (and I'm sure your accounting staff is 'seconding' this motion).
So, the question becomes what can your assisted living, independent living or senior apartment complex do to upgrade your bathrooms? What can you do to not only make them functional (and simple to clean), but dare I say sexy? After all – families will make (what they feel is) the best choice for Mom and Dad and if your facility doesn't stack up, they have brand-spanking-new options coming into the market at breakneck speed.
Check out 5 (and dare I say 'sexy') ideas which will help your properties' bathrooms not only attract new tenants and residents – but keep them with you for a good long time as well.
Sexy senior bathroom idea #1 – A one level shower pan with style  
There's no law which says one level (roll-in-capable) showers must look geriatric and 'plasticky.' As a matter of fact, upscale hotels are using zero entry showers as much to add 'cool factor' as they are to make rooms accessible.
To get a one level shower right, consider 2 options:
Option 1 – A one level shower with large format tiles – Large tiles make the bathroom look bigger. Your cleaning staff love, love, love less grout. If you use a wet room system with a shower base former and a cool linear drain and you'll eliminate 'itty-bitty' ceramic tiles which are a pain to maintain and get a stylish look in the process.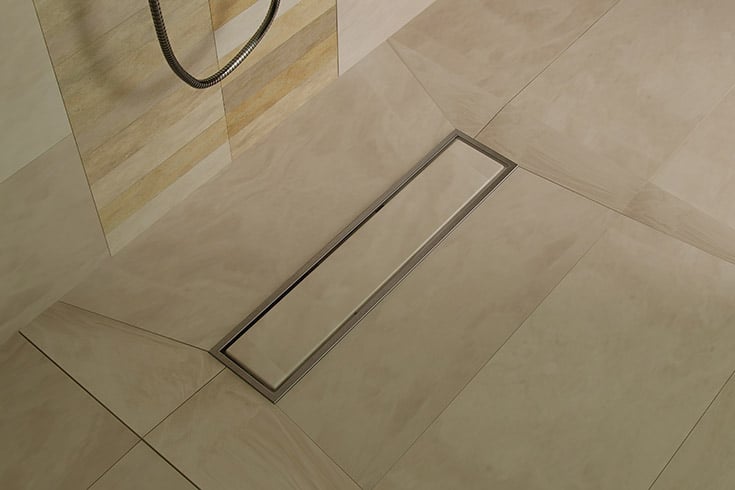 Option 2 – A one level shower without tiles! If you want your maintenance staff to love you even more – get rid of grout altogether. Use this one level matte white or matte black barrier free pan. It's got style. It's accessible.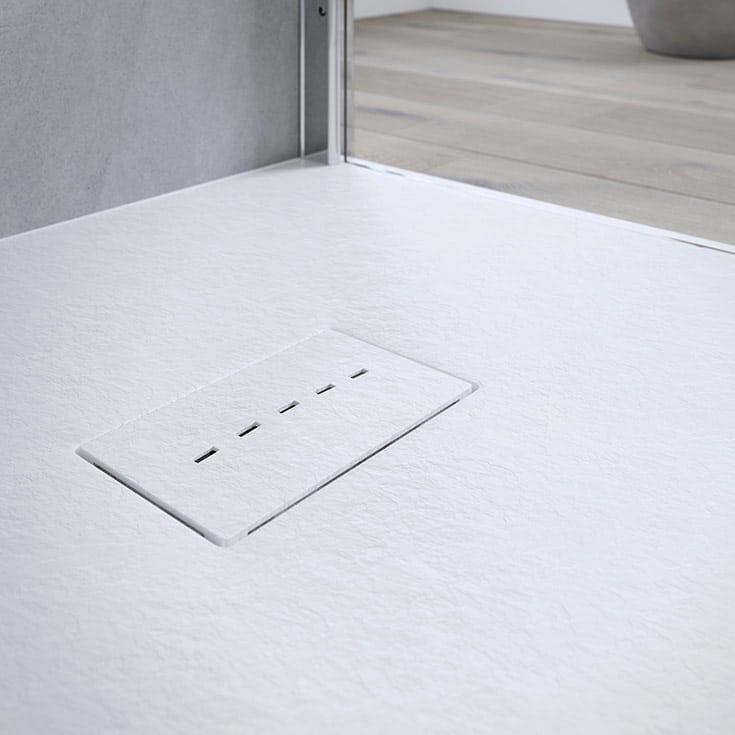 Sexy senior bathroom idea #2 – Get the contemporary look of tile for bathroom and shower walls without nasty grout joints   
If we're being 'real' there's 2 unfortunate facts about shower wall surrounds in most senior living facilities:
Fact #1 – If fiberglass one-piece surrounds were used in the original build, they now likely look old, plasticky and dirty.
Fact #2 – If ceramic tile was used your cleaning staff has been 'fighting' grout with scrub brushes and nasty chemicals for YEARS! They hate your tiles. Did I say they hate your tiles?
Maybe you've been pitched on acrylic surrounds or cultured marble as alternatives to the options above. And I can certainly agree these products offer better 'utility' than fiberglass and ceramic tiles, but if I can be blunt, they're as boring as all get- out. Sexy WOULD NOT describe them.
Here's a better idea I'll bet all the 'Monopoly money I have' you haven't heard of. This idea is contemporary, stylish – and yes, I'll say it – sexy. This product installs like laminate flooring (with a click and lock – tongue and groove system), but it's 100% waterproof. It has styles to fit an upscale looking senior housing facility (looks range from Transitionalist to Modern Farmhouse).
Not sure what this product is? I'll tell you. They're laminate wall panels. You can use them not only for the shower but carry them into the bathroom around toilets for a sanitary easy-to-wipe-up alternative.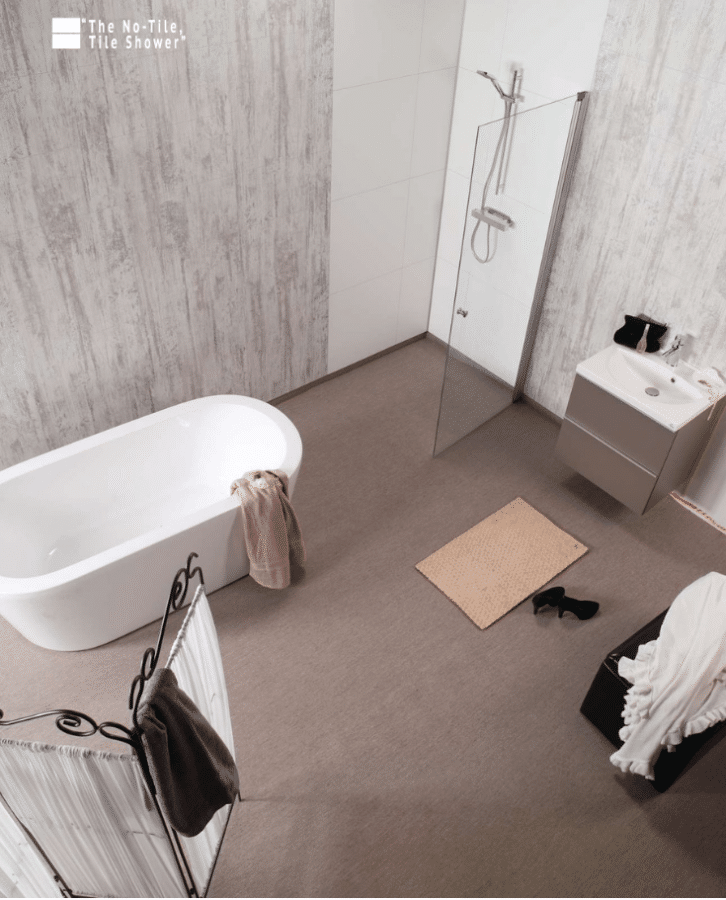 Your families and residents will LOVE the look. Your housekeeping staff may want to kiss you for making their job easier.
Sexy senior bathroom idea #3 – Decorative grab rails vs. grab bars
 Nothing quite says sexy as well as a hospital grab bar…. OK – I'm lying!
Standard grab bars = A lack of mobility and balance
A lack of mobility and balance = Old
No one wants to feel old…especially your residents. We all want to feel young and vibrant. This is why hair coloring was invented (and as a 59 year old 'ever-so-slightly-graying' guy (OK – I'm lying again) I still believe in 'investing' $9.99 in hair coloring to become the 'younger man' (as I tell my wife) every couple of months.
Your residents also have ZERO desire to be reminded they're aging (a bit). Here's a way you can help. Rip out institutional grab bars and replace them with decorative grab rails in the shower, by the toilet, close to the vanity.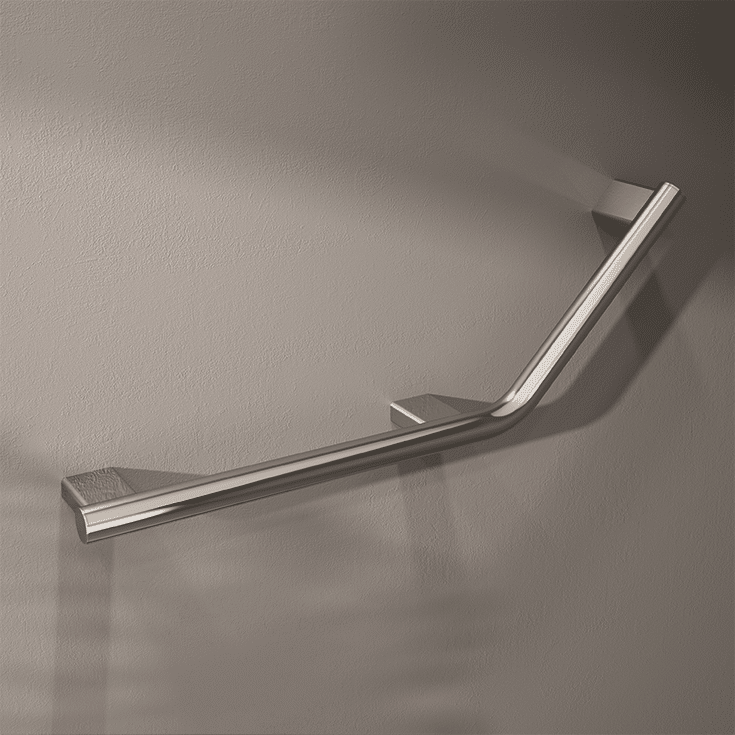 Safety can be sexy, but you'll need to be more thoughtful in product selections (and spend a few more dollars) to make it happen.
Sexy senior bathroom idea #4 – Upgraded lighting
Here's an unfortunate reality of aging – 60-year-old's need 3x the light of a 20-year-old. It's something you already realize. However, the question is do you have 3 times the lighting in your senior living bathrooms as you do in your personal home? While lighting is needed – it's also proven to improve moods as well. And there's nothing you love more (sarcasm intended) than crabby residents!
Not sure how/where to upgrade your lighting? Here's a few thoughts:
If you're developing and building new senior living units, put bathrooms (where possible) on an outside wall and add transom windows.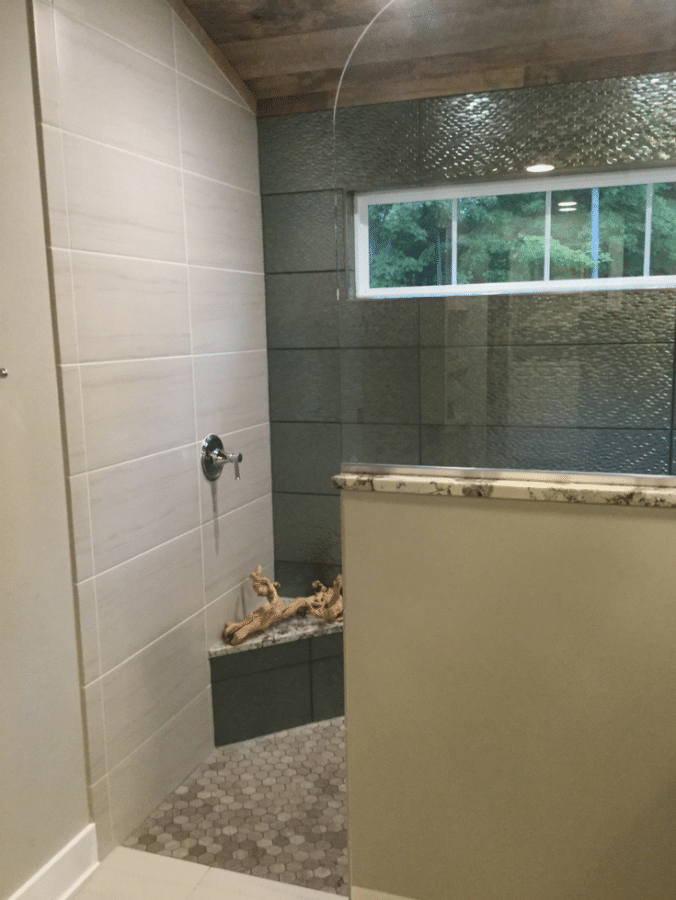 Add more light (and double up with more storage) with a mirrored medicine cabinet.
Install lighting in dark showers. Showers are dangerous and better lighting will help keep residents safe.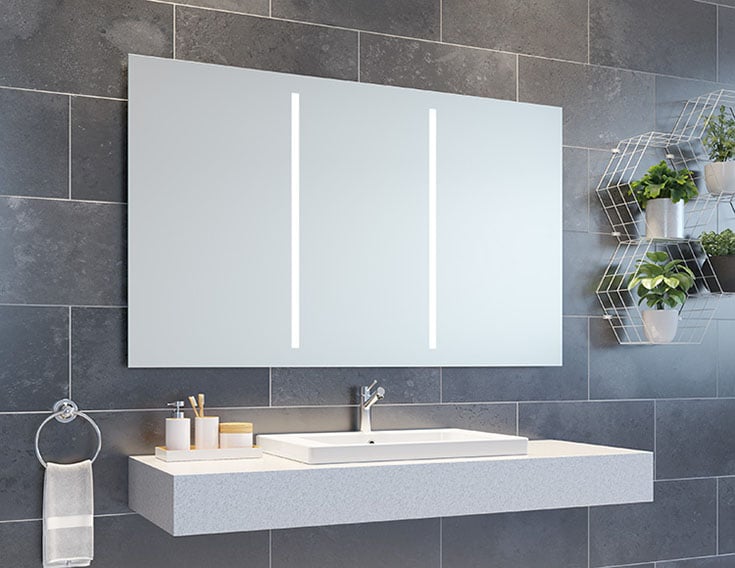 Sexy senior bathroom idea #5 – Make sure there's 'no makeup left behind'  
 OK – this idea may not apply to many guys (unless they were in the theater back in the day), but it applies to the 'young ladies' in your properties. They still want to look pretty.
One of the things I LOVE about the memory care unit my Mother in Law is in is they take the time to 'doll her up.' The staff does her nails. They help fix her hair and makeup. Even though her mind is not what is used to be, it doesn't mean she doesn't deserve to look and feel as good as possible.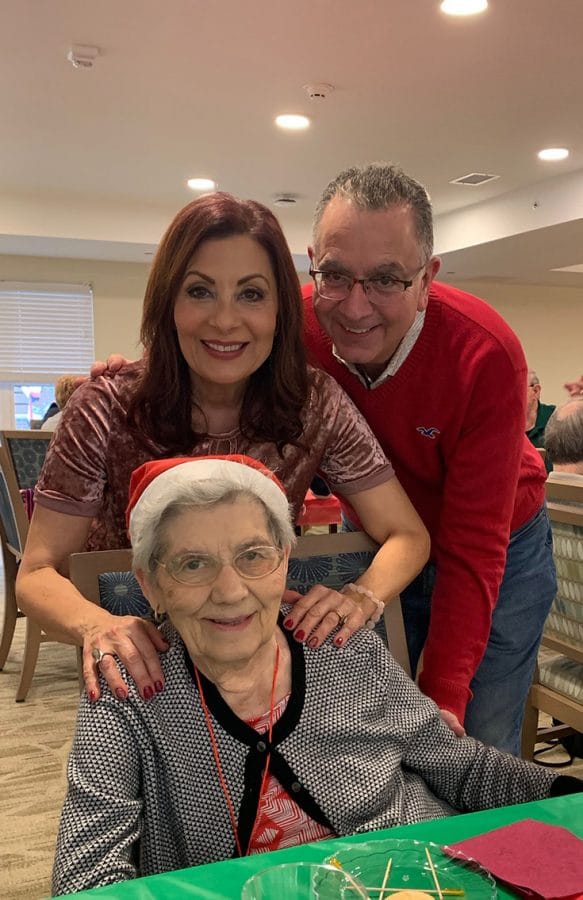 And in the famous words of Fernando Lamas, "It's better to look good than to feel good." (OK – maybe this quote is just a little off base, but you gotta love Fernando's voice no matter what!).
So, here's a different thought for your independent living or senior living apartment bathrooms. Add organized make up storage. She's earned the right to feel good about herself (and dare I say sexy – in a Grandmotherly sort of way) every day! Drawer organization systems can help her (or her caregiver) find what she needs to look great.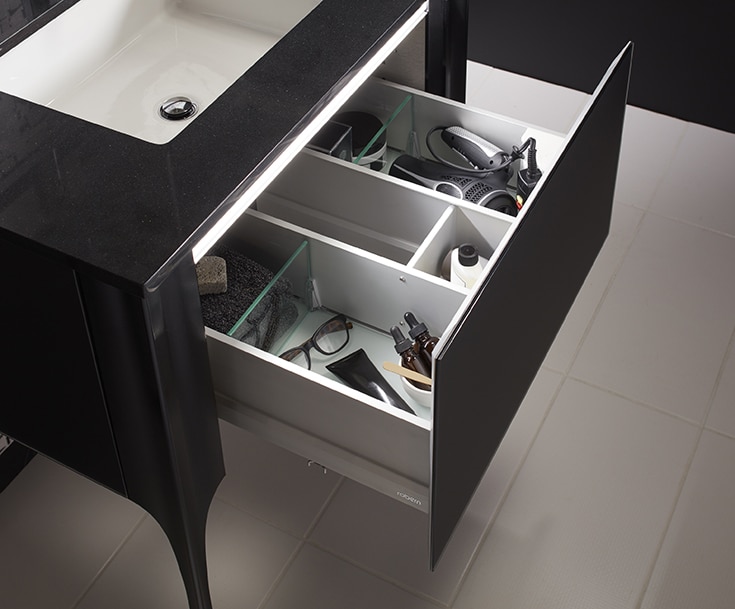 Conclusion
Thanks for reading this article. Now, I'll challenge you to step back. Be honest and grade the bathrooms and showers in your units today. Are they not only 'functional' – but also stylish? Are they capable of helping the residents feel better about themselves and not feel they're living in a 'ramped-up hospital room?"
While functional and safe bathrooms are critical, positive family emotions (which go beyond the basics) fuel successful (and profitable) senior living facilities who keep residents longest. How does your facility stack up?
Mike
###
If you want to learn about laminate shower wall panels for senior living facilities or one level wet room systems (or just want to talk about senior living bathroom design strategies) contact Innovate Building Solutions (or me – I'm Mike Foti the author of this article) at 888-467-7488.
If you'd like to connect on LinkedIn, you'll find me https://www.linkedin.com/in/mikefoti/
---
Tags: assisted living bathroom design, assisted living bathrooms, grab bars senior living, independent living bathroom, independent living bathroom design, maintenance saving tips senior living, roll in shower independent living, senior housing bathroom design, senior living bathroom design, senior living bathrooms, shower design for independent living, stylish senior living, stylish senior living bathrooms, time saving senior living bathrooms, wall panels for assisted living, wall panels for independent living, wall panels for senior housing
Mike Foti
Mike Foti is the President of Innovate Building Solutions.
Mike Foti
Mike Foti is the President of Innovate Building Solutions.