10 Reasons You Shouldn't Blog on Your Remodeling or Building Site (written by a blogger)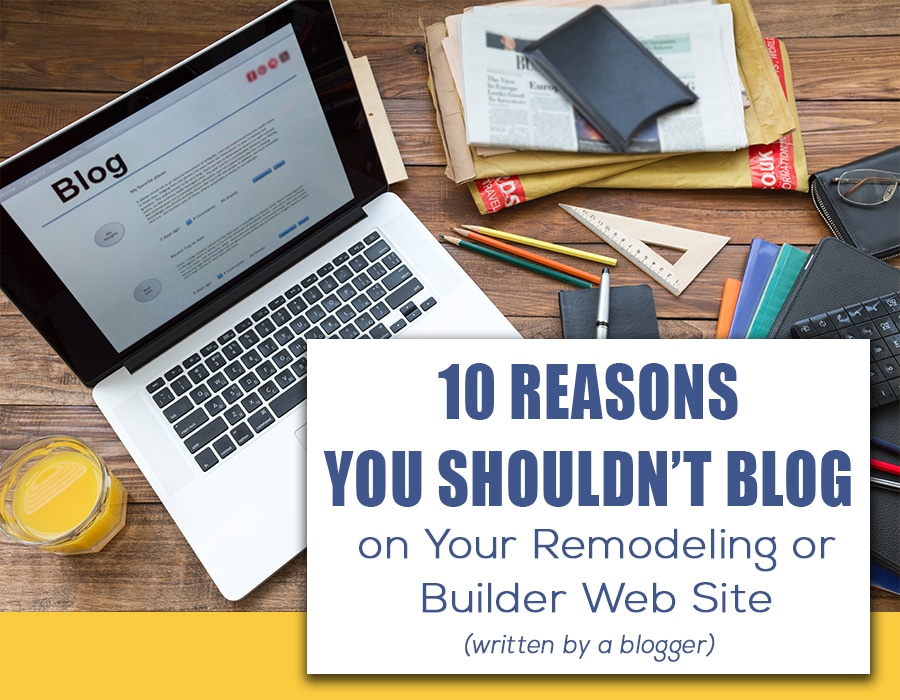 Any of you who've read my articles might remember 6 months ago I wrote an article titled 5 Clear-Cut Reasons You Should Blog on Your Remodeling or Home Builder Web Site (even if you hate to write). Given that – you may be wondering, "What the heck's gotten into Mike? Has he gotten even wackier than 6 months ago and lost his mind? First, he tells me I need to blog, now he says don't blog. What's up with that?"
The simple answer is yes, I've gotten wackier in the last 6 months. I know this because I love to learn, laugh and grow along the way. I think wackiness is the key to growth and enjoying running a business more.
However, no I don't think I've lost my mind. Well – at least I don't think so. However, the more I blog, the more I know blogging IS NOT the 'quick and easy' way to riches. You may ask why I know this?
Well – I've lived it. I've written (while most sane people are sleeping) over 800 posts which are 1,500 to 2,500 words long. I've been on podcasts and spoken to groups about getting digital results while running a remodeling and building material distribution business.
I'm getting over 130,000 monthly visitors and emailing over 29,000 email subscribers while writing on 4 blogs. I've seen digital leads grow dramatically. I'm a weird dude (yes – I know that). I'm a 'writing maniac' in an industry where most people HATE, HATE, HATE to write.
So, why am I now saying you shouldn't blog on your remodeling or home building site (all while writing a blog post to tell you this? Can you see the irony?).
Well read the 10 reasons below – and I bet you'll see at the end where I'm coming from.  
Reason #1 you shouldn't blog on your remodeling or building web site– It's too much work
If you're looking for the 'quick and easy' path to digital marketing success blogging ISN'T it.
Blogging takes time. Time to write. Time to edit. Time to find images. Time to resize images and create 'alt' tags. Time to upload the post. Time to distribute the post on social media. Time to email the post to your list. If this sounds like a 'lotta' work – you're right. It is.
Bottom line – if you're looking for immediate gratification. Stop the train. Don't write even one single blog post. You're wasting your time! Blogging will take time (whether it's your time, someone's time on your team or a company you outsource this task to).
Don't believe anything you read which says blogging is FREE! It's only free if you're going to DIY all of it and IF your time is worth nothing!

Blogging takes time. Time = Money.
Reason #2 you shouldn't blog on your remodeling or building web site– You say, "I have no frickin' idea what to write about."
This is a real challenge. Talk to any blogger (or podcaster or video creator) and if they tell you've they've never struggled developing topic ideas– I'd tell you they're lying.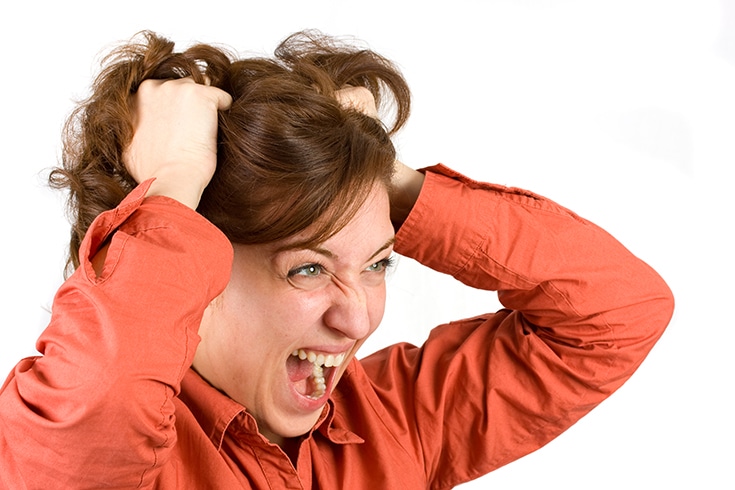 However, with that being said – topics ('er problems and questions) are literally staring you in the face. Listen to what customer are asking on the phone or at in-home presentations. Read blogs (from other industries) with catchy titles and 'spin them up' for the products or services you provide. Think about new products you offer and how they make a space beautiful or make your customer's life easier.
Sure – topic creation isn't easy – but it can be done. Hot topics are the igniter to hot results.


Reason #3 you shouldn't blog on your remodeling or building web site– You say, "I can't put 2 words together – just ask my high school English teacher."
Many people got into 'the trades' (I would restate this as say the building industry though) because they HATED 'school-work.' Writing was on the top of their 'pain-in-the-rear' list. And blogging involves writing. There's no 2 ways (or 3 ways for that matter) about it.
So how are you going to blog if you hate to write?
It's simple YOU'RE NOT GOING TO BLOG…but you can still have a blog. How, you may ask?
Just like the electrical and plumbing on your jobs, you're going to 'sub it out.'
Do what you do best. Hire out the rest.
Hire a digital marketing company to blog for you. Find a freelance writer to blog for you. No matter what you do, pay attention to 2 keys when choosing the 'write' (yes – bad pun intended) person to do the work for you.
Key #1 – Choose someone who will write like you talk (OK – without the swear words!). While this blog needs to be informative, it also needs to feel like you and those in your business. The 'voice' needs to be yours (not the ghost writer). In addition, the writing CANNOT BE BORING AND GENERIC (unless you're boring or generic – but if so, don't waste your time blogging)!
Key #2 – They need to have 'more than a clue' about digital marketing – Excellent writing without an understanding of 'geeky-web-dude/dudess stuff like page titles, alt tags, SEO and content distribution isn't going to deliver the results you want. You need a firm (or person) who understands how to optimize your post – not just write well.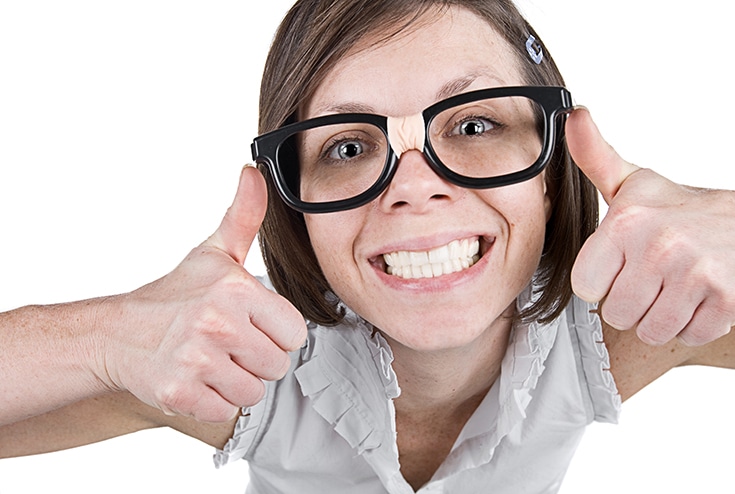 Reason #4 you shouldn't blog on your remodeling or building web site– You feel you don't know enough about the industry to blog   
Here's a challenge we ALL deal with. The IMPOSTER syndrome. We feel we don't know enough. We know there's people smarter than us out there.
While this is true, I tell you flat-out 'get over yourself.' There's always someone who knows more about something – however – only you can express it in your way. And if you know more than the person who's reading the post – that's all that matters.
In my case I started a blog 3 years ago about home organization (note I have a custom closet, garage cabinetry division called Innovate Home Org in Columbus Ohio). I was a 'newbie' to the industry. I simply wrote to the level of expertise I had at the time. This blog – called Professionally Organized – now has 25,000 visitors per month. My largest blog – News from the Block – which focuses on bathroom remodeling tips and ideas – has 100,000 visitors (and I'm not the smartest dude in this industry either).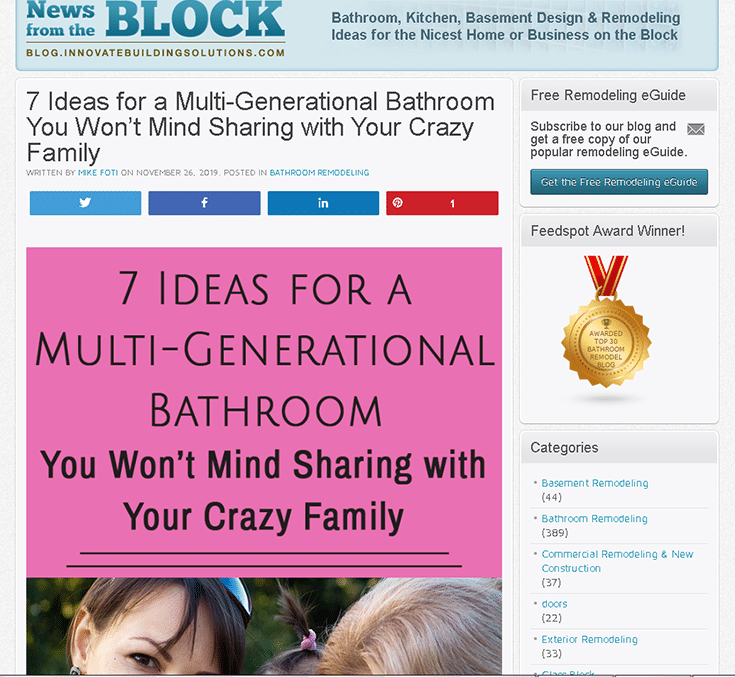 I'm still not the most knowledgeable person about closet design or bathroom remodeling – but I share what I know at the time I'm writing it. However, I keep learning and sharing what I do know. Besides – with blogging I can revise old posts and make them better as I get smarter.
So get over yourself – and start writing what you know right now.
Reason #5 you shouldn't blog on your remodeling or building web site– You say, "I've gotten crappy results from blogging in the past."
Bad results are a perfectly legit reason to stop doing something. There's no sense banging your head 'against the paper.'
However, before you chuck blogging, do the following:
Have someone who gets results with blogging look at your old posts and let you 'have it.' Let them identify why they think you're getting bad results.
Honestly ask, were my old posts focused on helping customers with their questions and concerns or were they 'fluffy crap' (articles about your team, your company Holiday party, the office dog). Were the blog post titles boring? Was there no depth to the content?
Take in this dose of reality…
Crappy, useless blog posts = Crappy blog results (and a lack of leads you 'can't take to the bank!).
Reason #6 you shouldn't blog on your remodeling or building web site– You don't know who you're talking to
When you write 'generic' blog posts you're writing is uninspired. People won't 'connect' with your topic. For example, this post is written to owners of remodeling and home building companies. If I wrote it correctly, builders and remodelers will feel like I'm writing to them (which I am).
When writing a post, you need to 'talk' (and write) to someone in particular. For example, if you're writing about accessible showers – maybe you'll want to 'pretend' you're writing to a woman in her late 50's. She's trying to help her stubborn husband who is getting a double knee replacement – and still thinks he can 'leap tall buildings' (or shower curbs). And oh, BTW, her crotchety Mother-in-Law with bad eyesight may be moving in also.
Picture who(m) you're writing to. Have a written 'conversation' with them. Tell it to them straight. Blow up your 'flowery' corporate language. Real people want read advice from genuine people. Don't speak to 'people in general' with 'lingo-ized' language.
Reason #7 you shouldn't blog on your remodeling or building web site– You LOVE cutting fat checks to Mr. Google and Mr. Facebook (Mark Zuckerberg)
Getting big-time results on your digital program USED TO BE an option when other forms of advertising were rockin' and rollin'. However, today people aren't crackin' open those Yellow Pages. They aren't attending home shows like they used to. They aren't using coupon-saving magazines to the degree they did.
Because the old 'tried and true' forms of advertising aren't what they use to be, digital HAS TO work. If your advertising results are lacking what can you do now? You'll likely do what everyone else is doing. You'll spend money on PPC (pay per click). Since your competitors have the same idea, bid prices are going up big-time. Your money is going down the drain. You're cutting bigger (and then bigger and bigger) checks to Mr. Google and Mr. Facebook.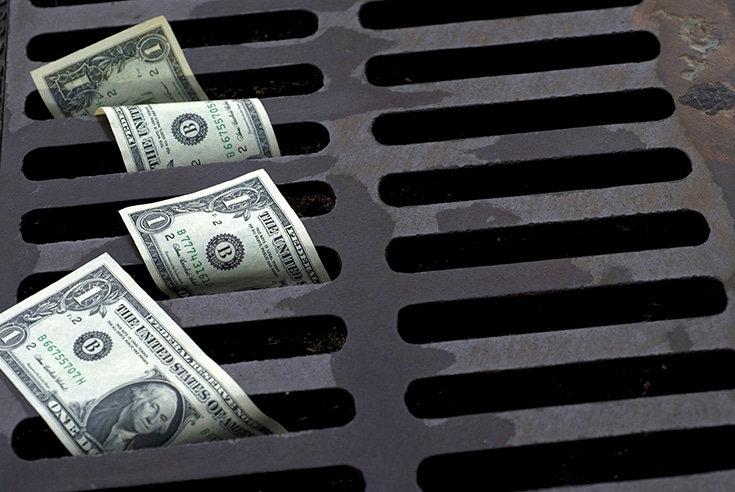 If you love doing this …by all means DO NOT BLOG. Contribute to Zuckerberg's mega-millions while you're eating Raman noodles! However, understand there will be a cost to not figuring this 'content thing' out.
Reason #8 you shouldn't blog on your remodeling or building web site– You'll take leads away from me!
I'll tell you a secret. I like to joke with my kids and tell them 'it's all about ME! (which of course those of you raising kids know this is the furthest thing from the truth.)'
Just like telling my kids it's all about me, with blogging I like for ALL of the leads to come exclusively to me and my business. I want plenty of leads for my nationwide laminate wall panel business (or for the dealers we work with). I want 'mega-leads' for my regional Cleveland bathroom remodeling division.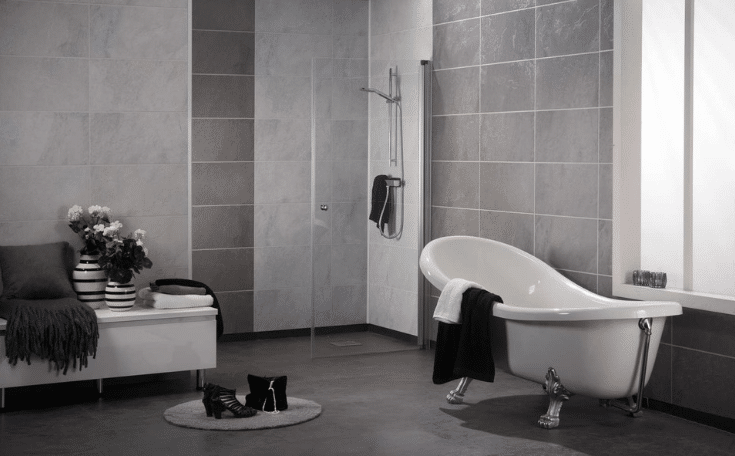 If you blog successfully you'll cut into – yours truly' s turf! Please do not blog. I LOVE, LOVE, LOVE my exclusive leads and not sharing them with you (OK – just kidding here – there's actually plenty of leads to go around).  
Reason #9 you shouldn't blog on your remodeling or building web site– You say, "I need to kick up leads RIGHT THIS MINUTE!"
If you're desperate for leads today, blogging is not the right strategy. Blogging is the 'slow and steady' road to success. It has a 'cumulative effect.' Posts grow in popularity like fine wine (their results improve as time goes on – and you can revise them to make them even better).
However, you won't write a post today and get results tomorrow. It doesn't work like that.
Soooooo, if you're desperate for leads today – you'll need to do like everyone else. Fight it out. Bust open your wallet. Get started on a PPC-spending-binge.  
Reason #10 you shouldn't blog on your remodeling or building web site– You're not disciplined enough to do it
This is also a very sound reason YOU (with the emphasis on YOU) shouldn't blog. Blogging takes a ton of discipline. It's takes a ton of work writing, editing, uploading, pushing the post out on social, sending out emails.
You (or whomever you outsource this task – or portions of this task to) have got to be consistent. Consistency will make you a better writer. Consistency (and learning about blogging) will make you understand how to optimize and get the most out of the post.
If you want to 'dabble' in blogging – stop before you start. Don't waste one precious minute of your time.
If you're committed to the discipline of blogging (or are willing to allocate of portion of your digital marketing budget to have someone else do it for you), then – and only then – it's a good idea.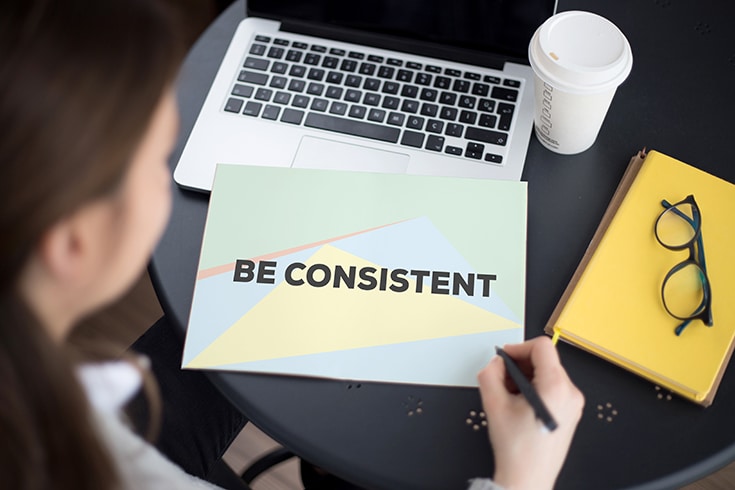 Conclusion
OK – while this post about 10 Reasons You Shouldn't Blog on Your Remodeling or Home Building Web Site was written in a 'tongue and cheek' fashion –I'm serious about this stuff as a way to lead generate.
I've seen HUGE benefits to blogging in my business. On the flip side, most blogs I read on remodeling and home building web sites frankly suck and are getting dismal results (because of the 10 reasons above).
Don't let these failures be you.
If you're looking to grow through blogging, do it right. Call me and I'll give you a few free insights. Call your digital marketing company and see how they can help. Find a freelance writer who knows digital marketing (not some kid whose 'good on the Internet.').
Go into blogging with eyes wide open.
While this is the 'slow and steady' road to success – I'm confident when you know what you're doing it CAN AND WILL lead you on an 'uncopy-able' (OK – it's not a word, but I'm going with it) path to success.
###
To 'talk shop' about digital marketing, blogging or bathroom remodeling products or become a shower wall panel dealer with labor-saving tub and bathroom wall panels (hey- I've got to plug my business sometime – after all my kids' education bills need to be paid!) call 877-668-5888 and ask for Mike (or that wacky dude who writes those articles). I look forward to getting to know you and helping our businesses grow.  
If you'd like to connect on LinkedIn, you'll find me https://www.linkedin.com/in/mikefoti/
If you're into Twitter follow me @Mike_Foti or my companies' @InnovateBuild and @InnovateHomeOrg.
---
Tags: blog results for remodelers, blog to grow a building business, blog to grow building business, blogging, blogging for builders, blogging for remodelers, blogging success, builders blog, digital marketing for home builders, digital marketing for remodelers, email marketing for builders, email marketing for remodelers, home builders blog, remodelers blog
Mike Foti
Mike Foti is the President of Innovate Building Solutions.
Mike Foti
Mike Foti is the President of Innovate Building Solutions.