Why Did you Decide to Become a Laminate Wall Panel Dealer?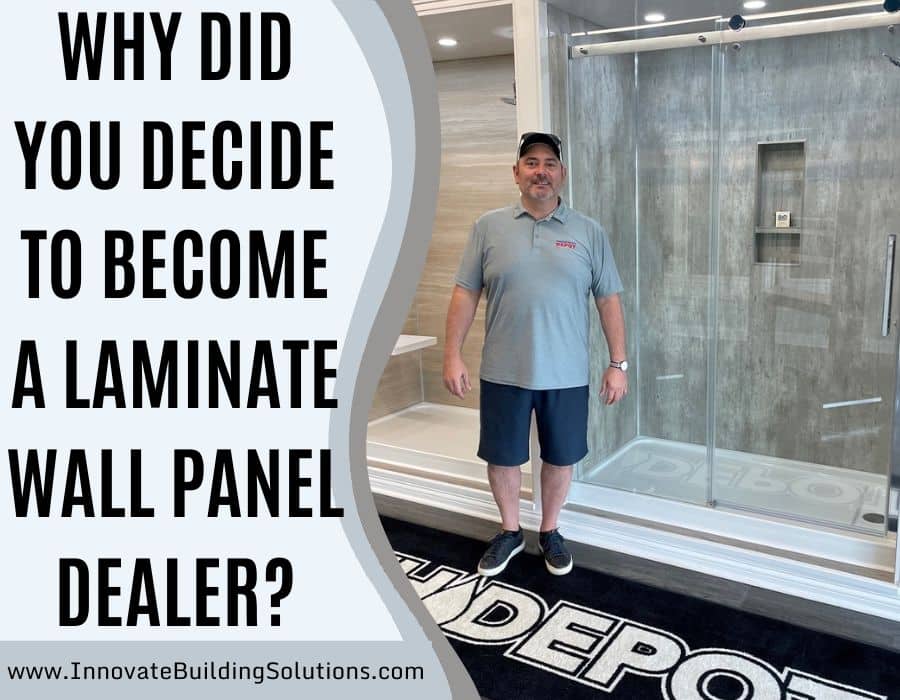 Choosing a bath and shower wall panel line for your remodeling business isn't easy. Questions like the following are likely popping into your head while mulling over your options:
Will the lines I'm researching help me differentiate my offerings vs. my crazy, low-ball competitors who are undercutting me with ridiculous prices?
Will the product be straightforward to install?
What sales objections will I need to overcome?
How will I market the wall panels and still get a nice ROI without draining my bank account?
Will my new line have a broad enough appeal so everyone in my target market will want to buy them?
Questions like these are exactly what was rolling around the gray-matter for 5 successful (yet very different) bathroom remodeling contractors who chose to become laminate wall panel dealers. In this article you'll learn (in their words, not mine), why these owners made this decision and how it's impacted their businesses.
However, before I do that, I'll give you a brief introduction to these 5 companies – and their owners. Then I'll use a question-and-answer format so you can see how offering laminate tub and shower wall panels has helped their businesses evolve.  
Profiles of 5 Successful Laminate Wall Panel Dealers
 Tony Hoty, President, Bath Depot Cleveland & Tony Hoty Training and Consulting – Tony has not only been running successful remodeling companies for decades, he's also a trusted consultant and trainer to building material manufacturers and remodeling contractors. If you're looking to do something in the remodeling business, Tony's probably already done it and learned how to do it better!
Jared Chevraux, Executive VP, JTEK Solutions Group – Jared, along with his dad Joe, run an established home modifications and remodeling company in Canton Ohio. They specialize in accessible and universal designed spaces for seniors and those with disabilities. They're nationwide leaders in the accessible remodeling industry and their local community.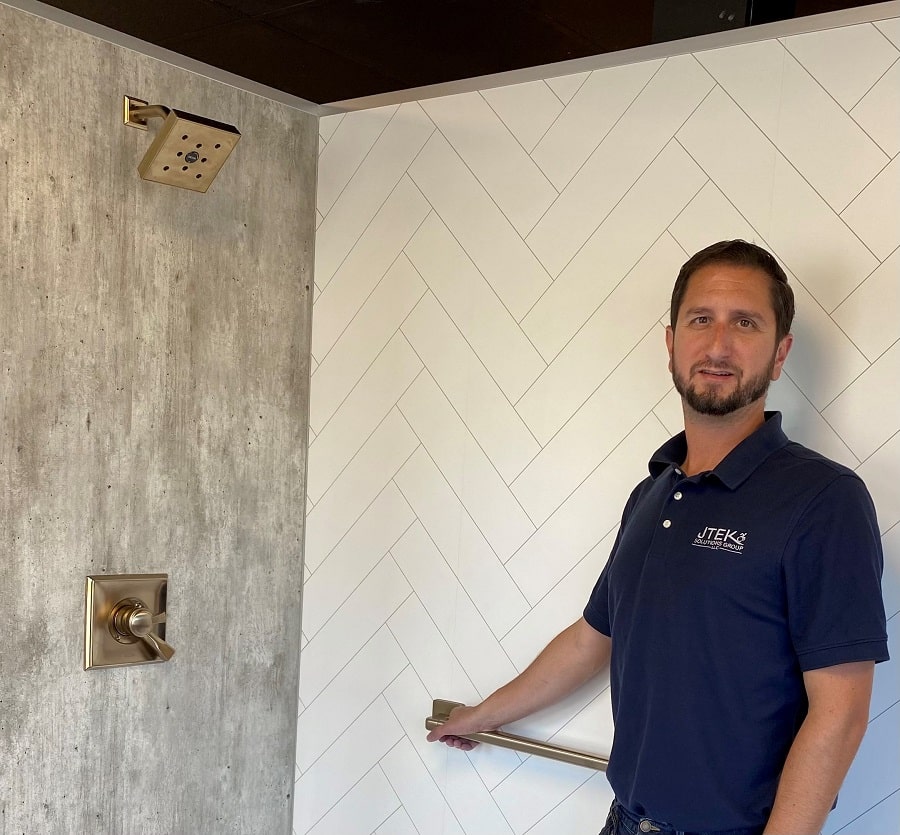 Pictured: Jared Chevraux
Bob and Kathy Green, Owners of Anew Bath Concepts – Nobody in Decatur, Illinois is going to accuse Robert and Kathy of being 'run of the mill.' They're not only unique in their fun marketing approaches, but the products they offer would never be described as 'boring.' Whether it's laminate wall panels, polymer decorative concrete bases or river's edge seating – a homeowner will find uniqueness (and a focus on top-shelf customer service) when they choose Bob and Kathy at Anew.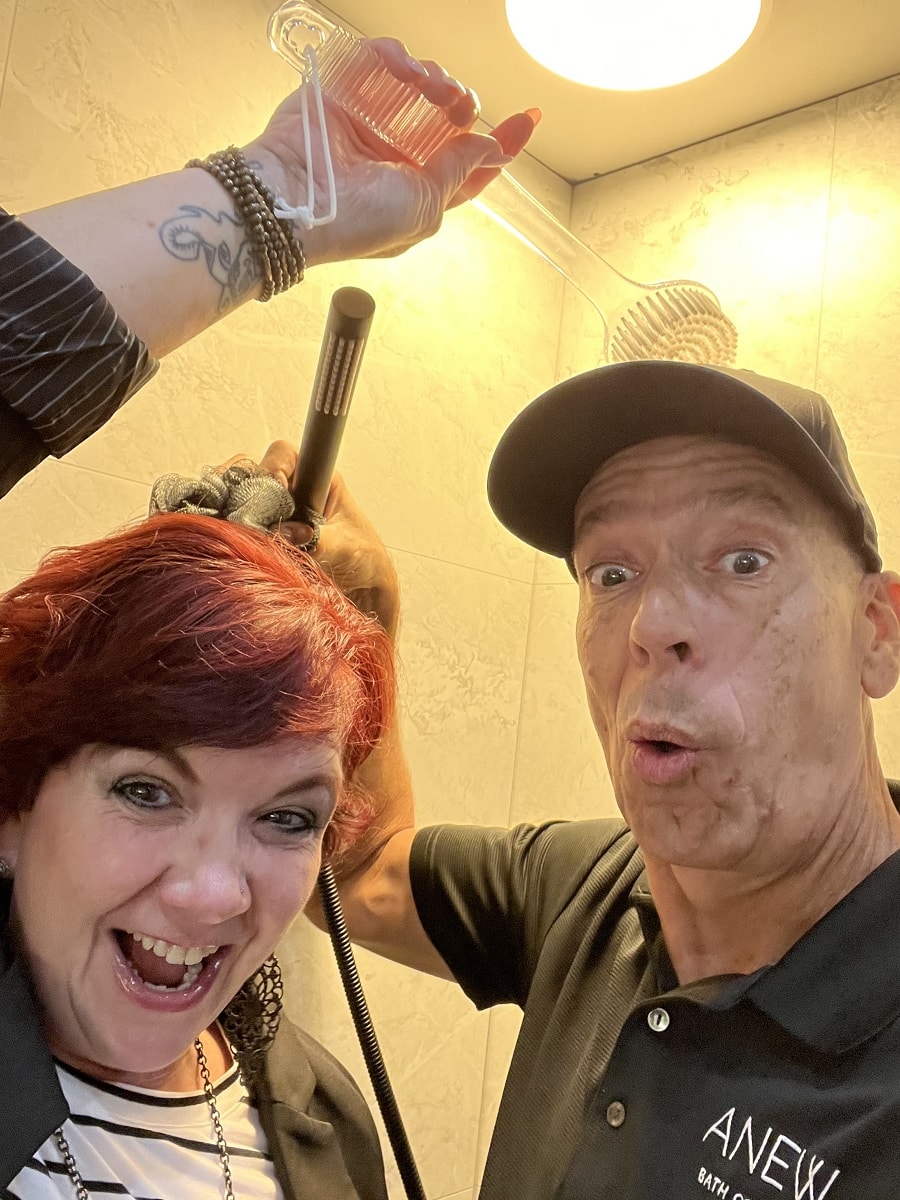 Pictured: Bob and Kathy Green
Paul Williams and Jerome Sulkoski, Owners of Perfect Storm Renovations – If you're looking to model yourself after a young, aggressive, ownership group who knows how to combine fast growth with fun – Paul and Jerome are the guys for you. They've created the 'perfect storm' (sorry for the pun, couldn't help myself) combining exciting products – and hilarious marketing (you've got to check out their TV commercials!). Perfect Storm has quickly become leaders in the remodeling business in Wilkes-Barre Pennsylvania.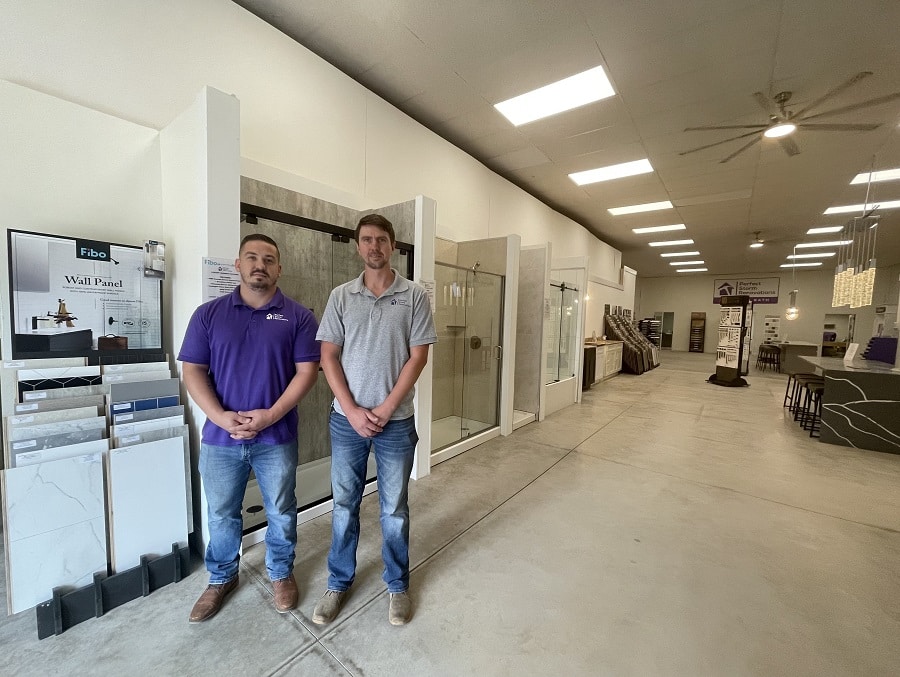 Pictured: Paul Williams and Jerome Sulkoski
Nathan OKorn, Owner of Concord Custom Services – Nathan shows how you can have a successful bath remodeling business without hiring a bunch of people you've got to manage. Nathan's goal is to provide a high-quality installation without becoming a modern-day version of 'Eldon the Painter' (for fans of the old TV Show Murphy Brown – you know you don't want to be the single-person remodeler who stays at a job site for weeks-on-end until you finally get the job done).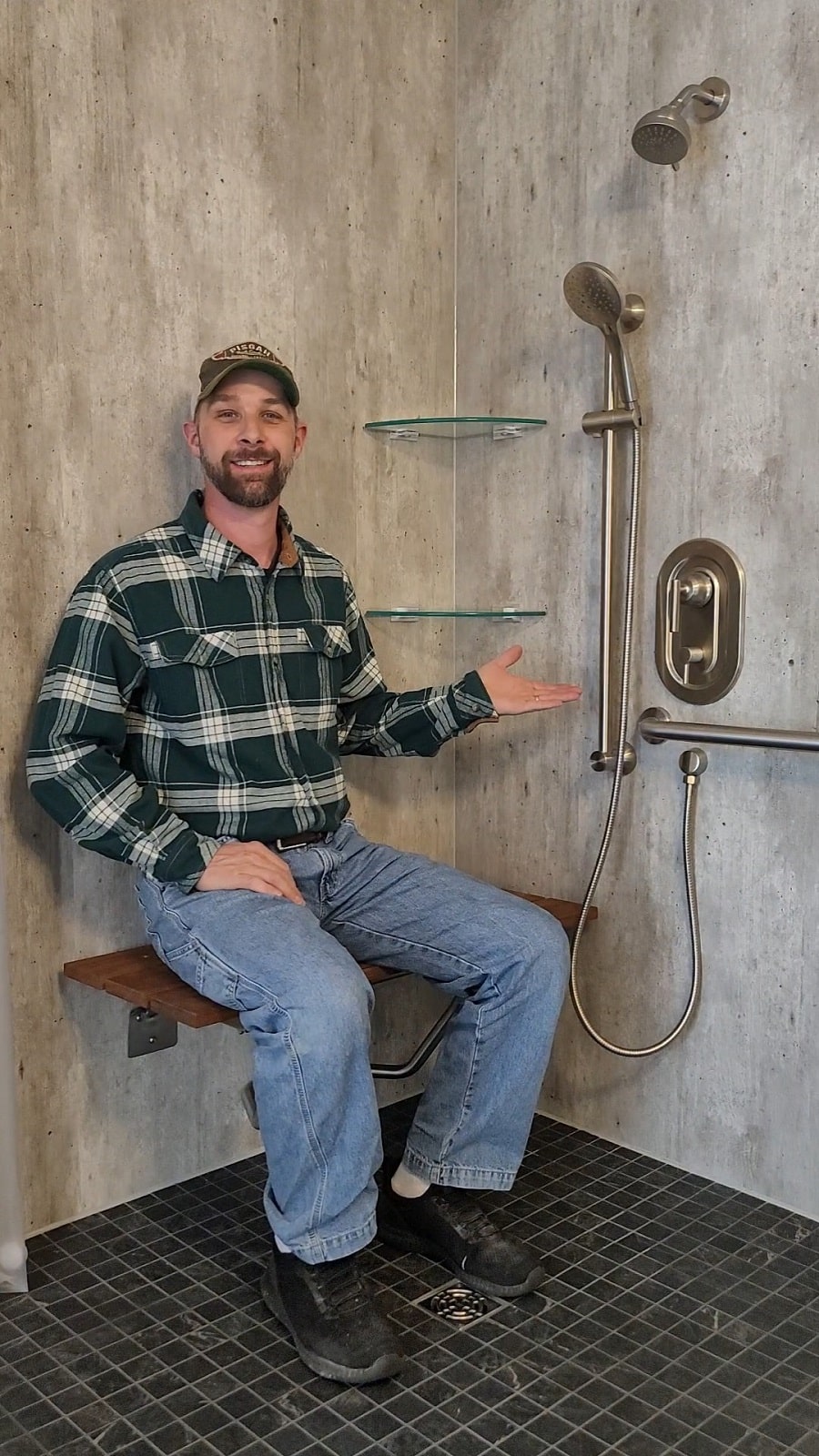 Pictured: Nathan OKorn
So, now let's look at questions (and most importantly, thoughtful answers) from Tony, Jared, Robert, Kathy, Paul, Jerome, and Nathan.   
Question #1) Why did you take on laminate wall panels in the first place? What interested you in this line?
 While EVERYONE mentioned the looks and feel of laminate wall panels as a driver to adding this product line, you'll see below the varied reasons these owners ultimately took the plunge.


 "Customers don't like acrylic, and tile takes too doggone long! We like the upscale look of these wall panels, the ability to differentiate vs. the competition, AND we can get the high-volume installations we need to ramp up our business." – Paul Williams
"We like the installation flexibility and ability to use laminate panels in either a standard tub to shower conversion or a wet room. This product works in bath and kitchen remodels." Jared Chevraux
 "Mike – my customer forced me into researching these panels. They didn't want tile and I had to find an alternative. What I didn't expect to find is I can make more dollars per day with these panels because I'm in and out of jobs quicker than with tile. And an additional bonus is I don't have to take a bunch of time at the end of the day cleaning my tools either!" Nathan OKorn
"I chose the laminate wall panel line because it's stylish, yet you can still get in an out of a bath remodel job in 2 days or less. And besides everyone knows fish and house guests ('er remodelers) stink after 3 days!" Tony Hoty
"I hate how acrylic panels look fake, so when Kathy and I started our own business, we were looking for better products which would feel and look like the real thing. Laminate panels give us what we were looking for." Robert Green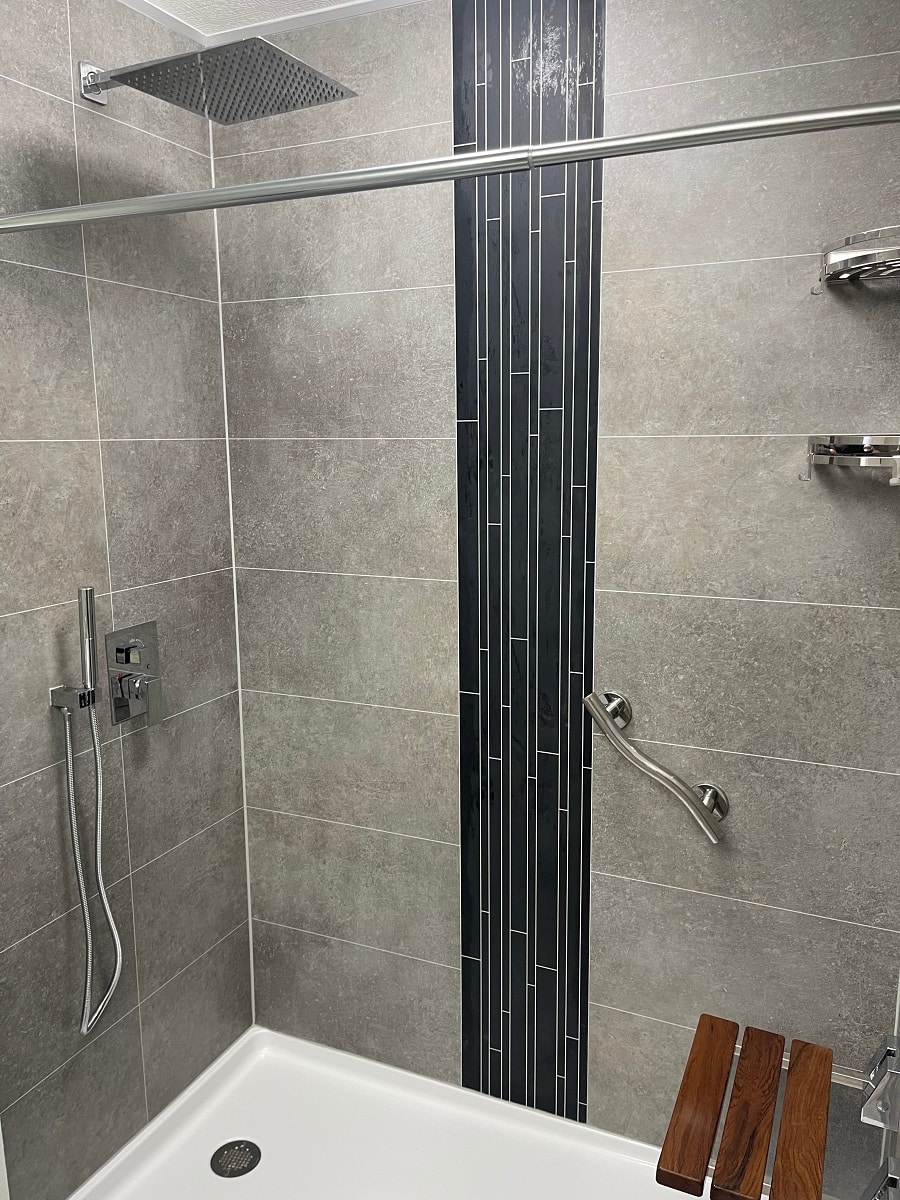 Image Source: Robert Green – Anew Bath Concepts

Question #2) What have been the most popular wall panel patterns?
When talking to these owners, one thing was readily apparent – the cracked cement look is hot. Everyone mentioned it as their best-selling pattern. Other favorites include 'rough wood in a 24" x 24" tile look (like you'll see in Jared's showroom pic below),' white high gloss in a 24" x 12" size, gray Sahara, and the marble patterns (like white marble, Bianco marble and silver-gray marble) in the 24" x 24" size.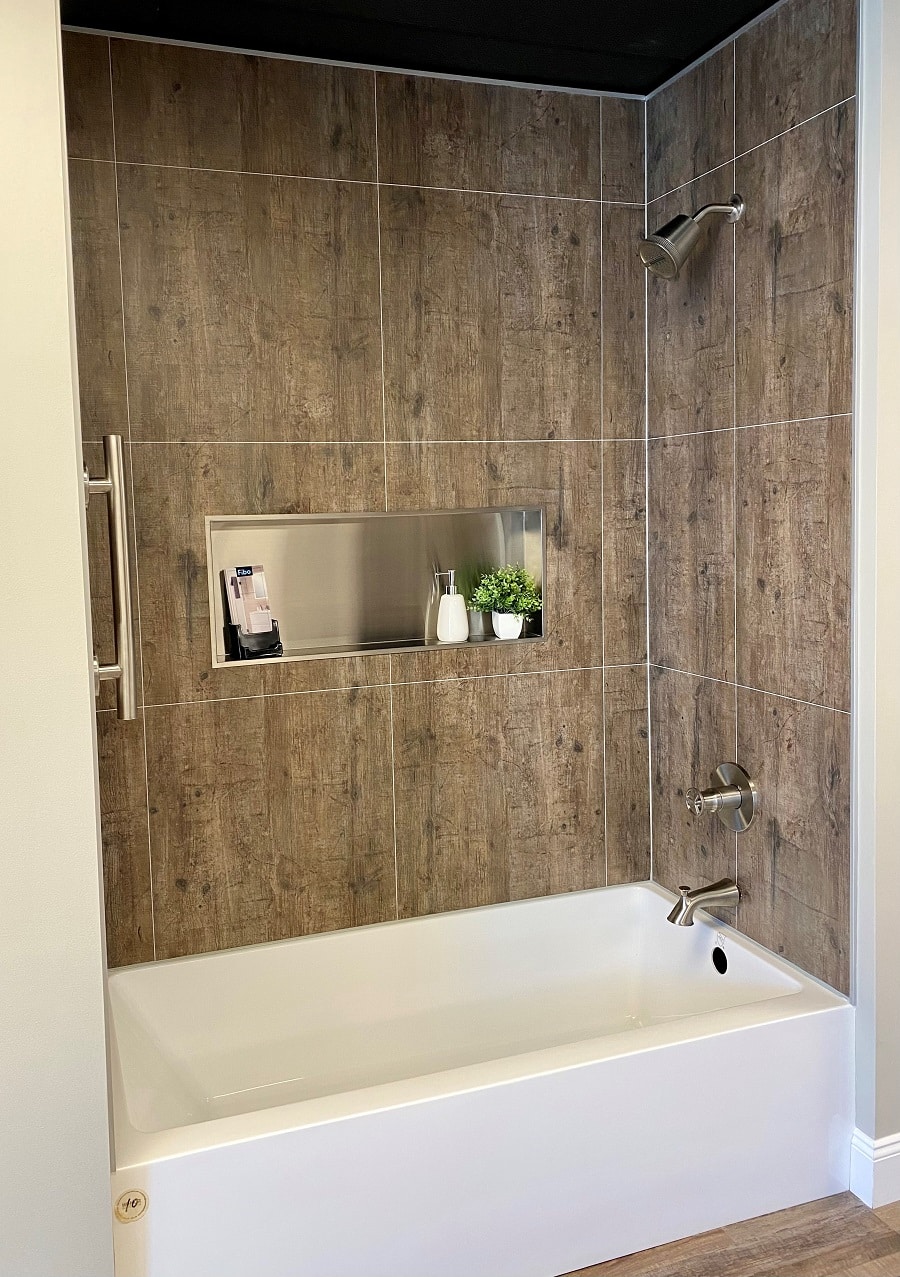 There's also excitement around new patterns like Bianco marble, black hexagon, and 90-degree Ocean blue herringbone.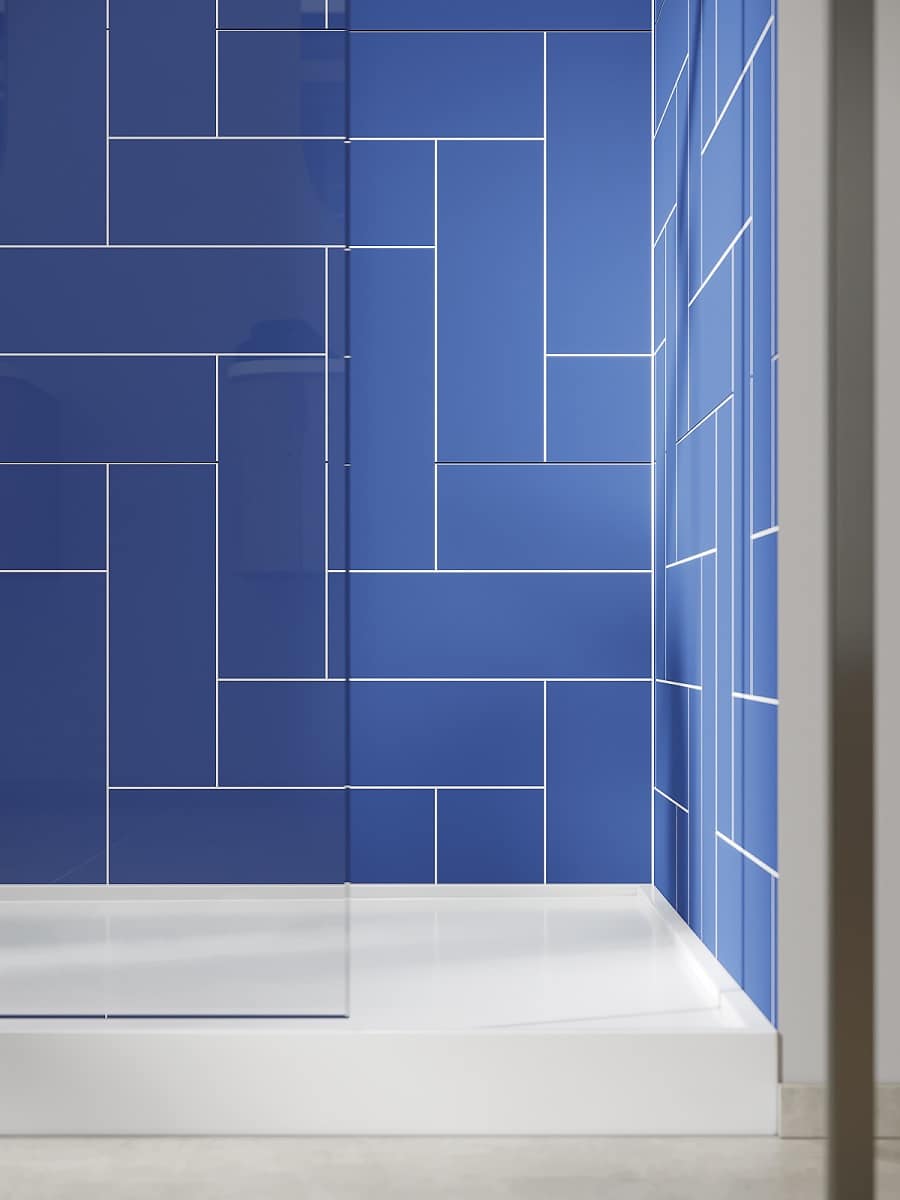 Question #3) What advice would you give new laminate shower wall panel dealers on how to effectively launch this product?
Although there were similarities in the right steps to get this product moving – the strategies these 5 businesses used to increase their sales WERE NOT the same as you'll see below.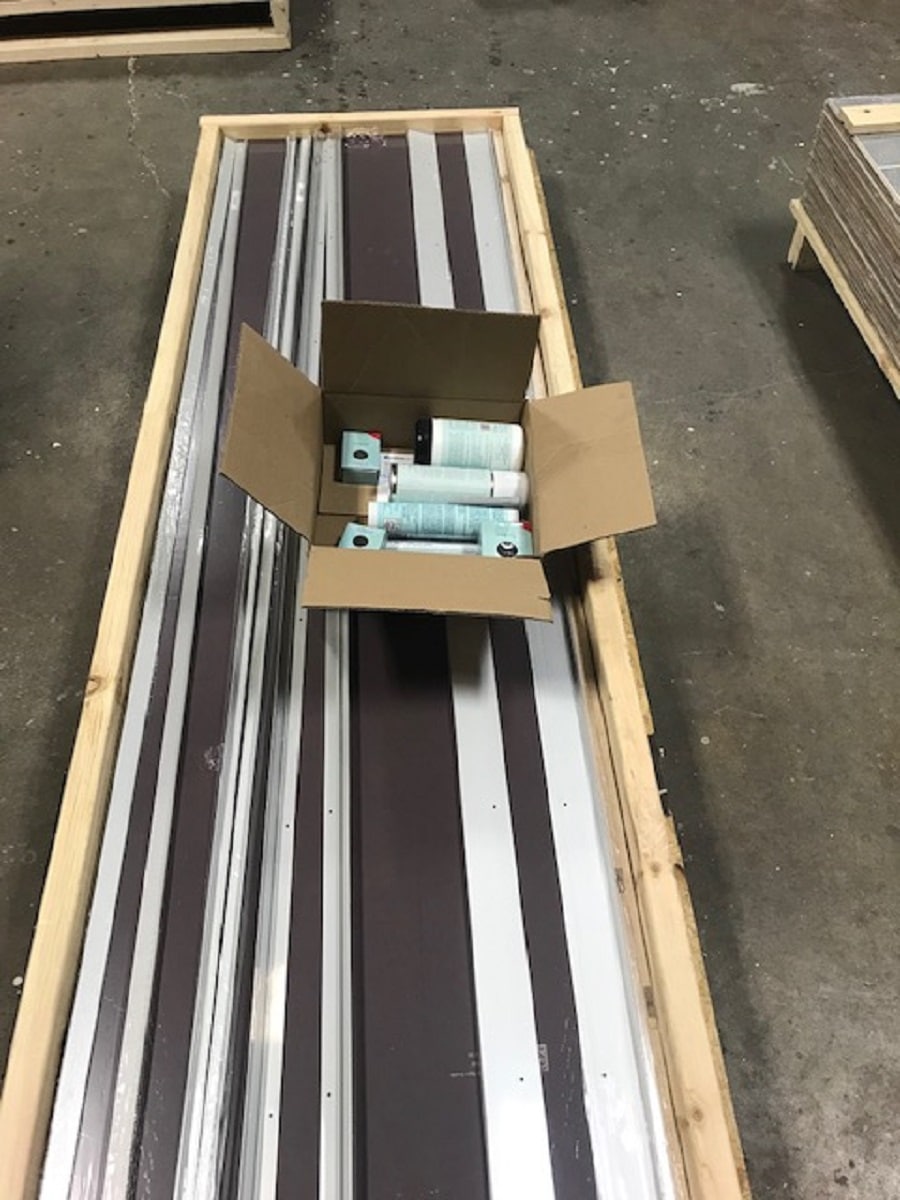 "Creating physical displays in a local mall where people can see, touch, feel and learn about these panels has been huge for us. The biggest issue we had is people thought the panels would be too expensive for them, so we started putting prices on the display so they would know they're also affordable." Robert Green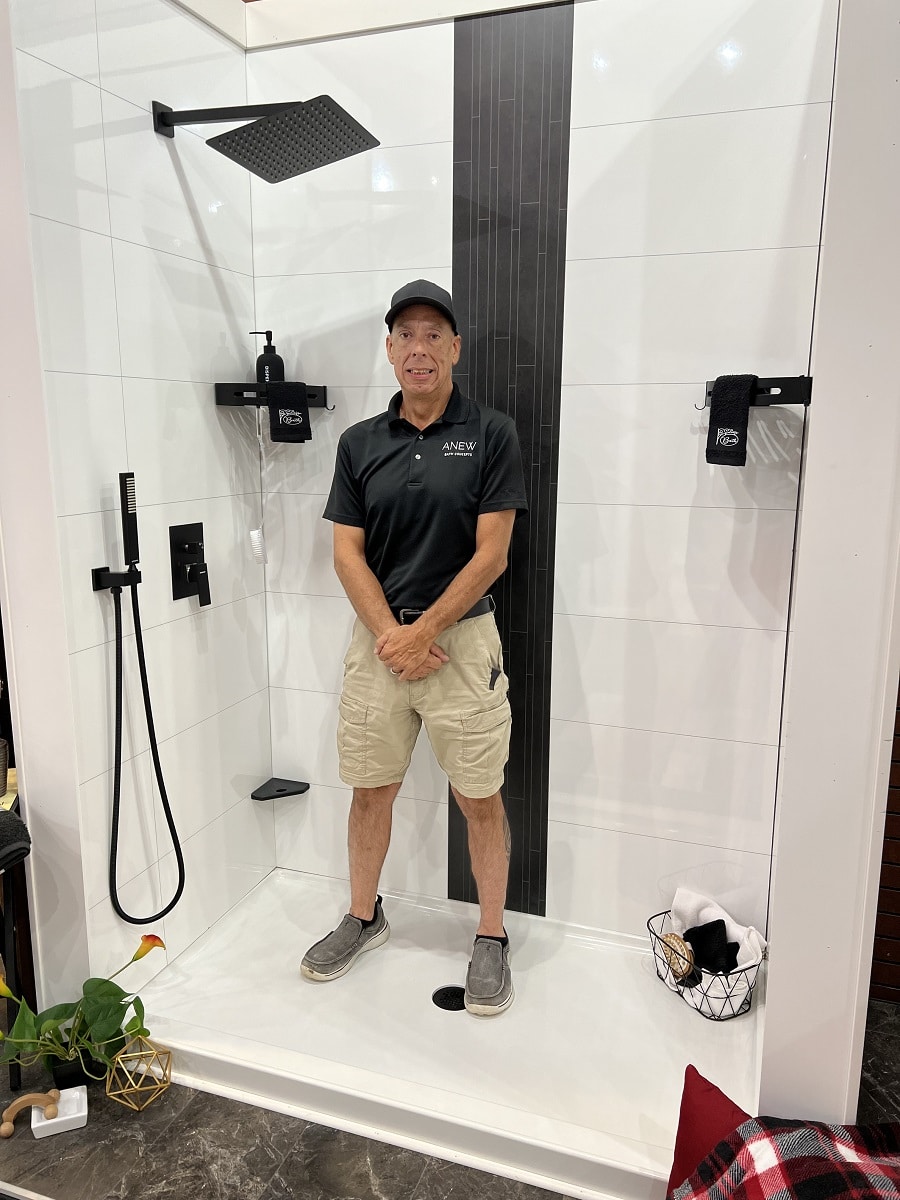 Image Source: Robert Green(pictured) – Anew Bath Concepts
"I'm a classic entrepreneur and believe in 'building the boat in the water.' So, I just jumped in and started selling the product and let on the job training take care of the rest. In retrospect, I'd have done more sales training before getting started." Tony Hoty
"If you have a showroom, build displays IMMEDIATELY! That's when this product really started rolling for us. When people start seeing and experiencing the material in person, they are falling in love with them. It's a higher-end look than fiberglass and acrylic wall surrounds." Jared Chevraux
"As a single person remodeler who sells and installs my own jobs, it's critical to have the right installation tools before you go to install your first job. I recommend a self-leveling laser, a high-quality track saw, and a 7' level." Nathan OKorn
"I'd recommend visiting Innovate Building Solutions before launching. Then start selling immediately thereafter. We learned so much seeing the displays in Mike's Cleveland location, meeting the team, and seeing how the product was shipped. Then we hit the ground running!" Jerome Sulkoski
Question #4) Which demographic groups or target markets like laminate wall panels the best?
For this question I heard similar responses from everyone. Just like Tony Hoty said to me, "Mike, laminate wall panels have mass appeal. They work for Millennials, Baby Boomers, you name it. Shower wall surrounds made of acrylic (which are still best known), don't have the 'sex appeal' of these click-together laminate panels."  
Question #5) Why have customers chosen laminate wall panels?
While many of the reasons between those I interviewed were the same, I've shared a few of the group's responses below. But one fact is true across everyone – the looks of these panels are a big selling point.
"Laminate wall panels look expensive, yet they're still affordable." Kathy Green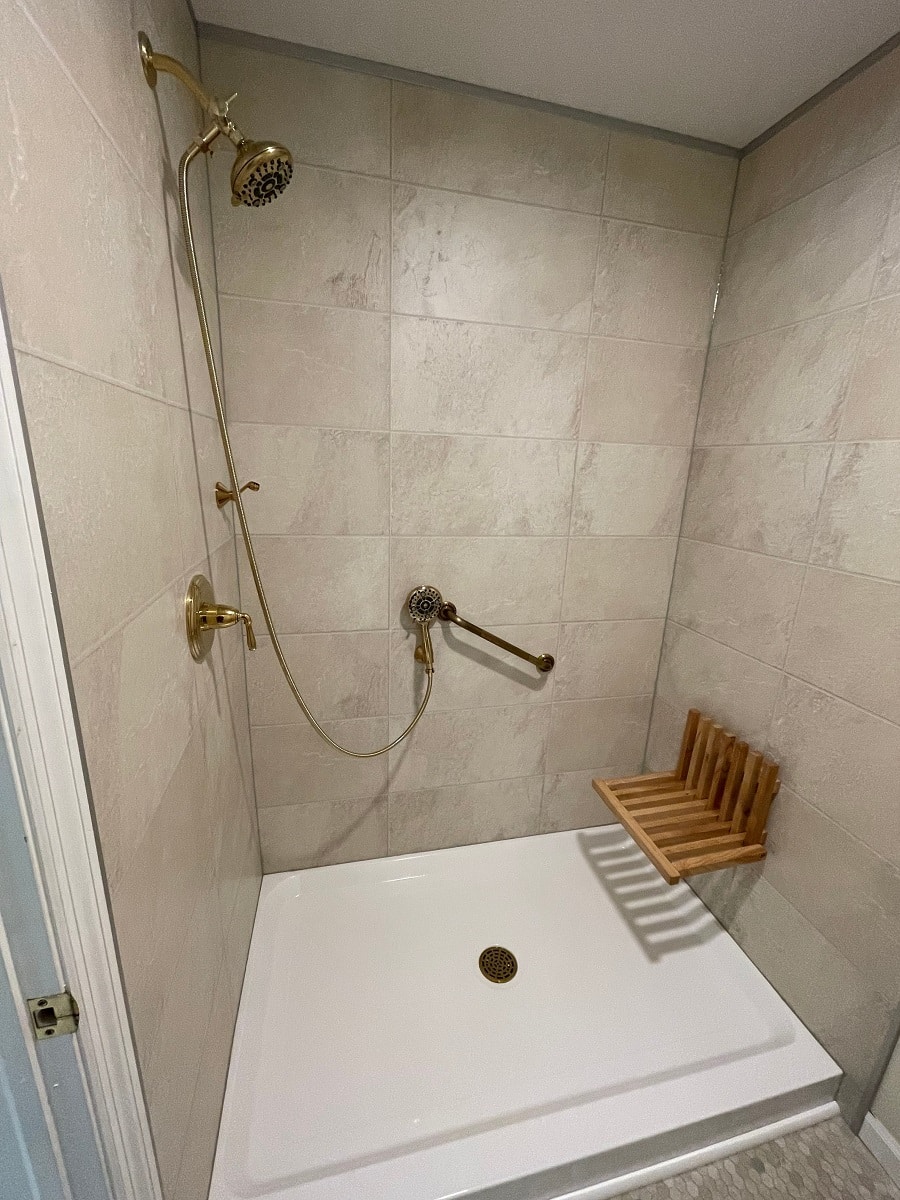 Image Source: Kathy Green – Anew Bath Concepts
"I've found the contemporary designs appeal to younger buyers and the marble and travertine patterns are winners for the older crowd. In addition, the lifetime guarantee is a strong selling point." Tony Hoty
"People are choosing Fibo laminate wall panels because they're unique and a step up from standard fiberglass systems. The fact that they're simple to clean is also key." Jared Chevraux

Question #6) What are the main objections you get in the selling process?
As I like to say there's no wall panel system which is perfect for everyone. You will have objections – no matter what you're selling (it goes with the territory of selling anything). However, when it comes to laminate wall panels the group universally said there's one main sales objection you must overcome. That objection is these 3/8" thick high pressure laminate wall panels are built onto a wood backing.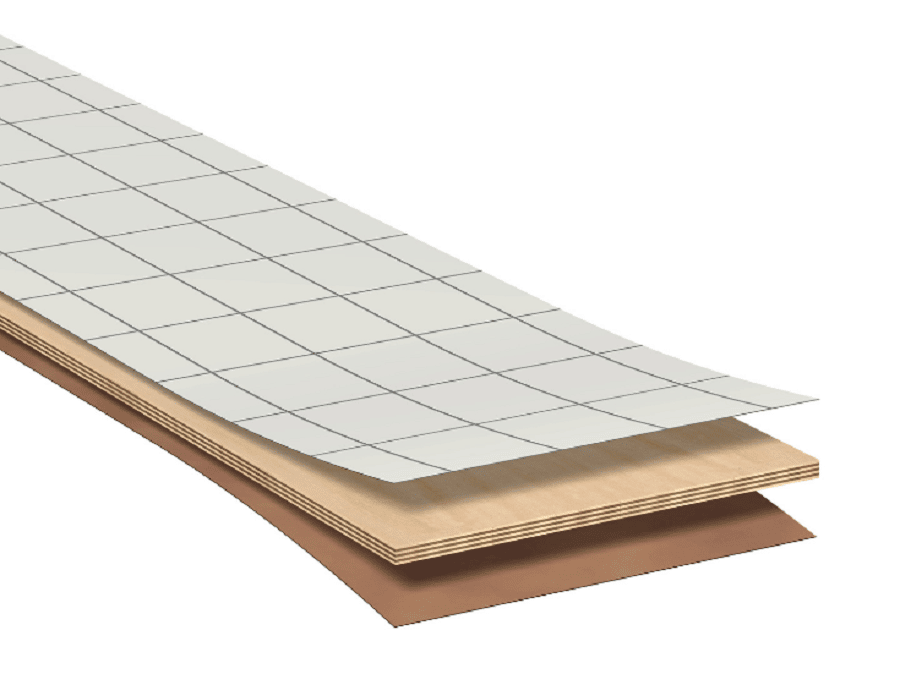 So, how have these successful bathroom remodeling entrepreneurs handled this customer concern? Read on.
"Our sales team explains the high-pressure laminate surface is applied onto marine grade plywood – the same material used in boats." Tony Hoty
"We explain the design of the interlocking panels and how these systems have been sold and used in Europe for over 41 years. It's already an established product." Jerome Sulkoski  
"At first customers are skeptical of wood backed panels. However, once we show how the product is waterproof through its click-lock design, the use of the hybrid polymer sealant, and high-pressure laminate exterior, the design makes sense to them." Jared Chevraux
Question #7) How are you lead generating for laminate wall panel sales appointments?
What's difficult about marketing is what may work in 'town A,' may not work in 'town B." In addition, effective marketing can be the byproduct of innovative entrepreneurs who think (to be cliché here) a bit out of the box. Check out what these owners are doing to create leads to fill their sales teams' pipeline.
"Putting laminate panels in our showroom has been essential for us. It gives the product – and our company – credibility. People can see, touch, and feel the wall surrounds. They can't believe how realistic they look. In addition, we post our work on social media – including Facebook and even got a bunch of hits from Tik-Tok!" Jared Chevraux
"Our TV commercials really put us on the map and cemented our position in the market. In addition, we use radio, SEO, PPC and social media. We're growing fast and will continue promoting heavily to stay on the rise." Paul Williams
"I think the 'after' pictures (which I need more of) are very important in promoting laminate wall panels – or any bathroom product for that matter. I like to show 'real pictures' (not renderings). In addition, we're still building out our showroom to up our game with this line." Tony Hoty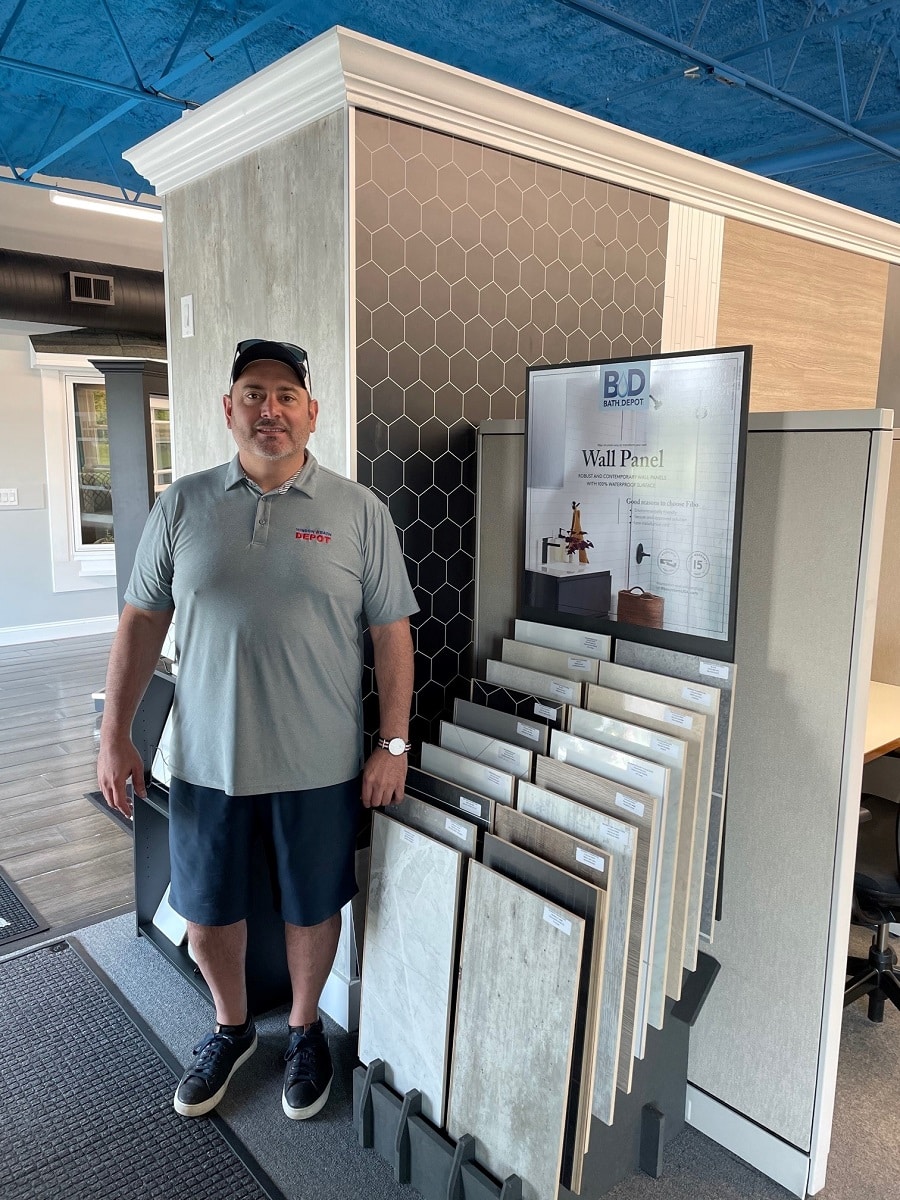 Pictured: Tony Hoty
"I'm a small contractor – and want to stay that way. My only promotion is Google My Business. And of course, my repeat and referral customers keep me plenty busy." Nathan OKorn
"I've had good success with our displays in the mall, Facebook, and growing traffic through our SEO efforts for our web site. On the other hand, TV and radio have largely been a bust for us." Robert Green

Question #8) What tricks have you learned about installing laminate wall panels?
If I'm being real with you (as Randy Jackson would say on American Idol) laminate wall panels DO NOT install like other panels on the market (which are glued onto moisture resistant greenboard). So, there is a learning curve. They are different. So, what can you do to speed up the installation learning curve? Here's some thoughts.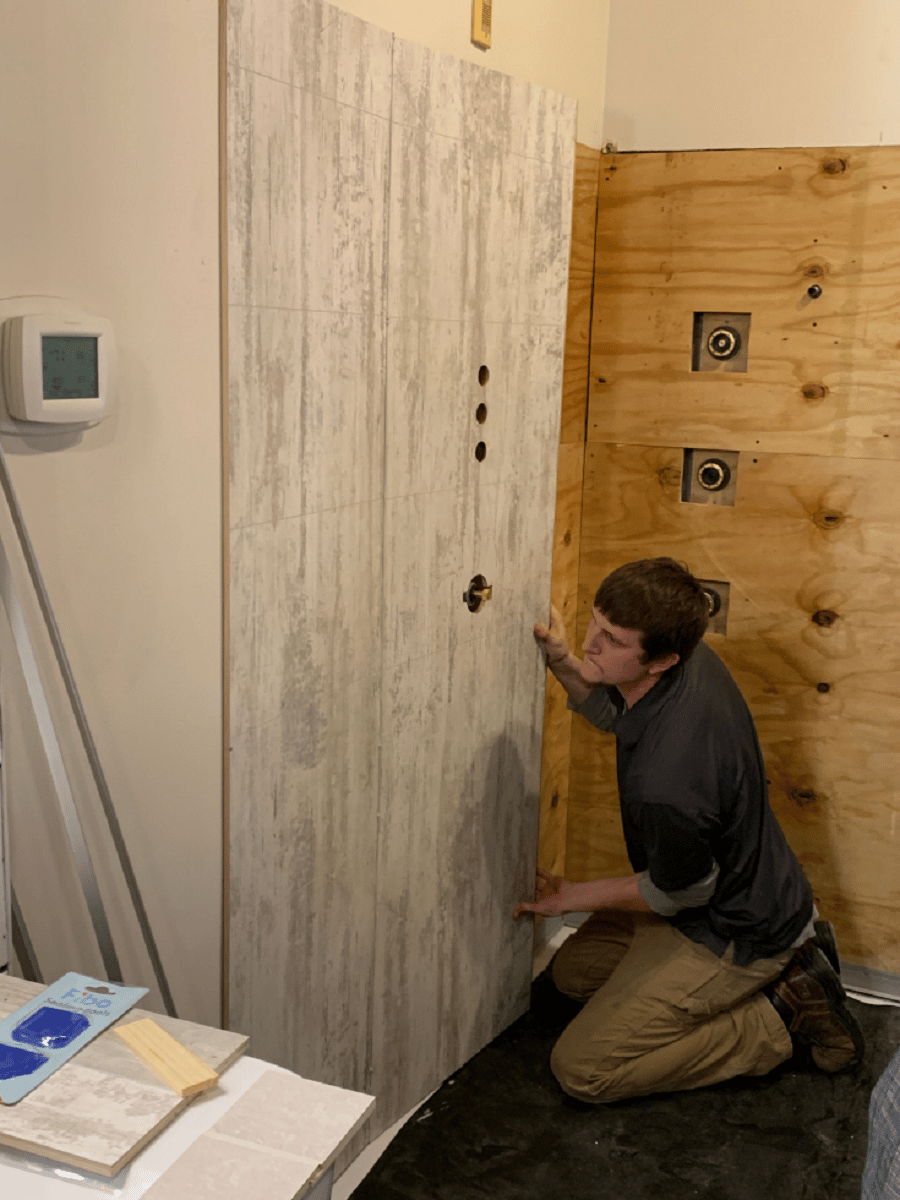 "Don't wait to get the right tools. Make sure you have a 7' level, a high-quality Makita track saw and a self-leveling laser. The prep work before installing these panels is very important. These tools will make it simpler for you – as they have for me." Nathan OKorn
"You need to be more precise with laminate wall panels than with acrylic surrounds. In addition, you want a plan on how you're going to handle the 'dog leg' when your wall panels extend beyond the tub surround or shower pan." Tony Hoty
Question #9) What tools or programs will help you sell laminate wall panels better?
As the leader of a nationwide bathroom wall panel supply business who is looking to grow the dealer channel for Fibo laminate wall panels, I wish I could tell you when I talked to these existing customers they told me, "Mike, you've got it all. You're even more amazing than your mother told me you were!" However, if I told you this, I'd be lying.
The reality is our product line (which we source in containers from Fibo Systems in Norway) and the programs we offer to help a bath remodeling dealer will always be a 'work-in-progress.' However, it's wonderful to get ideas from innovative (yes, pun intended) dealers of how we could 'notch up our game.' And here's a few areas the 7 people interviewed for this article identified for us.
(1) Develop a 'visualizer' tool where people can see (in shower and bathtub surrounds) what the wall panels look like on full walls. And the good news is this project is already in progress. I'm hoping we have something live by the first quarter of 2023.
(2) Tony Hoty mentioned putting images of the full showers on the back of the samples so it's simple for customers to see the tile orientation and look. This improvement has recently been implemented by Ashley Carter and Makayla Shelton on our team.
(3) Nathan O'Korn and Jerome Sulkoski asked for more in-depth installation videos. This is on our list but hasn't been scheduled yet.
So, after getting input from existing laminate wall panel dealers are you intrigued to learn more?
Choosing a grout free shower wall panel line is a big decision. Making the right choice will lead to more profitable remodeling jobs which – unlike tile showers -don't take forever to finish – or suck all the profits from your projects. However, selecting the right surround system (or systems) can be confusing.
If you want to learn more about laminate wall panels, low profile shower pans and a complete replacement shower kit program call me (I'm Mike, the President of Innovate Building Solutions at 888-467-5888). And if you want to learn from these amazing entrepreneurs I've had the pleasure of working with, you can reach them at the numbers below. Thanks for reading. I look forward to talking to you in the future.
Tony Hoty, Bath Depot – 440-296-9999
Nathan OKorn, Concord Custom Services – 440-897-6544
Paul Williams and Jerome Sulkoski, Perfect Storm Renovations – 570-899-8710
Robert and Kathy Green, Anew Bath Concepts, – 217-619-5977
Jared Chevraux, JTEK Solutions Group, 330-526-6009
###
In addition, if you'd like to connect on LinkedIn, you'll find me https://www.linkedin.com/in/mikefoti/
---
Tags: acrylic wall panel dealer, advise to wall panel dealers, Anew Bath Concepts, Bath Depot Cleveland, Bob Green and Kathy Green, Concord Home Services, installing laminate wall panels, Jared Chevraux, Jerome Sulkoski, JTEK Solutions Group, laminate wall panel dealer, lead generating for wall panels, Nathan O'Korn, objections laminate wall panels, Paul Williams, Perfect Storm Renovations, popular wall panels, programs for wall panels, target market wall panels, Tony Hoty, wall panel dealer, wall panel dealers, why become a wall surround dealer, why choose laminate wall panels
Mike Foti
Mike Foti is the President of Innovate Building Solutions.
Mike Foti
Mike Foti is the President of Innovate Building Solutions.