7 Smart Ideas to Maximize Your ROI on a Vacation Home Rental Bathroom Remodel or Makeover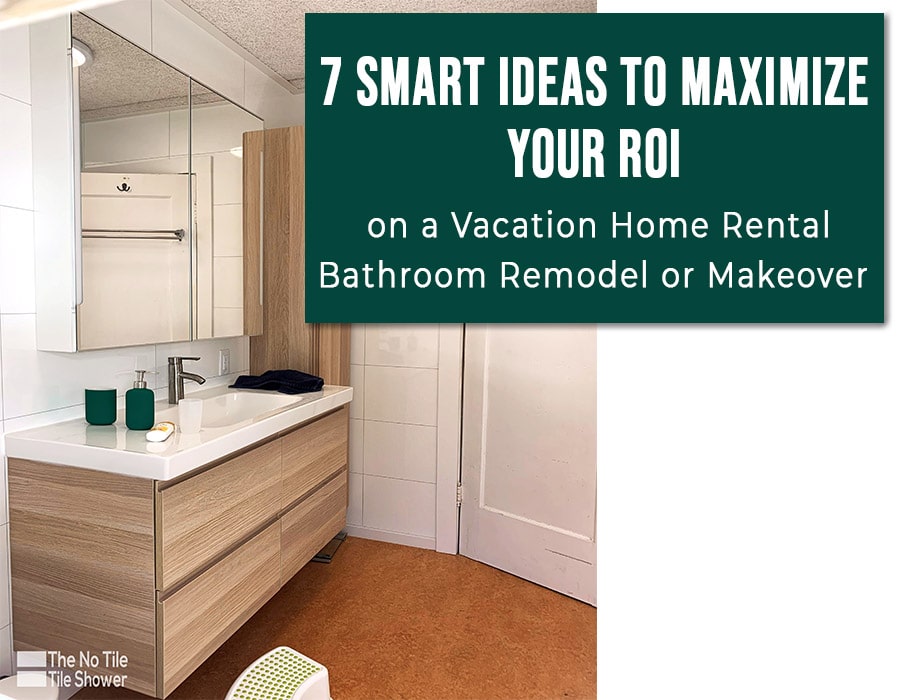 The good news is the vacation home rental industry is hot. With over 660,000 listing on Airbnb alone, the interest from renters is high.
The bad news is there are over 660,000 listings on Airbnb alone. Competition is stiff. Only 11% of the listings in the United States are booked on an average night.
So, if you're in the 89% who want more listings at higher nightly rates and want to turn your cozy getaway into a cash machine, you may have concluded you need to remodel (or at least do a serious 'makeover') to improve the competitiveness of your home. While there may be many areas you'd like to 'kick up a notch,' there are 2 rooms guests can't avoid – the bedrooms (and hopefully for everyone else's sake), the bathroom.
Since (and I'm just guessing this right now), you likely don't have a Bill Gates budget, you need to focus on getting the highest ROI ('er bang from your buck). And that's what this article is about.
If you've determined you're too often in the 89% of UNRENTED homes and are being drug down by a tired bathroom which more closely resembles 'trailer-park' than 'spa retreat,' this article is for you. I'll look at 7 smart ideas to max your ROI on a vacation home bathroom remodel. Let's dig in.
Smart idea #1 – Put your money in the bathroom the guest who is paying the bill will be using
Although your vacation home may have 1,2,3 or more bathrooms, all of which might be graded as N.I. (which stands for Needs Improvement for those of you without little kids who aren't rocking their report cards), you need to be strategic. You need to focus on the bathroom which is used by the person who is footing the bill.
If you guessed they'd be using the master bathroom, by my unofficial estimate, your right 95% of the time.
Since the master bathroom is off the master bedroom, putting your bathroom remodeling (or makeover) investment there first makes (dollars and) sense.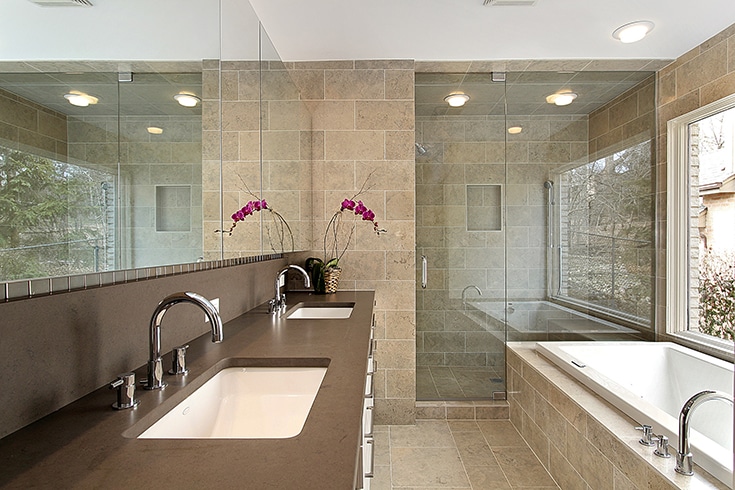 Smart idea #2 – Focus on the 'little things' (like bathroom amenities) to create a luxury hotel experience without a lot of cost
Years ago (before Airbnb, VRBO and HomeAway were anybody's digital dream) vacation home renters mostly focused on utility. They wanted to cook their own meals and do their own laundry to stretch their money and afford a vacation. They weren't looking for an 'experience,' as much as they needed to save a few bucks.
Today they're far more demanding. Sure, they still want to save money, but they expect a home with frills they don't have at home. And you know what…. they can get it. They can easily (and digitally) comb through listings until their 'research eyeballs' practically pop out!
It's a more competitive world. The stakes (and expectations) are higher.
The challenge for you is…what can you do to stand out….in a BIG way?
To stand out begin with winning in the 'little things.' Add luxurious touches which while not overly expensive – provide an experience for guests they don't get at home.
You may be asking, what are some little things I can add to make a big difference? Consider:
Custom designed cleansing soaps, hair conditioner, body lotions and makeup removal kits (so guest won't ruin your nice towels in their makeup removal ritual) with your logo on them.
Fluffy towels.
Wall mounted makeup mirror.
Hair care appliances including straightening and curling irons.
Spa slippers.
Fluffy robes, like the Ritz.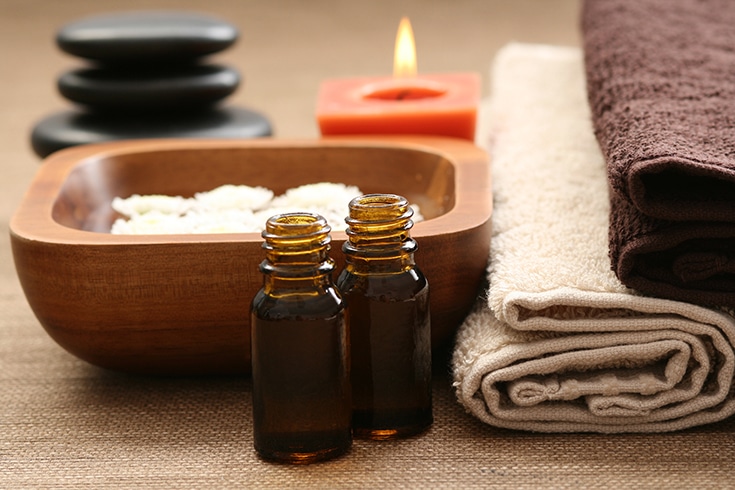 The line between a vacation home rental bathroom and fine hotels is getting blurrier every day. Is your properties' bathroom keeping up?
Smart idea #3 – Ugly fiberglass surrounds and dirty tile grout joints have GOT TO GO!
When guests are vacationing, the last thing they want to look at are tired, dirty and outdated bathroom surround walls which remind them of their teenage boys' bathroom at home. Yuck! If you've had teenage boys (like me and my wife), you know what I'm talking about.   
The dirty, cheap fiberglass surround you can't 'will' (or scrub) to look nice no matter what you do.
The grimy grout-joint master shower, which is screaming out, GET OUT THE SCRUB BRUSH RIGHT NOW, or call in the Grout Doctor!


You need a luxury look so your listing wows them. You need low maintenance. The question is, how to get both?
The answer is to use laminate shower wall panels. Whether you want a fresh, white large format tile look for your beach home or a sleek minimalist cracked cement shower for a city property, these 2' x 8' x 3/8" thick bathroom wall panels for vacation homes are easy to clean, simple to install and light on your budget.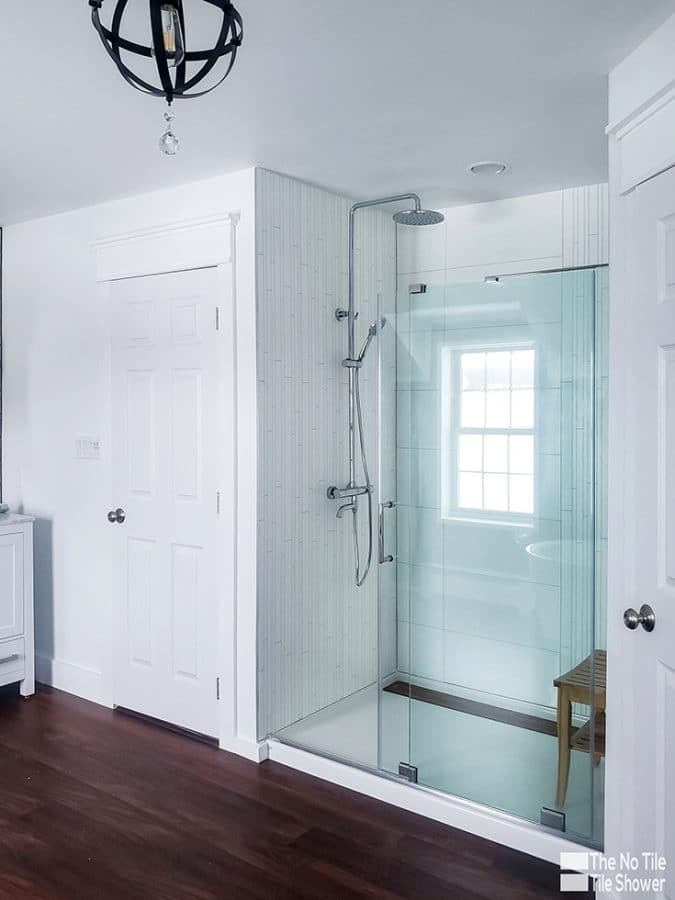 Your short-term rental home bathroom will look sharp without spending big bucks.  
Smart idea #4 – Make your bathroom brighter, lighter, more cheerful and functional
A dark bathroom where it's hard to put on makeup or shave will certainly dim (yes, that bad pun was intended) your chances of guests returning.
Master bathroom lighting and the paint color on the walls has a dramatic impact on your guest's experience. Here's a few ideas to use light and color to upgrade your vacation home bathrooms.
Idea 1 -Add storage – and lighting – at the same time – Especially if your bathroom is tight a modern LED medicine cabinet ramps up your lighting and provides more storage.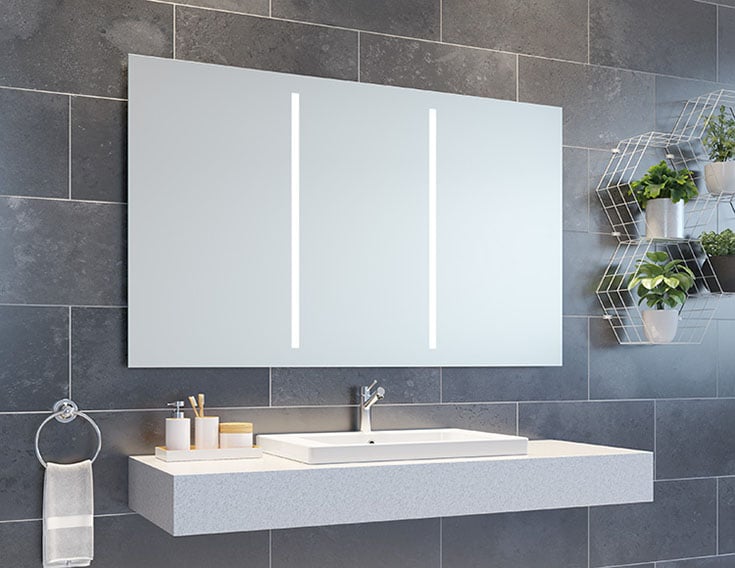 Idea 2 – Add vertical sconces – Get rid of the 'shadowing' effect of a light above the bathroom mirror. Vertical sconces (space permitting) offers better lighting at the sink.

Idea 3 – Repaint – Painting is cheap and it's impactful. Use 'on-trend' colors like powerful aquas to soft terracotta's or energizing corals for fun, yet bright, visual impact. Of course, white is also always in.
Smart idea #5 – Open things up – Don't use 'smoke and mirrors,' but do use 'glass and mirrors.'
Who doesn't wish their bathrooms were bigger? This would be almost no one. However, if you own an older short-term rental home, the bathrooms likely do not rival large hotel rooms like The Wynn or Encore in Las Vegas. They're tinier than you (or your guests) would like.
The challenge becomes how can you 'open things up' visually, even if it's impractical to blow out walls to make the bathroom larger. The simple solution is to use more glass and mirrors.
When it comes to glass, I'm a fan of eliminating shower curtains. They make anyone feel claustrophobic. Instead, use a clear glass enclosure. However, choosing the right clear glass can make a world of difference in the look and 'cool-factor' of your vacation home rental. You need a 'wow' look, without an 'ouch' price. One fun option is this curved shower screen. It adds style, a feeling of openness and can be used in a 60" tub/shower space.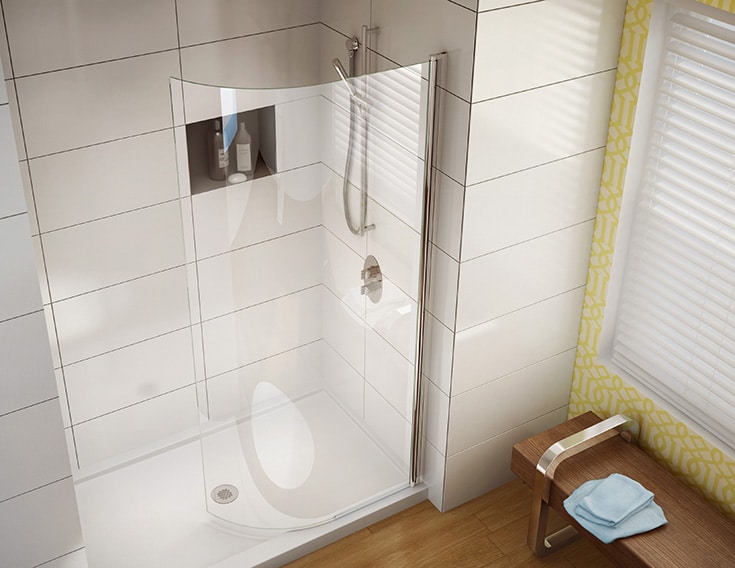 With mirrors, the smaller the bathroom the more you should use. Of course, a larger mirror behind a vanity is always helpful, but the mirrored medicine cabinet mentioned earlier also gives you the 'double-up' option to have a small bathroom with better storage.



Smart idea #6 – Add stylish flooring which is simple to install and maintain
Old sheet vinyl in a bathroom screams out cheap.
Worn ceramic tile floors with grout can cause leaking in the floor below. Now, that's a problem you can do without.  
You need a nice look, yet you need low maintenance.
Today a smart way to get both is to use luxury vinyl flooring. You can create most any look you want, yet you'll be using a product which is simple to DIY and water resistant (some manufacturer will go as far as waterproof). This floor isn't easily dinged or scratched with blow driers, curling irons or bottles which drop to the floor.


Smart idea #7 – Market your bathroom investment  
Just because you make financial investments to improve your vacation home's bathroom DOES NOT MEAN, you're going to get a return on your money!
At this point you're probably saying, "Wow Mike, why are you telling this to us now?" Well – the reason I bring it up at the end is because if you don't let prospective guests know how special your bathroom is, you may still not MAXIMIZE your ROI!
You need to market. Here's a few things to do:
Get quality pictures – Don't take out your iPhone and say, "That's good enough.' Have a professional come in – with the right lighting – and show your beautiful amenities, new shower wall surrounds and mirrored LED storage cabinets and put your best foot forward. After all, the first impression (online) of your vacation home, may be the ONLY impression a guest gets. Unless they're wowed by your images, your home may stay unoccupied.
Brag (through education) about your home – Blogging (like this article) is a wonderful way to let potential renters know what makes you special. Consider writing an article about the importance of a bathroom for a quality night stay and vacation home experience. Use pictures (see item 1 above) of your home as an example.
Share the 'living daylights' out of your pictures and articles – No one will know about your listing unless you tell them over and over and over (isn't that redundant?). If you're not posting continuously (and I do mean continuously) on social media today, you're missing the boat. To do this there are smart digital automation tools like Hootsuite and MeetEdgar (to name just two) which can put your social media posting on autopilot).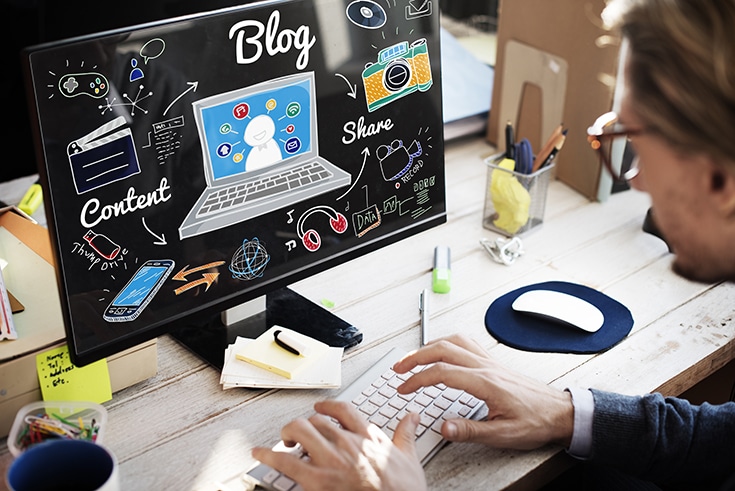 Conclusion
As you know the vacation home rental business (while growing) isn't simple. You need to be a 'step ahead' of the competition (whether the competition is the home, or hotel, down the street). However, you need to stay a step ahead without spending like a 'drunken sailor' who wakes up in the morning asking, "where did all my cash go?"
Be smart and strategic with your bath remodeling investments. Use the 7 ideas above or offer up a few of your own in the comments section below. An improved bathroom will lead to higher rates per night and increased occupancy. Are you willing to take the next step to improve your short-term rental home's bathroom?
###
If you're interested in learning about laminate shower wall panels for vacation homes or contemporary acrylic bases (or just want to talk bathroom design strategies for short-term rentals) contact Innovate Building Solutions (or me – I'm Mike the author of this article) at 888-467-7488. I'd love to help you get your home rented faster and at better nightly rates through improved bathroom or kitchen design.
If you'd like to connect on LinkedIn, you'll find me https://www.linkedin.com/in/mikefoti/
If you're into Twitter follow me @Mike_Foti or my companies' @InnovateBuild and @InnovateHomeOrg.
---
Tags: Airbnb bathroom idea, Airbnb bathroom ideas, Airbnb bathroom remodeling, Airbnb bathroom remodeling ideas, Airbnb bathroom upgrades, bath remodeling a vacation home rental, bathroom remodeling in a short term rental, bathtub surround in a vacation home, budget vacation rental bathroom ideas, cost-effective vacation home remodeling ideas, remodeling ideas for a short term rental, short-term rental bathroom, shower panels for vacation homes, vacation home bathroom ideas, vacation home rental bathroom ideas on a budget, vacation home rental makeover, vacation rental bathroom, vacation rental bathroom remodeling
Mike Foti
Mike Foti is the President of Innovate Building Solutions.
Mike Foti
Mike Foti is the President of Innovate Building Solutions.