How Much Do Shower Wall Panels Cost for Single Family or Vacation Rental Homes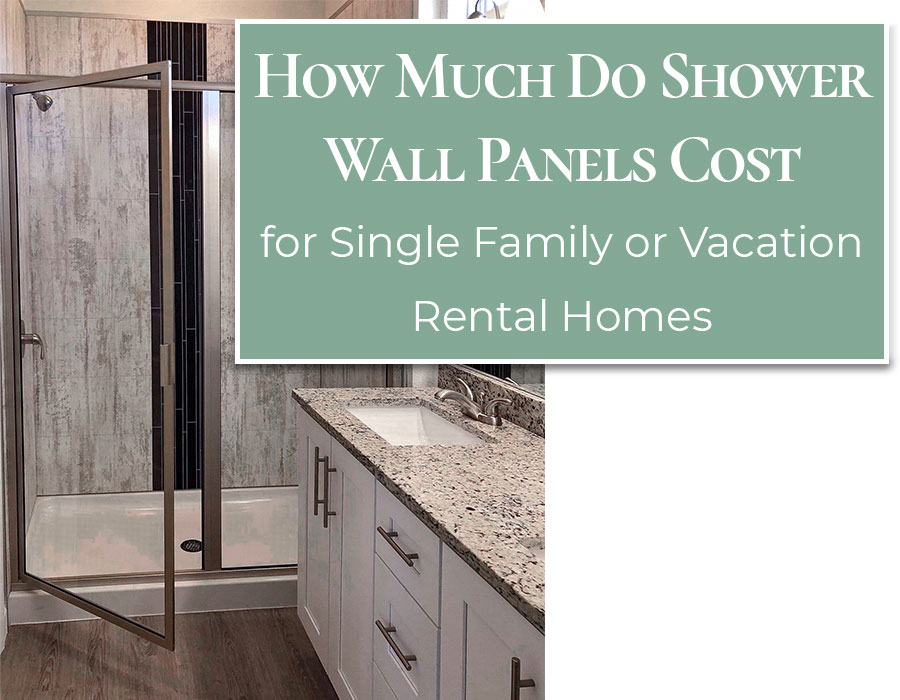 I've been in the shower wall panel supply and installation business for over 20 years (not as long as when Moses' was a boy, but on somedays it feels like it!). As you can imagine I've been asked thousands of times by homeowners and single-family and vacation home property owners, "Mike, how much do shower wall panels cost?"
Just like asking the price of a new car or SUV, it's a basic question, but there are a number of things which impact your final cost. And I know it can be frustrating searching and searching web sites trying to find pricing only to come up empty.
You need the facts to know what system will make (dollars) and sense for your property (or multiple units). And just like buying a car, you can get the standard answer… 'it depends'… when you ask this direct question. Although you know you want to get rid of your moldy, grimy tile or a yellowed one-piece surround, you also know you need to keep on eye on the budget. You need a system which is right for your property.
The challenge is how can you get your arms around pricing when almost none of the web sites share anything about cost? In short, the goal of this article is to help you do that. I'll let you know what you can expect to pay for a shower or tub wall surround for your single family or vacation rental home.
I want to help you save research time on systems which don't fit your budget or aren't high enough quality to help your property stand out vs. your low-priced competitor down the street. This article is broken into 2 parts. Here's what I'll cover.
Part I – What are the factors which impact cost? Although some products may 'seem' perfect when you start 'kicking the digital tire', later you uncover hidden costs which put a wet blanked on your excitement. You need to know what will impact your cost…BEFORE you buy the product or WASTE RESEARCH TIME down an Internet sinkhole. In part 1 I'll look at 7 key factors which impact shower and tub wall panel costs.
Part II – Price ranges of shower surround systems – While I'd love to tell you there is one perfect shower surround system, I'm going to tell you that's garbage. At the end of the day (and at the beginning of the day also) you need the right system at the right price for your property. Knowing price and the factors which impact cost, result in smarter buying decisions. In this section, I'll look at the 'low end, mid-grade and high-end' wall panel options and tell you what you can expect to pay (for a standard 60" x 32" system bought one at a time).
First, let's look at the factors which impact shower wall panel costs for single family or vacation home rental showers.  
Part I – What are the factors which impact the cost of shower and tub wall surrounds in single family or vacation home rentals?
If you and I were listening to The Who (a band well known at least by my Boomer friends out there) you know the goal in buying anything is to Not be Fooled Again, as their famous song from 1971 says. And if you want to take a few minutes and relive your 'good 'ol rocker days' have a listen to it again in the video below:
But, getting back to our topic, if you're putting up with a flimsy wall panel system or a moldy tile shower today, you certainly don't want to relive this mistake again. The challenge is how do you prevent yourself from being fooled?
First, you learn the factors which impact cost. You need to 'leave no stone unturned' (as Mom or Dad told you back in the day). Here's 7 factors to ensure your 'project stones' are properly turned.
Factor #1 about tub and shower wall surround costs – Are you buying a complete kit or only getting wall panels?
If you've been a parent or grandparent you've lived through a 'batteries not included' moment. You know those moments. It's when those '4 letter words start flying.' It's when you know you don't have everything you need to get the job done (or the toy you're trying to put together for the kids or grandkids). In the case of shower and tub wall panels it's when you realize you don't have the right adhesives, trims, caulk or accessories to complete the job.
You need to make sure you're not simply 'buying wall panels' but are getting a complete kit.
FRP, acrylic and Kohler Choreograph systems are famous (not in a good way) for not including everything you need in a prepackaged kit. On the other hand, PVC composite, cultured granite and laminate wall panels do include the adhesives, trims, and sealants required. There' no time wasted searching for or wondering if you've bought the right materials to do the job.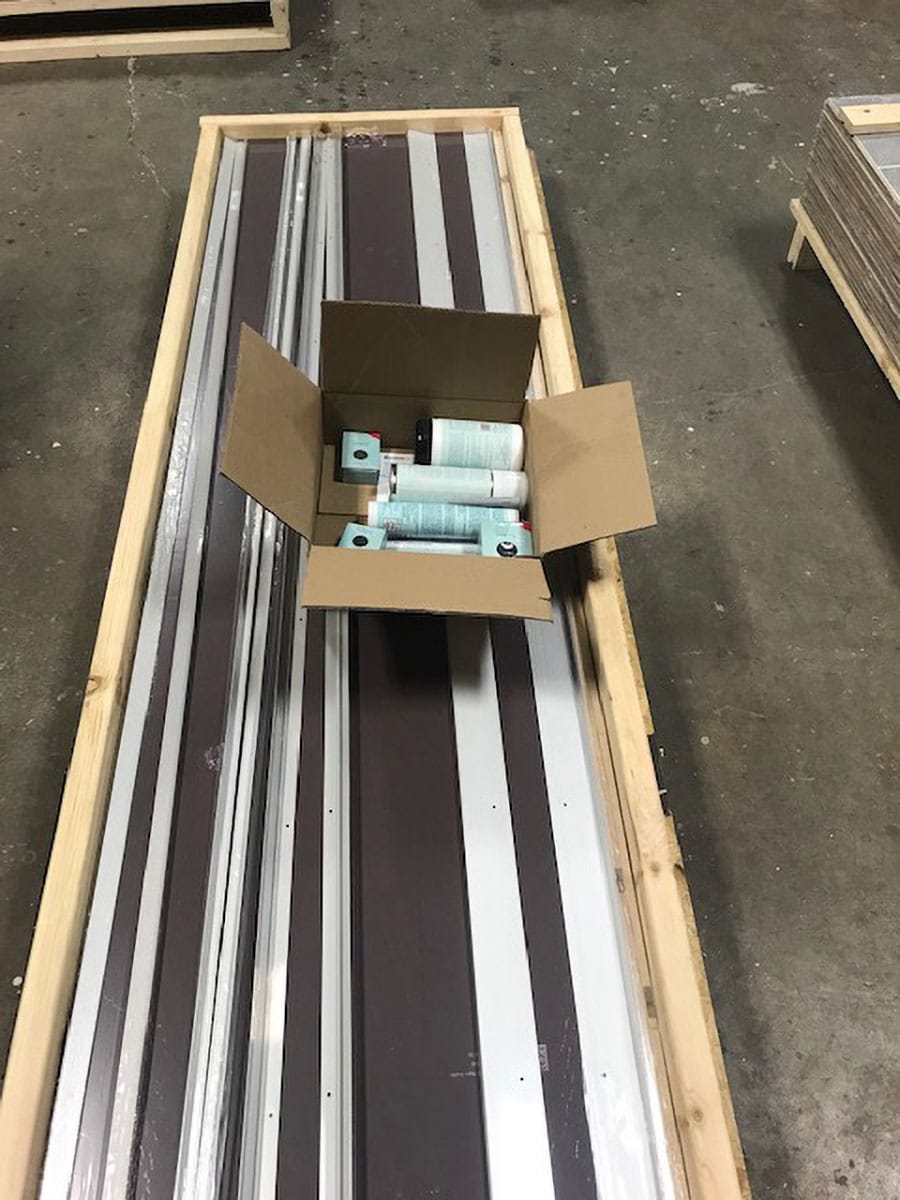 Factor #2 about tub and shower wall surround costs – How tall and wide are the panel sizes? Can these panels be used for a custom-sized shower?
Size matters.
OK, maybe that came out wrong (or your mind…or my mind…is in the gutter).
But when it comes to shower and tub wall panels (and kits) the sizes available will drive whether a system will work for you (irrespective of cost). With most 'lower-end' (cheaper priced) products (like fiberglass surrounds), the good news is, they're low-priced. The bad news is, they only come in standard sizes (60" x 32" tubs or 48" x 36" shower for example). If you've got a custom shower, you'll be S.O.L.


On the other hand, if you need custom width walls – cultured stone, laminate wall panels and PVC composite systems are cost-effective for odd-sized spaces.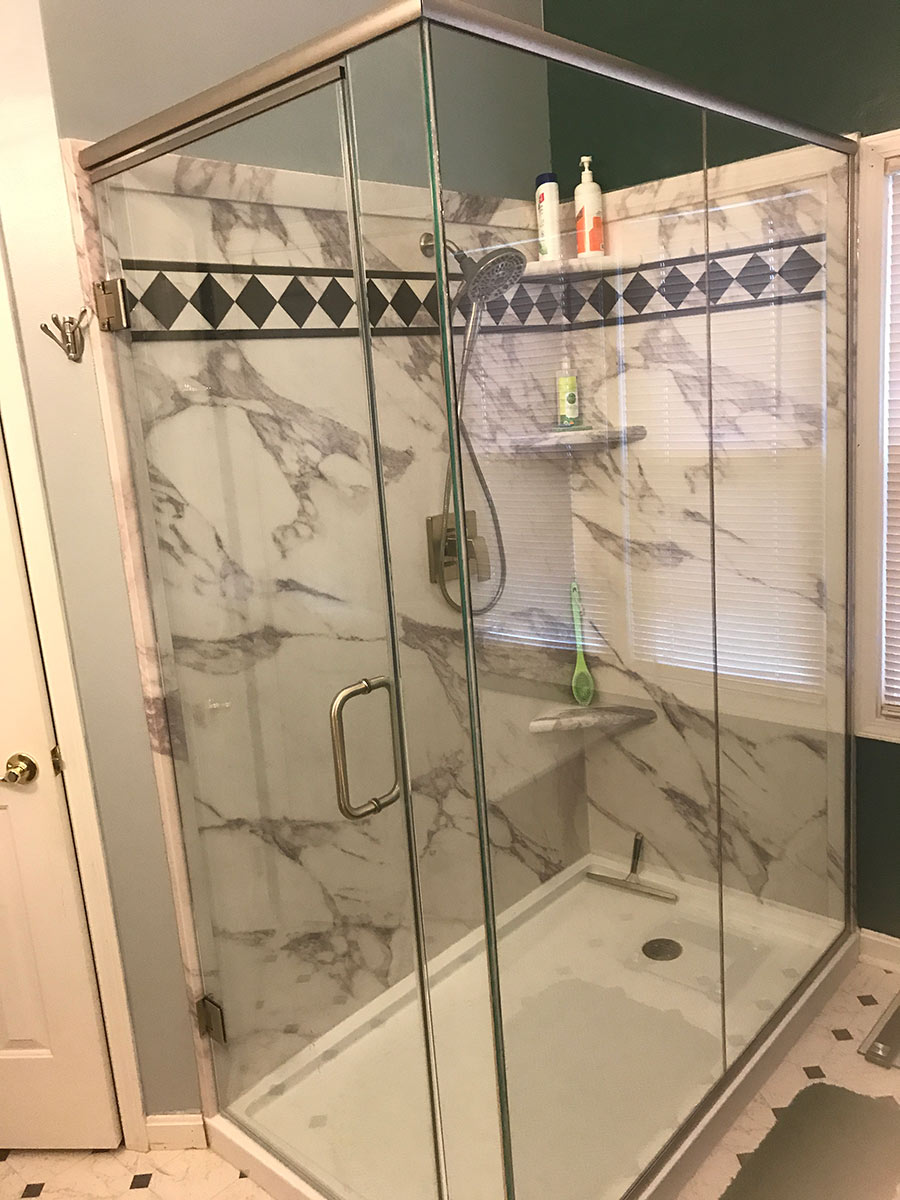 Before you buy anything, measure the width and height. Know if your desired system can be manufactured to size, or can be clicked together to fill your wall sizes, or seamed together to work with your dimensions (no matter how odd they are – and no I'm not talking about your 'personal dimensions').
Factor #3 about tub and shower wall surround costs – Is tax and delivery included in the price? Can I be confident the product won't arrive broken, or crack during installation?
If you're buying multiple showers or tub surrounds, sales tax and delivery can be a big cost. And – if you're buying for a single property alone, an inexpensive product which is shipping from miles away may become very expensive once you get the 'delivered cost.'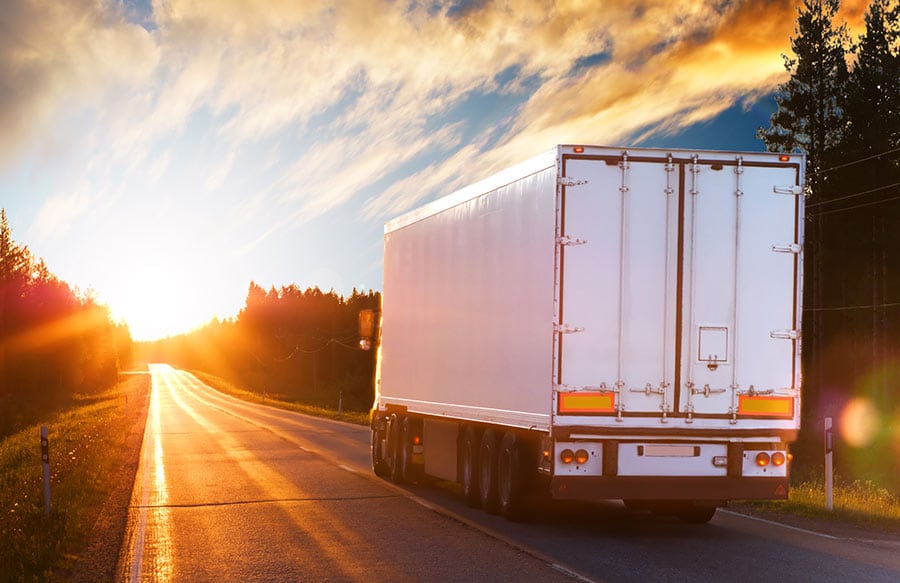 And not to make you freak out even more, but some systems have a terrible reputation for being cracked upon delivery or broken during installation. Cultured granite, Kohler Choreography and marble are notorious for this problem. This is the reason many cultured marble and granite companies do their own deliveries. When truck lines treat shower wall shipments like 'leg lamps' from A Christmas Story, (they're 'fragile' -as an Italian guy like me would say- and break easily), it's scary to think how messed up your schedule will be if your wall panels arrive in more 'pieces' than you expect!
So, before you buy anything, check on-line reviews to see what systems have delivery and installation breakage problems. Stay away from these products. They'll cost you more money, time and aggravation.



Factor #4 about tub and shower wall surround costs – Are you eligible for trade discounts as a multi-unit property owner?
Many, but not all suppliers, give courtesy trade discounts when you're a rental property owner (even if you only own a handful of properties). Ask if you're eligible for discounts so you don't spend more than needed.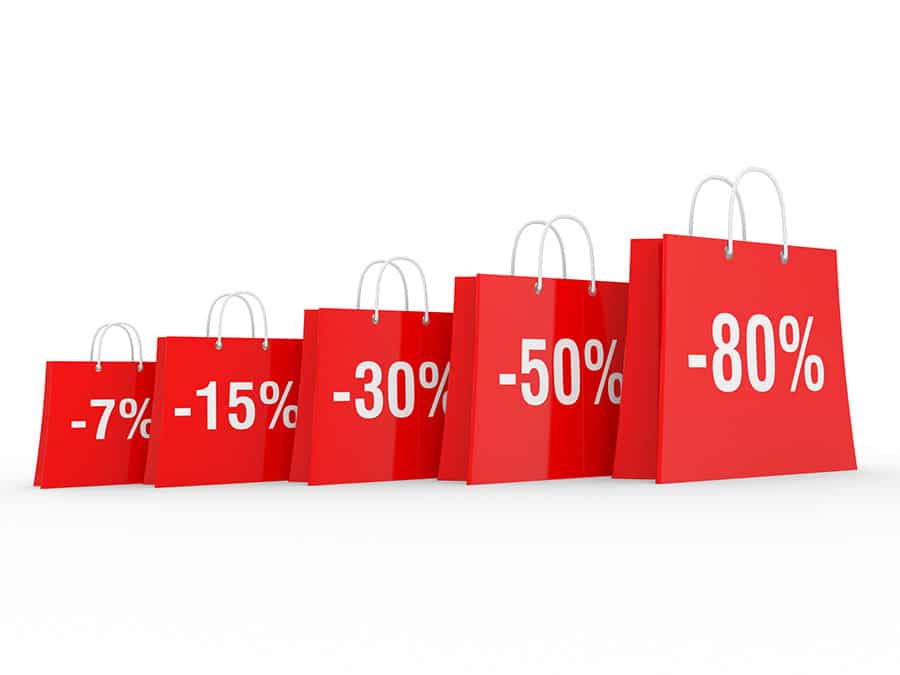 Factor #5 about tub and shower wall surrounds costs – How do designs, finishes, and faux grout patterns impact cost?
With lower priced products, designs and finishes are limited. For example, if you choose a fiberglass or FRP wall system you're looking at one standard molded design in white.
On the other hand, if you need an upscale look to stand out from your low-rent competitor down the street, you'll want more stylized designs and finishes. These finishes can be high gloss, semi-gloss or matte. You'll find different finishes in acrylic, cultured stone, PVC composite, optical grade high gloss acrylic and laminate wall panels. That's the good news. Now, here's the bad news.



The cost of finishes ranges greatly between product types.
For example, optical grade high gloss walls are sleek and glossy…but very expensive. In addition, matte finishes can be substantially more when you choose cultured granite walls (they cost 40% more than standard gloss finish with this type of material). On a positive note, matte and gloss finishes are the same price with the laminate tub wall and shower products.
If you want a tile or stone look, two popular options are cultured granite and laminate wall panels. You'll spend about 10-20% more for a tile pattern in these lines – and will get an unbelievably realistic look with the laminate walls.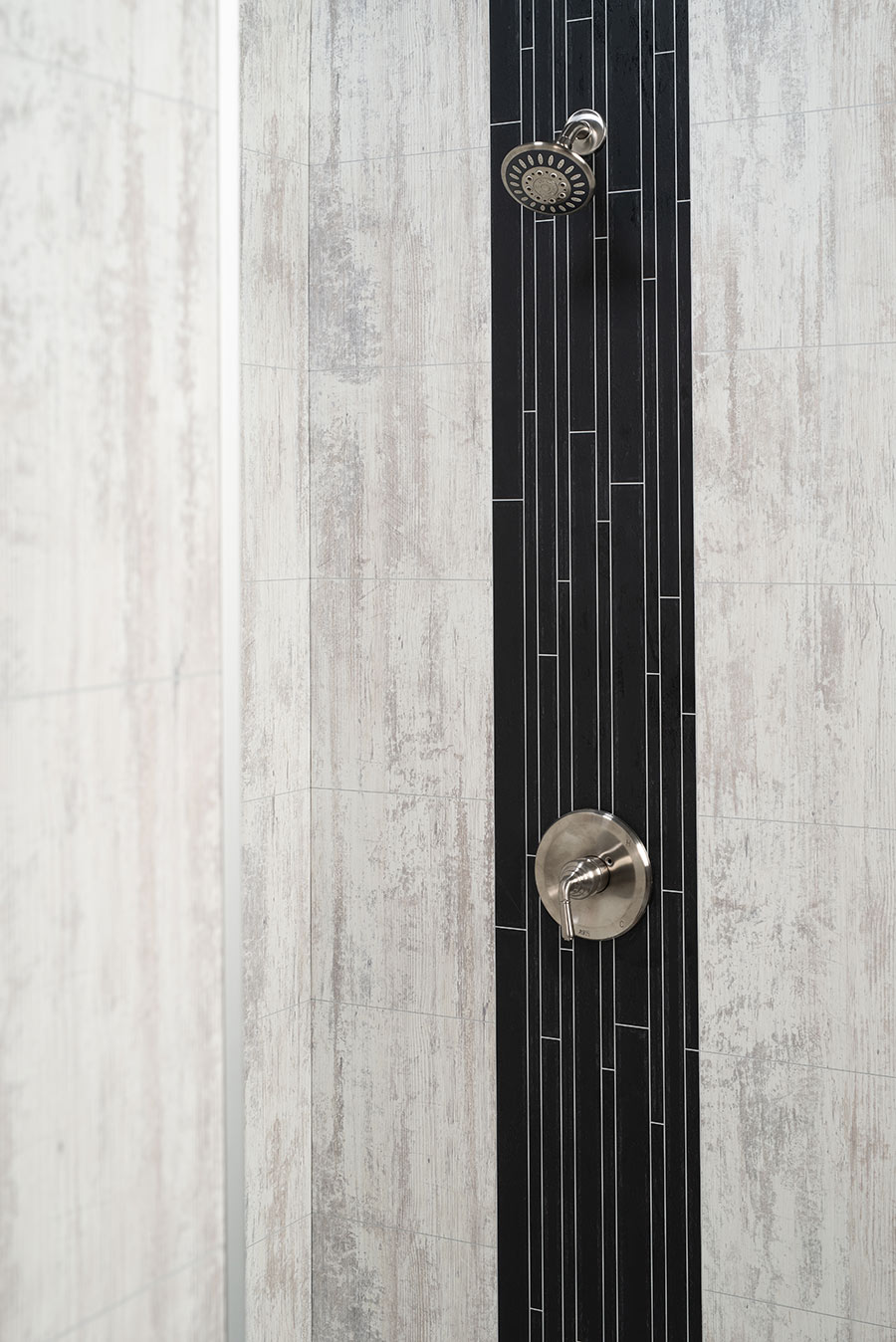 When design matters (which is the case in luxury single family rentals for the 55+ market or vacation home rental showers) check the price of your desired style and finish early in the process. Remember how your prospective tenants or guests feel about your property's bathroom is tied at the hip with the revenue you'll realize.
Factor #6 about tub a shower wall surrounds costs – Can I (or my maintenance team or handyman) buy and install our own system?
Believe it or not, some shower wall panel manufacturers don't want to wholesale their panels to you – and it's not because they don't like you. They want their 'authorized installing dealers' to have a lock on the market (acrylic wall panel manufacturers like Bathfitter and Rebath please stand up).
Other wall panel systems are so bulky and prone to cracking your maintenance team may be silently saying, "Thanks, but no thanks" for the 'opportunity' (sarcasm intended) to install these heavy and fragile gems. Cultured granite and marble are prime examples of this.
Even though a shower wall panel may be cheap to buy, doesn't mean it's going to give you the lowest 'all-in' (installed) cost. You need to add labor costs to the mix.


If you're looking to do your own installation (and save on labor) you'll find simpler installations with PVC composite, laminate shower wall panels, fiberglass (if you have a standard shower or tub) or FRP systems.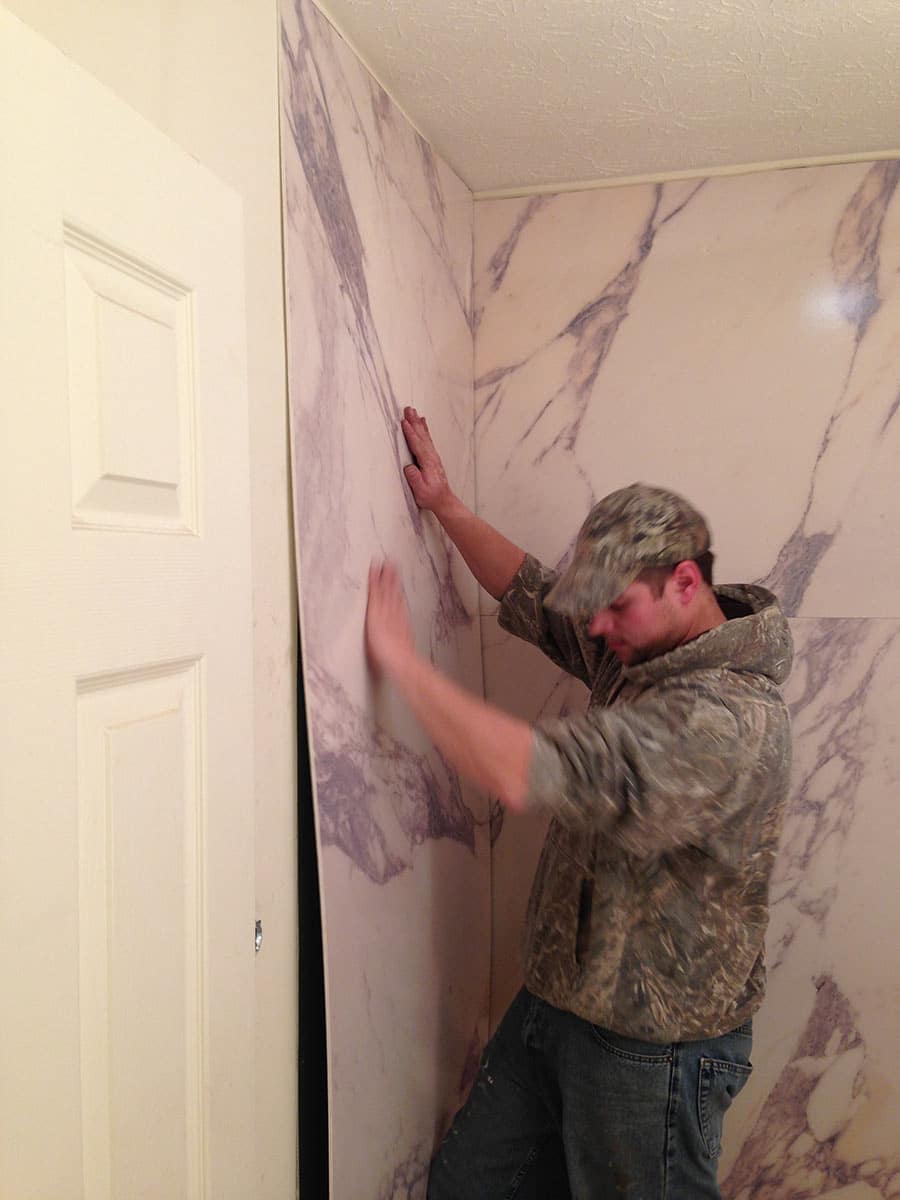 Factor #7 about tub and shower wall surrounds costs – Is it a direct to stud system or do I need backer board behind the panels?
As you know from being a rental property owner what you don't see behind the wall may cost you (especially if what was used originally wasn't the right stuff).
What's nice about 'direct to stud' wall panel systems (like molded fiberglass panels) is there's 'no cost' for a wall backer board. However, most wall panel systems you'll find are not direct to stud but require a backer board.
The greatest number of waterproof wall panels use moisture resistant green board behind the wall. The panels are then glued to the wall.


A few systems (like the laminate wall panels you'll see being installed below) use a lower-cost – yet very firm – OSB (Oriented Strand Board) wall backer. It's not only less expensive than moisture resistant green board, but it makes your walls firm enough to install a seat or grab bar if they're needed down the road.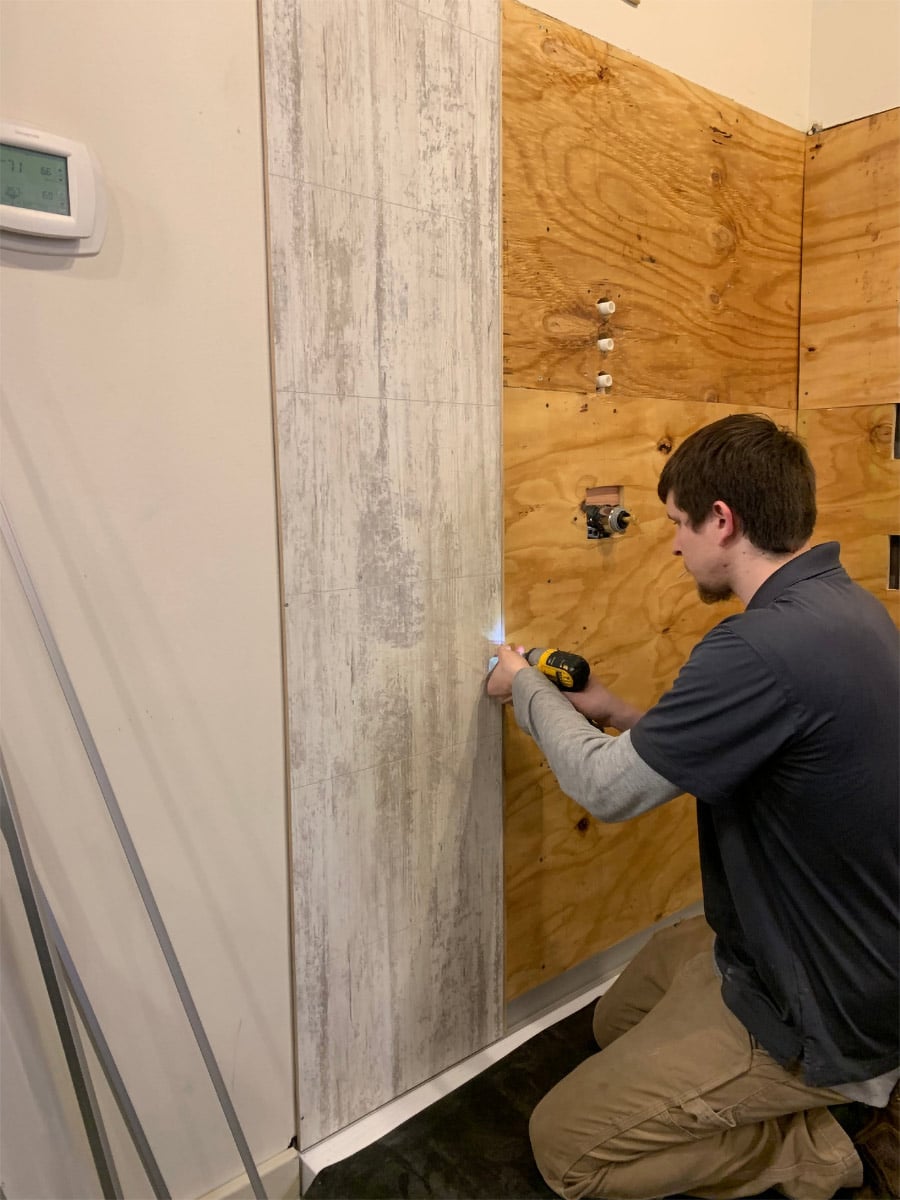 And now for the moment you've been waiting for – the price of shower wall surrounds for your vacation or rental home.
Part II – Price ranges of popular shower and tub wall surround systems for single family or vacation rental homes
Obviously, wholesale material pricing can vary greatly depending on the following:
The size of the system (and if the system is standard or custom-sized)
The number of showers and tubs you're buying
Where the property is located
The color, pattern and designs you want.
However, to keep things simple for this pricing example below I'm going to look at price ranges for 8 different shower surround options for a standard 60" x 32" space with 3 interior shower walls. I'll give you price ranges from low end to the middle to high-end. I'll look at the cost of buying one system (uninstalled). I'll start from the least expensive to the most expensive.



And yes, buying in bulk can and will have a dramatic impact on cost/unit, but this article won't touch on negotiated prices in bulk-buy deals.
(Low End wall panel system) Fiberglass reinforced plastic (FRP) pricing
If you want 'cheap,' these walls panels are your 'baby.' FRP panels are available at your local home center store. These 48" wide x 96" high x .090 (wafer-thin) panels along with adhesives and trim pieces cost from $300 to $450 for a standard 60" x 32" shower.
(Low End wall panel system) Fiberglass shower kit pricing
Most fiberglass replacement showers come in 3 pieces (unlike their new construction counterparts which are installed during the faming stage in one molded unit). While the cost of systems varies greatly from $200 to $1,200, most are in the $300 to $500 range. The height of the showers is from 72" to 84" high (so you'll need to do finishing work above the surround when you have a standard 8' ceiling). Thickness ranges from .090" to 1/8". They're usually only available in white.
(Low End wall panel system) Standard acrylic shower kit pricing
Acrylic shower kits are the step up from fiberglass and FRP. Their biggest benefit vs. fiberglass is they don't yellow, and you can get them in colors (although you won't find them stocked in colors at your local home center store). Standard white acrylic systems run in the $400 to $700 range (after you get sealants and trims).
If you need custom colors or sizes, you'll need to hire companies who install acrylic shower and tub wall liners. Local acrylic companies often REFUSE to wholesale materials. They want to do the installation work and get the profit margins which come with it.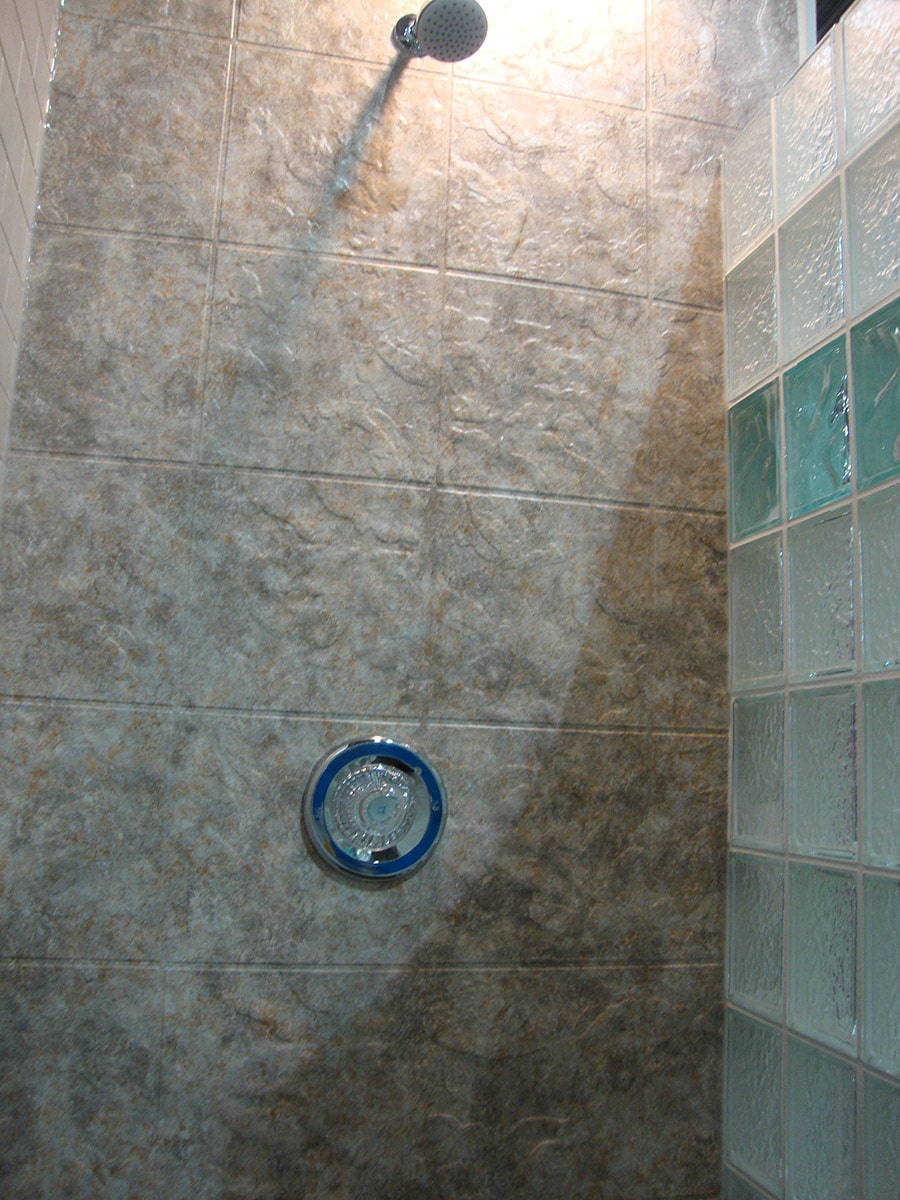 (Mid-grade wall panel system) PVC composite shower and tub kit pricing
PVC composite shower wall panels are a nice option for an upgraded look. They're simple to install (and have 3" thick edge trim which gives your maintenance person slack if they screw up a cut).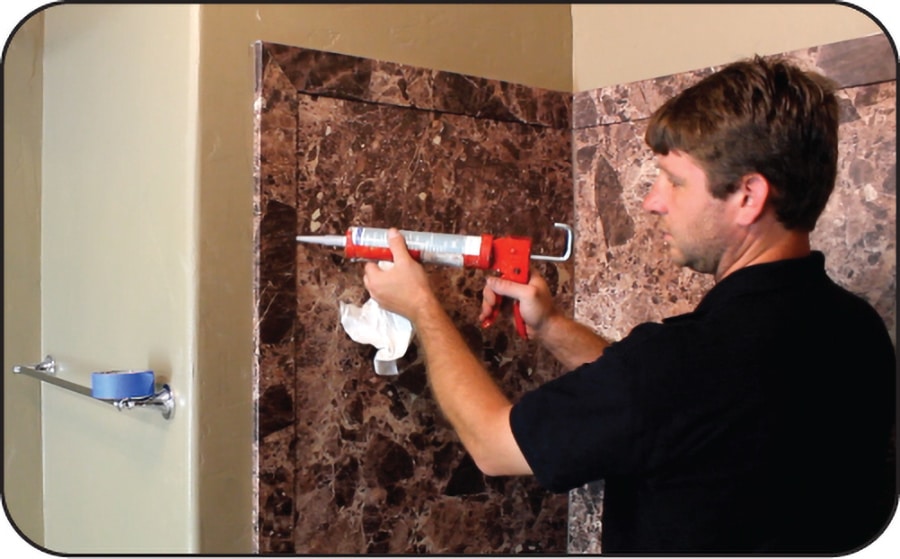 Bought in single sheets, you'll find these ¼" thick panels (they're 2x thicker than acrylic) along with adhesives and trims cost between $1,100 to $1,500 (with a rental home trade discount) for 1 unit 60" x 32" x 80" high unit). If you need 96" tall, expect to pay another $300 or so. These panels are only available in a semi-gloss finish.
(Mid-grade wall panel system) Laminate shower wall panel kit pricing
This system is super-flexible if you have a custom size (or you're not sure what size you'll need until the old materials are taken down). These panels are 23.6" wide x 94.4" tall (so they'll reach the ceiling in 8' high homes when they're put on top a tub or shower pan). They're designed to click and lock together and make seamless walls of any size.


They come in matte and gloss finishes at the same price (that's a big bonus vs. other systems). For one 60" x 32" system as a rental property owner, you'll pay between $1,300 to $1,500 depending on the style you choose (although 85% of the patterns are at the lower end of the range).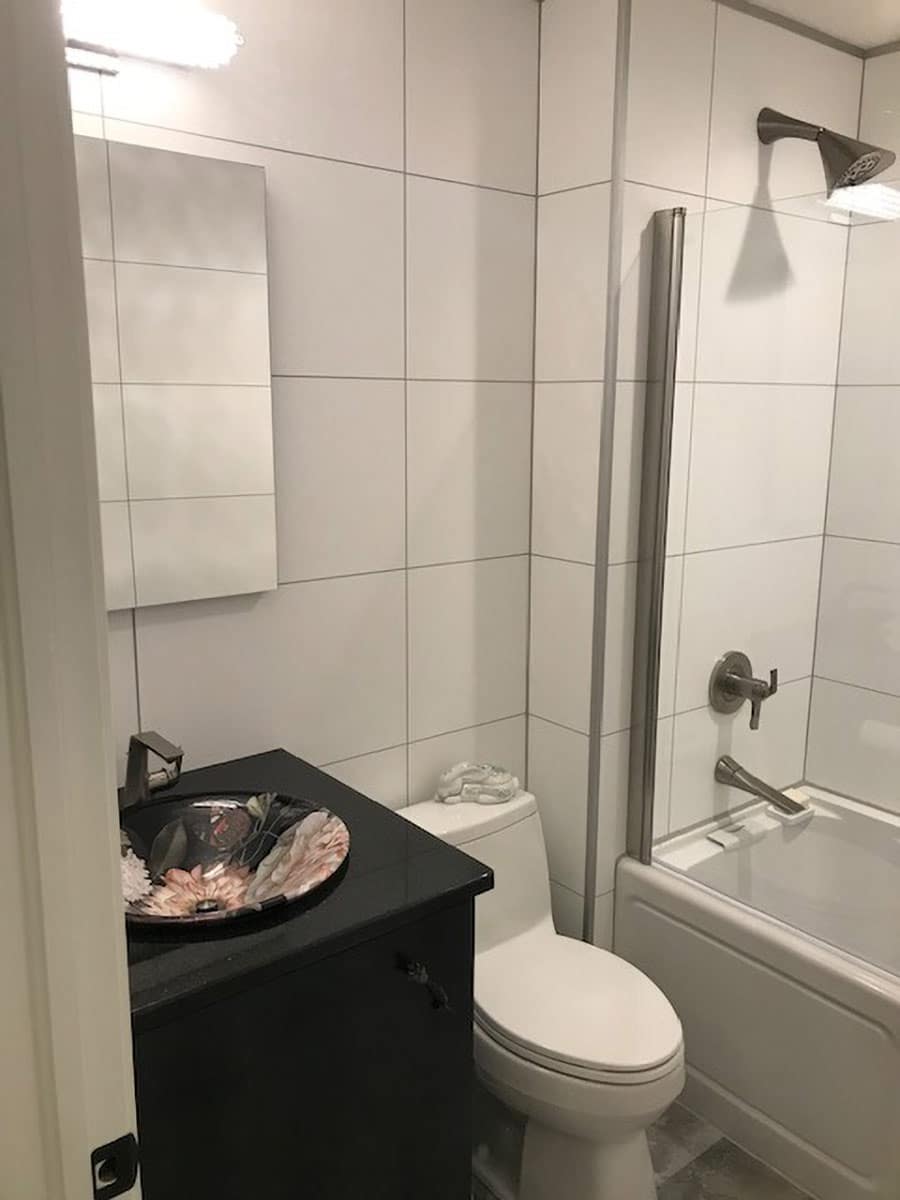 Volume pricing can bring system costs down dramatically. They can be installed by your handyman or maintenance team.
(Mid-grade wall panel system) Culture marble or cultured granite kit pricing
While cultured marble and granite walls are a 'mother' to haul around (yes, a 60" x 96" x 3/8" thick back wall panel weighs 120 lbs.), they aren't as expensive (or hard to cut) as most people think. Cultured marble is less expensive (although not as trend-forward) than the cultured granite. For a 60" x 32" cultured marble shower kit (including adhesives) budget in the $1,200 to $1,600 range. The cultured granite price will generally be a few hundred dollars more than the cultured marble.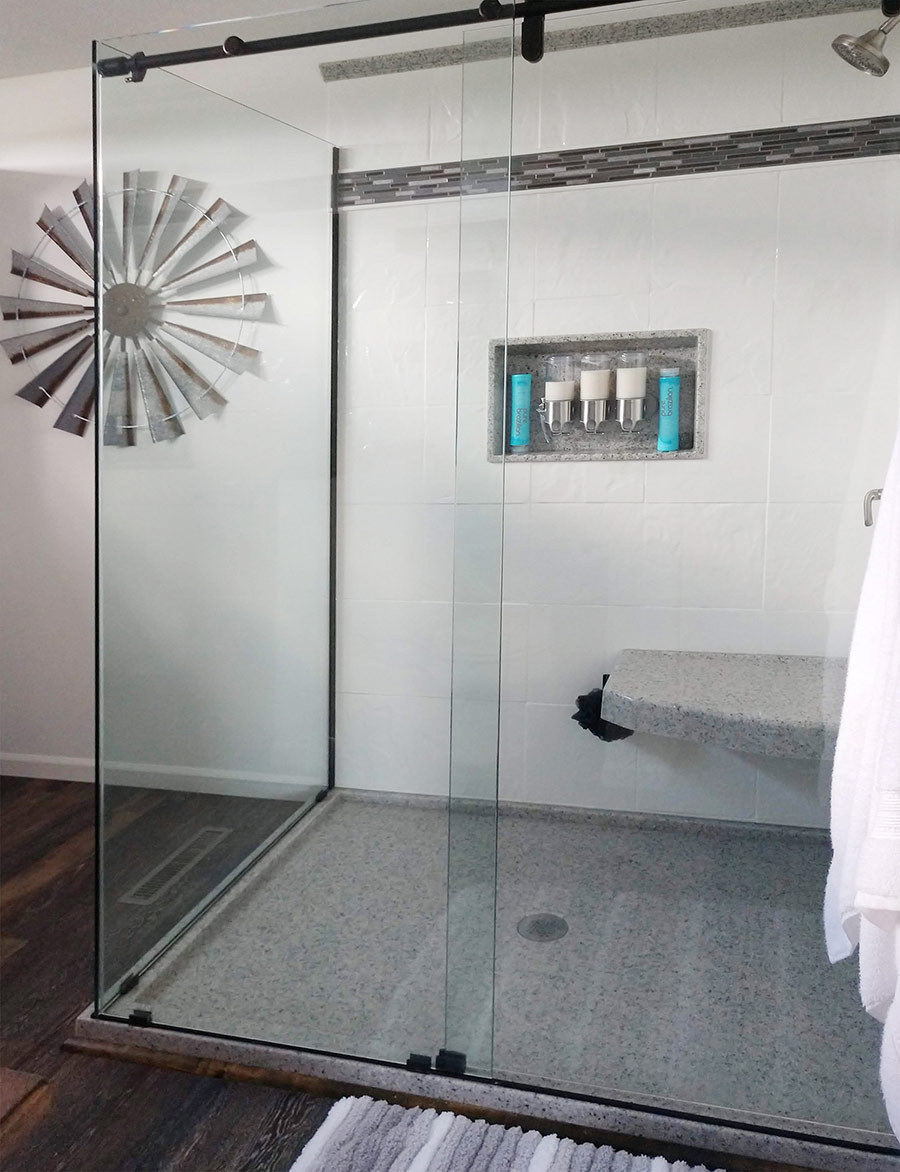 (High-end wall panel system) Optical grade high gloss acrylic kit pricing
 These panels are cool-as-heck if you're remodeling an upscale vacation home rental bathroom or doing a boutique hotel shower remodel and want a luxury contemporary look. They look like back painted glass, are simpler to install and 1/3 to ½ the cost of back painted glass. That's the good news. Now, here's the bad news.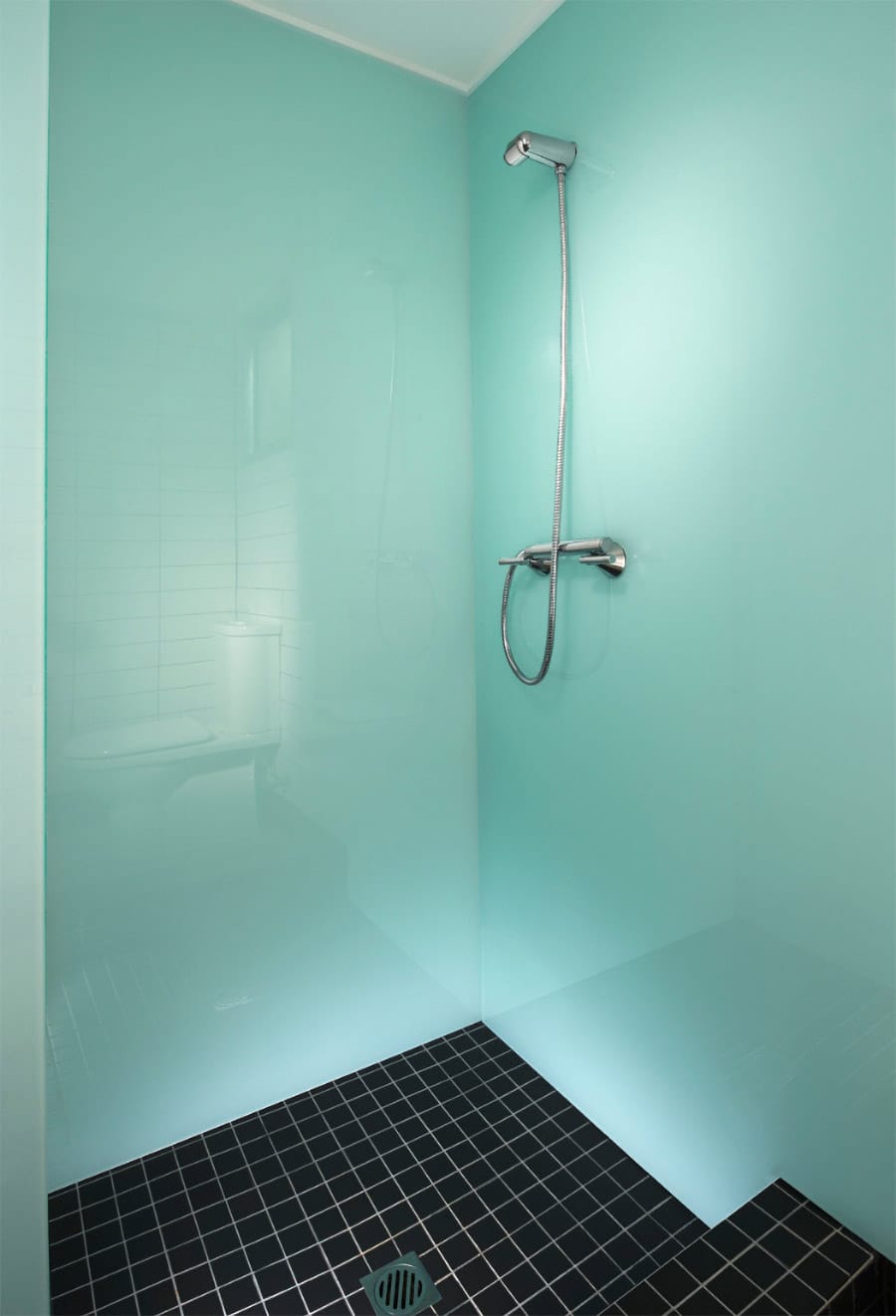 They're still a lot of money. For a standard 60" x 32" x 96" shower with adhesives and trims you'll shell out $3,000 to $3,600.



(High-end wall panel system) Granite or marble shower wall pricing
The cost of real marble and granite can (and does) vary greatly depending on how rare the stone is (and the quantities you buy the material in). However, expect to pay anywhere from $4,000 to $8,000 for a 60" x 32" shower for the 'real McCoy.' If you can afford it (and have the tenant or vacation home guest who is willing to pay for it), they're the ultimate in high fashion.
So, how can we help you next?
While this article has focused on giving you a 'feel' for shower wall surround pricing, at the end (or the beginning) of the day there's only one thing which matters….
How much will shower, or tub wall panels cost you for the type, size, quantity, and style you're looking to buy?
And to properly answer this question I recommend you do the following:
Step 1 – Choose your favorite options from the 8 types of wall panels listed above.
Step 2 – Determine the quantity you need
Step 3 – Get real live cost info on what they'll cost delivered to your property's address.
This is where me and my team would be honored to help. While we don't sell the really cheap stuff (note- FRP or fiberglass are best sourced at your local home center or DIY store), we do specialize in mid-grade (with a dash of high-end) wall panels we wholesale direct to vacation rental or single or multi-family property owners (as well as residential DIY homeowners).
If you want firm pricing for your project – click for a Free quote or contact us for Free shower wall panel samples so you can see and touch the options you're considering.
We look forward to helping you.
Mike
###
For pricing for shower wall panels for single family rental and vacation homes contact me, I'm Mike Foti with Innovate Building Solution.
Call 888-467-7488. I'm looking forward to showing you ways to improve the return on your rental or vacation homes with unique bathroom products which don't bust your budget.
If you'd like to connect on LinkedIn, you'll find me https://www.linkedin.com/in/mikefoti/
---
Tags: Bathfitter prices, cost of rental home showers, cultured granite prices, cultured marble pricing, Fibo prices, Kohler Choreograph prices, laminate wall panel prices, Onyx pricing, Onyx shower wall pricing, Rebath prices, rental home bathrooms, rental home shower ideas, shower costs in single family rentals, shower pricing for rental homes, shower wall panel costs, shower wall panels, single family rental bathroom, single family rental costs, single family shower ideas, vacation home shower, vacation home shower costs
Mike Foti
Mike Foti is the President of Innovate Building Solutions.
Mike Foti
Mike Foti is the President of Innovate Building Solutions.