Dealer Spotlight – Best Construction Brands- Combining People, Passion & Products for an Exceptional Bath Remodel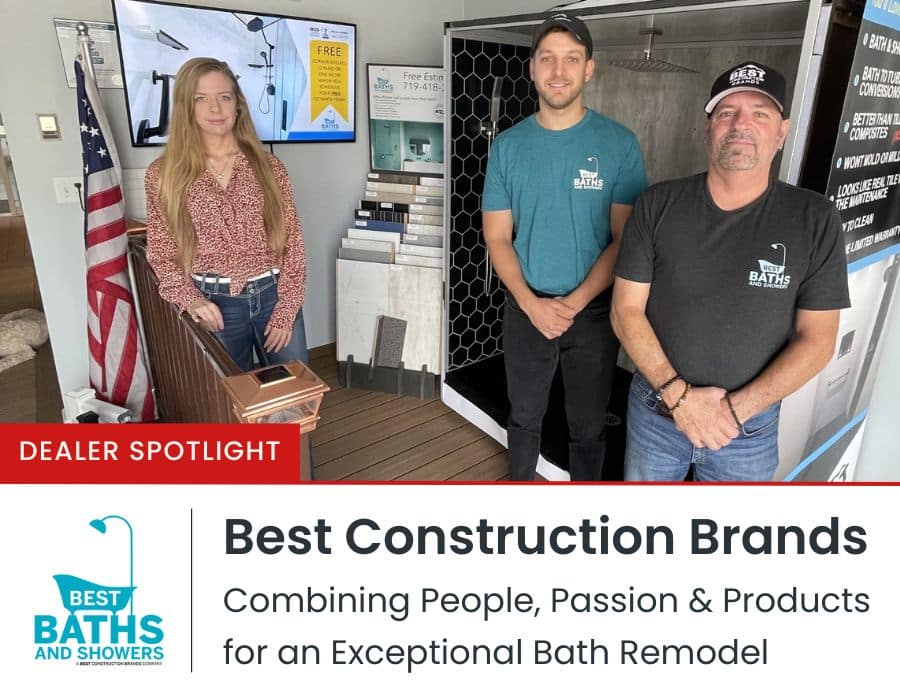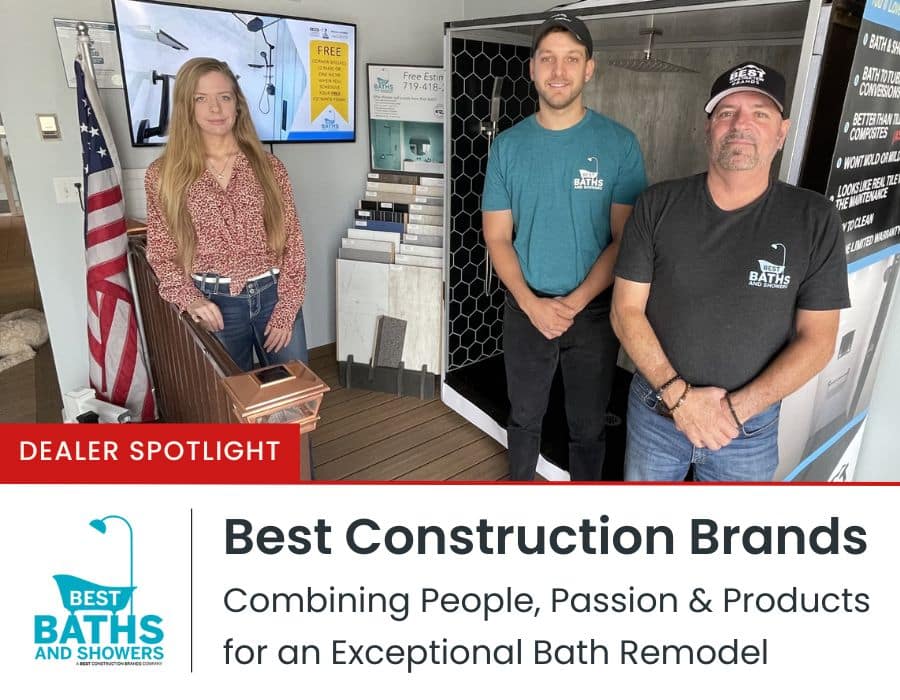 Let's face it – no matter where you live there's A LOT of bath remodeling contractors to choose from. And some are good – but others will make you regret the day you met them (and I'll tell you as a guy who leads a nationwide bathroom products wholesale business, I've seen the good, the bad and the UGLY in remodeling contractors over my years in the biz).   
So, if you're a homeowner what can you learn from a successful bathroom remodeler to make sure your project goes smoothly (and make sure you purchase the right products from the right company)? How can you make sure your project 'lives well' and stands the test of time?
And conversely, if you're a contractor looking to grow (or start) a bathroom remodeling company – what can you learn from a successful business whose 'been there and done that?'
In this Innovate Building Solutions dealer spotlight we're giving you a sneak peek into the formula which has made Best Construction Brands a bathroom remodeling leader in Colorado. The Best Construction Brands team shares insights for homeowners (who want a better project) and contractors (who are striving to improve their business).
Who is Best Construction Brands?
 The key players at Best Construction Brands are managing partners Stephen Moore and Ray Nation, and their Office Manager, Katee McKean. Best Construction Brands is located in Colorado Springs, Colorado and serves the Colorado market.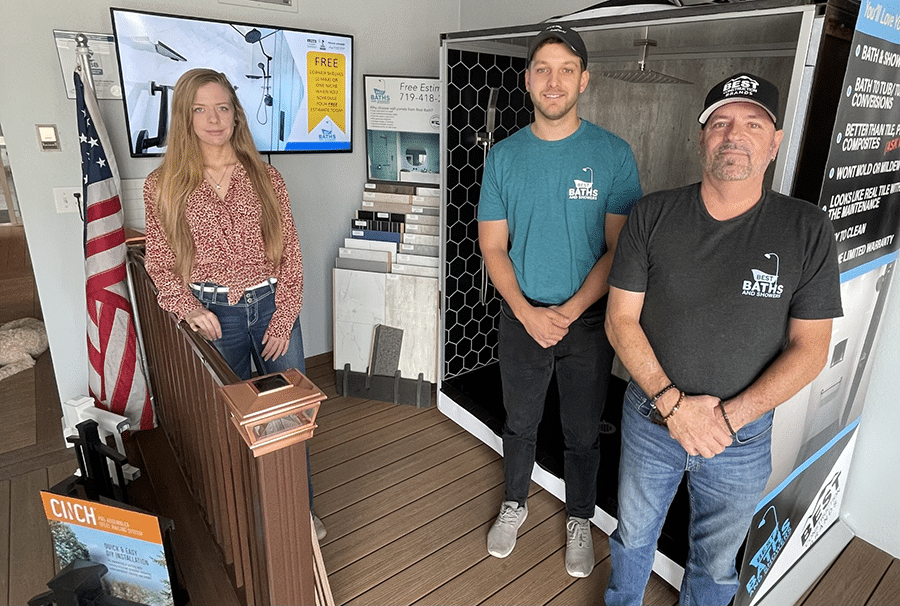 They focus on bathroom remodeling and deck projects. This may seem like an odd combination, but you'll see in this article why it isn't.
What's the philosophy behind Best Construction Brands?
As Ray Nation told me, "Mike, our goal is to help everyone. Towards this end, we have a range of products to fit every budget. In addition – we want to be the 'spotted zebra' in our market. By this I mean we offer products to create distinctive (yet not super-expensive) bathroom remodels."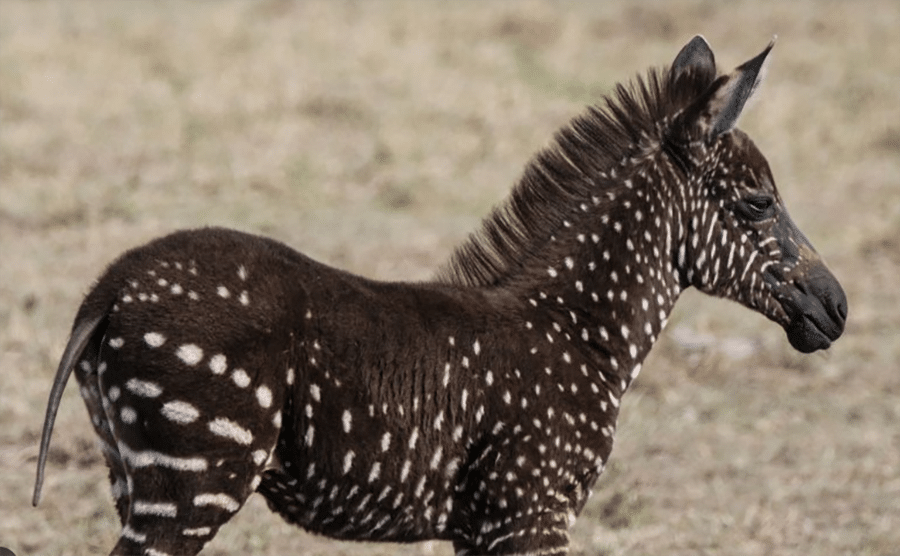 Why did you get into bathroom remodeling when you already had a successful deck business?
While decking (and bathroom remodeling) might not seem to go together (at first glance) if you know Ray Nation – you know very well why it made sense to launch Best's bathroom remodeling division.
You see Ray is a 'grizzled veteran' in the remodeling business. Ray got dirty installing in the field. Ray worked as a Marketing Manager. Ray has sold jobs for years. Ray was an Operations Director. Ray's been-there, done that and today, along with Stephen, is leading Best Construction Brands.
In addition, Ray saw an opportunity in his market. As he told me,
"Mike, there are a lot of people selling a lot of junk for a lot of money!"  
And I know many homeowners can relate to this when they get mind-blowing quotes from franchise companies selling thin plasticky wall panels for JAW-DROPPING PRICES!
Also, Ray mentioned bath remodeling projects can be completed quicker and are simpler to manage than custom decks which are time-consuming from permit to completion.
And while Ray didn't mention this point to me –another reason to combine decks with bathroom remodeling – is the deck business can't be the best during long winters in Colorado. Bath remodeling provides 'inside work' when the temps outside won't cooperate with deck building. This keeps cash flowing. And a positive cash flow is the lifeblood of any business.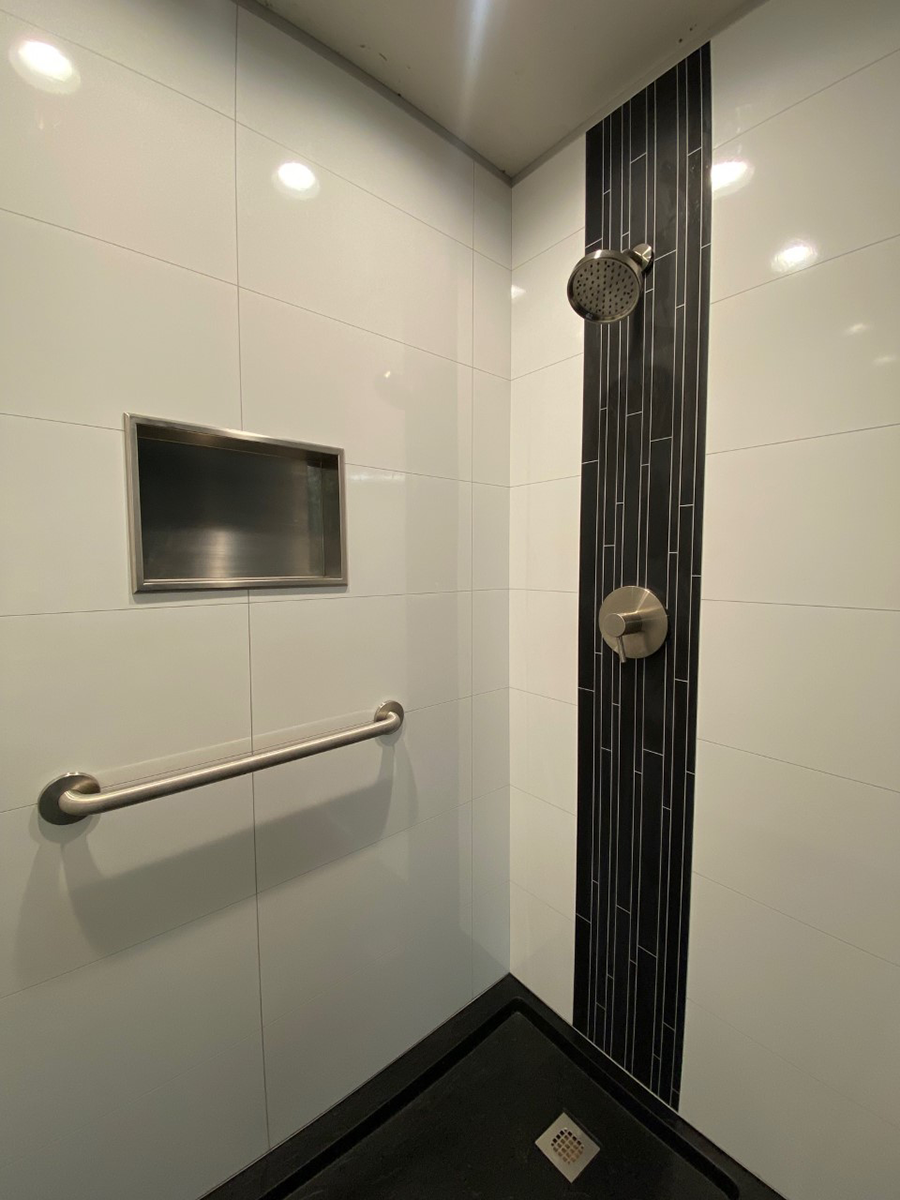 What products do you offer?
Since Best Construction Brands is looking to help customers with varied budgets, they offer a wider range of products than most bath remodelers.
For lower budget wall panel projects, they offer acrylic bath systems. And as Ray told me, "Even though plastic is plastic is plastic, we still offer acrylic because it's functional – even if it isn't very exciting."
For mid-priced jobs the laminate wall panels are Best's 'go-to' product – although they will, on occasion, sell cultured marble.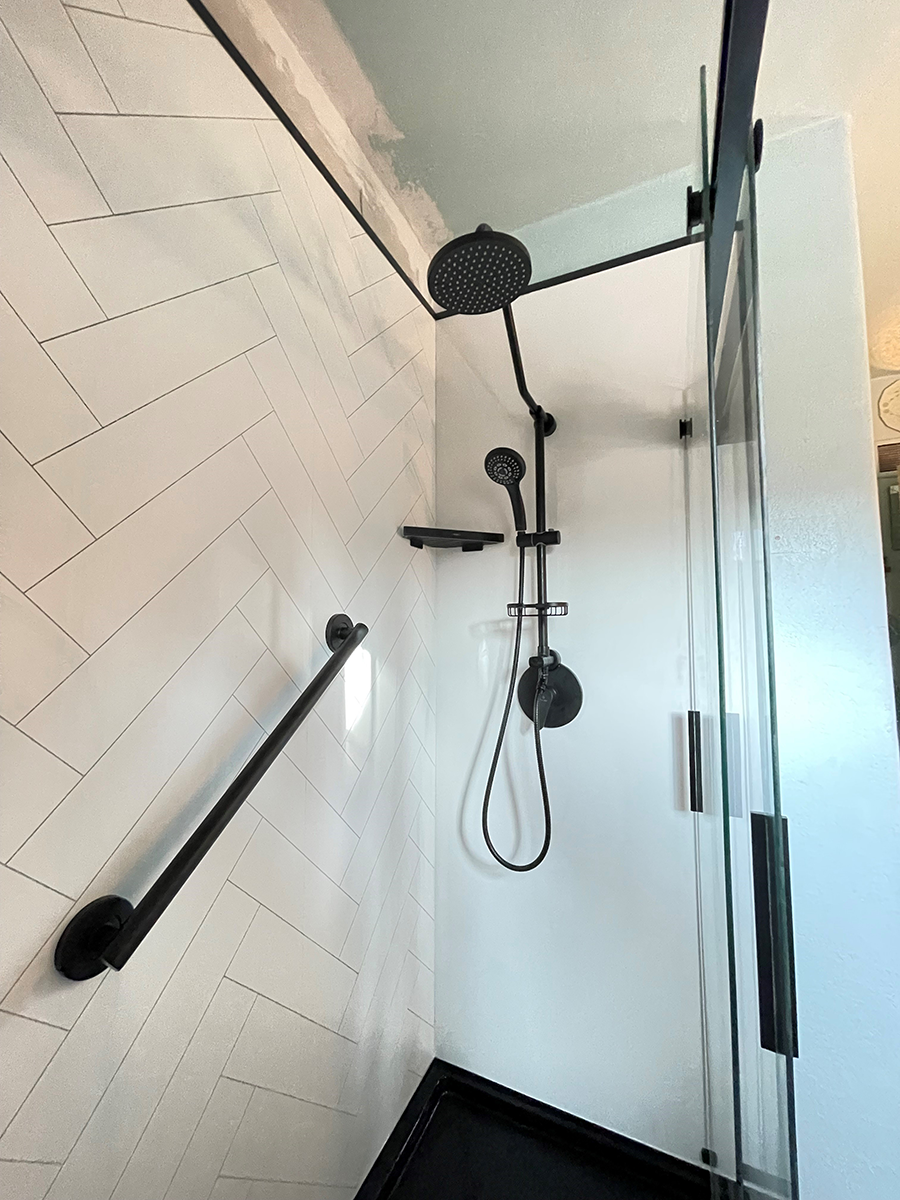 At the top-end – Best offers stone panels with Tyvarian. Tyvarian is a grout free photo transfer process.
Why are laminate wall panels your best-selling shower and tub surrounds?
OK – as Best's wall panel supplier I'll confess I'm happy we're their #1 line. And let's face it, if they weren't an important customer for us, I wouldn't be writing this article right now.  OK, just keepin' it real!
However, with that being said, I wanted to get Ray's input on why these Norwegian laminate tub and shower surround panels from Fibo have been hits in Colorado. And here's what he said:
"Mike, as I mentioned we're all about being the 'spotted zebra' (or Ray might have said 'Purple Cow' from the book by Seth Godin) in our market. We want to do jobs with a 'wow factor' – even if it's for an age-in-place bathroom. With unique laminate wall panels – which are 3/8" thick – all our customers have loved their jobs!"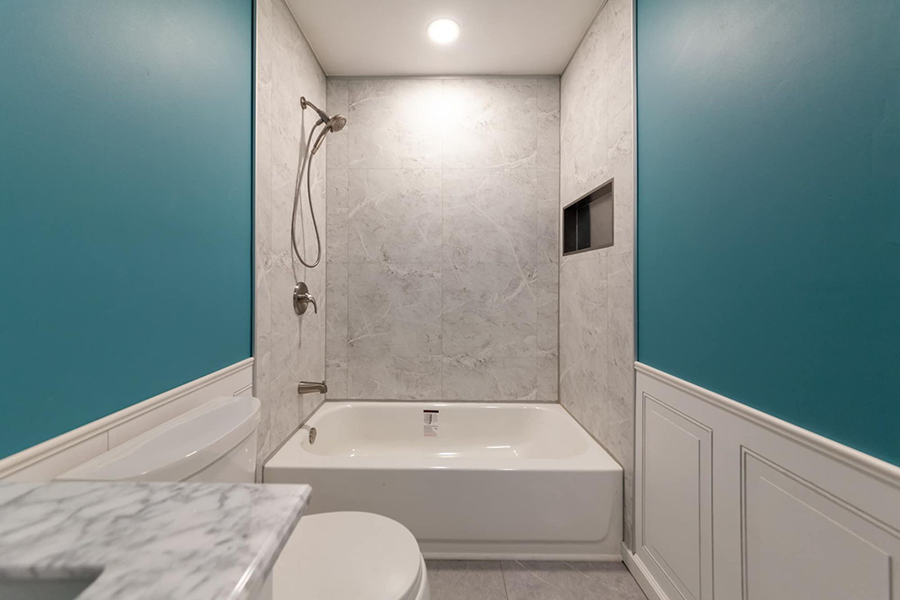 What tips do you have for homeowners for a better bathroom remodeling project?
I know with a question as broad as this, Ray could have talked to myself and Michelle Ruhe (our Marketing Manager) ALL DAY about tips for a better bathroom – but we all had our 'day-jobs' to do – so I've summarized 5 key tips from our conversation.
Tip #1 – Have an 'adult conversation' before spending money.
Since Best Construction Brands does a lot of projects for people 55 and over (and I'm really bummed to admit this age group includes me – although my maturity is definitely lower than this – and I look A LOT younger when I color my hair– ha! ha!), Ray stressed to me the importance of having an 'adult conversation.'
By this he means talking through what the owners might need so the bathroom will be safe – and stylish – for years to come. As Ray told me,
"Mike, there's nothing worse than spending money on a beautiful bathroom and then (for instance) the tub deck or shower curb is too high for a family member to use."
In these cases, you can end up 're-remodeling' (and yes, this isn't an actual word, but it's happened plenty of times before to people).
And although you might need a safer shower curb, Ray will be the first one to tell you not to settle for an ugly, geriatric-looking shower pan. Safety and style ARE NOT mutually exclusive.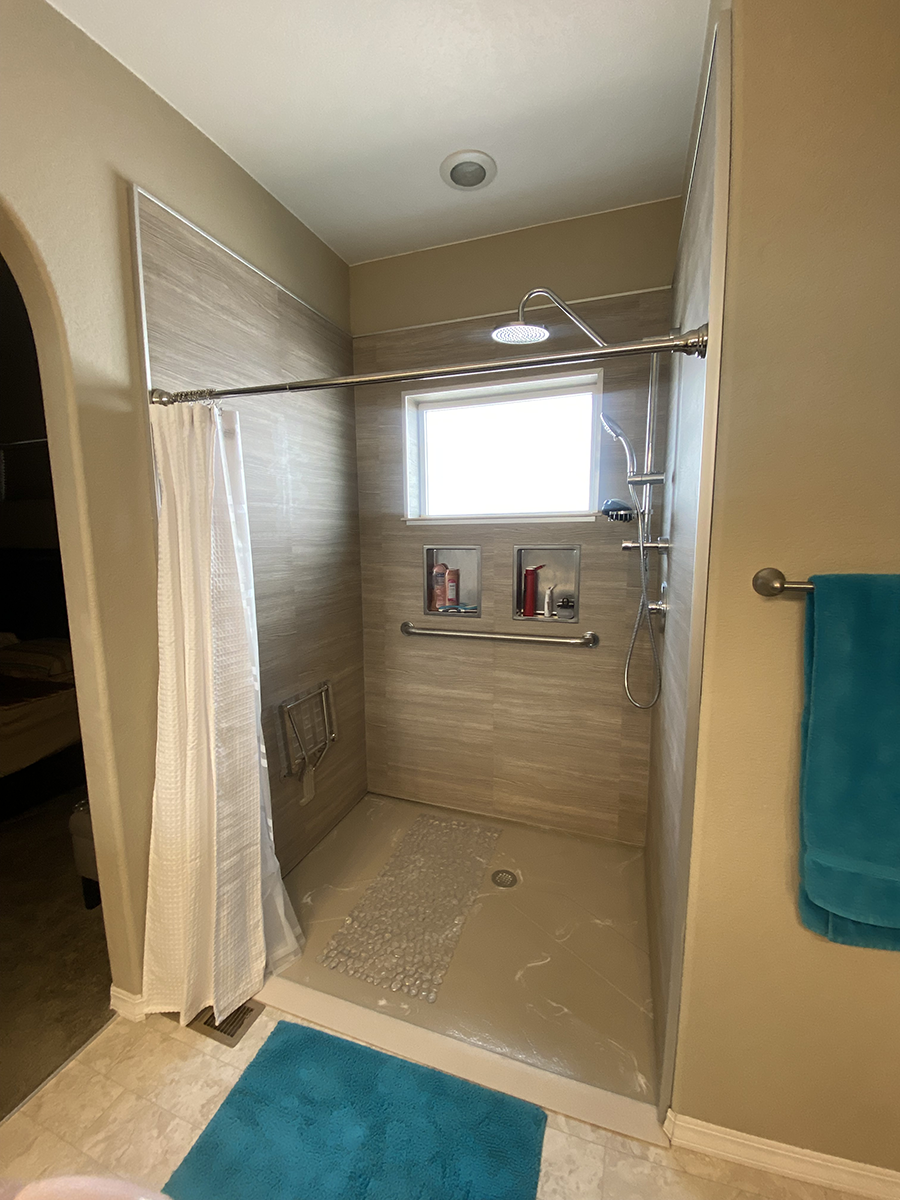 Tip #2 – You don't want your shower to live like a 'football field.'
I know this is a unique analogy for a shower – but what Ray was referring to is to be thoughtful on where the water source(s) are – especially if you install a bench seat.
The problem can be if the bench seat is far away from water – it can be cold (and difficult) for someone to bathe or shave their legs.
To solve this problem, Ray recommends an adjustable shower head on a slide bar close to the bench seat.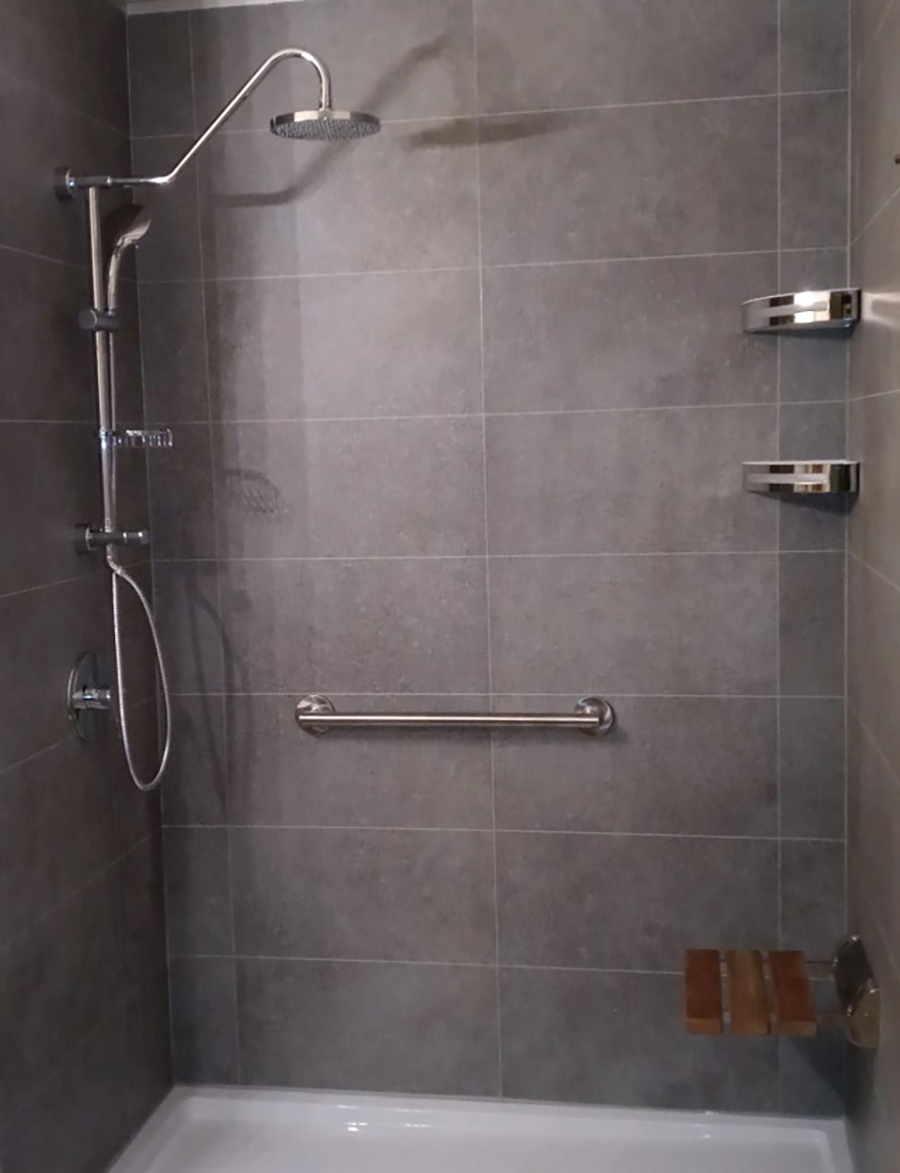 Tip #3 – Make sure your shower pan is sturdy.
Cheap pans not only look ugly, but are often thin, flimsy, and prone to turning brown (if they're made of fiberglass) or cracking.
Ray's advice is to use a sturdier pan. This includes a contemporary reinforced acrylic pan (with a mortar bed at the bottom) or a cultured stone shower pan.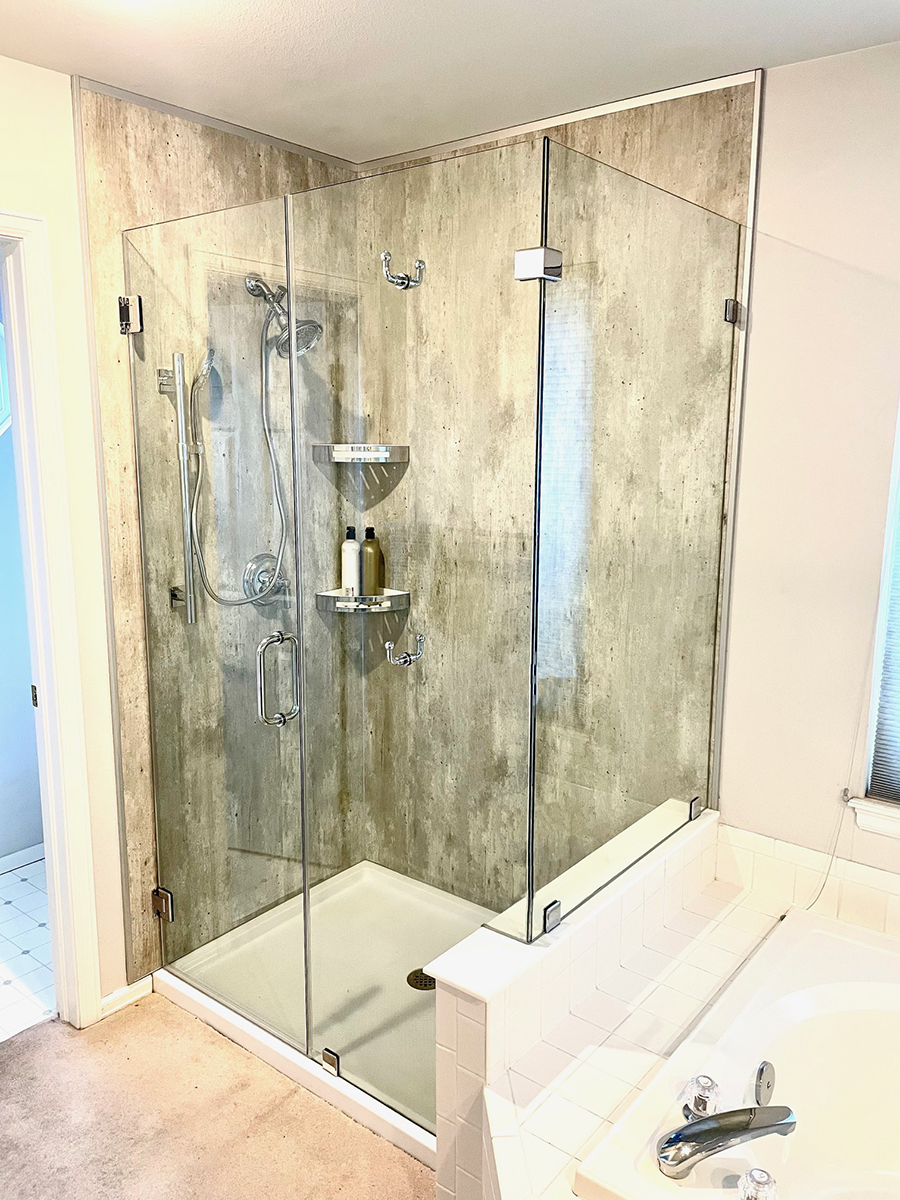 The pan is THE FOUNDATION of your shower. If it fails, you're in deep trouble.


Tip #4 – If you use tile for your bathroom floor (or shower), make sure you don't 'cheap-out' on the grout.
While the majority of showers installed by Best Construction Brands use grout free shower pans and grout free wall panels (due to their ease of maintenance)– there are occasions they build tile showers and/or tile bathroom floors.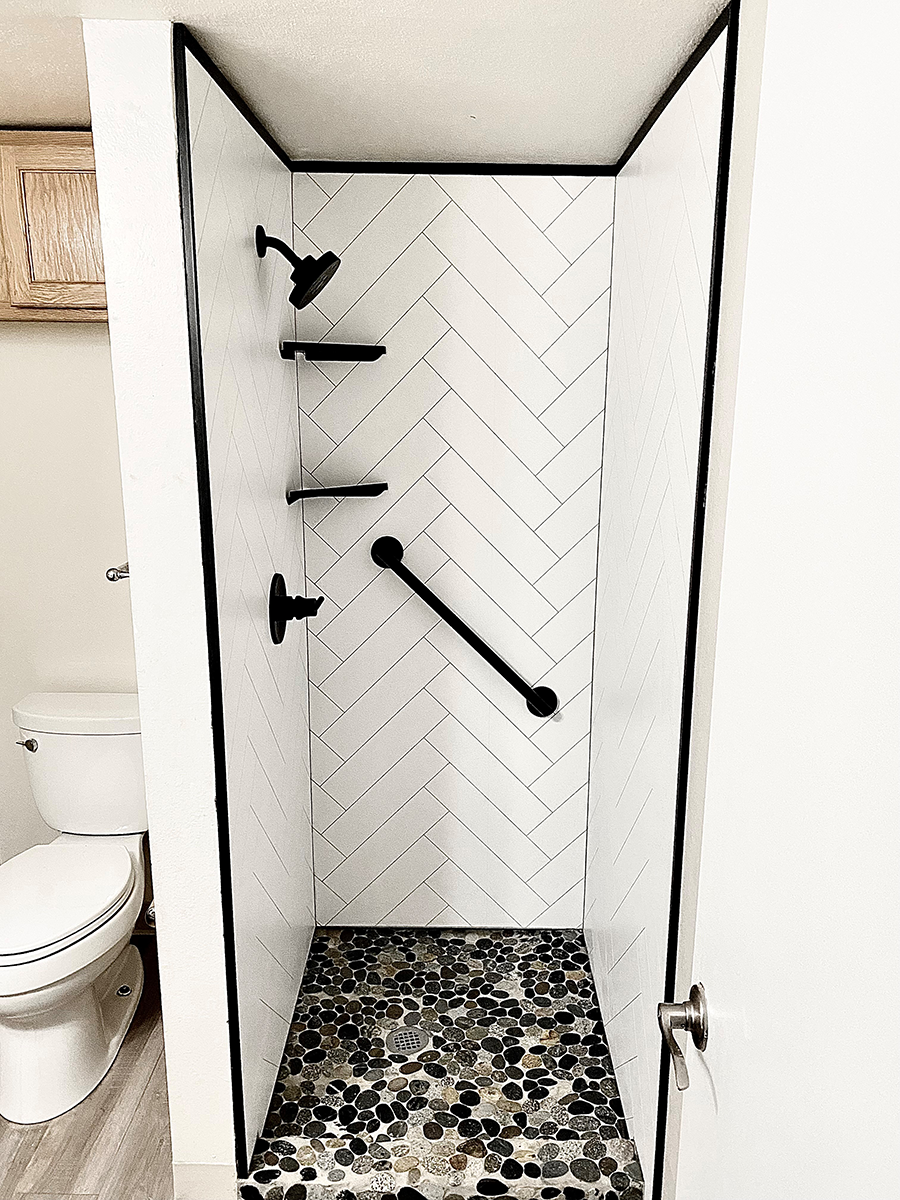 And in these cases, Ray recommends using epoxy grout. While this grout is more expensive than standard sanded grout, it has anti-microbial properties and will last longer, and be simpler to maintain.
Tip #5 – Put a lot of thought into your shower door.
Most people underestimate the number of decisions required to choose the right shower door. And if you get a door that is too small, has a channel at the bottom which collect dirt and hair, or doesn't have glass which fights against spots – you WILL NOT be a happy camper. So, given these problems, here's advice about buying a glass shower door Ray gave to me:
"Mike – first an owner should make sure there's ZERO tracks at the bottom (unlike cheap framed shower doors put in by production builders). They're not only a pain to maintain, but if someone needs a wheelchair or walker to get in – it's not practical to go over the tracks.
Also, make sure the opening in big enough. As you and I know – a 60" wide bypass glass shower door (where 2 doors slide) does not have 60" space to enter. Pay attention to what's left to get in. And if you need more room, a pivot door may be better.
And lastly, think about the glass itself. Is it thick enough so it doesn't feel like the wobbly 'builders-grade' door being replaced? Does it have glass surface protection (like Rain-X for shower doors) so it won't get spots which can't come out."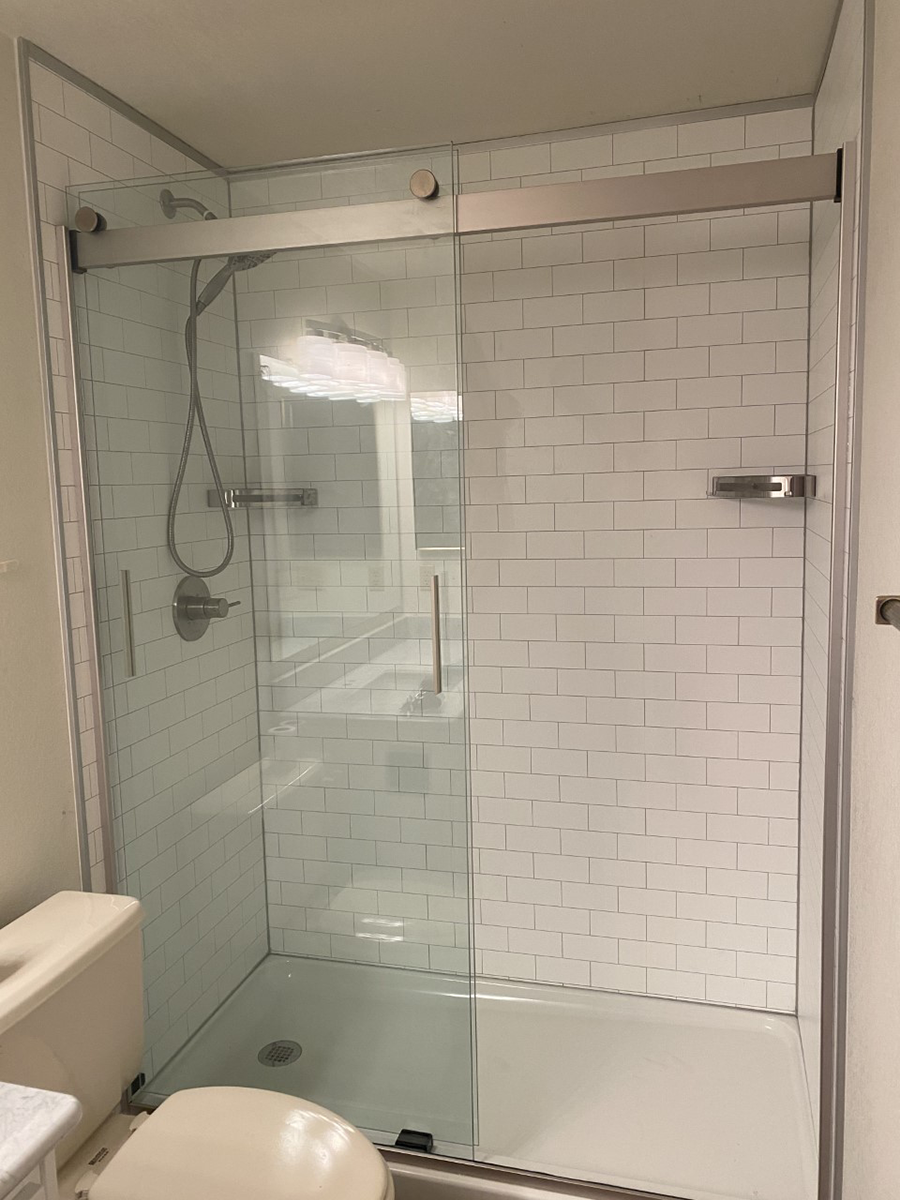 So, how can you contact Best Construction Brands if you're a Colorado homeowner looking for a new bathroom?

And if you're a bath remodeling contractor looking to grow your business, how can you contact us?
I hope you enjoyed this Innovate Dealer Spotlight with Ray (and the team) at Best Construction Brands. They're truly passionate about helping people find the right products with an exceptional customer experience.



And if you're a Colorado homeowner looking for a bathroom remodel call Ray, Stephen, and Katee at 719-418-2355. You can also follow them on Instagram and Facebook to see more of their latest projects!
And if you're a bathroom remodeling contractor looking to grow your business call me at 888-467-7488 or fill out the Become a Dealer form.
Thanks – Mike
---
Tags: 55 plus remodeling tips, age in place remodeling ideas, bath remodeler in Colorado Springs, bathroom remodeler in Colorado, bench seat location, Best Construction Brands, Colorado Bath Remodeler, Colorado Bathroom Remodeler, epoxy grout for tile walls, Fibo dealer, Fibo dealer in Colorado, Fibo wall panel dealer, Fibo wall panel installer, glass shower door tips, Katee McKean, laminate wall panels, low profile shower pan, purple cow, Ray Nation, shower surround panels, spotted zebra, Stephen Moore, sturdy shower pan, wall panel supplier
Mike Foti
Mike Foti is the President of Innovate Building Solutions.
Mike Foti
Mike Foti is the President of Innovate Building Solutions.