The Pros and Cons of Becoming an Acrylic Shower Wall Panel Dealer (with 3 alternatives if you hate acrylic walls)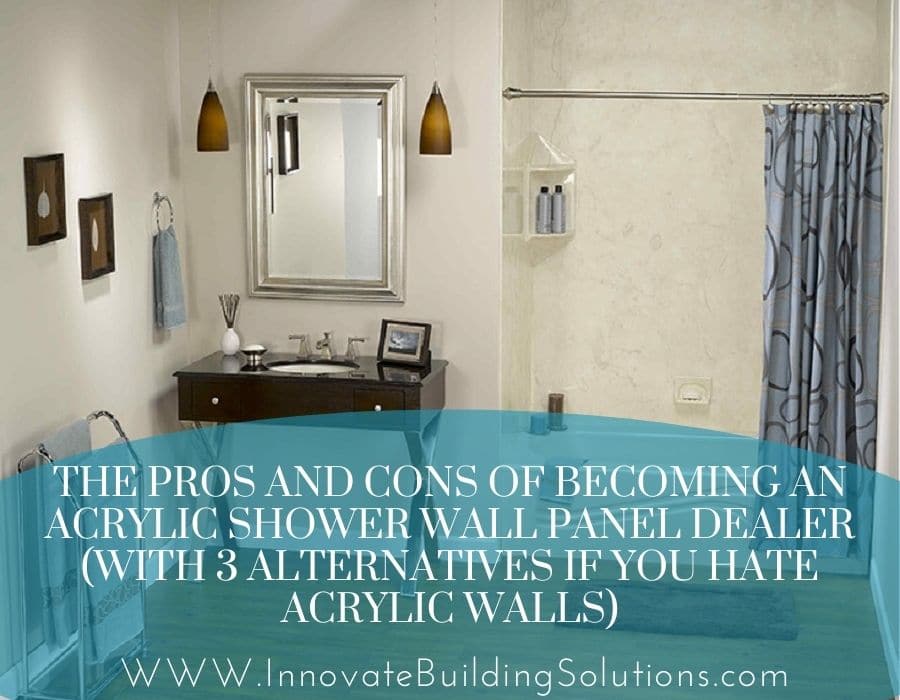 Perhaps you've dreamed of owning your own bathroom remodeling business and enjoying the profits which come with ownership. However, today you're 'just' a subcontract installer, or sales rep or manager who 'gets to' watch your owner enjoy the fruits (literally) of your labor. You're thinking becoming an acrylic shower wall panel dealer (and starting your own business) could be right for you.
Or perhaps you own a small residential general contracting business. And you're doing a little bit of everything. You do windows, siding, roofing and kitchen and bathroom remodels. You're running around like a chicken with your head cut off. You're trying to eek out a few more bucks than if you worked for somebody else. However, today you've got more aggravations without many extra dollars in your bank account to show for it. You're thinking becoming an acrylic shower wall panel dealer (and focusing on bathrooms) could be the way to finally start making more money…with less aggravation.  
Or perhaps you're tired of the Tin-Men-Esque sales approach your company in the acrylic shower and tub liner business uses today. And you think they're ripping people off with how much they charge for plastic wall panels. You know if you started your own business (whether it was using acrylic shower wall panels – or other grout free shower products) you wouldn't treat customer like a 'transaction' to gouge as much outrageous profits out of them as you could. You're thinking about getting into the grout free shower wall panel market, and you KNOW you'd do it differently than the sleaze-ball operators in your hometown.
And although you've talked about getting into the 'bath in a day' (or grout free shower wall panel) business, you may not know the pros and cons of using acrylic shower wall panels. And conversely if you're not a fan of this product you're not even sure what alternatives exist. And if this is your struggle this article is written for you. My goal will be to accomplish 3 things.
Goal #1) I'll outline the pros (advantages) of becoming an acrylic wall panel dealer and even let you know who some of the 'big boy manufacturers' are (OK – sorry to be sexist here ladies) you could contact if you'd like to go down this road.
Goal #2) I'll talk about the cons (or disadvantages) of becoming an acrylic wall panel dealer, so you won't get all 'stary-eyed' and drink the 'acrylic' Kool-Aid before you know the challenges you'll be up against.
Goal #3) And finally, if you've been selling, installing and seeing the growth of acrylic wall panels – but you simply HATE, HATE, HATE the product, I'll present 3 alternative wall panel systems you could use to grow your business.
OK – let's start with the pros of becoming an acrylic wall panel dealer.
(Section 1) The pros (advantages) of becoming an acrylic wall panel dealer
Pro #1 of becoming an acrylic wall panel dealer – The product is well known (and offered by well-known brands)
Acrylic shower and bathtub wall panels have been around for more than 40 years. They're established. People have seen them at home shows and watched the 'bath in a day' commercials on TV for years. And they're even marketed under large name brands like Jacuzzi. It's not hard to sell a product when it has 'street cred' in your hometown.


Pro #2 of becoming an acrylic wall panel dealer – It's a lower cost alternative than a tile remodel (with much less maintenance)
Not everyone has the money to do a shower remodel which looks like it's pulled from the pages of high-end interior design magazines oozing with intricate tile patterns. There's a lot of people who have champagne tastes, but unfortunately, they're livin' with beer budgets. Fortunately, acrylic wall panels are more cost-effective (and time-effective to install) than tile. This opens the largest market – which are the middle-income consumers – to you.
Pro #3 of becoming an acrylic wall panel dealer – Some manufacturers have lead generation programs  
Anyone who has started their own business knows – nothing (and I mean nothing) happens unless you have leads. Without leads, there's no sales! And although you can start a business working for friends and relatives (of course, they all want a 'deal'), you quickly need to move beyond your small circle and get leads from people you don't know.
And this is where lead generation programs are critical. And if terms like SEO (Search Engine Optimization), SEM (Search Engine Marketing), or CTA's (Calls to Action) are Greek to you – manufacturers who can help you (usually for a fee) generate leads can be important partners to grow your business. It's nice to know several of the larger acrylic companies (BCI Acrylic and Jacuzzi to name two) have lead generation programs.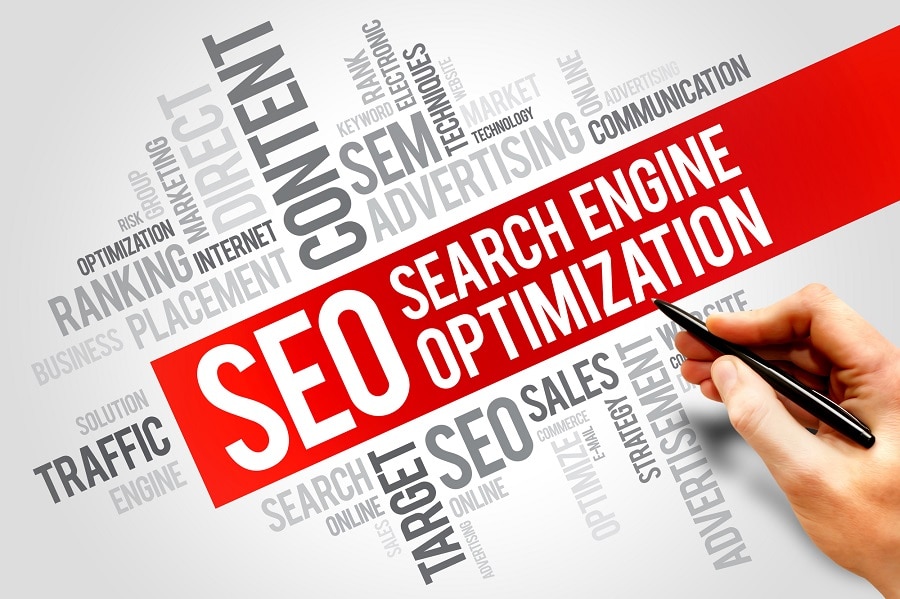 Pro #4 of becoming an acrylic wall panel dealer – Thin acrylic sheets can be installed over old tile for a one-day project
The ability to do a shower or bath remodel without a lot of time (or man/woman power) is critical in today's scarce labor market. And with a one-day installation (when you install acrylic walls over old tile) –you can make money and move onto the next job quicker. And while the process of going over old tile can (and should be- IMHO) be debated, it's a quick (and therefore profitable) process.
Pro #5 of becoming an acrylic wall panel dealer – Some manufacturers offer in home design programs so customers can see how their tub or shower will look
To sell jobs you need your prospects excited to spend money. It's as simple as that. And if your potential customer can't visualize what the finished project will look like (and how much more stylish their bathroom will be), it'll be harder for you to get them to give you a deposit.
This is where in-home design programs (like this one from Bath Planet) come in handy. Your customer can 'see' their new space. This builds excitement. This helps them get comfortable giving you their credit card.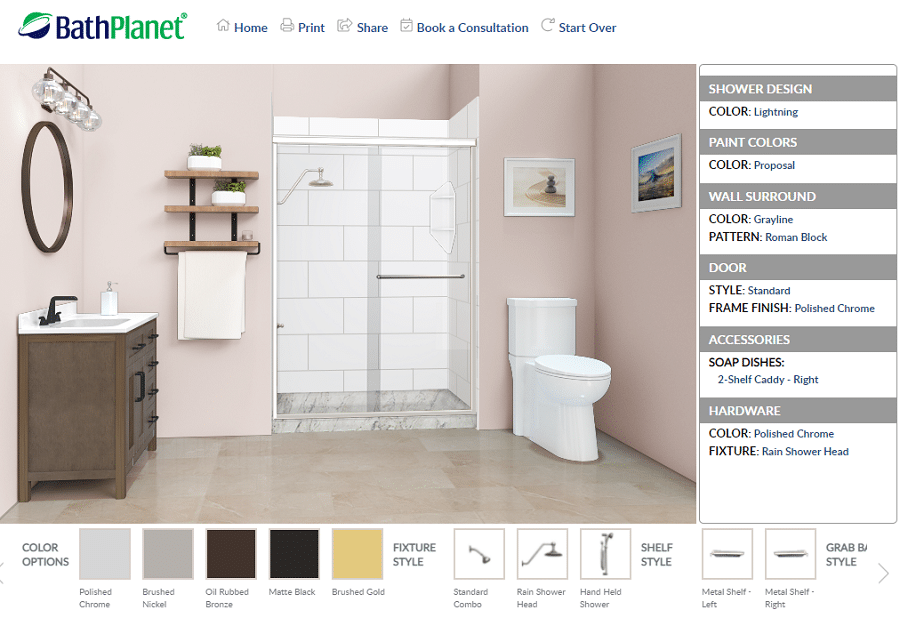 And while there are many 'pros' of becoming an acrylic wall panel dealer – you need to go into your business 'eyes wide open' and knows the negatives (or cons) of becoming an acrylic wall panel dealer. So, here they are.
(Section 2) The cons of becoming an acrylic wall panel dealer
Con #1 of becoming an acrylic wall panel dealer – It seems like EVERYONE is already selling it.
It's hard making money when it seems like everyone in your market is selling acrylic wall panels. And when this happens there's always that guy who is in a 'race to the bottom.' He advertises his low, low prices.  And his low, low prices are driving your profits margins into the basement.
And while manufacturers try to differentiate their offerings around features (like Microban) or seals of approval (like the Good Housekeeping seal), many homeowners still will say – acrylic is acrylic is acrylic. It's just a glue-up, thin, plastic wall panel system.


When you have a 'me-too' product be prepared – at least on occasion –to discounting your estimate (and reduce your profit margins) to get jobs closed.



Con #2 of becoming an acrylic wall panel dealer – Some people don't like thin plastic wall panels
Let's face facts, 1/8" thick acrylic wall panels – when compared to 3/8" thick laminate panels or 3/8" thick cultured granite walls just doesn't feel or look as high quality. And when you're trying to get someone to spend $6,000 or $16,000 on a tub to shower conversion, you'll need a product line which justifies a premium price like thicker wall panels.
Will 1/8" thick plastic panels win the day vs. thicker competitive products?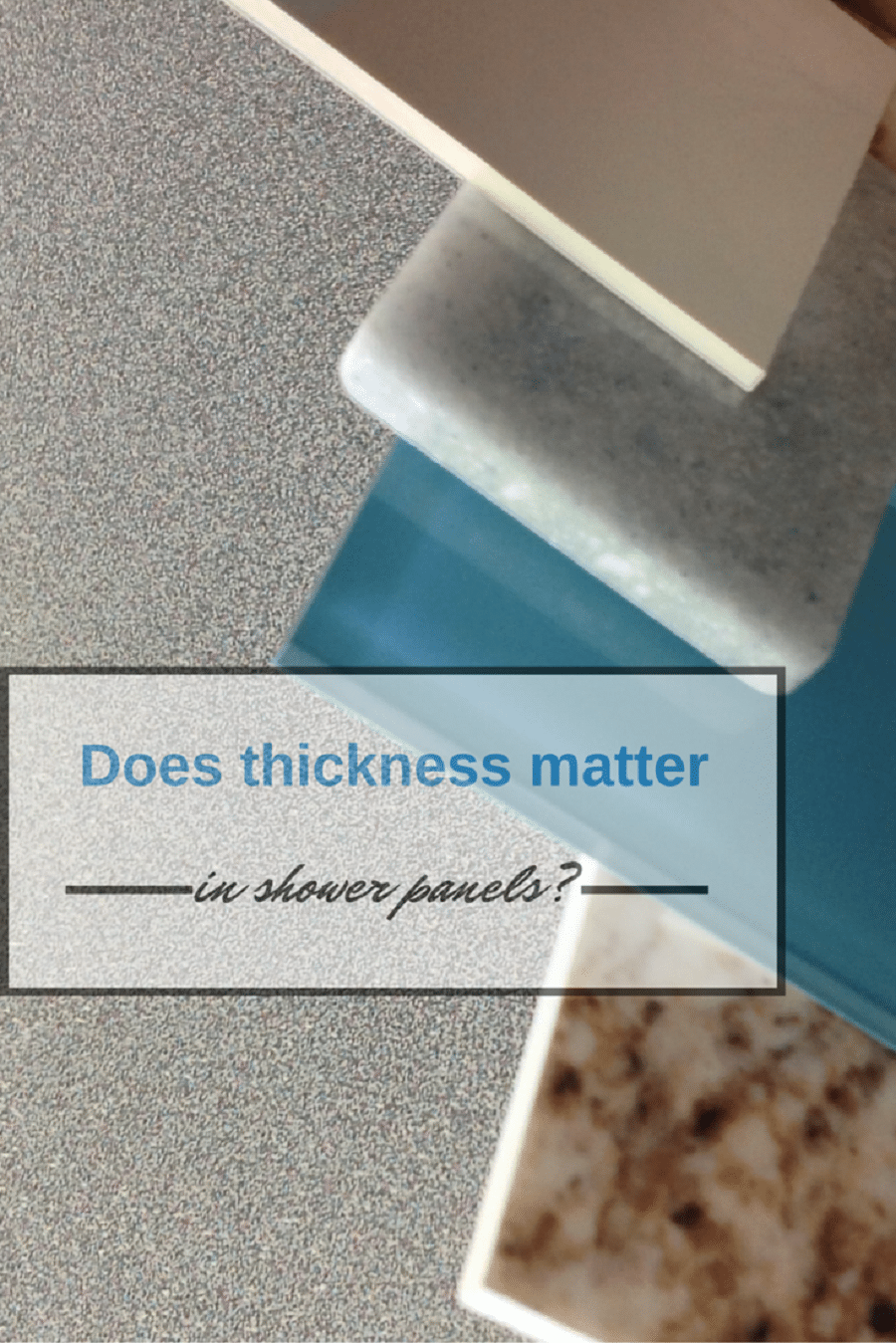 Con #3 of becoming an acrylic wall panel dealer – Some acrylic manufacturers will tell you, "There's no room at the inn!"
It used to be easy to become a dealer of acrylic wall panels. However, in todays growing bathroom remodeling market – and with squeezed supply chains –several acrylic wall panel manufacturers ARE NOT taking on ANY new dealers. And where does this leave you (if you want to become a new acrylic bath and shower dealer). Simply….it leaves you…
Out in the cold!
You can't buy, what they ('er the acrylic manufacturers) won't sell you.
Fortunately – there are alternatives. Consider laminate wall panels, cultured granite/solid surface and PVC backed composite systems which have suppliers open to new dealers (you'll learn more about these options in section 3).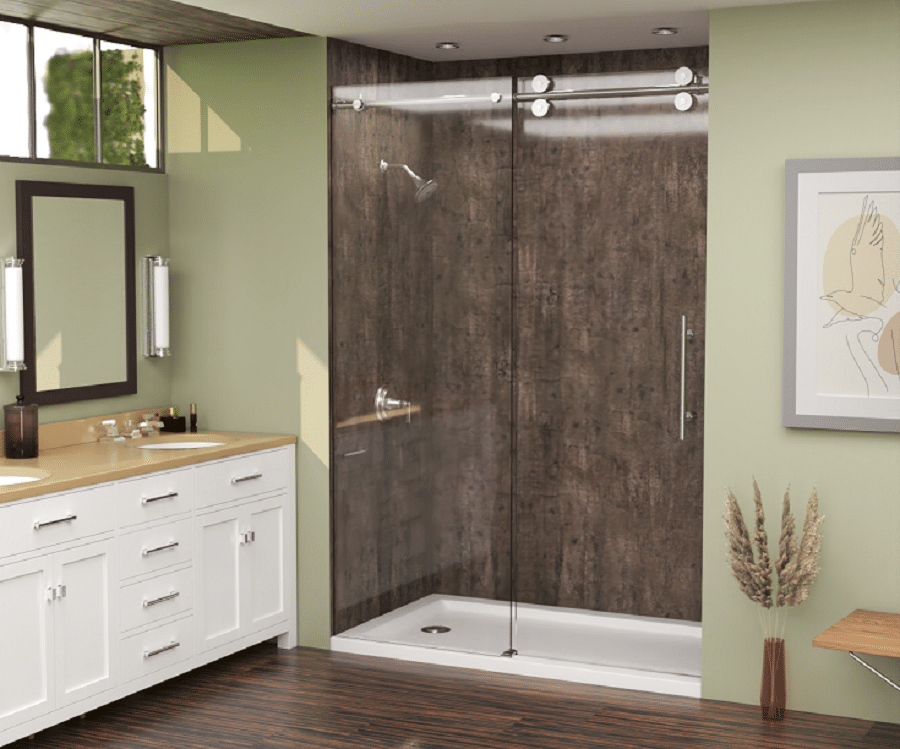 Con #4 of becoming an acrylic wall panel dealer – You may compete with your own manufacturing partners 'other' brands
Depending on which acrylic wall panel manufacturer you choose, you may find yourself competing with the 'other brands' they sell to contractors in your market.
Con #5 of becoming an acrylic wall panel dealer – Some manufacturers have expensive franchise or training fees
Starting up a business – while exciting – is also stressful and E-X-P-E-N-S-I-V-E! There's not only much to learn but you'll also find countless costs you never think of. And while it would be nice to work with known name brands – there's larger costs (in the form of franchise or system fees) to getting started with these companies. And besides – many of their plum franchise territories for these name brands ('er Jacuzzi and Bath Planet) are already taken.
Before you 'sign on the bottom line' with any company, put together a complete budget for your business. Make sure all your money IS NOT going to the manufacturer! After all – if you don't have a marketing budget to bring customers 'in the door' (so to speak), you'll be in big trouble hitting your goals.
Con #6 of becoming an acrylic wall panel dealer – Options in matte finishes are limited
If you look at the bathroom market today (and glance at higher end interior design magazines which are setting the style trends) you'll see people want the 'spa look' in their bathrooms. And these spa style bathrooms are using more 'matte and brushed finishes.' Just think how often these bathrooms are using 'moodier' matte black or brushed nickel finished fixtures and glass shower door trim (so the bathroom is more relaxing).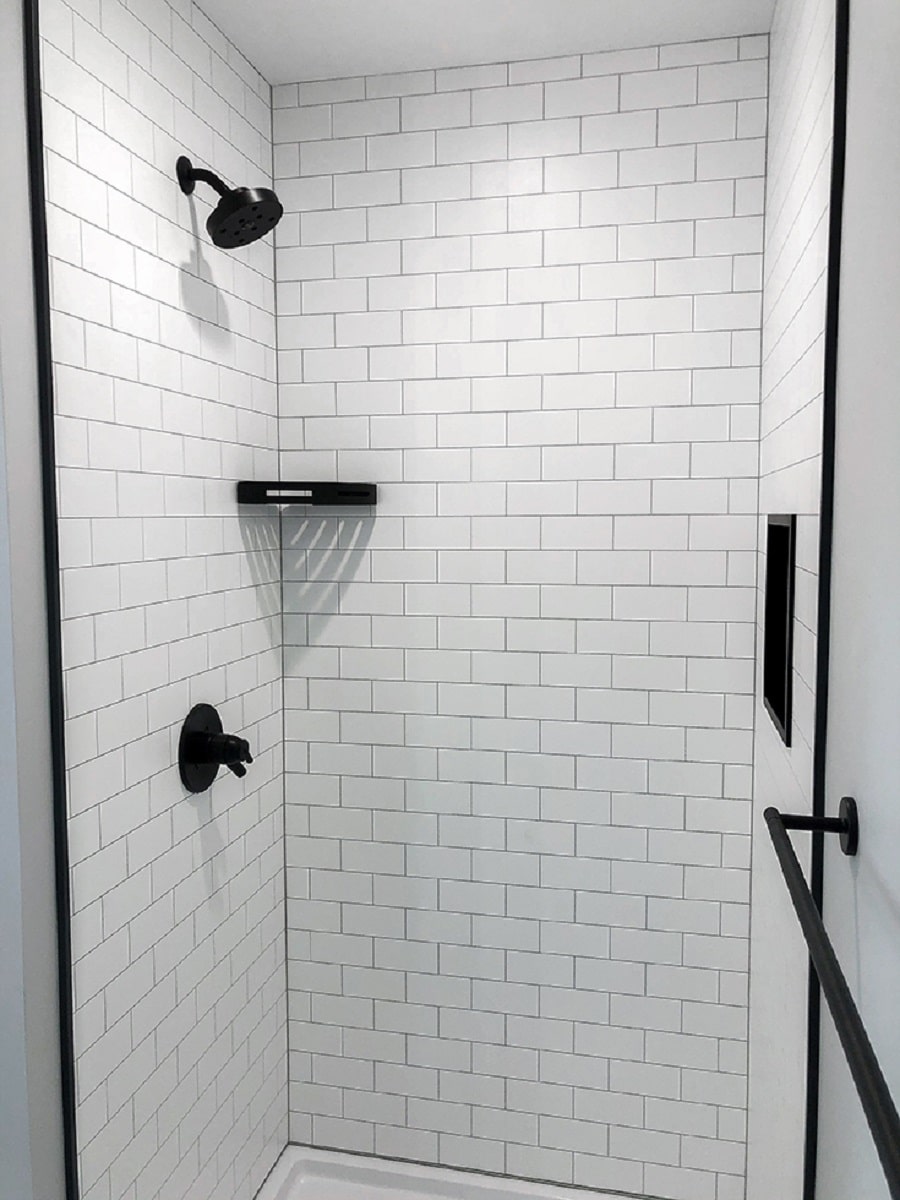 Since most acrylic wall panels only come in gloss – they look out synch with today's design trends.
Con #7 of becoming an acrylic wall panel dealer – The accessories look tacky
Do you really think an acrylic 'corner caddy' looks like a real tile job? IMHO – acrylic shower and tub wall surround accessories – while functional and easy to clean – detract from the looks of the system (and make the finished project look fake).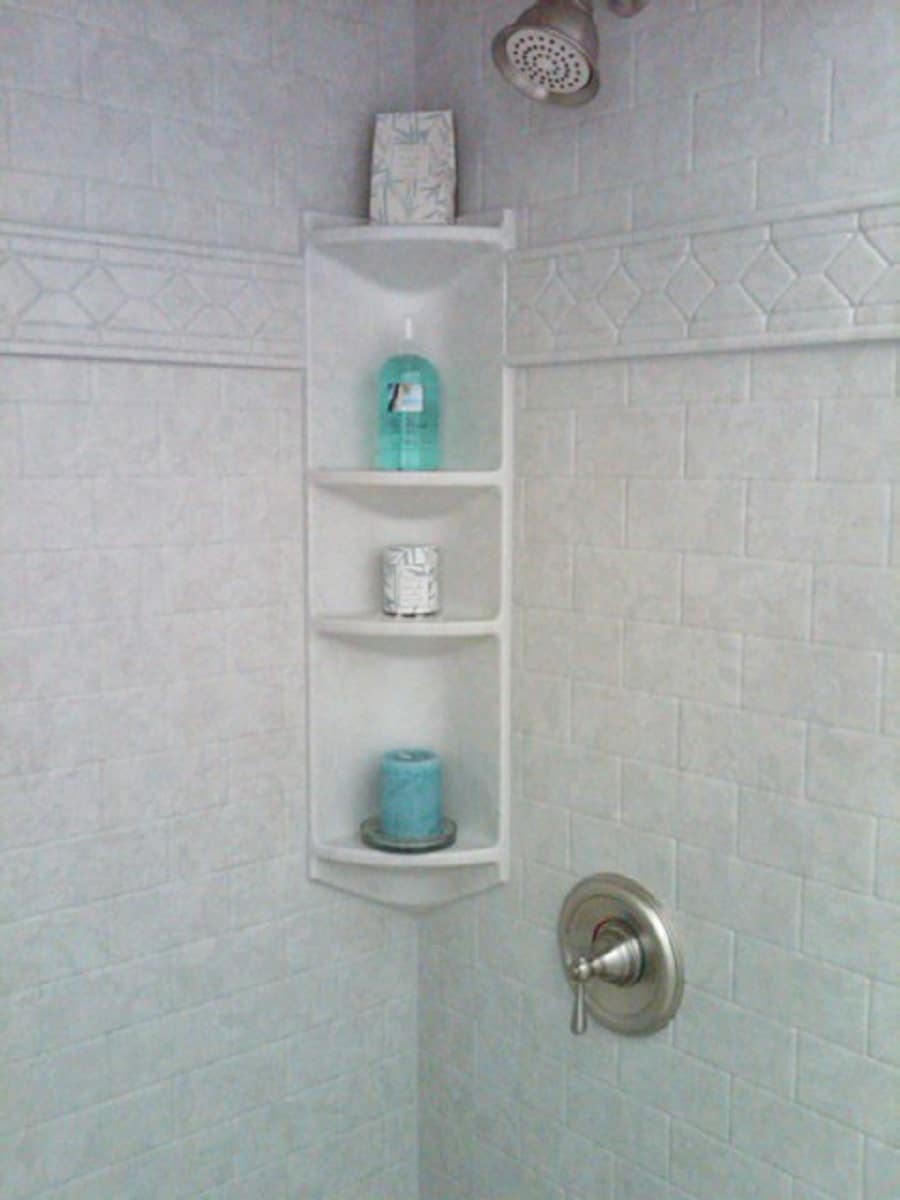 So, if after reading the disadvantages of acrylic wall panels you're now asking yourself, "Are there better alternatives to these panels," – I'll show you 3 products you'll want to learn more about.
(Section 3) Three alternative wall panel systems to research before jumping on the acrylic 'band-wagon'
Alternative #1 – Laminate shower, bathtub, and bathroom wall panels
This is a product line many people in the U.S. have never heard of …. except if you've lived in Europe (where they've been around for 41 years. This line is laminate wall panels (shown below).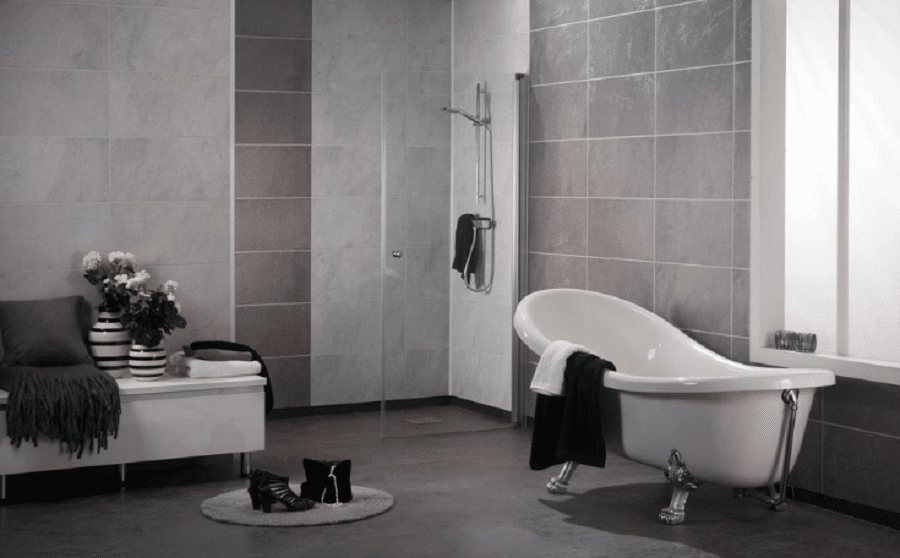 This product is 3/8" thick, 23.6" wide by 94.4" tall. These panels click and lock together (like laminate flooring you've installed before). They're only 26 lbs. and can be installed by one person. In addition, they're available in a wide range of matte finishes like you'll see below.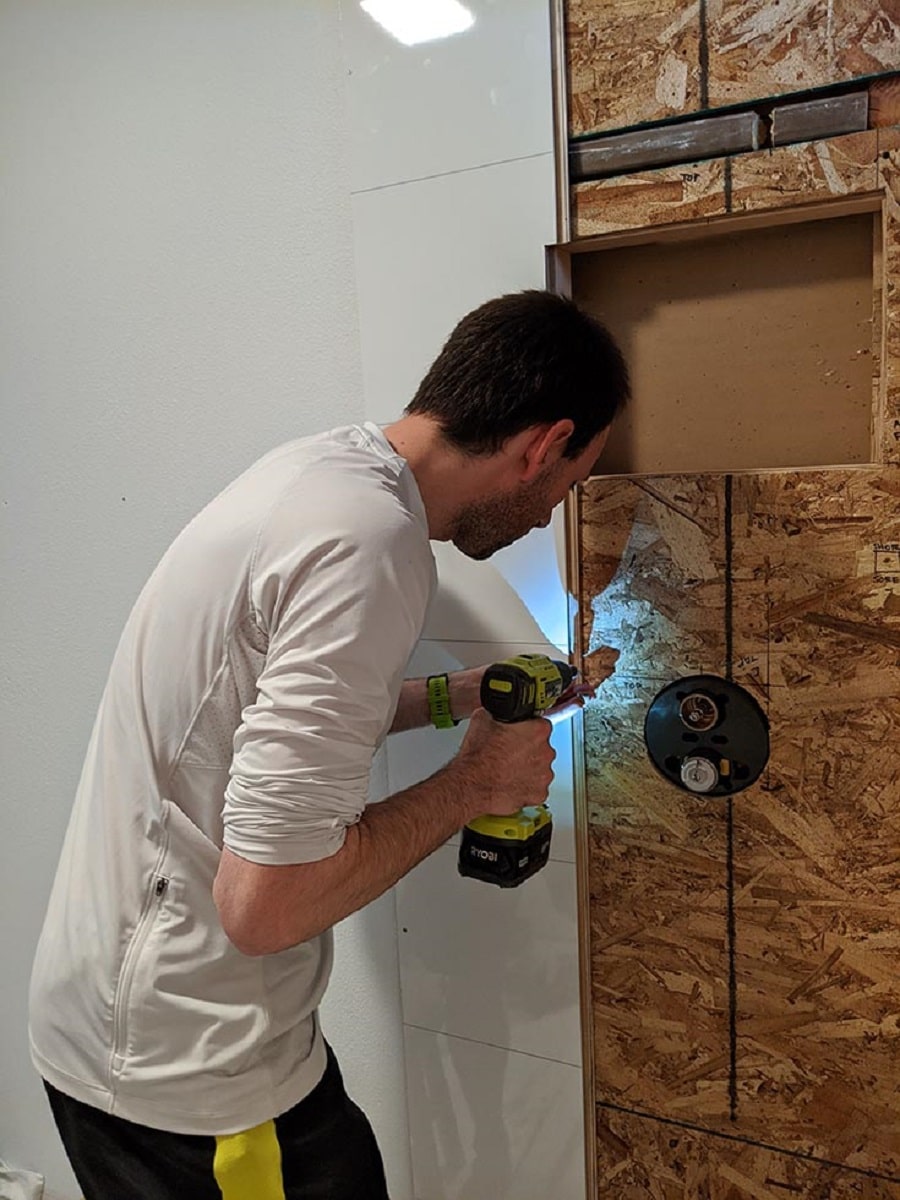 In addition, this product is very realistic because the faux grout joints are a different color and 'indented' to look (and feel) like tile and stone.



Alternative #2 – Cultured granite and cultured marble wall panels
While this product was uber-popular back in the era when mullets were actually IN-STYLE, they're still a popular choice today with United States homeowners. They're 3/8" thick, durable and built like a tank. It's also nice to know you can get standard and custom shower pans which match the walls (this can be a nice feature when you have prospects who struggle to pick colors).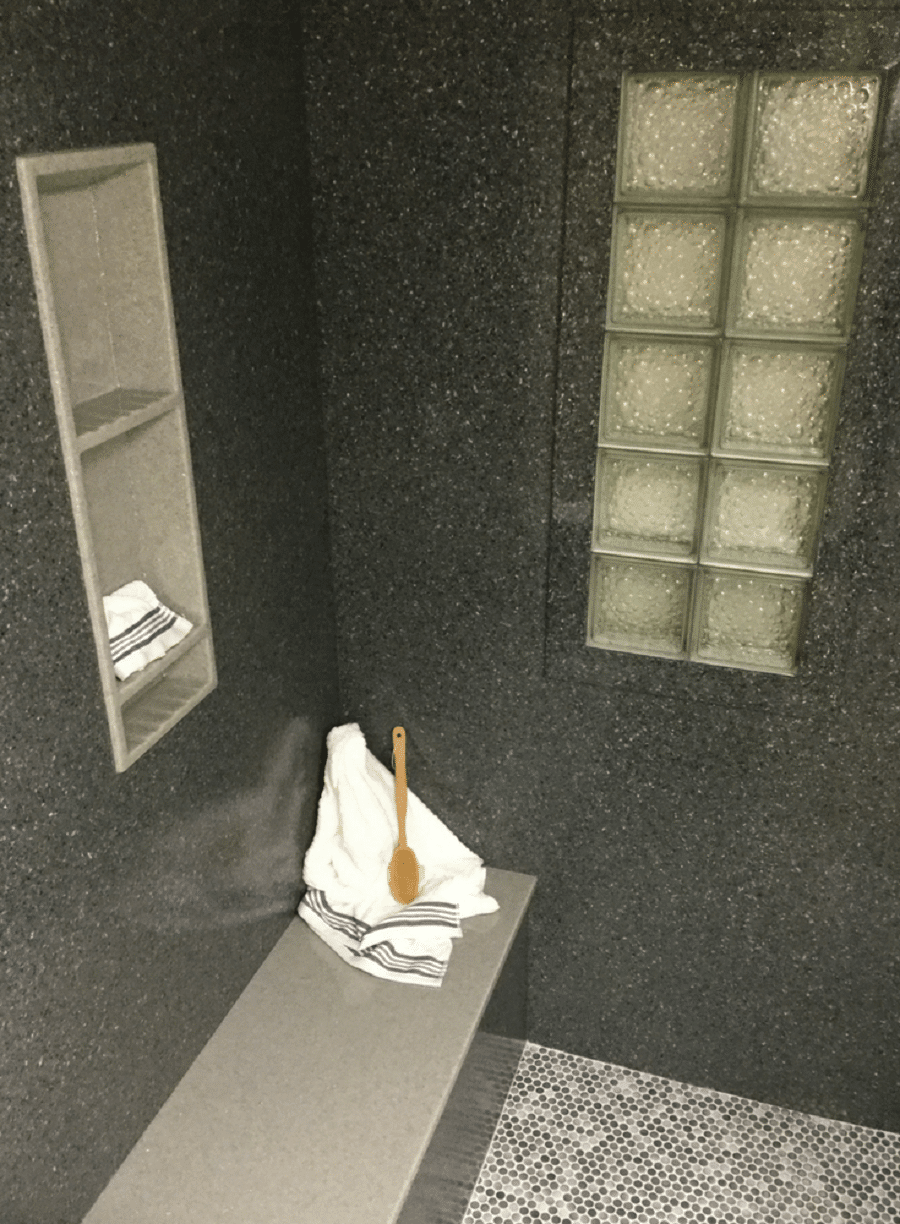 You'll need 2 people to install these panels. And though they can be quite heavy (a 60" x 96" back wall panel will weigh 120 lbs.), owners love the 'girth' of this system.
Alternative #3 – PVC composite wall panels
These ¼" thick wall panels can also be used over old tiles and are simple to move around (but are sturdier than acrylic because they're twice as thick). They're digital replicas of stone patterns and are super-easy to cut (you can even just use a carpenter's knife to cut them).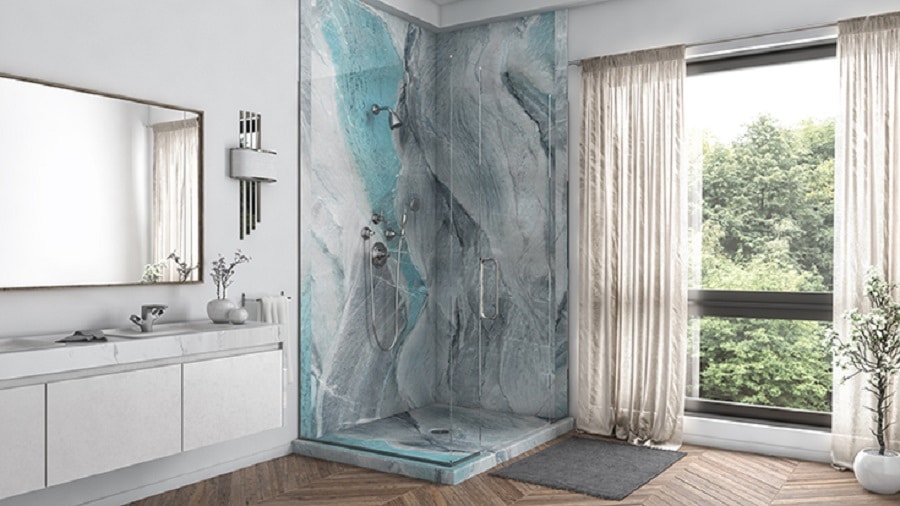 They come in a wide range of marble and granite patterns and have stylish accessories.
So, which shower wall panel line(s) make the most sense for your new business?
It doesn't matter if you think acrylic, laminate, cultured marble or PVC wall panels are the 'greatest thing since sliced bread,' it's important to know – no matter what panel (or panel systems) you choose every one of them has their strengths and weaknesses (and this is – quite frankly – coming from a guy who is setting up a dealer network with laminate wall panels right now!).
The smart thing for you to do if you're looking at entering this 'grout free shower and tub wall panel' business is thoroughly explore ALL options. And even if you don't find the perfect one for you – you may find it's smartest to use more than one line to have a broader 'basket' of options to help your customers.
And if you'd like to learn more how to become a dealer of laminate wall panels (and yes – this is a plug for my company which stocks and distributes these panels and low profile shower pans across the country), call 888-467-5888 and ask for Mike.
Thanks for reading!
Mike
###
In addition, if you'd like to connect on LinkedIn, you'll find me https://www.linkedin.com/in/mikefoti/
---
Tags: acrylic wall panel alternatives, bath remodeling business opportunities, bathroom remodeling business, bathroom wall panel dealerships without franchise fees, become a dealer laminate wall panel, become a dealer of acrylic panels, choosing an acrylic wall panel supplier, cons acrylic wall panels, how to compare acrylic to laminate shower wall panels, laminate wall panels, matte finish shower wall panels, no franchise fee wall panel business, pros acrylic wall panels, researching shower wall panels, wall panel dealership
Mike Foti
Mike Foti is the President of Innovate Building Solutions.
Mike Foti
Mike Foti is the President of Innovate Building Solutions.