How 'David' Can Compete with 'Goliath' in the Bath Remodeling Industry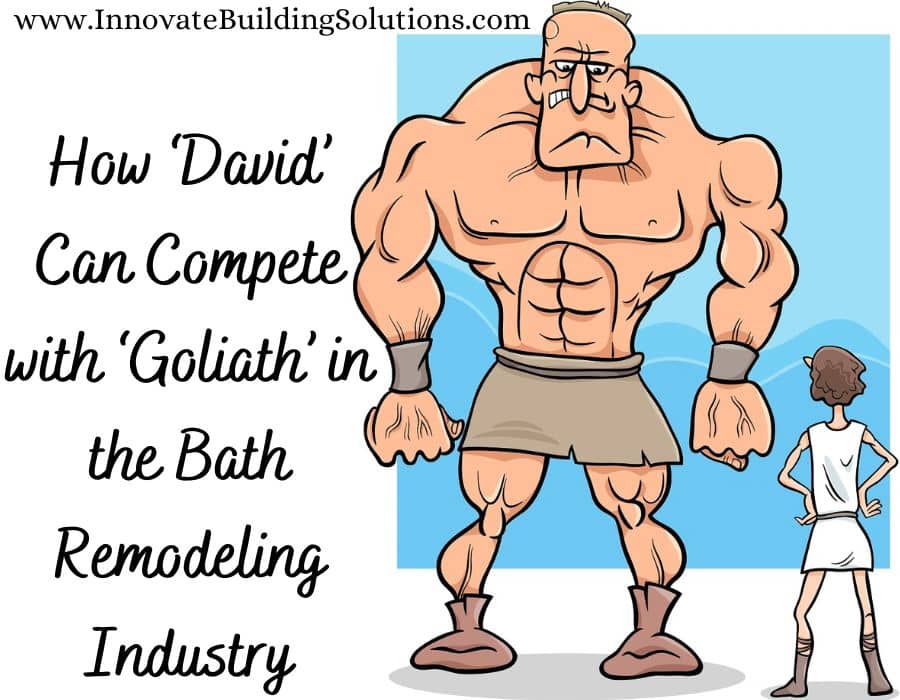 OK – so you're not a household name in the shower wall panel and tub to shower conversion industry like West Shore Homes, ReBath, Tundraland, Mad City Windows & Bath or Bath Planet. And you're still amazed every time you learn how much MORE MONEY these companies get selling a job than you do.
You're looking to grow your business but can't for the life of you figure out how the 'big boys' (and 'big girls') in your market seem to come away with most of the deals and with much better margins than you. You don't know where to start to not only be able to compete with these companies, but dare I say it – also WIN the business when you go head-to-head with them on a project.
And if this is a dilemma you're battling with, this article is for you. Below I'm going to present 10 tips to not only position yourself to grow your sales – but (most importantly) to see more profit on your bottom line as you're doing it.
Let's check out the tips.
Tip #1 – Be bold and be different
 It's hard to beat an established, grizzled, veteran if you try to 'duke it out' with them on the playing field they've owned for years.
You need to do something to stand out from the West Shore's or Tundraland's of the market? But how – you may ask? Here's some ideas:
Offer more stylish and unique shower and bathtub surround panels – Why try to compete with similar acrylic wall panels as the 'big boys?' And besides, they have a better acrylic system because they're getting the 'premium version' from the established acrylic manufacturers like BCI. Change the game by offering products like laminate wall panels. They look more realistic than acrylic. They're 3x thicker. They come in matte and gloss finishes with tile and stone patterns you'll swear are the real thing.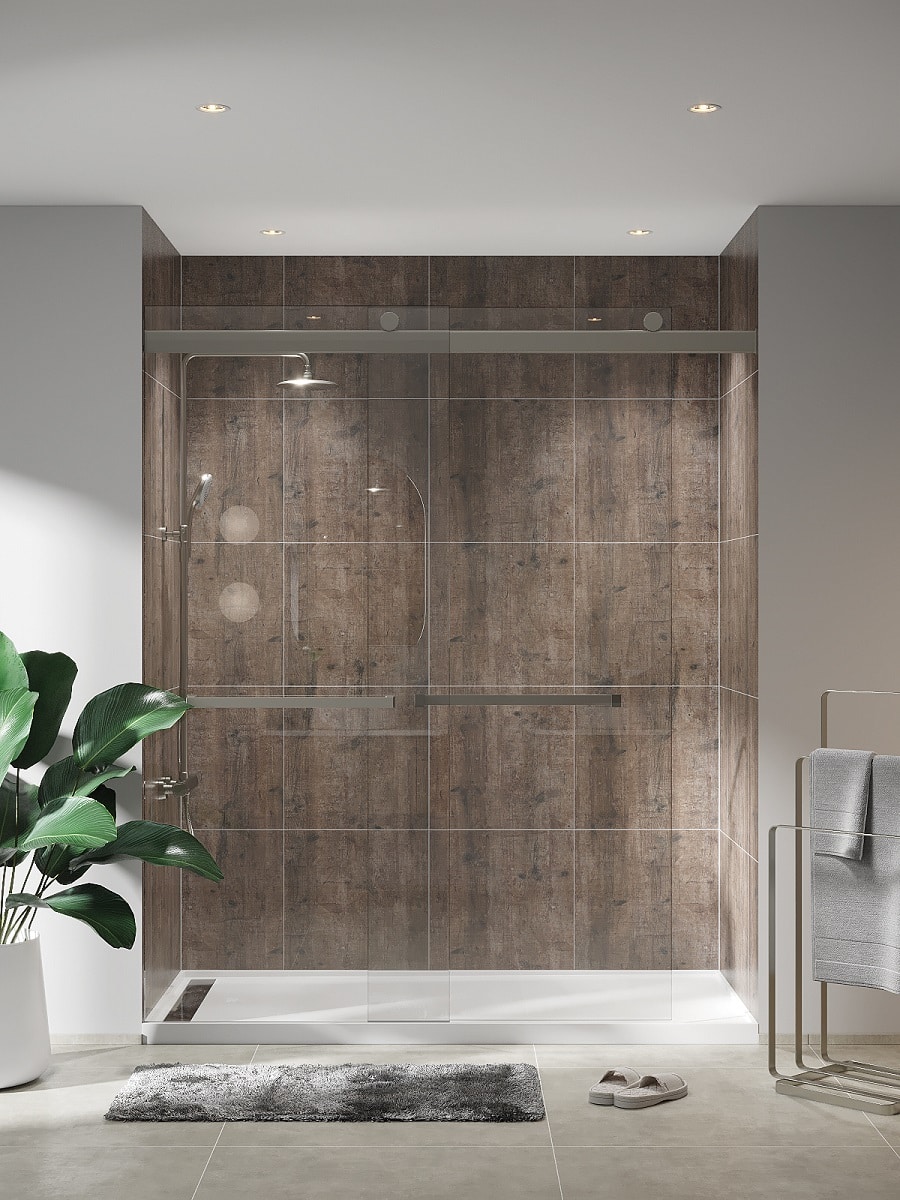 Offer safer, yet more stylish shower pans – Let's face facts – acrylic (or fiberglass) shower pans DO NOT have the best reputation. They squeak. They crack. They yellow. But how about if you could offer a decorative (and safer) low profile shower pan in fun patterns like white marble, black marble, or driftwood. Would these help you be distinct in the market and provide a better solution for your 50+ customers?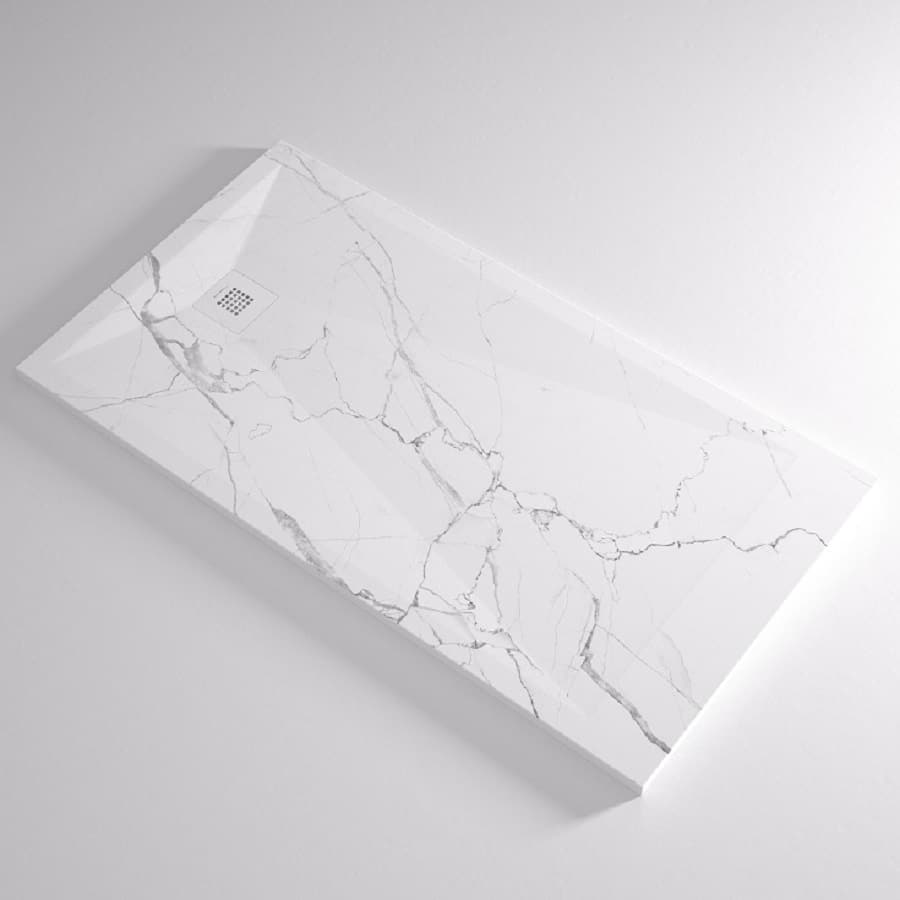 Offer better quality glass shower doors – One of the reasons people are buying a new alcove shower or tub surround is the existing, flimsy, and dirt-catching shower or tub doors make them want to S-C-R-E-A-M. Change the game with a 3/8" thick frameless bypass shower door in a brushed nickel finish. It won't get spotted like a zebra (like a chrome or bright brass door) or be a pain to maintain.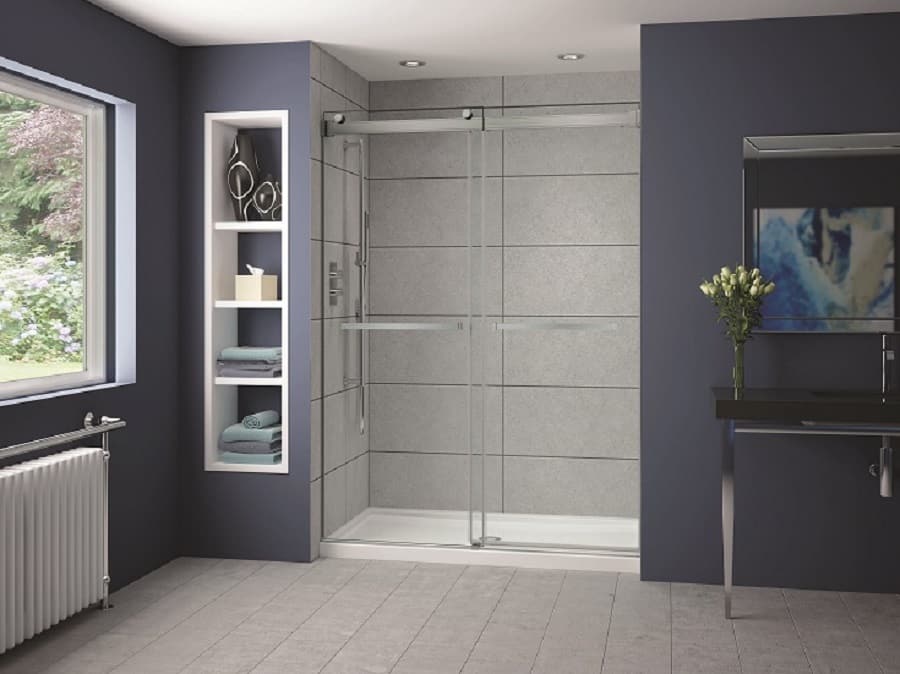 Offer a unique experience. Be the 'orange peel pet collar' of the industry – What could you do at any point in the sales or installation process to be so distinctive prospects and customers will be talking up a storm about how you made them feel, how you did the job, the extra care and attention you took? How could you be the 'orange peel pet collar' of the industry?
And if you don't know what I'm talking about here – take a look at our cat Sammy after a recent (and VERY EXPENSIVE) surgery. Sammy came home with one of those cruel plastic cone pet collars. My wife found this humane, fun, and funny collar he actually doesn't mind AND keeps him safe! The company who developed this product added 'fun' to a miserable experience (a pet wearing a pet collar). The reality is many homeowners (no matter what we tell ourselves) feel bath remodeling is a terrible experience. Brainstorm with your team (partner or family), or whomever how you could turn a painful experience ('er remodeling) into something fun – like an orange peel pet collar!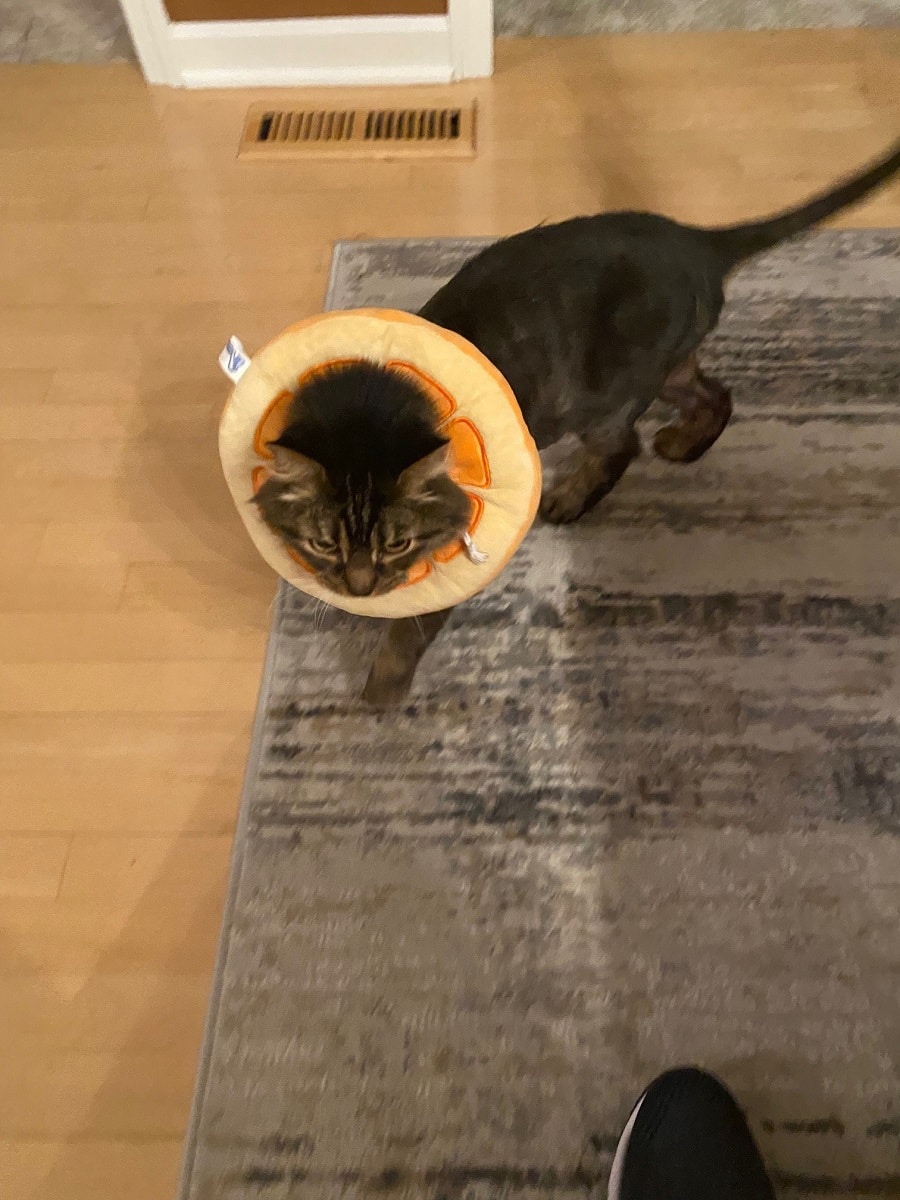 Tip #2 – Put in a new tub vs. a 'cover over' tub liner
 If you started as an acrylic shower and tub installer, you've seen 'floaters' before. And no, I'm not talking about the 'floaters' your optometrist talks about. No, these 'floaters' are 'squishy' sounding tub inserts where water has gotten between the new liner and the old bathtub.
Replacing tub liners to get rid of 'floater' problems is expensive and time consuming. And when you have a small team, you've got to minimize repairs and maximize your time making money. You don't have the luxury of a separate repair crew. So, a smart way to start increasing profits on jobs keeping their tubs is to STOP doing 'cover over' tub inserts. It's not much more expensive to put in a new tub. And, besides, with a new unit you never have to worry about wasting time and money with a 'floater' again.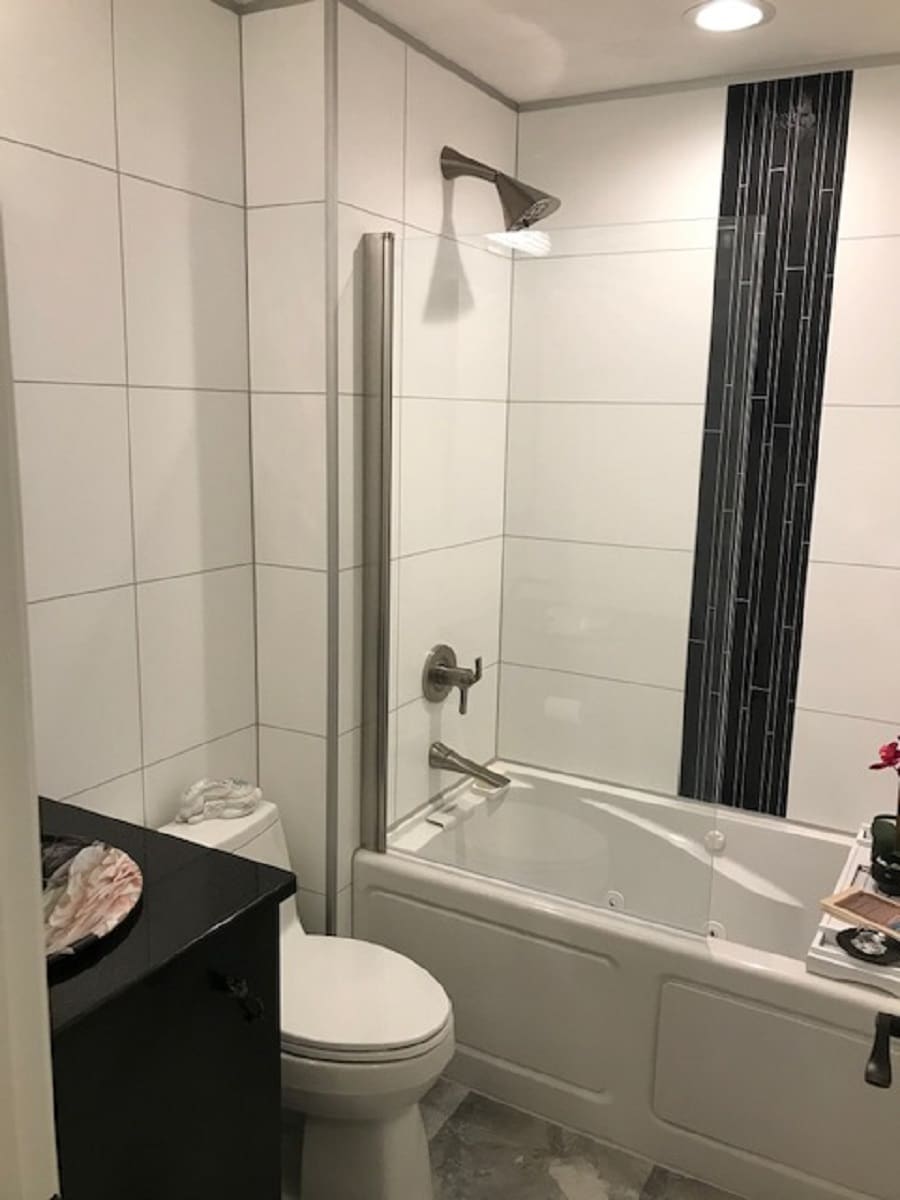 Tip #3 – If your web site is pathetic, redo it immediately
In the 'old days' the first in-depth interaction a prospect with a remodeling company was over the telephone. This is no longer the case. In todays 'digital-first' world even your mom and Grandma are 'letting their fingers' do the research (and yes, even Grandma isn't letting her 'fingers do the walking through the Yellow Pages any longer!).
If your site was written by your daughter's best friend who barely knows what the term SEO ('er Search Engine Optimization) means, you know you're missing a lot of sales opportunities.
And if you don't know where to start on this scary journey to creating a lead-generating web site machine, read, Why I Blew Up My Remodeling and Building Materials Web Site with 250,000 Monthly Views.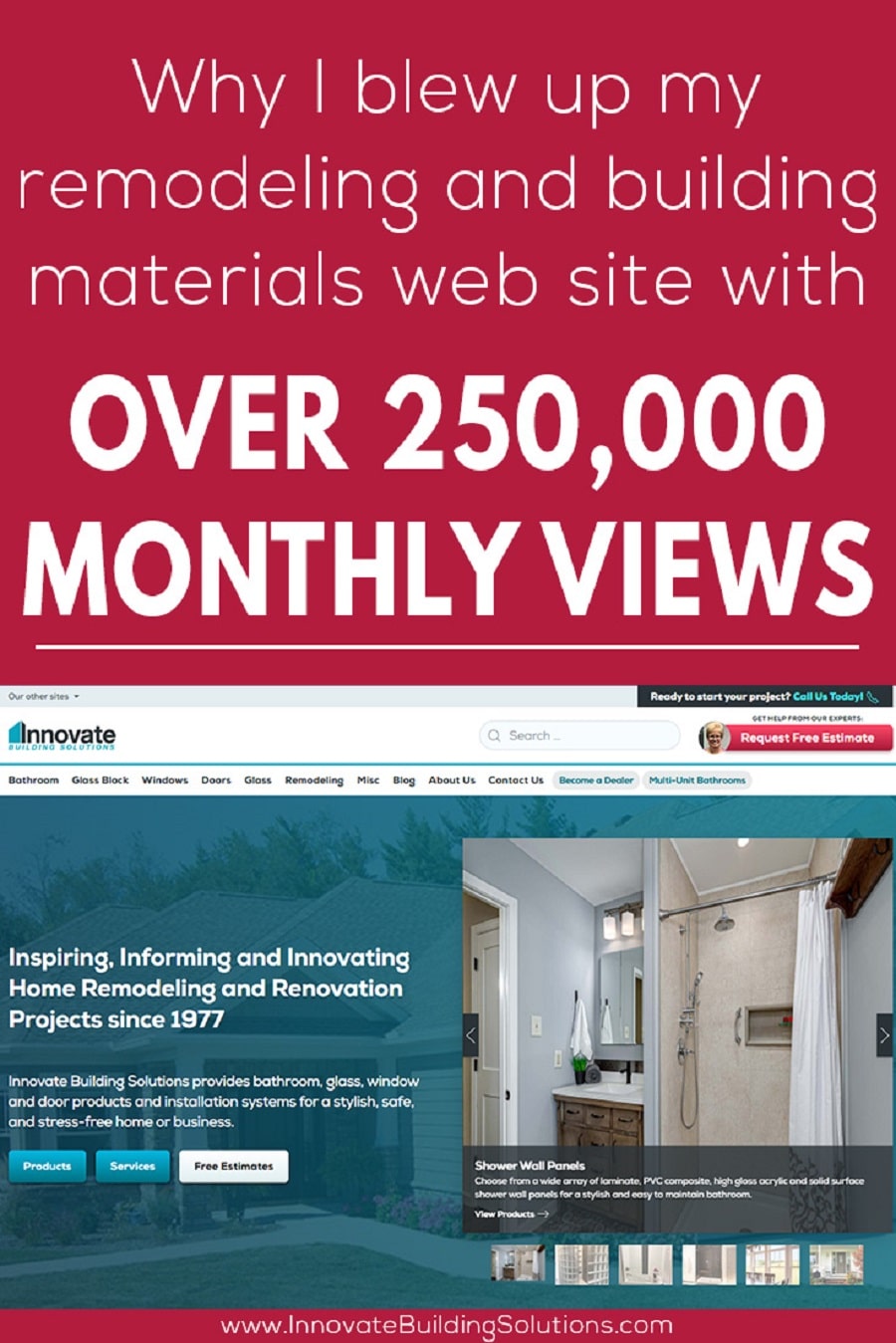 Tip #4 – Look for suppliers who will elevate your business with products AND programs
While quality products, long guarantees and reasonable lead times (and with all the 'supply chain' problems we can all related to this challenge) are of primary importance when choosing your wall panel, shower base and glass companies, it's smart to look for suppliers who take things to the next level and provide you with programs and promotional items to pave your success. Right now, you may be wondering what programs and promotional items you should be looking for. See if your supplier partners offer the following:
Home Show and Showroom Product Discounts – If your supplier believes in their product – and wants you to show the uniqueness of their line, it's hard to do this without physical display. Ask your current or potential supplier about their home show and showroom product discount programs.
Computer visualization tool – Let's face it, most of your customers cannot visualize how your cool wall panels, shower glass and shower base will look in their home. This is where a visualization tool can be a HUGE competitive advantage to you. And this is especially important if you're selling a unique product.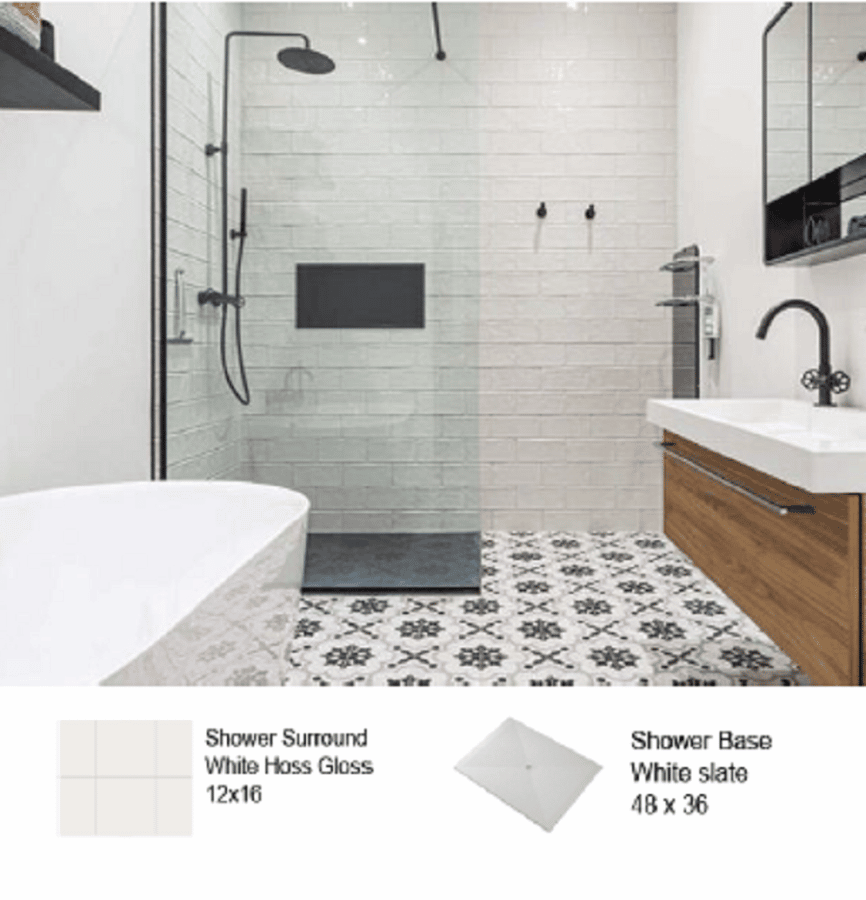 An in-home display kit with professional literature – Bringing in a bunch of samples under your arms isn't professional. Can you get a cost-effective display case to impress clients in their home?

Tip #5 – Stop ignoring past customers – use email to stay top of mind
If you're so busy you're struggling just to simply keep your head above water, you're like 99% of the small business owners in the world. And while you may have the best of intentions to stay in contact with past customers (and keep previous customers referring you and/or calling you back for another job), you simply run out of time in the day to make those calls. You may be asking – how can I stay in touch while minimizing the amount of time I spend doing it?
The way to make this happen is with an email marketing list. Email lists are a time-effective way to let past customers (and prospects) learn about new products, educate them about your unique solutions and projects, or inform them about special offers.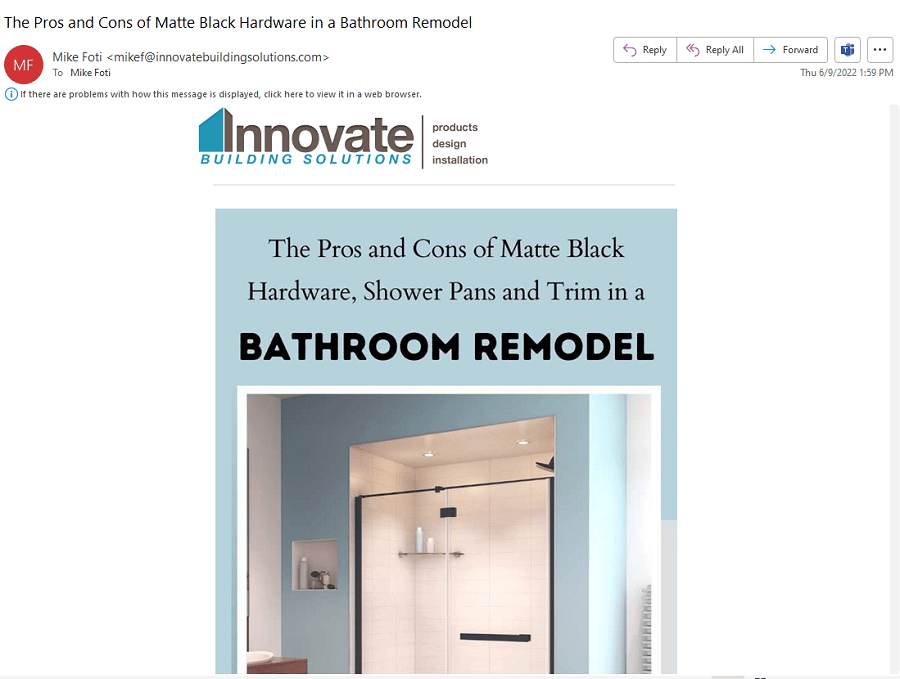 Tip #6 – Invest (time…even if you don't have money) in your education
If you go to conferences hosted by remodeling industry trade groups and publications and look around at who's in the room, here's what you'll find. The top 'brass' from the top companies are there. But why you may ask? Aren't they already at the top of the 'food chain' in the bath remodeling industry? Yes, they are.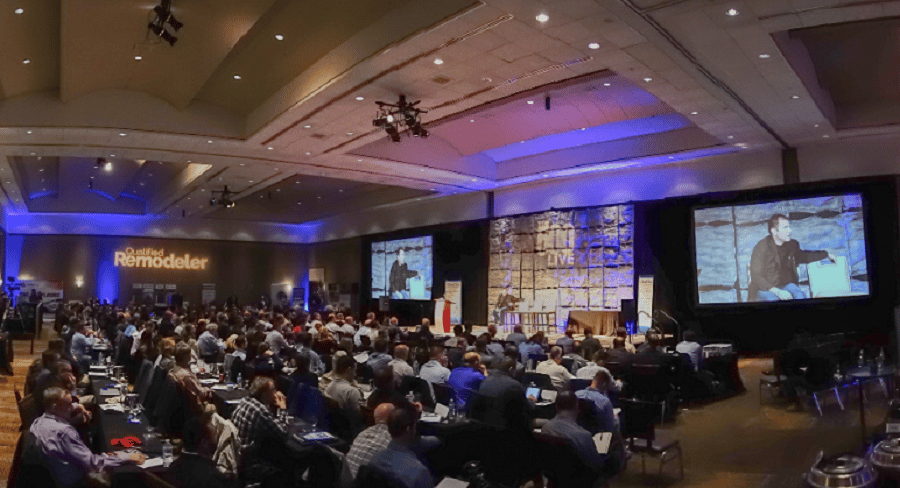 Image Source: Qualified Remodeler
However, these smart leaders from the 'big dog' companies understand one thing. They know they need to learn to stay ahead of their competition. They go to conferences. They listen to podcasts (while driving to and from appointments and job sites). And they read top industry blogs for one reason. They recognize the need to learn more to lead more effectively (and profitably).
Ask yourself, how much time are you investing in your education and/or the education or training of your team. Are you investing time (even if you don't have money) to become a better leader and get tips how to run a more profitable business? And if you answered no because I'm too busy installing and selling jobs – that's NOT an answer which will help you compete with the major players in your market.
Tip #7 – Implement a 'good, better, best' pricing and product marketing approach
If your approach to 'beating the big boys and girls' is to undercut their prices so you can win more jobs, this is the path which has led many bath remodeling startups to become burned out WITHOUT a lot of money to show for it.
However, if you do want to make your selling job easier AND more profitable – consider a 'good, better, best' approach. With this strategy you'll offer 'good' line (for example the 1/8" thick acrylic wall panels many in your market are already selling), then offer a 'better' product (possibly the 3/8" thick, more realistic looking laminate wall panels) and then a 'best' product (possibly porcelain or granite wall panels).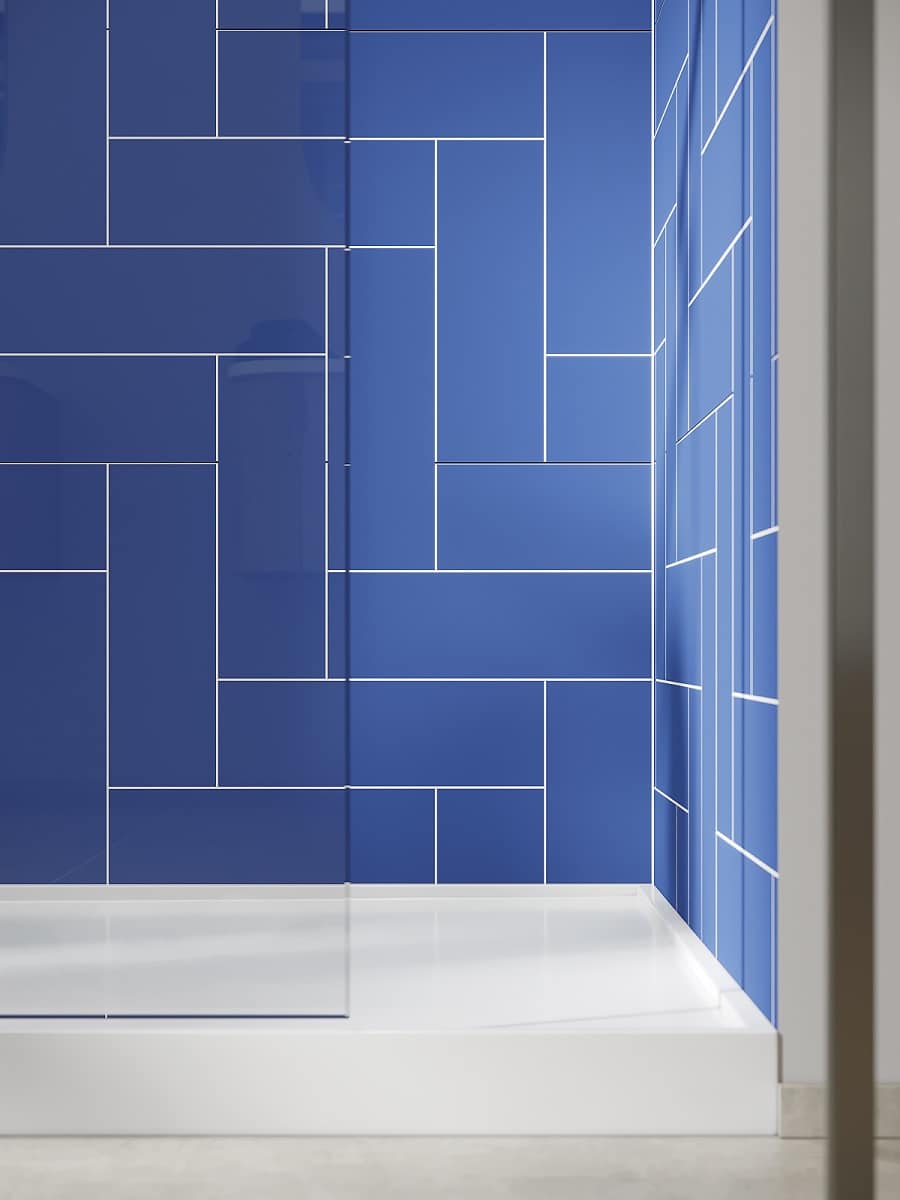 When you give the buyer choices, they feel in control of the decision. This approach reduces the T.I.O. (Think It Over) objections you get when trying to pressure them to choose your product which you boldly claim is THE ONE (and only) solution which should make sense to them… (as if you know them).
Would offering different product options with increasingly better features and benefits help you close more jobs? Would it help those 'price shoppers' (who want the cheapest product) and those who always choose 'the best' – (even when they have to pay more money) select one of your 3 offerings? Would most people choose the 'better' options – which also improves your margins over the 'good' ('er lowest priced) sales? Remember – bathroom remodeling decisions is NOT a one size fits all proposition.



Tip #8 – Wean yourself off lead gen sites
When you launch a bathroom remodeling business it's hard getting enough leads (or generating enough traffic to your site) to dramatically ramp up sales. And given this problem most small bath remodeling and bathtub to shower conversion companies end up doing what everyone else does…and that is….
They buy leads from lead gen sites (Home Advisors, Houzz, and Porch to name a few).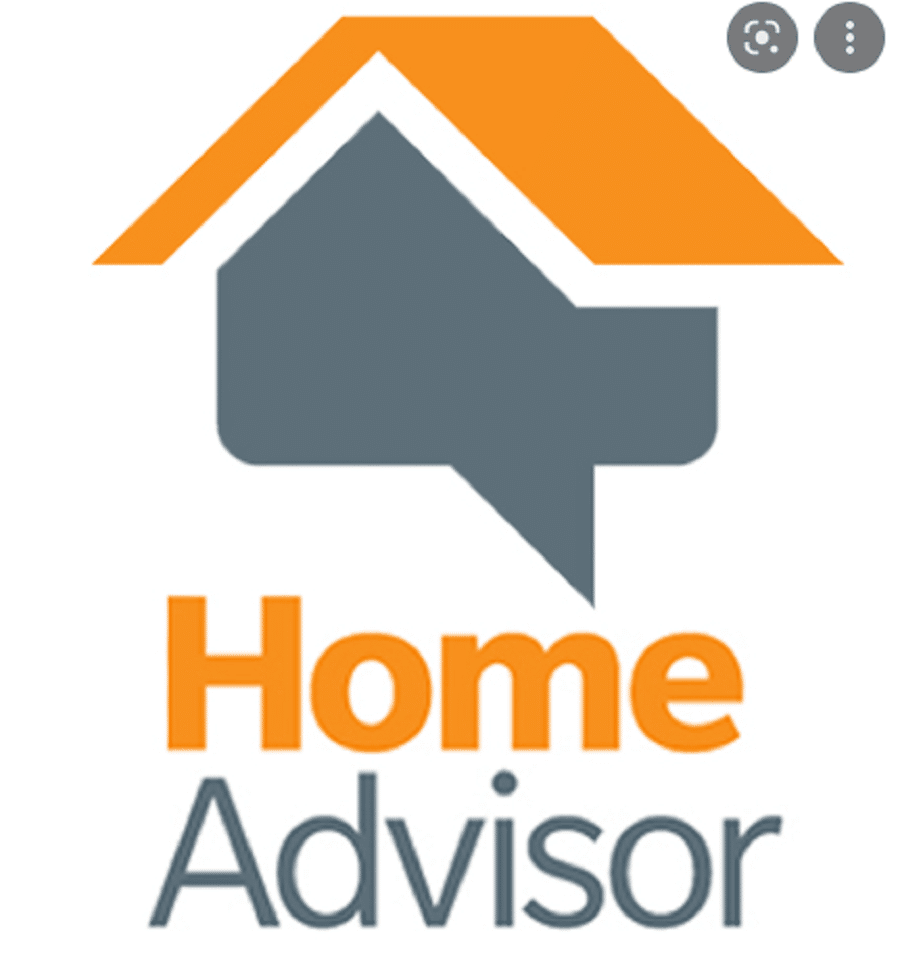 And then do you know what they do next? They complain about how it's a 'fight to the bottom' to close these leads. They complain how they need to call back IMMEDIATELY (even if they're in the middle of installing a job) to get an appointment and get up to the plate to quote jobs. They complain everybody and their brother (and their brother's brother) also bought this same lead.
And why shouldn't these leads be a bloody mess. Lead gen companies make money selling the leads to as many companies as they can get away with.
The question is how can you get strong enough to eliminate lead buying platforms where you're fighting it out with so many other companies?
Well, the key is to build your own 'private' audience. And how can you do this? Begin the long, hard journey of creating your own content.
Maybe this content are blogs posts which position your expertise. Or maybe you'll build your audience through your social media following. Or maybe you'll build your audience through referral programs.
But – whatever you do – if you want to play with the 'David' companies of the market, you NEED TO STOP duking it out with the 'smaller companies' who are buying the same leads as you are (and low-balling the job to get the work). This will take going beyond the 'easy-way-out' strategy ('er buying leads) to creating your own unique leads. It's not easy (or quick). However, it is the truest road to more profitable leads and sales.
Tip #9 – Rub elbows with the best in your local market
It's pretty hard to 'scale' a business if you try to do it in isolation. This is where local industry associations like NARI (National Association of the Remodeling Industry) or NAHB (National Association of Home Builders) or buying groups like VGM Live at Home for the home modification contracting industry are huge.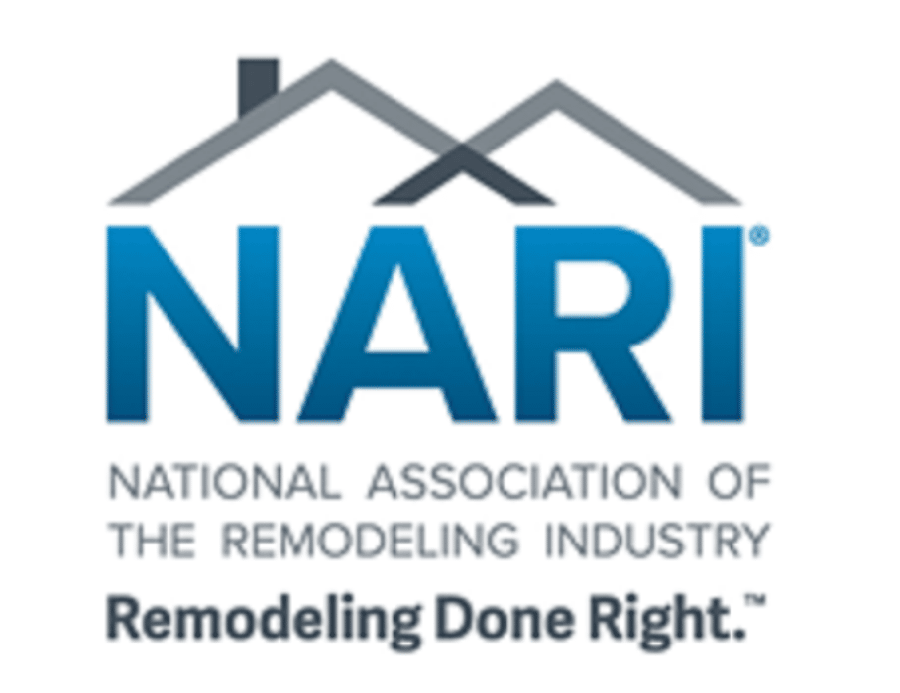 You'll not only meet top industry suppliers, but also learn about local trends, impending legislation and even meet your top competitors (and yes, you can stop gritting your teeth right now even thinking about rubbing elbows with them!).
Tip #10 – Don't try to be 'them.' Have the guts to be authentically 'you!'
There's nothing wrong with learning from the 'David's' of the market. They've developed organized processes to win in the shower and tub wall panel business. They have sales systems. They have long-standing relationships with the big suppliers.
However, what will make your company stand out is about more than your products, processes or buddying up to the big vendors.
I'll argue, what makes your company stand out is YOU! It's about your values. What you care about. It's about your team of people (even if you only have one or two of them now). It's about your personality.
And if you don't believe me and think your 'business personality' isn't a competitive advantage, then I dare you to check out the Instagram account of 'Dr. Decks.' This guy is not only selling and installing some of the coolest (and most intricate and expensive) decks in the country, but he's even getting people to buy his own 'merch!' And he's doing this because of how he's marketing his unique personality AND expertise. WOW!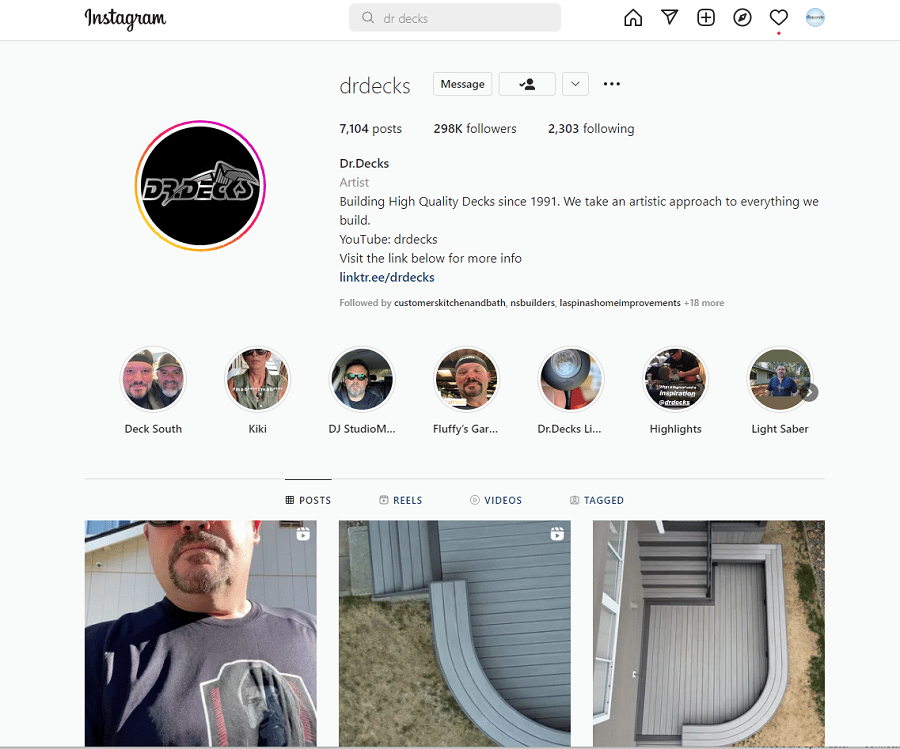 Image Source: Dr. Decks Instagram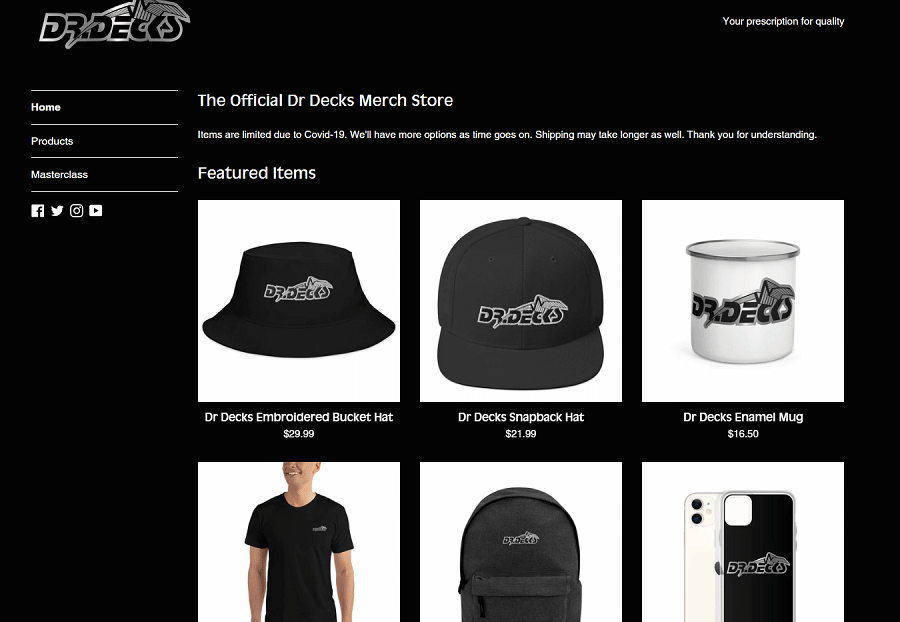 Image Source: Dr. Decks Instagram

Your personality (no matter how wacky you are), can be a competitive advantage to help you grow to be a famous 'Goliath' (like Dr. Decks), even if you're simply an unknown 'David' today…but you have to put in the effort.  
So, are you ready to take on 'Goliath' in your tub to shower conversion, wall panel and bath remodeling business?
I know this list of things to do to compete with the major players could go on and on. And I also know it's not simple to get there. However, all this advice can be boiled down to one thing…
While you should learn from the biggest and best in your market, you SHOULD NOT try to be them!
For you to be successful you need to be you (not a cheap imitation of them). You need to be unique. Unique in your products, your people, and your personality. You need to lean into what makes you special, not try to be a copycat and mimic what made someone else's business special.
And if you think part of the uniqueness of your business could be improved with innovative shower wall panels, or distinctive low profile shower pans – or just want to talk to someone about your journey – please reach out to me. I love to talk (and help others) grow their business – while I'm doing my best to grow my business as well. Call 888-467-5888 and ask for Mike (yes, I'm the wacky guy who writes these blogs!). Ask about our dealership programs for bathroom systems as well.
Thanks for reading
###
In addition, if you'd like to connect on LinkedIn, you'll find me https://www.linkedin.com/in/mikefoti/
---
Tags: acrylic wall panel companies, acrylic wall panel manufacturers, Bath Planet, bath remodeling competition, BCI, BCI Acrylic, competition in bathroom remodeling, Dr. Decks, good better best pricing in remodeling, Home Advisor, how to compete vs. big remodeling companies, Large bath to shower conversion companies, lead gen site for remodeling, low profile shower pans, Mad City Windows and Bath, NARI, ReBath, remodeling conferences, shower replacement kit dealers, shower replacement kits, shower system dealerships, shower wall panel companies, shower wall panel dealers, shower wall panel web site, Tundraland, unique shower wall panels, VGM Live at Home, West Shore Homes
Mike Foti
Mike Foti is the President of Innovate Building Solutions.
Mike Foti
Mike Foti is the President of Innovate Building Solutions.