The Benefits of a Bath and Shower Visualizer to Close More Remodeling Sales and Reduce Mistakes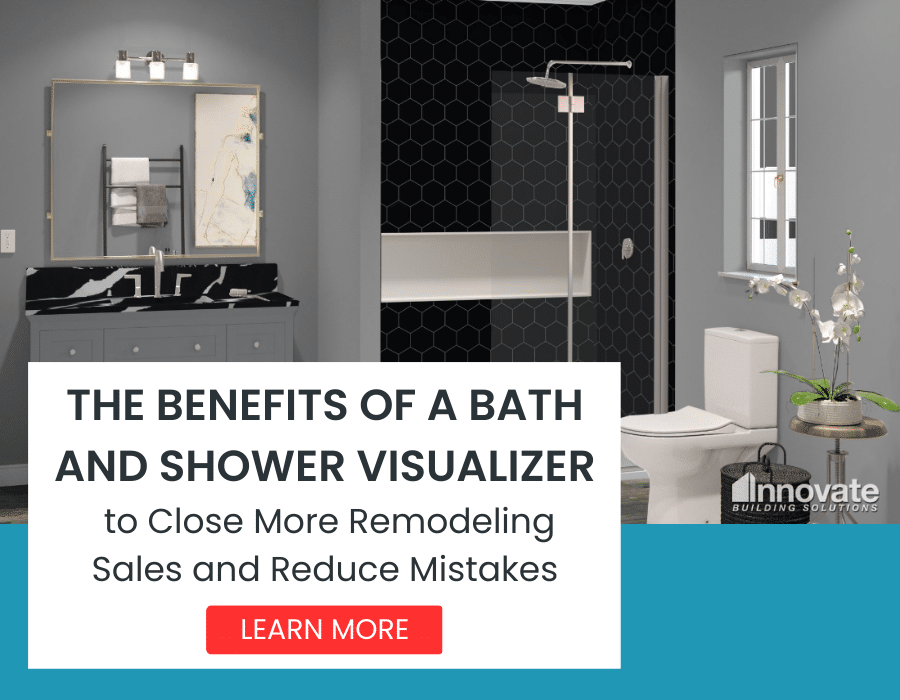 Are customer selections slowing down your bathroom remodeling sales and dropping your closing percentages? Instead of getting a check after presentations are you waiting weeks and weeks for your prospect to visit the cabinet shop, your flooring supplier and to see the tub and shower surround panels you're recommending?
And even after they do visit these businesses, are they even MORE confused how the patterns will look in a complete room (or if they'll work together at all)? Or to make matters worse, have you ever had a customer (in the middle of the project) say to your installation team, "Hey – why are you putting that pattern in? That's not what I ordered. And here's the rub, you know full well it's EXACTLY what they ordered, but it's not what they think they ordered. Ouch!
If you'd love to eliminate these problems, I've got good news for you. There's three steps you can take to make sure these mistakes aren't your mistakes.
Step 1 – Try the Innovate Building Solutions Bathroom Visualizer
See how simple it is to design 3 different room scenes with this bathroom visualizer by clicking the image below.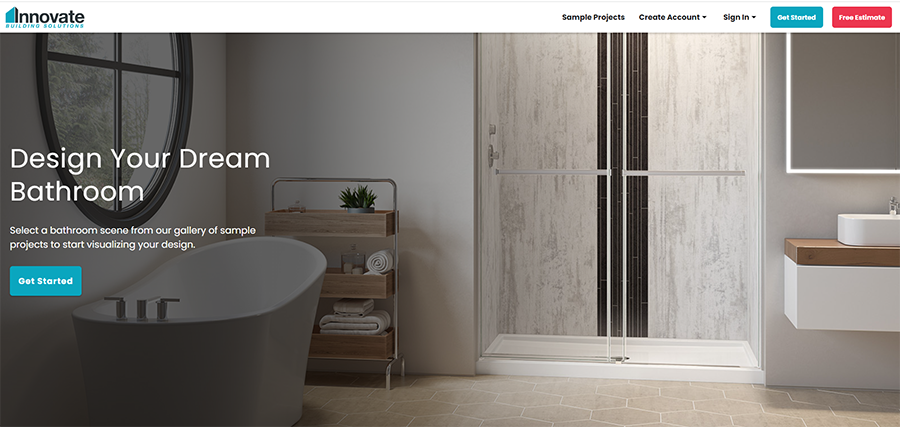 Step 2 – Learn 13 benefits of a bath and shower visualizer.
In the points below learn how you can shorten your sales cycle, cut down mistakes (or customers thinking you're installing the wrong product) and increase closing percentages. And no matter what you do, DO NOT skip benefit #13. It'll put you in the fast lane towards a more profitable future.
Benefit #1 of a bath and shower visualizer – Speed up the selection process.
Seeing wall surrounds, shower pans and bathroom vanities all in one room setting, pulls together your customer's choices – and makes selections simpler. And if you really want to turbo-charge selections, share your bathroom visualizer (or the visualizer provided by your supply partner) BEFORE the sales call. This way your customer can 'debate' (A.K.A. that's code word for they argue with their spouse or partner… not that that ever happens …sarcasm intended) before your rep arrives to look at the job.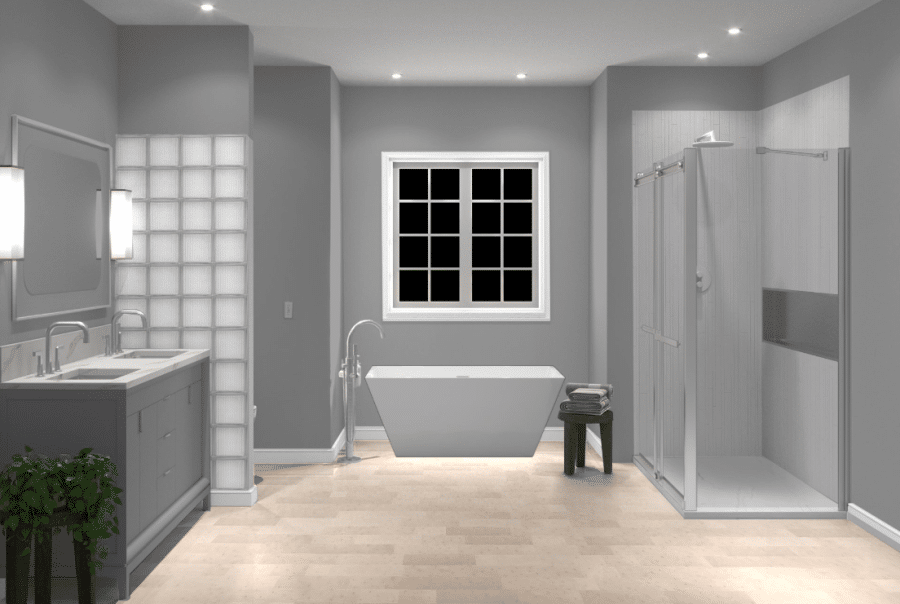 Benefit #2 of a bath and shower visualizer – A visualization tool makes life simpler for your rep (and makes them look more professional).
A well-designed visualizer is not only simple for your rep to use in the home (by clicking on and off a customer's choices and showing them multiple design options), but it'll allow them to NOT have to lug around a 'store-full' of samples in their car, truck, or SUV.
This tool can show unique selections and improve the professionalism of their presentation.
Benefit #3 of a bath and shower visualizer – You can show customers unique (and higher quality) products they've not seen before
If your customer has never seen a stylish white marble stone shower pan, or wood-look shower wall panels, or a mid-century modern vanity with an elegant quartz top, your visualizer can 'introduce' them to these products in the privacy of their own home (and before they meet your rep).
And what's even cooler is these nicer-looking products increase profit margins and improve how much money you'll make per crew/per day vs. 'me-too' products like acrylic showers in cheap big-box stores, stapled-together, vanities.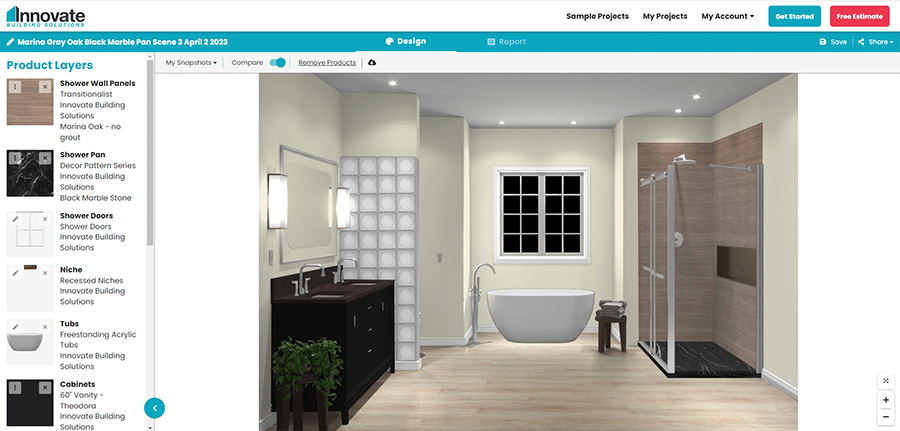 Benefit #4 of a bath and shower visualizer – Increase the time people spend interacting with your products online.
A key stat to improved search engine rankings is the amount of time a visitor spends interacting with your site. And a tool which dramatically improves this website quality measure is a bathroom visualizer.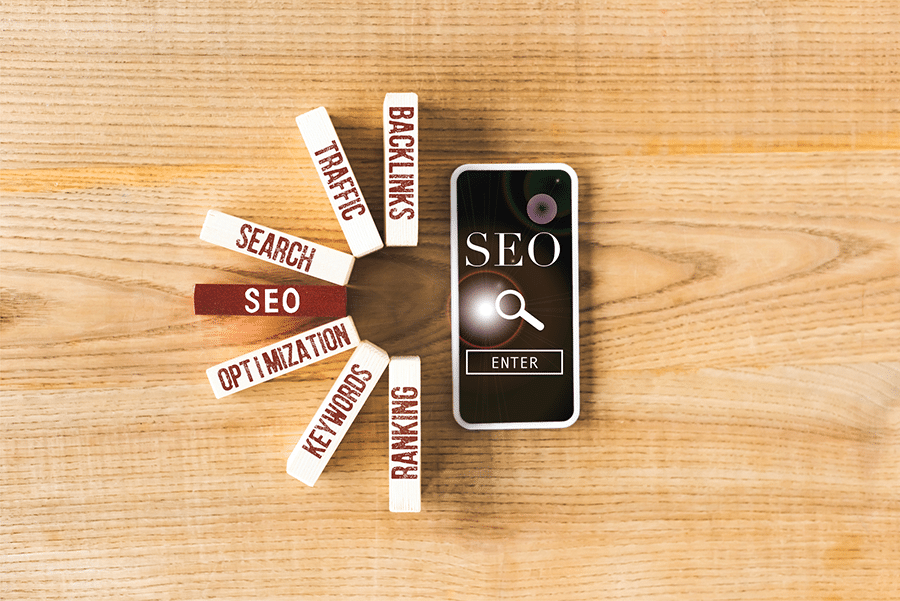 And when this tool gives your visitor options to change shower and bathtub wall surrounds, glass doors, niches, freestanding acrylic bathtubs, vanities, walls, flooring, and even trim – they can play and play and play to their heart's content…all while spending more time with products you offer on your site.  
As a matter of fact, the average person spends 30 minutes on a bathroom visualizer.
This time invested results in more leads for you…and a customer who has a greater understanding of what they want.  
Benefit #5 of a bath and shower visualizer – It prevents a customer from choosing a pattern they don't like (and want you to replace for free).
Let's face it – teeny-tiny samples can mess you up! And while you know how the small samples look when they're installed on floors or walls – your prospect won't 'see' it as clearly as you.
And when your customer DOES see it live and in person (in full-scale reality) and doesn't like it – you can have a B-I-G problem when they politely (or not so politely) ask you to remove this pattern they swear (maybe literally) they DID NOT ORDER!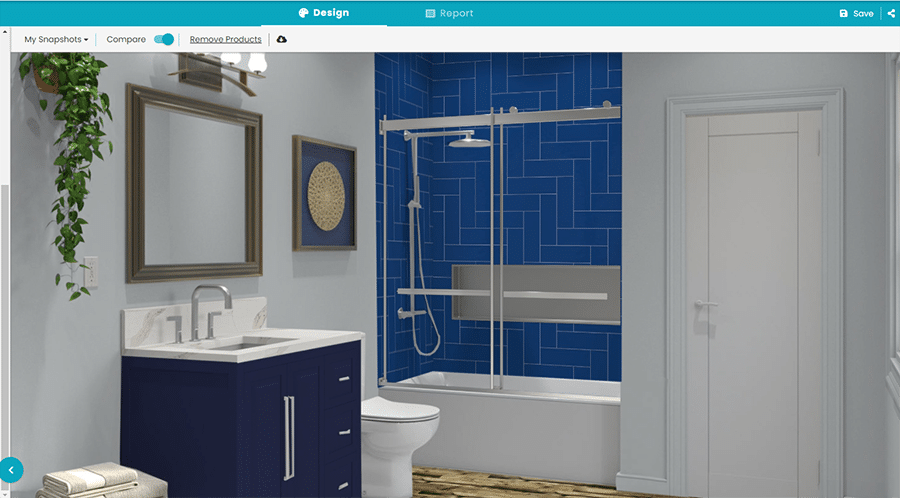 With a visualizer you reduce the risk of this uncomfortable conversation, a disappointed customer, or an expensive redo you DID NOT budget for.
Benefit #6 of a bath and shower visualizer – You can compete with (and even 'one-up') the 'big dog' bathroom contractors in your market.
So, the large bathroom contractors in your local market spend tens (if not hundreds) of thousands of dollars on advertising, social media and fancy sales presentation software selling their 'ok-looking' acrylic bath and shower systems. You can't even believe the money they're able to charge. However, you do have to admit they appear more professional!
However, few of these companies have realistic visualizer tools showing nicer quality products.
Using a high-quality bathroom visualizer (especially one which is developed using O.P.M. – 'er Other People's Money for those of you playing at home…. and you'll learn more about this in benefit #13) you can be a step ahead of the big 'boys' and girls' in your market.
Benefit #7 of a bath and shower visualizer – It gives you the benefit of a showroom (without the fixed monthly rent) ….AND it can be updated WITHOUT an expensive new display.
Now, don't get me wrong, you can't beat a physical display in a showroom. There's nothing like seeing, touching, and feeling a product in a full-scale vignette.
However, showrooms are expensive. And the challenge with showrooms is the trendsetting display you build today can become out-of-style – or worse yet, can include product the manufacturer discontinues. When this happens, you'll get left holding the bag showing bath products you can't sell.
The patterns and offerings in visualizers can be changed immediately as products are discontinued and styles change. Your prospect can see any combination of materials– 24/7 – even when your competitors' showrooms are closed.
Benefit #8 of a bath and shower visualizer – You can promote product combinations you haven't sold before.
Your manufacturer introduces a new shower wall panel or shower base pattern you think is soooo cool. However, you have no completed pictures to show on your website or social media to drum up interest in the new offering because you haven't sold the product yet.
What's cool about a visualizer is you can first build a room scene that includes the new product. Then take a screenshot and start promoting it RIGHT NOW! Lead the trends in the industry before waiting to sell a job, install the job, get permission to take pictures of the job, and THEN…. promote the job! No one (and I mean no one) will beat your speed in marketing the newest products and trends if you intelligently use your bath visualizer.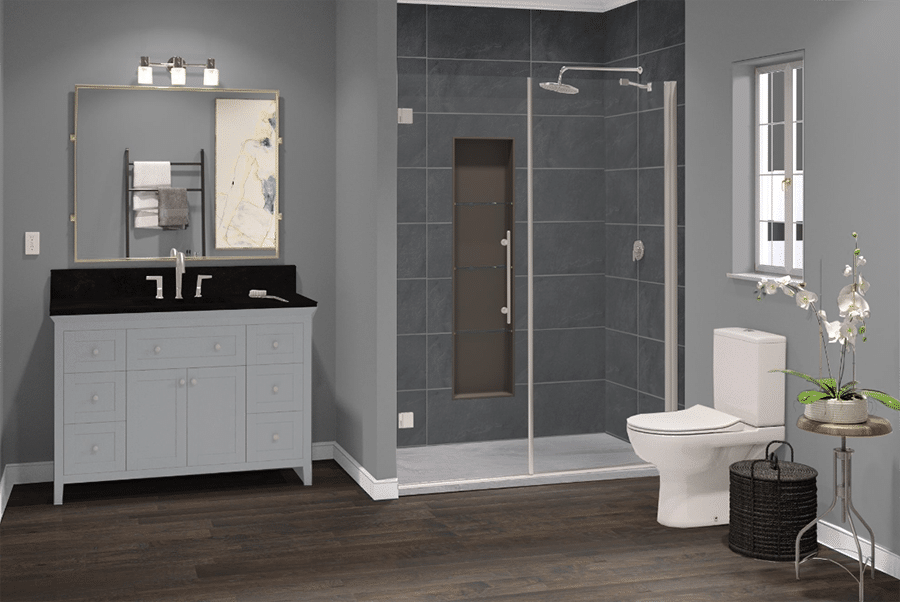 Benefit #9 of a bath and shower visualizer – You can create 'add-on' sales without selling!
If you and/or your sales reps are the farthest things from being 'pushy salespeople' – yet you still understand the benefit of 'extending the bath remodel sale' by offering shower niches, floor based vanities , glass shower doors, or you name it– a visualizer can 'take you – and your reps' off the hook of having to upsell.
When your prospect uses the visualizer on your site (or the tool which is demonstrated by your rep in their home) your prospect can 'raise their hand' and tell you which products they like before your rep even 'rings' (OK – that brand call-out wasn't intended, but it just happened) their doorbell.
This is a powerful way of having your customers make selections from the visualizer on your site BEFORE the sales appointment.
You'll do less selling, yet still sell more.
Benefit #10 of a bath and shower visualizer – Reduce the length of sales appointments.
Everyone (including you and your sales team) has one common challenge. That challenge is you're limited to 24/7. Having enough hours in the day (even if you're an owner and know you can put in unlimited unpaid overtime – ha! ha!), is a constant battle.
And if there's one thing effective salespeople have in common, it's that they're efficient. And one way to improve your efficiency is to ask prospects to use a visualizer BEFORE the sales call so they can narrow selections (and you can bring the right samples with you) on the call.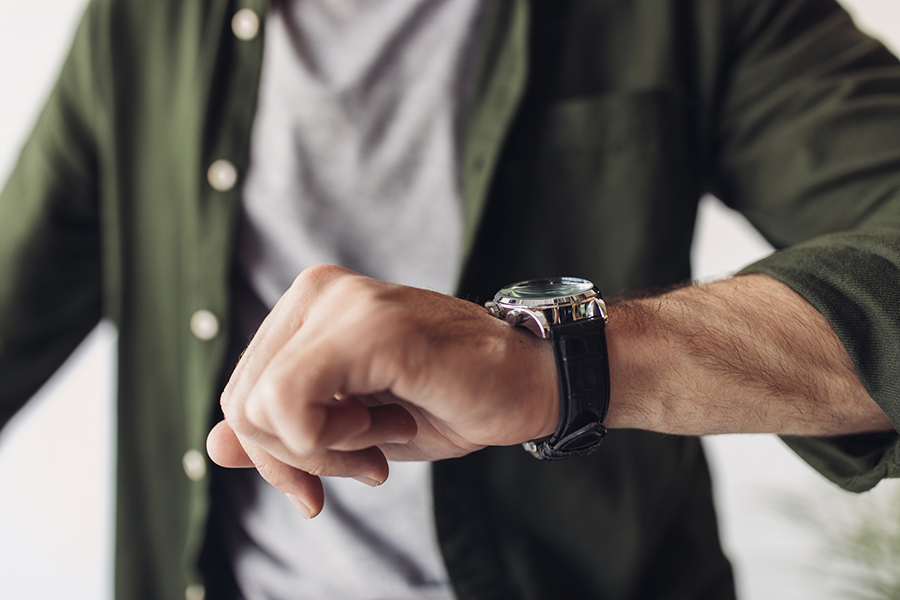 Benefit #11 of a bath and shower visualizer – Show your prospect a 'custom look' with 'standard products' which won't break their budget (or take forever to get!).
Most people looking at custom bathrooms in Interior Design magazines believe they can only dream about a bathroom which looks that luxurious. However, your prospects can see (and visualize) a deluxe bathroom with affordable products. And here's 3 examples how you can upgrade their bathrooms without blowing up their bank accounts (or tapping into the kid's college funds):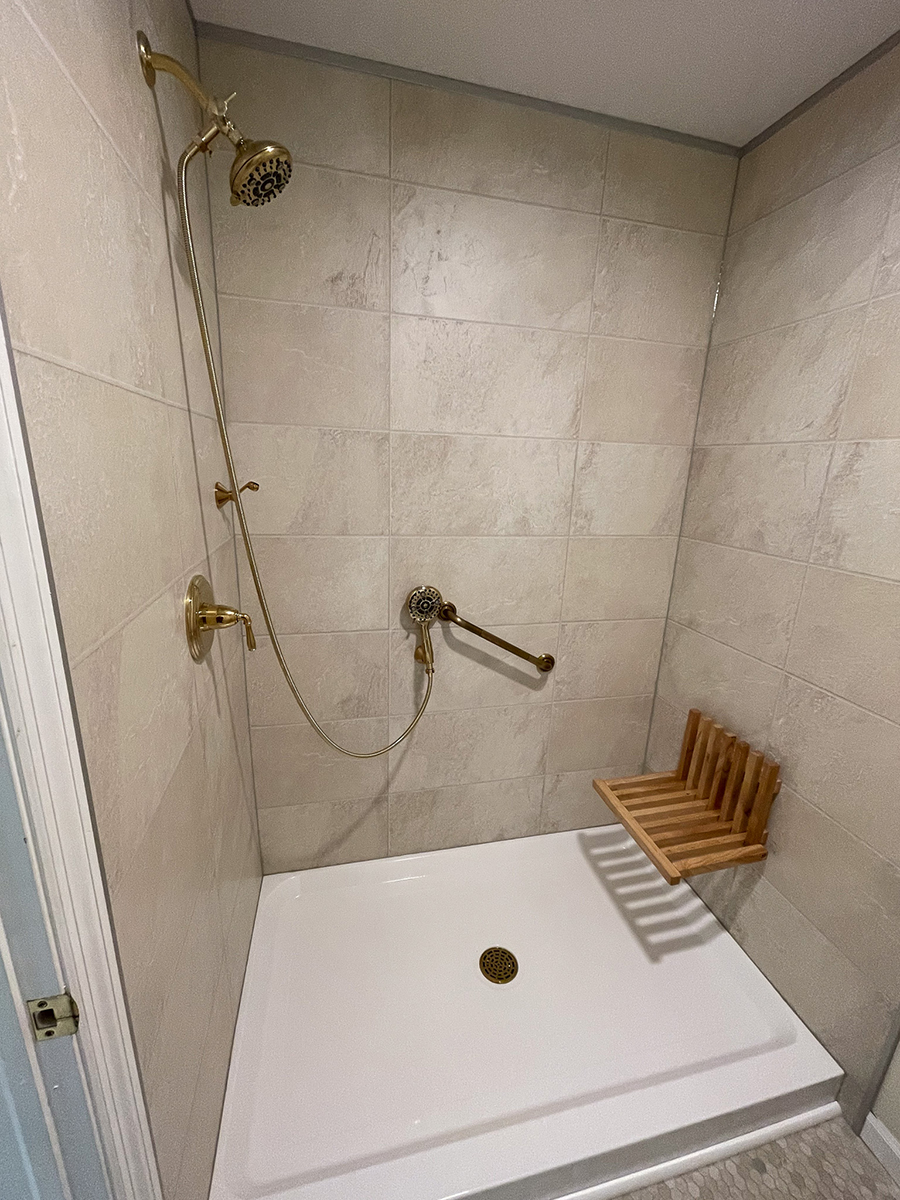 Example 2 – Show the look (and durability) of a marble shower base which is simpler to maintain (and lower priced) with a solid surface low profile pan.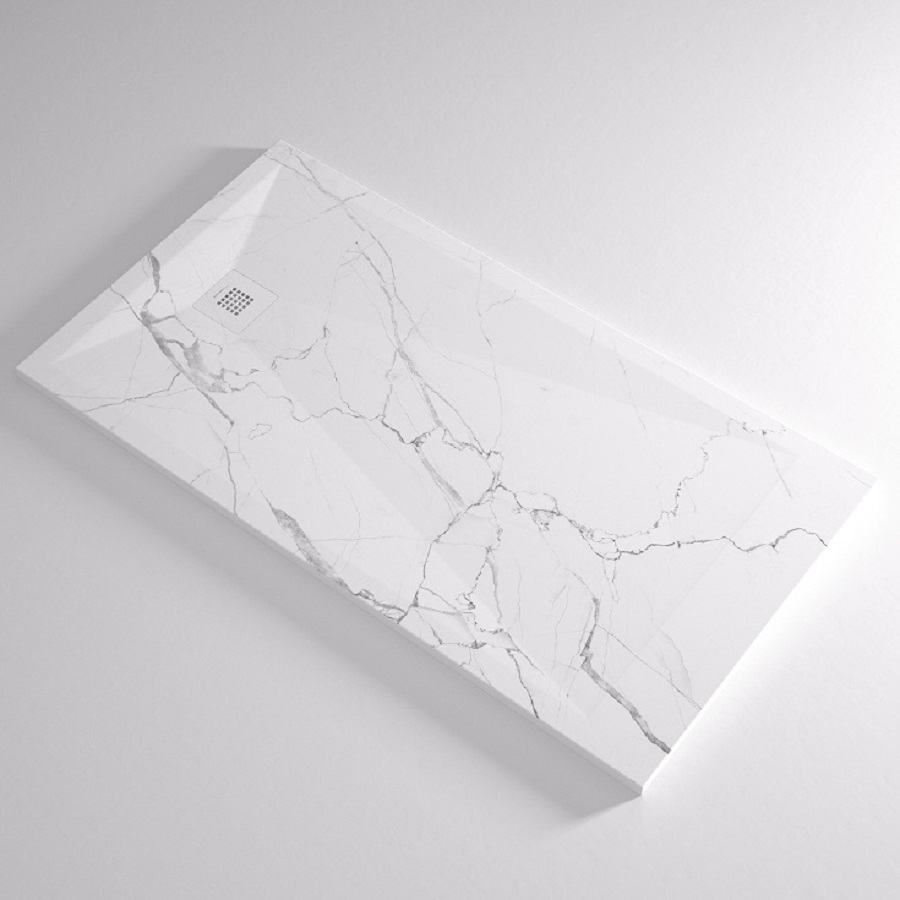 Example 3 – Show high-quality Transitionalist custom cabinet looks with ready-to-ship Jeffrey Alexander bath vanities which are more reasonably priced than a custom vanity.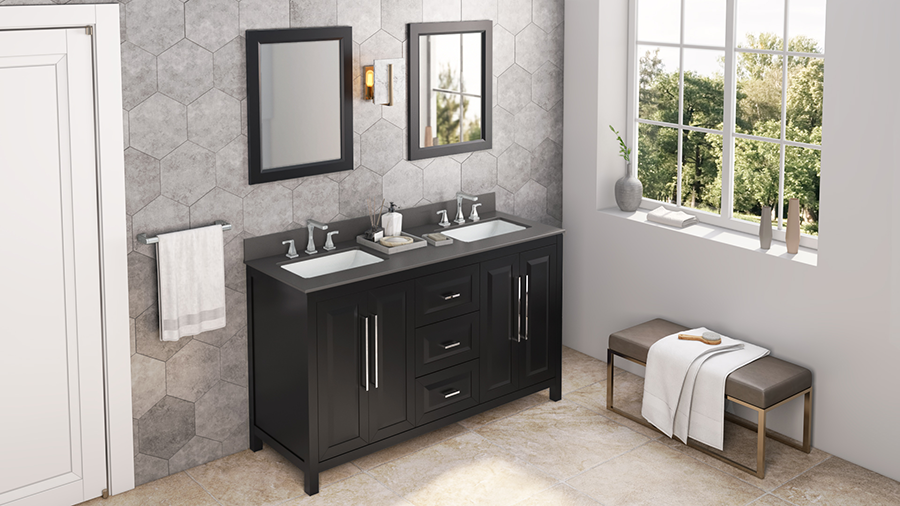 Benefit #12 of a bath and shower visualizer – Your prospect can see room scenes for a small hall bath, a kid's bath, or a luxury master bath.
The more you help the customer see (and get excited about) their finished space, the better the chance you have of closing the deal.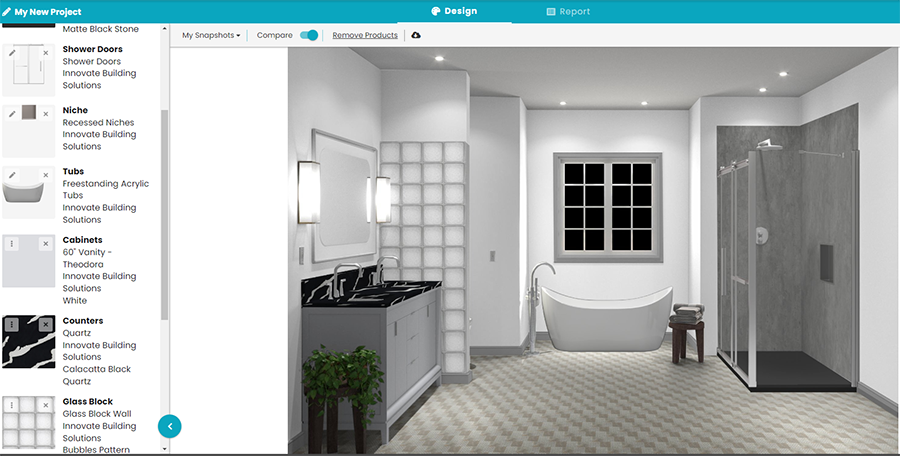 And with 3 room scenes (from a kid's bathroom with an alcove tub to a hall bath with a 60" x 32" replacement shower kit to a luxury master bath with an acrylic freestanding tub, a glass block wall, and a corner shower), the probability of selling the job improves as they see how different bathrooms scenes can transform their drab (or downright ugly) space into something dramatic.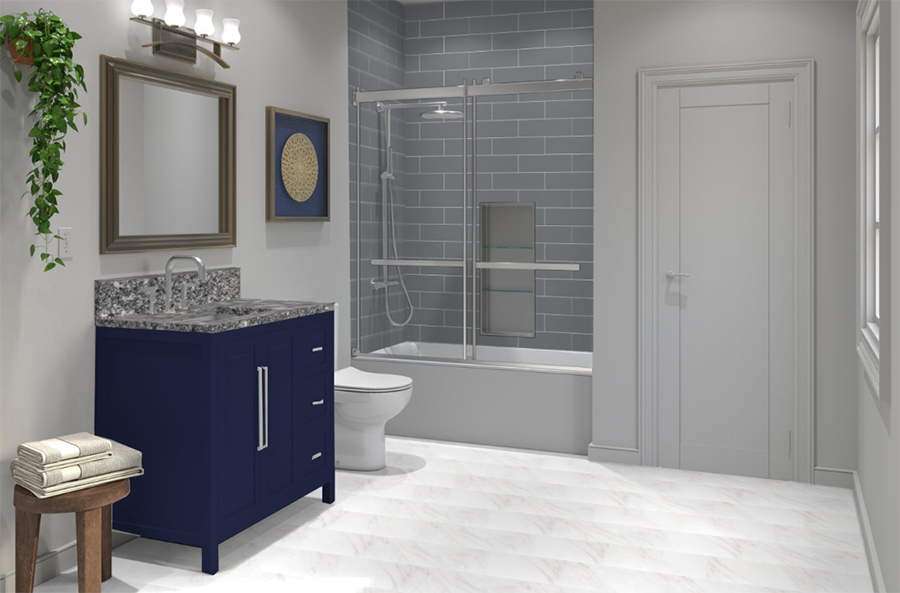 Benefit #13 of a bath and shower visualizer – You (and I'll underline the word YOU) do not have to spend $30,000 to $60,000 to develop this tool!
I'll be real and tell you creating a realistic-looking, high-quality visualizer IS NOT a cheap date! And it's NOT something your daughter's best friend who is 'good with computers' is going to whip up in Photoshop either.
Visualizer programmers and developers combine 2D and 3D images into custom-created room scenes. It takes access to high-quality imagery and relationships with trend-setting manufacturers with stylish bathroom products and a good bit of knowledge and imagination.

And it also takes creating a lead-capture system, so this tool isn't simply something 'fun' for your prospects to 'play around with' (kind of like your daughter's Easy-Bake oven back in the day). No, this tool needs to do one critical thing…..
It needs to create leads for you!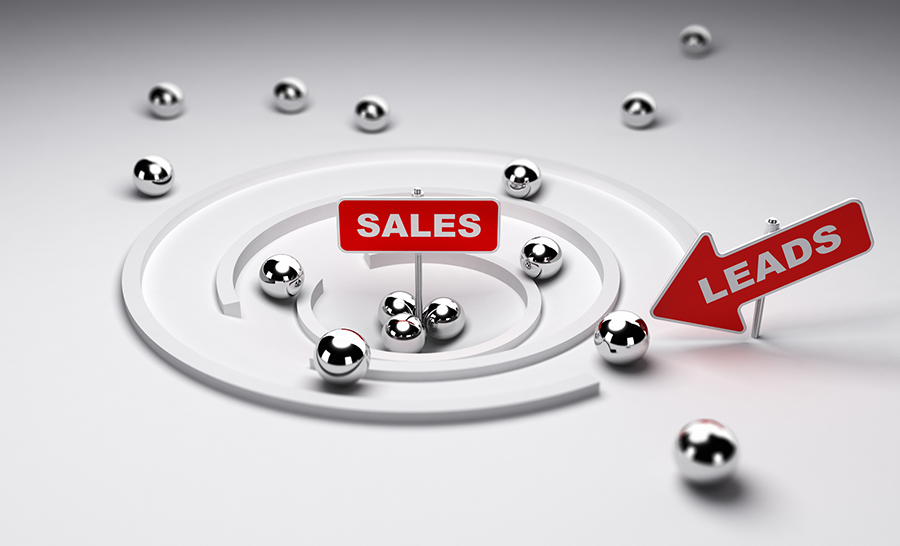 And after delivering the bad news about the cost and complexity of creating your own tool – I have super-good news for you.
You (and that word you should triple underline) DO NOT have to figure out or invest bookoo – (from the fancy French word beaucoup) – bucks to create this bathroom visualizer for your site!
No, all you need to do is inquire about becoming a bathroom products dealer for Innovate Building Solutions and learn about our exclusive Dealer Technology Program. Then you'll have access to trend-setting products (like laminate wall panels, stone shower pans, complete shower kits, stylish Jeffrey Alexander vanities, shower accessories and cool programs (like our bath and shower visualizer) to sell them in the home and/or on your site.
Step 3 – Three strategies to use a bath or shower visualizer to grow sales and reduce mistakes.
OK, let's face it – a fancy tool is of NO VALUE if you don't know how to use it effectively. Here are 3 ways to take this 'fun tool' and use it to improve your business.
Strategy #1 – Have your rep use the tool in the home to make selections.
Have your rep bring in their laptop, iPad or even use the visualizer tool on a cell phone to make selections on the spot. Combine the 3D tool with physical samples so your prospects not only can see the colors in their room – but can see how various choices interact with one another. Have your rep create an account (which includes your company name) and save their designs by customer name and date so you can reference them later.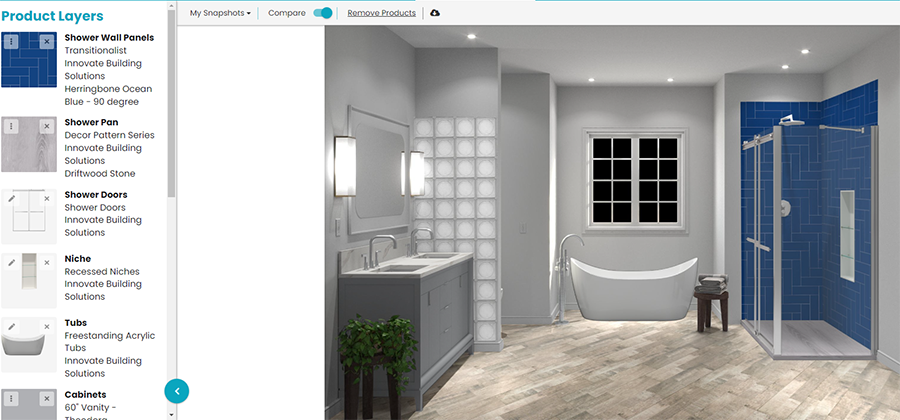 Strategy #2 – Create an account for your prospect and send the app to them before the appointment.
To improve your efficiency (and reduce time in the home), create an account (which includes your 'company name' as their dealer) for your prospect BEFORE the call and let them 'play' with the tool at their leisure. Then when your rep gets to the home, they'll have an idea of what you like BEFORE your representative ever steps in the door!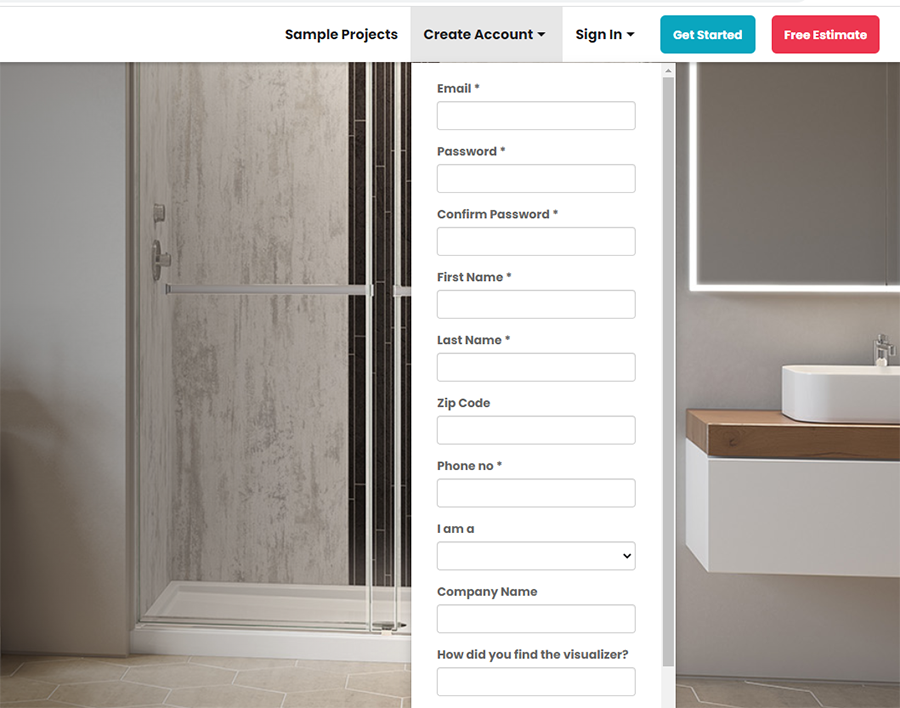 Strategy #3 – Add a CTA (Call to Action) on your site to use the bath visualizer as a lead generation tool.
As you know (if you're ever looked at your site's bounce rate and 'time on site' statistics), there are too many people who DO NOT become prospects after visiting your website. The goal of bath remodeling websites is not only to position your expertise, credibility, and process, it's to GENERATE LEADS. Because without leads you're…..
TOAST!
And when you add a call to action button for visitors to use this tool on your site, you're inviting the customer to 'raise their hand' as a lead since when they (a) create an account and save their designs or (b) ask for a free sample or (c) request a free estimate – this creates a sales lead which is shared with authorized Innovate Building Solutions bathroom dealers.



So, could becoming an Innovate dealer and adding a visualizer (and unique grout free products)  grow your revenues and reduce mistakes?
So – what are you waiting for? Call Mike at 888-467-7488 or fill out the Become a Dealer form.
Thanks for learning about the benefits of a bathroom visualizer!
Mike Foti, President – Innovate Building Solutions
###
In addition, if you'd like to connect on LinkedIn, you'll find me https://www.linkedin.com/in/mikefoti/
---
Tags: advantages of a bathroom visualizer, advantages of a visualizer, alternatives to acrylic panels, bath remodeler showrooms, bath selection process, bath selections, bath visualizer, bath visualizer room scenes, bathroom remodeling dealerships, competing in bath remodel market, Fibo wall panels, free bathroom design tool, free bathroom visualizers, improving bath remodeler SEO, Innovate Building Solutions, Innovate Building Solutions visualizer, Innovate visualizer, laminate shower panels, laminate wall panels, low profile shower pan, one day bathroom, promoting new bathroom products, selling bathroom add-ons, shower visualizer, simplifying bath selections, two day bathroom products, visualizer for a bathroom contractor, wall panel dealerships
Mike Foti
Mike Foti is the President of Innovate Building Solutions.
Mike Foti
Mike Foti is the President of Innovate Building Solutions.