How to choose a wall panel supplier if you're a bathroom remodeling contractor.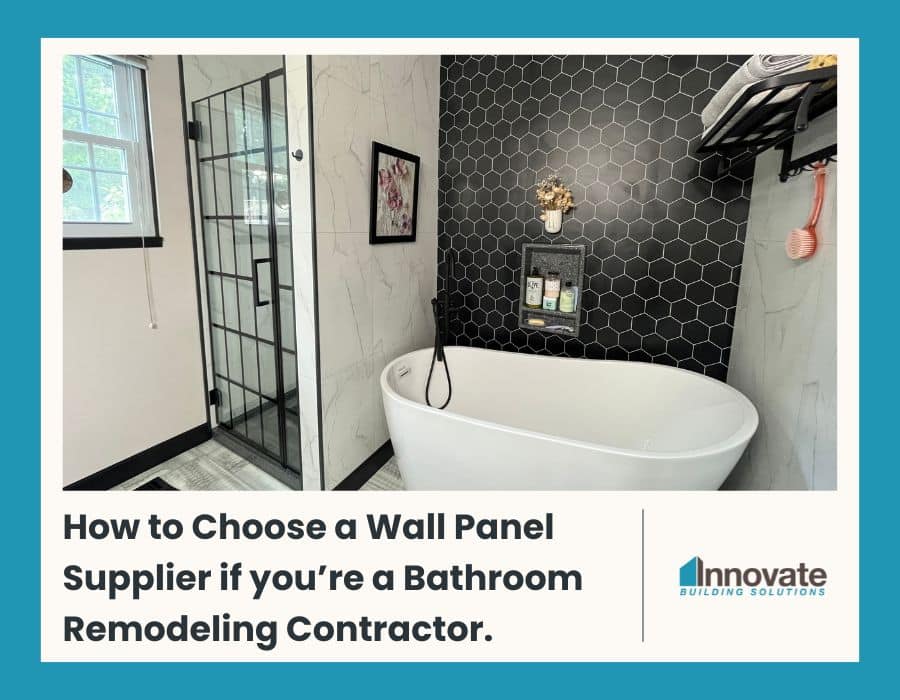 Is it becoming harder than ever to make a buck in your remodeling business?
Is finding talented (or even semi-talented) labor (or a warm body for that matter) harder than finding a needle in a haystack?
Are your prospects getting more value-conscious (and yes, that's the P.C. term for cheap)? Are they saying your custom tile jobs are too expensive, yet your profit margins aren't making you jump for joy either?
And now that people have escaped their homes from being 'locked-down' during COVID, are you running fewer sales leads? Is your backlog shrinking quicker than your cash at a state fair?
If you're experiencing some (or all) these problems you may be looking to 'shuffle the deck,' and change what you sell to improve profits. And as you know making money in the remodeling industry IS NOT as simple as it was just a year or two ago.
And given this need to improve your bottom line, you're kicking the tires on operating in a new way.
You're looking for products which allow you to make more money per person per day. And you need products which install in less time – and require less labor.
And if you're like many bathroom remodeling contractors (or are a subcontract installer looking to start your own business), you're seriously considering grout free wall panels (and/or offering more unique wall panels to differentiate yourself from your competition).
However, the key question is this.
How can you find the best wall panel supplier (and product line) to grow your business?
Well – if this is your question, you've come to the right article. Below I'll look at 9 criterion (and you'll want to hang around for #9 because it's the 'biggie' which everyone cares about- pricing) to evaluate wall panel suppliers so you can make the best choice for your business.
And if you're wondering if I have any 'stake' in this conversation, I'll admit I do. I lead a business which wholesales laminate shower wall panels, bases, glass doors, and accessories. However, I've done my best to bring up all of the criterion to make a selection – both in areas where I'd score my company high, and also in areas where we're still evolving.
So, without further delay, let's start with criterion #1 (although they aren't in any particular order) to choose a bathroom and shower wall panel supplier if you're a bathroom remodeling contractor.  
Criterion #1 – What do you think of the wall panels – and other shower/bath products – your potential supplier is selling?
Not to state the obvious, but all wall panels (and bath/shower products) ARE NOT CREATED EQUAL!
So, if we first start with the panels, here's questions to ask to grade the quality, performance and style of the wall panel lines you're researching.
How thick are the panels? Prospects prefer thicker panels to thinner ones. And if you're looking at acrylic wall panels (the market share leader), be aware while they're thicker than 'home center' FRP (Fiberglass Reinforced Plastic panels), their 1/8" thickness won't make anyone think they're getting the 'Rolls-Royce' of wall panels. You'll find thicker PVC composite panels (which are ¼" thick). However, if you really want to wow prospects with beefier panels – use cultured marble/cultured granite or laminate wall panels (which are 3/8" thick).
How tall and wide are the panels? The width (and height) of wall panels will not only affect the installation (and the weight of units and time to install), but the ability to do larger custom-sized showers.
How are they priced? We'll talk more about this in criterion #9, but when evaluating pricing do an 'apples to apples' comparison. Figure out the delivered price for a complete wall panel set (including sealants and trim).
Is the selection exciting? Is the product stylish enough to be used beyond the tub/shower alcove? If a homeowner wants a boring – yet cheap – wall panel system, they can drive to their local home center and – as you know – their pricing will blow away your installed system. However, when you've got exciting colors and patterns, this IS NOT something they can get at Lowes, Home Depot, or Menards. Ask if the line has a wide range of patterns. Ask how often is the product used beyond the alcove – as wainscoting or on the bathroom walls. You can grow sales if you push beyond the alcove.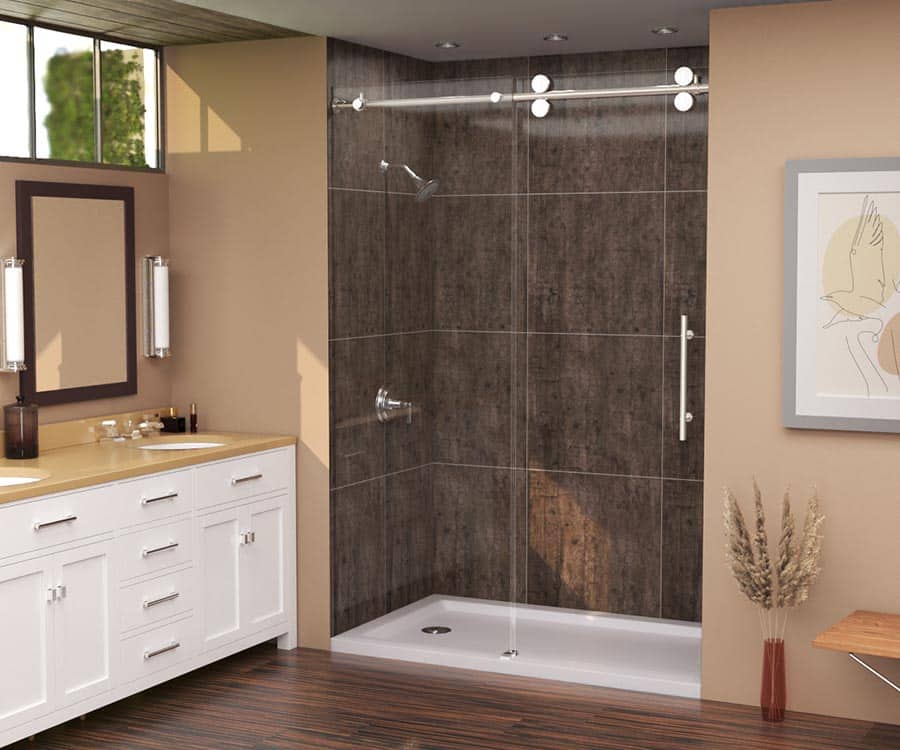 How realistic do your wall panels look? Let's face it, molded shower and tub surround panels look like molded shower and tub surround panels … and that's NOT a good thing. Does your preferred wall panel line look like the 'real thing?' Does it have a realistic faux grout joint with 3 dimensional authenticity?
What's the warranty? How long has the material been around? Warranties provide peace of mind. And as you know tub surrounds, shower replacements, and bath to shower conversions are not inexpensive projects. So, your customer will want a good warranty. And you'll want to know the product you're selling will not fail (because while most manufacturers offer you new product if the old material fails, it'll be you who covers the cost of reinstalling these products). So, ask your potential supplier how long their product's been on the market. Ask about their warranty claims experience.
Are you only being offered the 'no frills' line for 'B team' and 'C team' dealers? I'll tell you a dirty little secret about some wall panel suppliers. In order to increase their sales, not necessarily yours, some manufacturers offer multiple 'brands' which compete against each other in the same markets (and you may recognize the acrylic supplier I'm hinting about here…). And if you're a smaller (and newer) customer, you likely will NOT qualify to buy their top line. You'll be pushed down to the 'B' or 'C' team lines. Whereas the 'big boys' and 'big girls' in your market have their more stylish materials. Competitively this puts you in a position where it's hard to differentiate yourself, and you'll be forced into cutting prices and making less money.
Are the accessories stylish or ugly? In my humble opinion some of the acrylic and cultured marble shower caddies detract from the look of the wall panels and look 'old school' and fake. Does the accessory line look up to date with today's contemporary bathrooms? Can you get niches and shelves that match the wall panels or will compliment trending hardware finishes (like brushed nickel, matte black, or matte brass)?
What other products can I get with the panels? While it's possible to shop the shower pans and glass doors (to be used with the wall panels) from several suppliers, this can take away from your 'day job' of marketing, selling, and installing jobs. Learn about the shower pans, glass shower doors, bathtubs, and accessories in their line… not just the wall panels.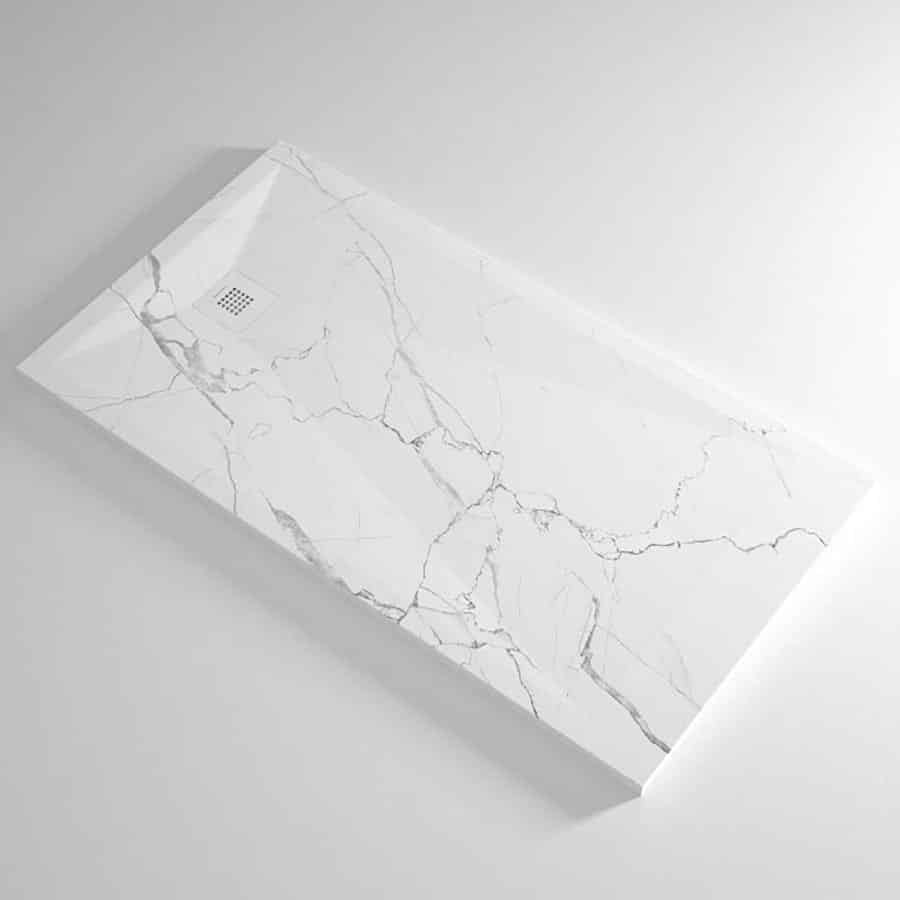 Criterion #2 – How long does it take to get product? Is it made to order, or available from stock?
Don't you have to laugh when your prospect – who tells you they've been living with their deteriorated bathroom for 30 years –now insists it MUST BE installed next week!
And while there are cases which speed up a project's urgency (for example, when a shower pans or wall panels are leaking or mom's coming home from the hospital), in most cases when people decide they're ready to spend money, they want the job done…..YES-TER-DAY, even if the urgency isn't that great!
And if your lead time is measured in months, not in weeks, you may be S.O.L. in getting a credit card or check for the deposit tonight.
So, how can your wall panel supplier help with this? Well, you need to ask if your supplier builds to order or keeps finished goods in stock.
Then ask these all-important questions. What are lead times today? How has this varied over the last few years? Because as you know….
Speed can be the killer app to win sales!
Criterion #3 – What wall panel materials are being sold in your market? How can you stand out?
 Before you invest in samples, training, sales cases, visualizer apps, and/or selling programs you MUST first research the competitive environment for wall panels in your market.
Who are the 'players' in your market? What products are they selling? What are their prices?
Consider using a 'secret shopper' (maybe a family member who has a bathroom in need) to learn about their sales pitches, pricing, and products.
If you find everyone – and their brother and their brothers' brother (and sister) are selling acrylic and cultured granite wall panels, ask yourself how am I going to stand out if I'm selling the same stuff, but I'm the new guy/gal on the block?
Maybe – like Ray Nation of Best Construction Brands (who is featured in this dealer spotlight article titled Combing Passion and Products for an Exceptional Bath Experience), you'd be better served by offering the 'spotted zebra' (or something unique).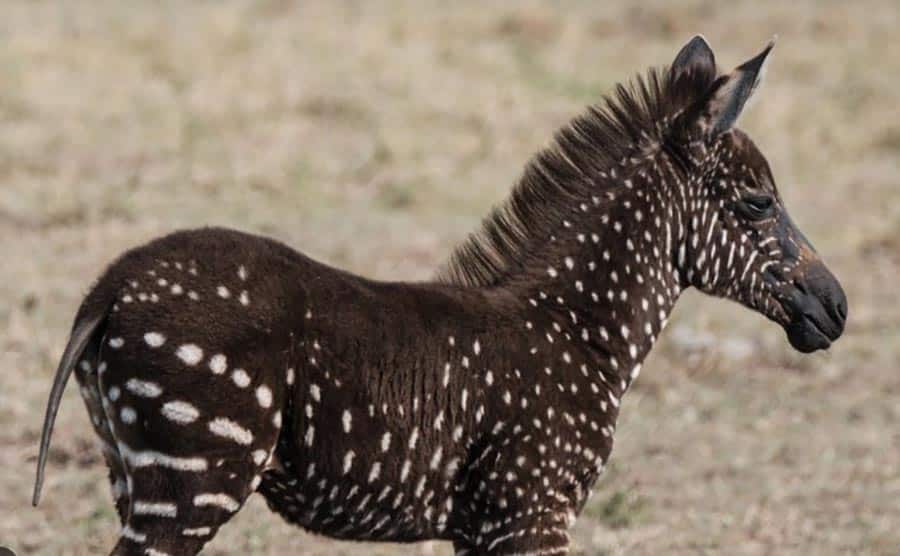 Or as author Seth Godin might say, be Purple Cow in your market. Products like laminate wall panels – which are established in Europe, yet new to the United States – can be one such option which will provide the 'spotted zebra' or 'purple cow' experience for your prospects.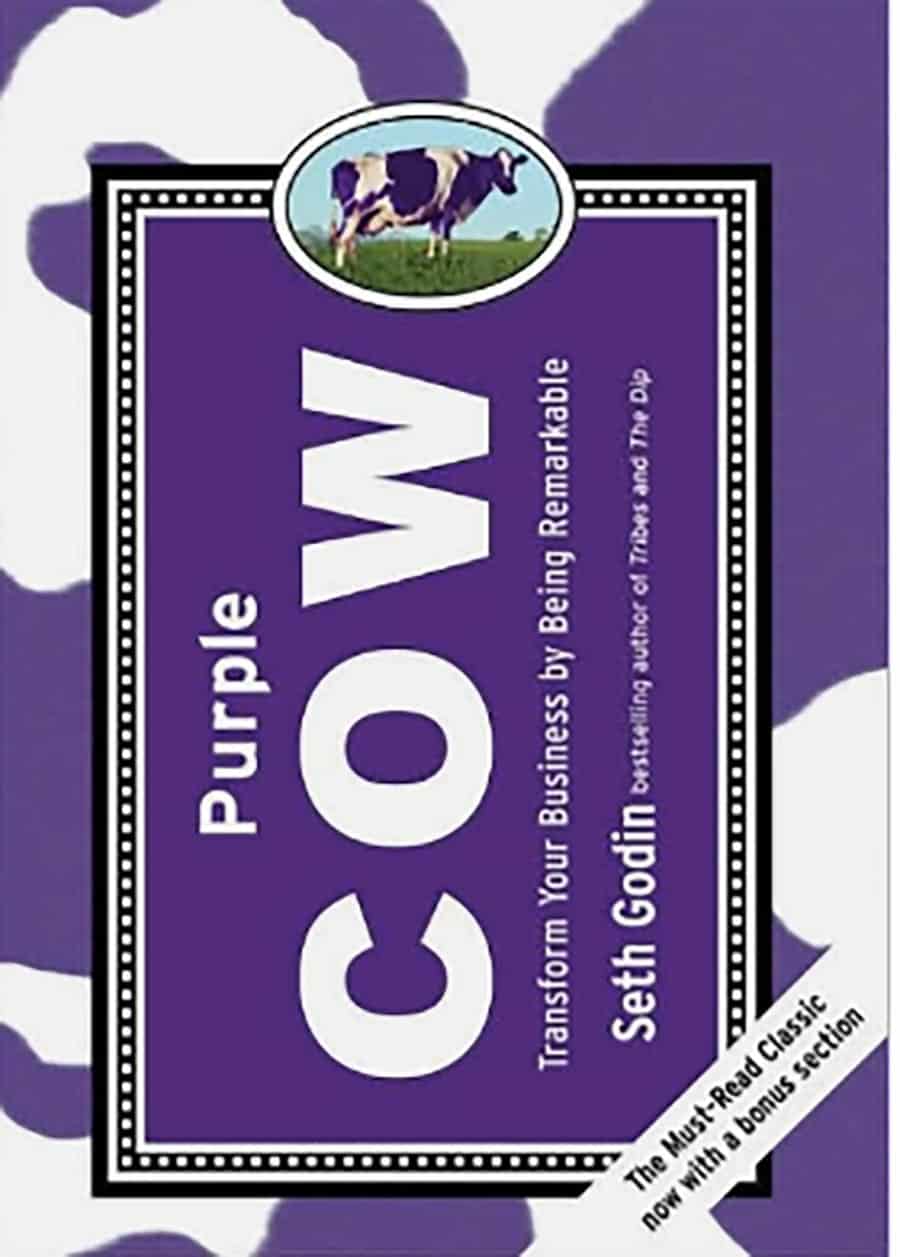 Because if you're the 'new guy/gal' on the block and sell 'me-too' products, you'll be selling at far lower prices than the established companies. This will result in lower margins, and you'll find yourself swimming upstream trying to make a buck.   
Criterion #4 – Is your potential supply 'lovin you' in the sales process? Or do their actions show they could do without you…. thank you very much.
When most people talk about suppliers the term they DO NOT use a lot is love. However, I'd argue this is often the difference between a 'vendor' you buy stuff from, and a supply 'partner' whose cares about your success.
When you call the company to inquire about being a dealer do you get the feeling they're 'too busy' for you, or you're 'too small' for them?
Well, if you're feeling like this in the sales process, it IS NOT a good omen for how they'll treat you when you need technical information or have installation questions. Nobody wants to feel like a P.I.A… especially when you're buying from them!  
If you're feeling they don't care if you buy from them or not, and they're not promptly returning your phone calls or email sign-up forms, this is a sign to…..
Run, run, as fast as you can, even if you're not the Gingerbread man!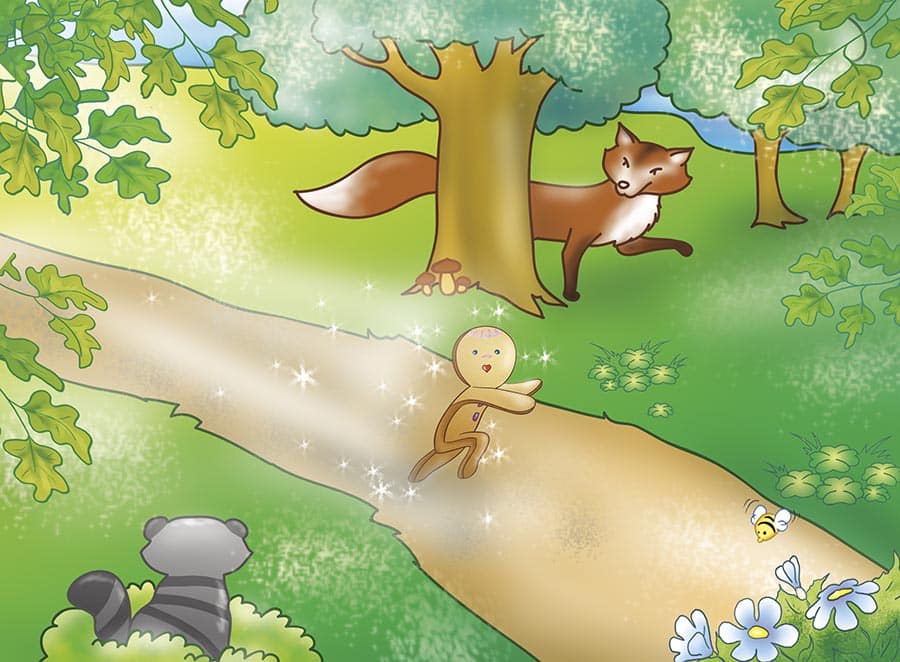 Criterion #5 – What are the startup costs?
The worst thing you can do is invest a lot of money in startup fees to become a wall panel dealer and then never get this business off the ground because you have no money left to actually promote it.
And while there are legitimate reasons for a start up fee (because there are hard costs associated with the literature, sales cases, bathroom visualizer apps, in home selling programs etc.), you need to be careful you're also allocating money for selling and marketing costs to get leads in the door. Because the best product known to man/woman is of zero value if you have no leads to sell to.
So, ask about startup costs and what you're getting for your money.
Criterion #6 – What programs do they have to make it easier for you to market, sell, and order products? Will they give you leads?
If you're like most bathroom remodeling contractors you'll be more successful if you have programs (and resources) which make it simpler to market, sell, and order wall panels (and related materials). So, ask potential suppliers the following:
Do they have a visualizer tool?
 A 3D bathroom visualizer will not only help your prospects get excited about how their finished project will look (a key component in getting an order), but it'll protect you from making ordering mistakes. Learn about the advantages of a visualizer by readingThe Benefits of a Bath and Shower Visualizer to Close More Remodeling Sales.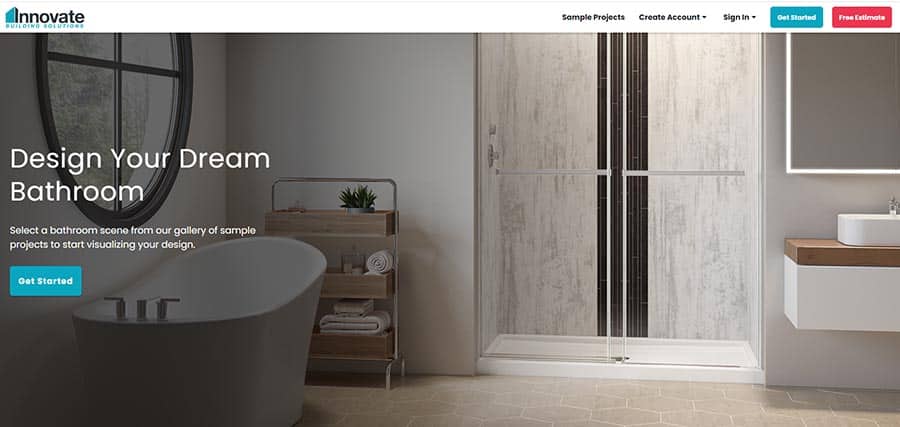 Do they not only have finished renderings of room scenes, but also pictures of actual completed jobs you can use in your print, social media marketing or web site?
Let's face it – prospects love inspiring pictures. And if the imagery on your web site doesn't excite potential buyers (or your wall panels look cheap and 'plasticky' like the rest of your competition), this will hurt leads.


Ask your potential supplier what kind of image library you'll have access to.  
Can you get a professional sales kit?
 Your customers need to make selections in their homes (with their lighting, bathroom flooring choices etc.). Can you get a professional sales kit from your supplier? Does it do a good job selling the story of how your products are superior to the cheap imitations in the market?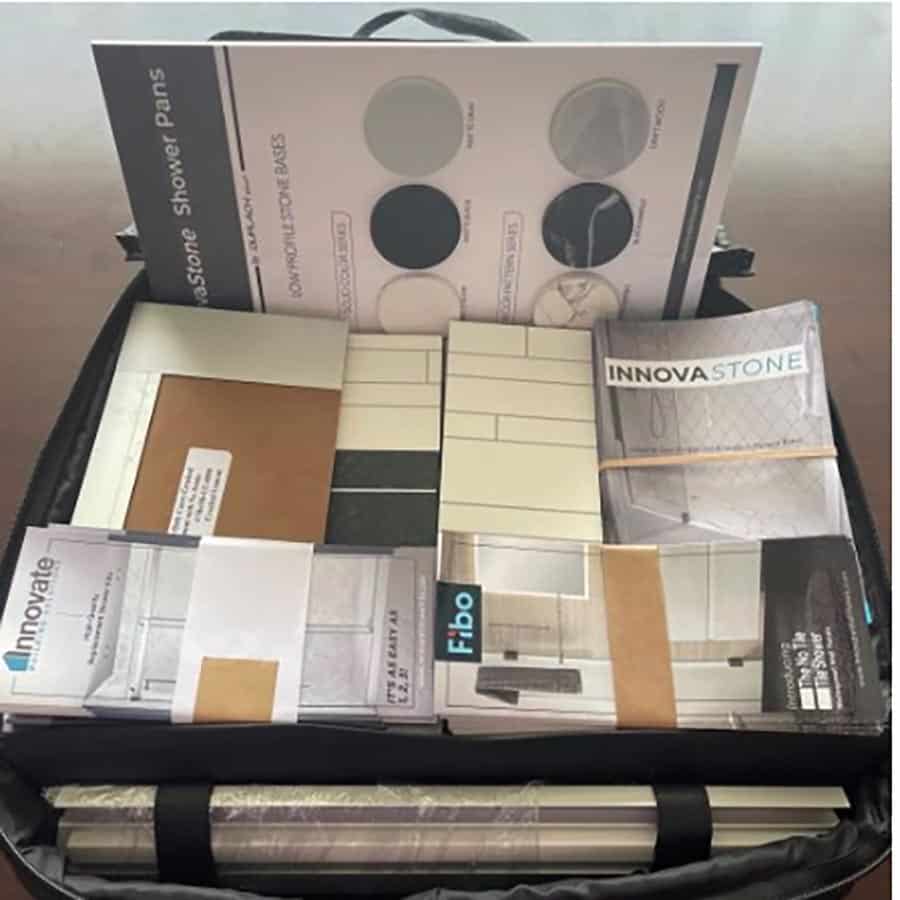 Do they have an in-home sales presentation to help build value in the selling process?
 Most people who start a remodeling business WERE NOT born salespeople! Most worked in the field, then ventured on their own and are 'hoping' their good looks (or maybe just OK looks), suave personality, and installation and product knowledge will win sales.


And while this may be god enough, it's not always enough to win over bigger, slicker, more professional competitors.
And I'll tell you many subcontract bathroom wall panels installers who are looking to go off on their own – can't believe how much money the companies they sub for today get. But they fail to realize, there's a reason for this. And its usually because they have professional selling (and marketing) systems.
If your 'good looks,' and job knowledge aren't winning you enough sales, maybe you need a company who can provide a system, a process, to be more successful selling. Ask if your supplier has a professional in-home sales presentation.
Do they have a dealer portal to find resources and order product?
 It's nice to order online and/or have the digital marketing resources at your fingertips any time of day (or night) you'd like. This is where a dealer portal comes in handy.
Do they offer you leads…or better yet free leads?
 Without leads you've got nothing.
And to be successful you need leads to get the 'party started.' So, ask your supply partner if they either have a paid (or better yet, free) lead program. How do they get these leads? What will they cost you?


Criterion #7 – What training do they offer?
All new dealers are 'needy.' And I don't say this in a negative way. However, when you're new, you'll need support to get started.
Ask if there's videos to learn about the products, how to sell vs. alternatives, and how to overcome sales objections.  
Ask what installation training is available. Can your installation team (or you if you're a one-man/one woman show) access this training 24/7 without spending a bunch of money coming into your supplier's home office?
Who can you call for help? Does your supplier have installers on staff who've done remodeling before, or are they simply a manufacturer who doesn't know as much about how to install and can 'bail you out' when a funky job bites you in the butt?
And after you're signed up as a dealer, will your account be 'pawned off' on a C.S.R. (Customer Service Rep) who doesn't know diddly about how things are done in the real remodeling world?


Criterion #8 – How easy are these panels to install? Can one person put up the panels?
Certainly, a big reason many bathroom remodeling contractors look to add wall panels to their offerings is to reduce installation time and improve the profitability of jobs. And when wall panels are installed quicker, this is a 'power boost' to your profits.
So, ask the following:
How long does the average wall panel installation take if you're doing a typical tub to shower conversion?
How many people are needed to put the panels up?
How heavy are the panels?
How wide/tall can you make a shower?
Are supplies included with the wall panels?
Read the written instructions (and yes, I'd know you'd rather get poked in the eye with a fork, than read the instructions!) and/or watch videos (if reading ain't your vibe) to see how the installation is done and frequently asked questions about the process.


Criterion #9 – How are these panels priced? What discounts are available to me?
Certainly, in the 'real world' pricing matters. But sometimes a manufacturer's 'packaging' of their pricing, can be designed to make it 'feel' like their systems are cheaper than they actually are.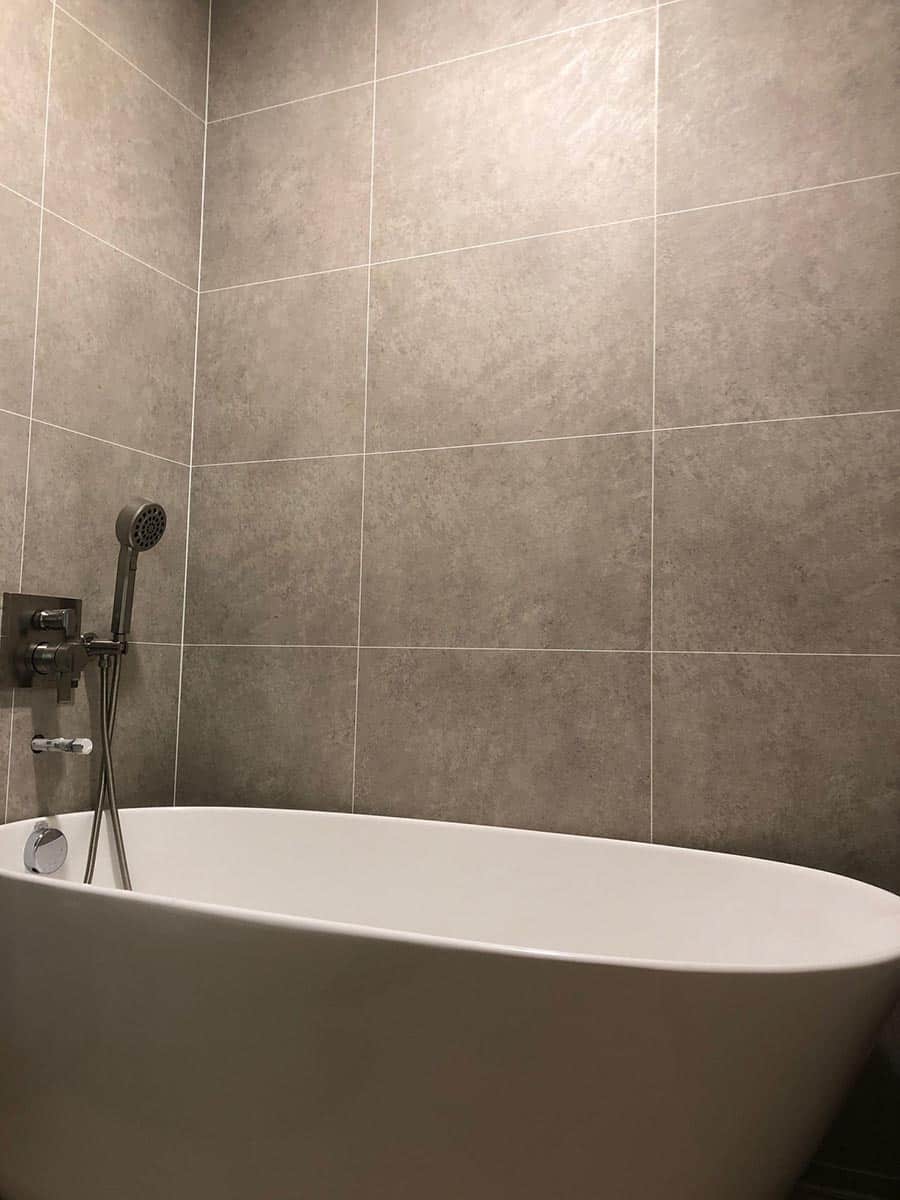 You need to ask the following to thoroughly research pricing:
What's included when I buy shower or bathtub wall panels? Will I get the sealants, trims, and adhesives I need?
Are there discounts for shipping multiple systems at the same time?
How does pricing vary with the pattern(s) of wall panels?
How are shipping costs computed?
Are there discounts if I'm a larger volume buyer?
How has inflation impacted pricing over the last few years?
Do you feel better equipped to choose a wall panel supplier? Can I answer your questions about laminate wall panels and the Innovate dealership program?
I hope this article has better equipped you – whether you're an existing remodeler looking to get into the wall panel market (or you're a sub looking to start your own business) – on how to evaluate wall panel suppliers.
And if you're a bathroom remodeler looking to grow your business with unique wall panels – I'd love to tell you more about our laminate wall panel dealership program (as well as lines of shower pans, glass doors, complete shower kits, and accessories). Call at 888-467-7488 or fill out the Become a Dealer form.
Thanks for reading (and putting up with my wacky personality)– Mike.
###
In addition, if you'd like to connect on LinkedIn, you'll find me https://www.linkedin.com/in/mikefoti/
---
Tags: bath visualizer tool, bathroom contractor opportunities, bathroom product supplier, bathroom wall panel suppliers, bathroom wall suppliers, be a wall panel dealer, dealer pricing wall panels, how to compare wall panels, in home wall panel presentation, Innovate Building Solutions, laminate shower panels, laminate wall panel suppliers, laminate wall suppliers, sales process wall panels, shower visualizer tool, shower wall panel supplier, wall panel competitors, wall panel dealer portal, wall panel dealership startup costs, wall panel dealerships, wall panel installation, wall panel lead time, wall panel pricing, wall panel sales kit, wall panel selection, wall panel suppliers, wall panel training
Mike Foti
Mike Foti is the President of Innovate Building Solutions.
Mike Foti
Mike Foti is the President of Innovate Building Solutions.