Welcome to Innovate Building Solutions…more than just a nationwide building material supplier or contractor.
We look to inspire, inform, and innovate your home remodeling designs.
Innovate Building Solutions
Who we help. How Innovate can help you.
It doesn't matter if your project is big or small – Innovate is here to help you. Here's some of the people we're honored to serve:
Homeowners– Whether you're looking for a single bathtub or shower surround, a couple of glass block basement windows, an elegant glass floor or a complete bathroom renovation – Innovate can wholesale products across the country to you. And if you live in Cleveland or Columbus Ohio – we'll install our innovative products for you as well.
Home builders and remodeling contractors – If you need a shower surround, one level wet room system or glass floor or bathroom glass block window – we can help. And if you're looking to grow your business ask about our 'become a dealer' program.
Architects and building owners for commercial or residential projects – Whether you need help choosing the best shower surround for a health club, bathroom products for a modular home, or glass block windows for a private residence, one of Innovate's trained designers will help you with the best products or installation systems for the job.
If you're remodeling your bathroom, looking to install a glass block window or shower wall, or desperately needing to replace deteriorated windows or doors – we recognize these are not projects you do every day. Towards this end our team at Innovate Building Solutions looks to help you in 3 ways:
Inspired designs – You're looking for ideas and insights to make your home or business live better, look better, and last longer.  Browse through the 'product' and 'services' pages to inspire your project.
Informed decisions – You want to make smarter decisions for a stylish, safe, and stress-free home. Visit our News from The Block blog or watch our 'down-to-earth' videos. You'll make better decisions. You'll save time and money.
Innovative choices – Whether you're looking for the hottest grout free shower wall panels, energy efficient windows and doors or an awe-inspiring glass floor or glass block shower, you'll find innovative choices you never knew existed in this site.
Why buy from Innovate Building Solutions?
You have options for shower and tub surrounds, shower bases, windows, and doors. So, why choose Innovate Building Solutions Here's 10 reasons (besides the fact our Mother's still love us):
Reason #1 – We're not rookies – With over 190,000 customers served since 1977, you'll know this isn't 'our first rodeo.'
Reason #2 – Award winning service – We've achieved a 4.9 out of 5.0 Google rating and won awards like Angie's List Super Service Award for countless years. Check out our service by clicking 'Google reviews.'
Reason #3 – We offer professional installation or simple-to-install DIY systems – We want to make your project simple and stress-free. Since we're not only a nationwide supplier (but also have a contracting business in Ohio) – we know 'tricks and tips' working with our products. These tips help save you time and effort on your project, even if you're buying products we wholesale or our DIYing the job).



Abbey shale laminate shower wall panels being installed




Reason #4 – We stand behind our products and processes (warranties to make you feel safe and secure) – Many of our products and installation processes have lifetime warranties. You'll rest easy choosing Innovate.




Reason #5 – We work hard to educate you – We understand a successful project begins with information and education. If you want to learn about bathroom remodeling, glass blocks or even fun products like glass floors you'll find over 575 articles in our News from The Block blog. We get over 200,000 visitors to our blog every month! What's maybe more amazing is I started writing these articles before I had gray hair.
Reason #6 – No pushy salespeople – Who likes high-pressure salespeople who are only focused on getting your money NOW? This would be no one! That's why our goal is to inform you, provide innovative solutions to your problems and let you decide without having to 'sign or buy today' or our amazing (quote/unquote) 'sale' will be gone forever. Our sales process begins by learning what you don't like about your existing space. We answer your questions. We provide straightforward answers (not technical mumbo-jumbo).  
Reason #7 – Large inventory of bathroom wall panels and glass products – Our warehouse and distribution centers in Cleveland and Columbus Ohio are stacked with 'ready-to-ship' or 'ready-to-install' bathroom wall panels, glass blocks and innovative shower products.
Reason #8 – We don't hide behind 'anything' and our menus HAVEN'T changed – Don't you hate when you call a company and can't talk to a 'live human being.' And second when you do finally get someone on the line– there's no way to personally call this person back when you have a problem or installation question? This is not how Innovate works. We'll not only share our first name and last names – but also our cell phone numbers you can call before, during or after your installation. We're here to help you. We're not hiding behind our 'menus' or abbreviated names.




Reason #9 – We 'go deep' in the products we sell and install- Our goal at Innovate Building Solutions is not to be 'all things to all people.' Our goal is to become the experts on the products we represent, learn them in depth so we provide insights which help you get a stylish, safe, and stress-free home or business. This is why we limit our offerings.  



Curved glass block shower with a solid surface base and rough wood pattern laminate shower wall panels




Reason #10 – We have a dealer network to help with your installation – We're asked all the time if we can come to install products in every town across the country. And even though our company doesn't have installers in every town across the United States – we have been growing a dealer network to help you on your projects.
Our History
"Before Innovate"
(1977) Innovate Building Solutions (which is the primary name we do business under today) wasn't even in our imagination when the business was founded in 1977. You see we started out as Cleveland Glass Block, a Cleveland Ohio based installer and distributor of glass blocks launched by my Dad – Joe Foti. Dad was an Italian immigrant to the United States who might not have had a lot of money, but he made up for it in ingenuity.
Dad saw an opportunity to grow the use of glass blocks beyond schools and factories and into the residential market for basement, bathroom windows and for shower partitions.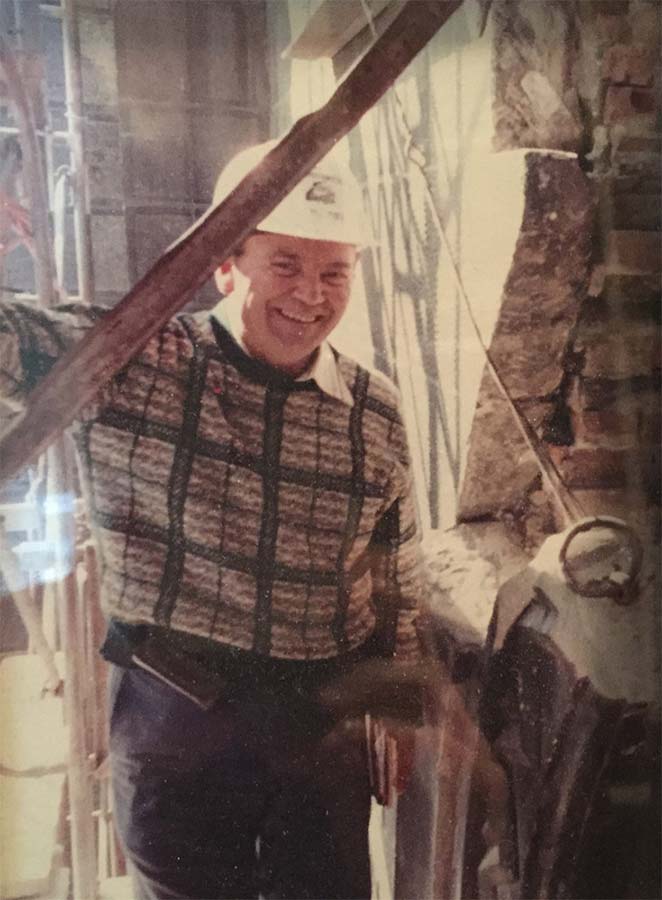 Joe Foti
His youngest son ('er me) wants to 'buy in'
(1985) As the saying goes the 'entrepreneurial apple doesn't fall far from the tree.' In 1985, (during my last semester finishing my MBA from Case Western Reserve University in Cleveland) I decided to do a Strategic Plan on my Dad's glass block business. I was working a corporate job in a manufacturing business in Cleveland at the time.
While doing the plan I thought Cleveland Glass Block had a lot of potential. I asked Dad to 'buy in.' He sold me half the business. He floated me the loan. And yes, I paid him back WITH INTEREST. I chucked my 3-piece suit and started wearing jeans more fitting for my entrepreneurial construction life.
And since I haven't introduced myself to you yet, I'm Mike Foti – President of Innovate Building Solutions and blogger behind News from The Block. And yes, I had zero gray hairs before getting into this business and starting this blog!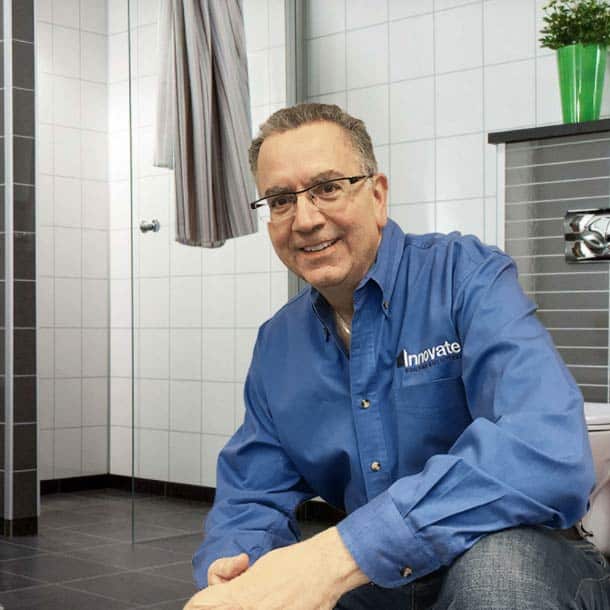 Mike Foti
We grow geographically. We add products and services. We sell our products nationwide
(1990) Opened West Side Glass Block. West Side Glass Block was started to provide local supply to Cleveland's 'West-siders.' We combined our East Side and West Side locations into our current home at 4566 East 71st St. in Cuyahoga Heights. 
(2002) We start offering vinyl replacement windows and doors. Many of our glass block basement and bathroom window customer asked for help with their upper floor vinyl replacement windows and doors. This resulted in us launching Cleveland Window and Door and Clear Choice Window and Door (in Columbus Ohio), regional window and door installation businesses.

(2007) We add a bathroom remodeling division. We go beyond window and door installations. When we opened our Bath Doctor division, we built the team to not only do the glass block bathroom window or shower wall installation – but remodel entire bathrooms. We knew this strategic direction would make it easier for our customers.
(2008) We start selling our glass block windows and shower walls nationwide. The growing popularity of glass block pre-made windows and walk in shower walls (and our work educating through blogging and videos) helped us build a nationwide market for our glass block walls and windows. We started a nationwide wholesale supply program.
Innovate Building Solutions is Born!

(2012) We bring all our brands together under one name – Innovate Building Solutions. As we saw our products and services used together (for projects we installed regionally and those we shipped nationally) we recognized the time had come to 'bring everything together' under one site and one name.
And since our goal is to offer innovative building products (not the 'same-old, same-old' building products most 'stuck-in-the-mud' contractors want to force you to use)– we chose the name Innovate Building Solutions. Our mission is to inspire, inform and help you innovate designs for your home or business.
Today, Innovate Building Solutions is about much more than products or services. Our overreaching goal is simply one thing…it's to help you!
Thanks for taking the time to learn about us. It's our pleasure to serve you. Call me any time.
Mike Foti
President, Innovate Building Solutions