Welcome to Bath Doctor…we're not your typical contractor. We're an educator, product innovator, installer and supplier rolled into one!
Improving your outdated or moldy shower or tub surround IS NOT something you do every day. When you're looking for a bath or shower remodeling contractor (or supplier) for your Cleveland or Akron home, one thing becomes perfectly clear… There's A LOT of companies and A LOT of products out there.
Bath Doctor
4566 East 71st St.
Cuyahoga Hts, Oh, 44105
Serving Cleveland (and the surrounding suburbs), Akron, Lorain, Elyria
So, how can you figure out if The Bath Doctor of Cleveland (or any other bath and shower remodeling or supply company for that matter) is right for you? Here's 3 factors to keep in mind.
Factor #1) – You'll want to know if this company has the right products and is ready, willing and able to do the project you're looking to have done. And I'll tell you right up front, Bath Doctor has projects (and products) which are 'right up our alley,' and other projects where we're simply not the best choice.
Factor #2) You'll want to know why other Cleveland homeowners have chosen your preferred company in the past.
Factor #3) – You'll want to research a company's history. NO ONE wants to be 'taken' by a 'fly-by-night' contractor or supplier.
Towards this goal, I'll explain who Bath Doctor helps and the products we offer to improve your home. Second, I'll look at reasons Cleveland and Akron homeowners have chosen The Bath Doctor. And lastly, I'll outline our history.
Who we help. What types of projects and innovative products The Bath Doctor offers
The Bath Doctor was created to help homeowners with any sized budget with these projects:
Whether you choose Bath Doctor as your contracting pro– or want to DIY and buy materials, you can take advantage of our volume buying discounts. You'll find these innovative materials in our 15,000 square foot showroom and warehouse at 4566 East 71st St. in Cuyahoga Hts. Ohio.
Why buy from Bath Doctor?
Whether you live in Walton Hills, Warrensville Heights, Willoughby, or Westlake, you have the same goal choosing a bath or shower remodeling contractor or supplier. You want a quality project, built to last, and designed to work for your needs. You also want it backed by a company who stands behind their work and products. Here's 10 reasons your neighbors have chosen the Bath Doctor division of Innovate Building Solutions as their bath or shower remodeling contractor or supplier.
Reason #1 – Innovate focuses on education and helping you make informed decisions –There's a lot to learn to make smart (and cost-effective) decisions for a bath or shower remodel. Innovate has a library of more than 400 articles and 45 videos to guide your selections and understanding of the process. Check out our News from The Block bathroom remodeling blog to educate yourself.
Reason #2 – No pushy salespeople – Nobody wants to deal with a salesperson 'pushing' products and demanding you buy today, or this 'deal of a lifetime' will be gone. This IS NOT how The Bath Doctor division of Innovate Building Solutions works. We educate. We guide you through the steps in replacing your existing tub or shower stall. We provide practical ideas to save money. It doesn't matter whether you need a safer or more stylish shower for ranch home in Rocky River or your colonial in Cleveland Heights, we're here to help.
Reason #3 – We're locally owned professionals in the remodeling and wholesale supply industry. We've served Clevelanders for 43 years– You've supported us, and we've appreciated the opportunity to serve you for 43 years (and have completed over 190,000 home improvement projects). We're locally owned and have done (or supplied) projects from Parma to Pepper Pike. If you choose The Bath Doctor your hard-earned dollars are staying in the local economy, not being siphoned off to an out-of-town franchise. We're accredited members of the Better Business Bureau and NARI (National Association of the Remodeling Industry).
Reason #4 – Low maintenance, high-style, safe products –The Bath Doctor (which leverages our nationwide buying power of our corporation, Innovate Building Solutions) has many choices of shower pans, roll in accessible showers, shower wall surrounds, glass systems and accessories to customize your tub surround or shower stall. The Bath Doctor has products for any budget.




Reason #5 – We work hard to educate you – We understand a successful project begins with information and education. If you want to learn about bathroom remodeling, glass blocks or even fun products like glass floors you'll find over 575 articles in our News from The Block blog. We get over 200,000 visitors to our blog every month! What's maybe more amazing is I started writing these articles before I had gray hair.
Reason #5 – Bath Doctor believes what you 'don't see' is every bit as important as what you do see – The construction of your shower base, the wall backer boards behind your shower or tub wall surrounds, and even the pipes buried underneath your shower pan are the 'backbone' of your project. We know this – and WILL NOT skimp on what you 'don't see.'
Reason #6 – Industry leading guarantees – Ask about lifetime guarantees on stylish laminate shower wall panels, ramped solid surface shower pans or glass block bathroom windows.


Reason #7 – The Bath Doctor won't rush to 'finish your project in a day' – You've seen the ads for franchise 'bathroom in a day' companies. It sounds fantastic to get your bath or shower replacement done in a day. But how can these companies get the job done that quickly? Here's how. They put new materials over old materials. At The Bath Doctor we don't take shortcuts which save us time in the short run but cause you problems (like mold behind the walls) in the long run. Quality bath and shower remodels don't use 'cover over' systems to get in and out in a day.
Reason #8 – Trained people – From our Vice President of Operations (who leads our installation crews) and has 35 years of experience to our Certified Aging in Place specialists, we're a specialized contractor and supplier in bathroom and shower design. This helps you not only get a quality project but saves money in the process.
Reason #9 – We offer flexible payment options – We know bath and shower remodels can become an immediate necessity if a family member has a sudden decline in health. We also know not everyone has pre-planned and budgeted for the job. It's for this reason we offer financing plans so you can make small monthly payments, yet still get the project done in the time frame you need.




Reason #10 – See your products in person, on your screen or in our showroom – Innovate wants to make it simple for you to see your options. Towards this end we'll do a personal Bath or Shower Design Appointment at your home, or a virtual consultation, or you can see our shower and tub displays in person at our showroom at 4566 East 71st St. Cuyahoga Hts. Oh, 44105.
Our History
(1977) Our company was started in the Flats area of Cleveland. It started in the garage of a commercial masonry company owned by my late father Joe Foti, who was an Italian immigrant to this country. We were launched as a glass block company some of you may have used – and still operate under the name of our 'flagship' business – Cleveland Glass Block.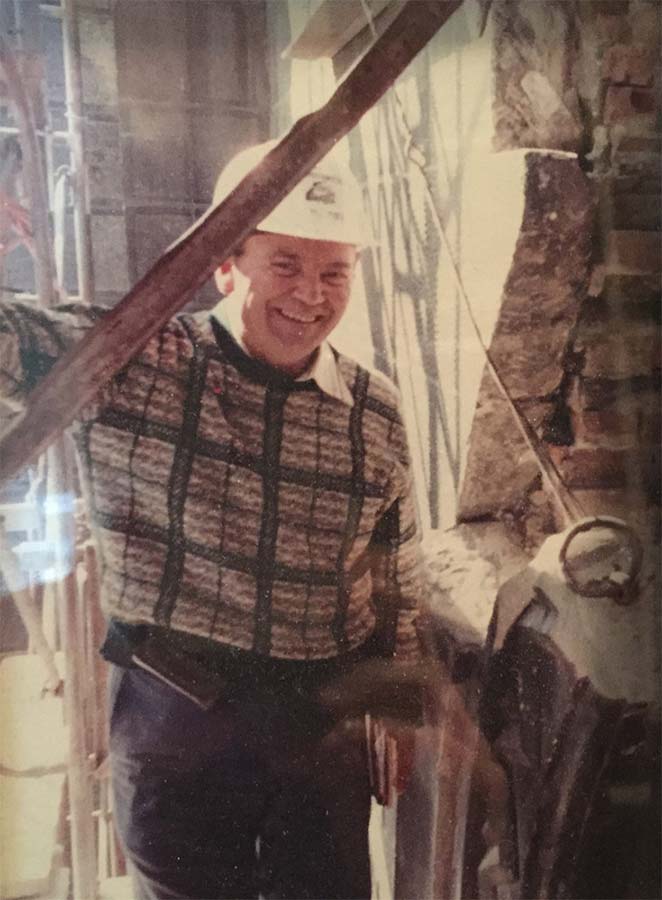 Joe Foti
His youngest son ('er me) wants to 'buy in'
(1985) As the saying goes the 'entrepreneurial apple doesn't fall far from the tree.' In 1985, (during my last semester finishing my MBA from Case Western Reserve University in Cleveland) I decided to do a Strategic Plan on my Dad's glass block business (note we didn't do bathrooms at this time). I was working a corporate job in Cleveland at the time.
While doing the plan I thought Cleveland Glass Block had a lot of potential. I asked Dad to 'buy in.' He sold me half the business. He floated me the loan. And yes, I paid him back WITH INTEREST. I chucked my 3-piece suit and started wearing jeans more fitting for my entrepreneurial construction life.
And since I haven't introduced myself to you yet, I'm Mike Foti – President of Innovate Building Solutions (which includes our Bath Doctor division). I'm also the blogger behind News from The Block. And yes, I had zero gray hairs before getting into this business and starting this blog!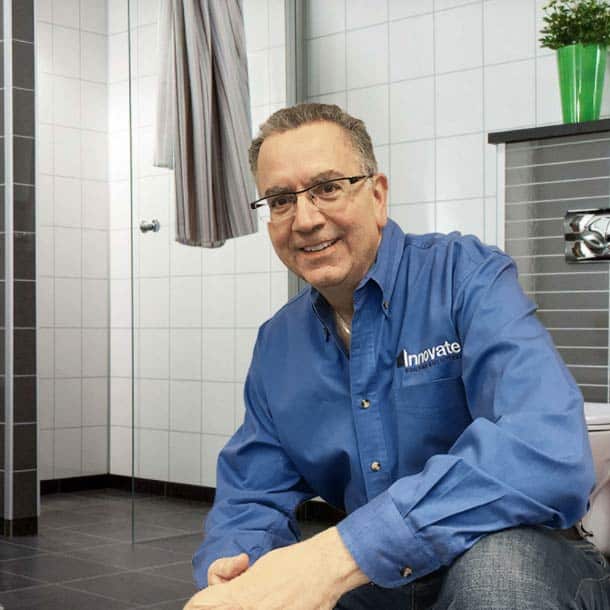 Mike Foti
We add products and services to help Clevelanders with more projects
(2002) We start offering vinyl replacement windows and doors. Many of our glass block basement and bathroom window customers asked for help with upper floor vinyl replacement windows and doors. This resulted in us launching Cleveland Window and Door and Clear Choice Window and Door (in our Columbus Ohio location).

(2007) We add a bathroom remodeling division. We go beyond window and door installations. When we opened our Bath Doctor division, we built the team to not only do the glass block bathroom window or shower wall installations – but remodel bath and shower 'wet spaces.' This makes coordination of a bath or shower remodel easier for you.
(2008) We start selling our glass block windows and shower and tub wall panels, bases, and glass systems nationwide. The growing popularity of grout free shower wall panels, sturdy shower bases, glass enclosures and glass blocks (and our work educating through blogging and videos) helped us build a nationwide market. We started a nationwide wholesale supply program. This has helped our local Cleveland remodeling customers with better prices and a wider range of innovative products.

(2012) We bring all our brands together under one name – Innovate Building Solutions.
As we saw our products and services used together (for products we install and wholesale regionally and those we shipped nationally) we recognized the time had come to 'bring everything together' under one site and one name.
And since our goal is to offer innovative building products (not the 'same-old, same-old' building products most 'stuck-in-the-mud' contractors want to force you to use)– we chose the name Innovate Building Solutions.
We've kept our local names to respect our history and make it easier for 180,000 past customers to find us. And in the end, here's what you need to know, The Bath Doctor (and our overall brand, Innovate Building Solutions) is about much more than a single product or service. Our overreaching goal is simply one thing…
Today, Innovate Building Solutions is about much more than products or services. Our overreaching goal is simply one thing…it's to help you!
Thanks for taking the time to learn about us. It's our pleasure to serve you. Call me any time.
Mike Foti
President, Innovate Building Solutions