Sliding Patio Doors
in Cleveland & Columbus Ohio
Is your sliding patio door hard to open? Is the glass fogged ? Do you worry about how your door latches and your family's safety? Is the weather-stripping so bad you feel cold and heat come in as if there's no door there at all? If so consider replacement sliding glass patio doors for your Cleveland or Columbus home. In this page you'll learn how new replacement sliding glass patio doors, or hinged French doors improve the looks of your home, increase light and ventilation, reduce heating and cooling bills, and improve security.
Large views to the outside . These doors range from 36" to 143" wide to 96" high and are all glass (with the exception of the frame). They provide excellent views to your backyard or sideyard. 
Designs to fit any style home. Patio doors open your home to your outdoor spaces, and add function to a contemporary, traditional or transitional home.And with grid and glass patterns, you'll find a sliding glass patio door which adds to the interior decor and architectural style. 

Increase privacy – If you want light, but also more privacy, ask about tinted glass or interior blinds. 
Reduced heating and cooling costs vs. old single-pane aluminum sliding doors. Most old aluminum doors only have single-pane glass and  seals worn from years of service. A vinyl, fiberglass, or wood-clad vinyl replacement patio door saves significant energy costs vs. old sliding patio doors. Ask about Energy Star Certified glass packages for the best energy cost-savings. 
Improved security. Multi-point locks and foot-operated dead bolts increase family safety.
Easy entry and exit.  French or sliding patio doors gives you access to decks, gardens,  or swimming pools from the kitchen or dining room. These doors allow your family and guests a quick and convenient way to enjoy the outdoors.
Increased ventilation. Sliding glass patio doors provide fresh air and ventilation in your kitchen or dining room, getting quickly rid of cooking smells. 

Saves space – A sliding patio door (which doesn't open into your home), and moves in a track from side to side, is a perfect door in kitchens, dining rooms and living rooms which are smaller than you'd like. 
Larger feeling rooms full of natural light. The large expanse of glass in patio doors makes a room feel larger while increasing light . Ask about 'clear-view' screens for improved views . 
Higher resale value and enhanced curb appeal. New sliding glass patio doors add to the appeal of any side of your home. 
Patio Door Features & Uses
Features vary by manufacturer and can include
Vertical multi-chamber mainframe and door panel extrusions are reinforced with aluminum for extra rigidity. Frames are fusion-welded at corners for added strength.
Vertical main frames are injected with foam for improved thermal efficiency.
Mainframe and sashes will never chip, peel, crack, or warp.
White pine wood mainframe combined with vinyl cladding provides an energy-efficient barrier for the door.
Triple weatherstripping where door panels and main frame extrusions meet creates a weather tight seal.
Insulated double-strength safety glass is standard.
Strong, extruded aluminum screens come in multiple colors.
Energy Star insulated glass packages reduce energy costs.
Multi-point security locks and foot operated dead bolt locks are available to improve security.
Smooth-gliding, solid steel, zinc-plated rollers give a smooth operation.
Doors are available in 2 lite (5', 6', and 8' wide), 3 lite (9' wide), and 4 panel (12' wide) designs.
Doors come with a limited lifetime warranty.
High-Performance Door Frames
Steel-reinforced jamb (side) for extra security,
Rot-resistant composite door bottom,
4" x 10" composite lock block for increased strength, and
Steel-reinforced strike plate for additional security.
Continuous sill across base of entire door gives a better fit and prevents leaks.
Steel-edged door perimeter provides greater stability and strength vs. a wood door.
Ball-bearing hinges give smoother operation and increased durability.
Doors are available in two- and three-panel designs from 60" to a maximum of 108" wide.
Sliding Patio Door Design Options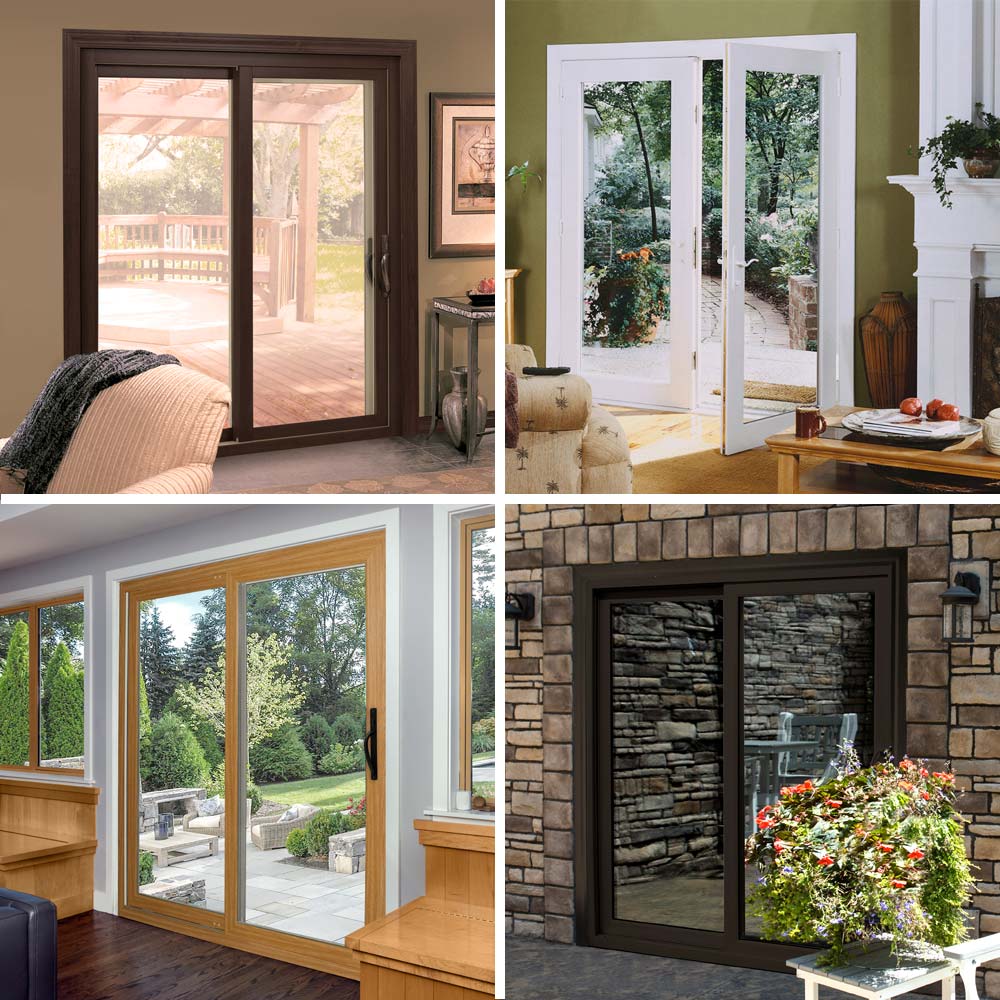 Selection of door designs
Our wide selection of sliding doors and french doors suit many different décor styles.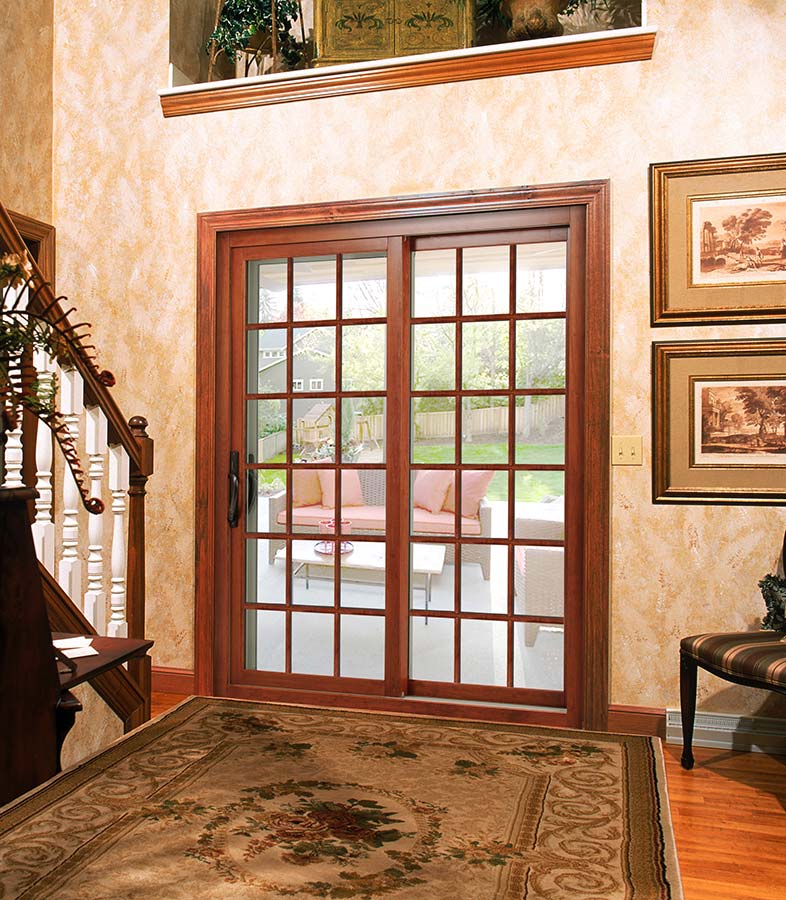 interior grids or cut glass
Match your glass sliding door to your other windows with decorative internal grids or cut glass in multiple colors and stains.
Inspirations Art Glass (ProVia line)
Choose from seven door styles and five designer color palettes to make your door a work of art.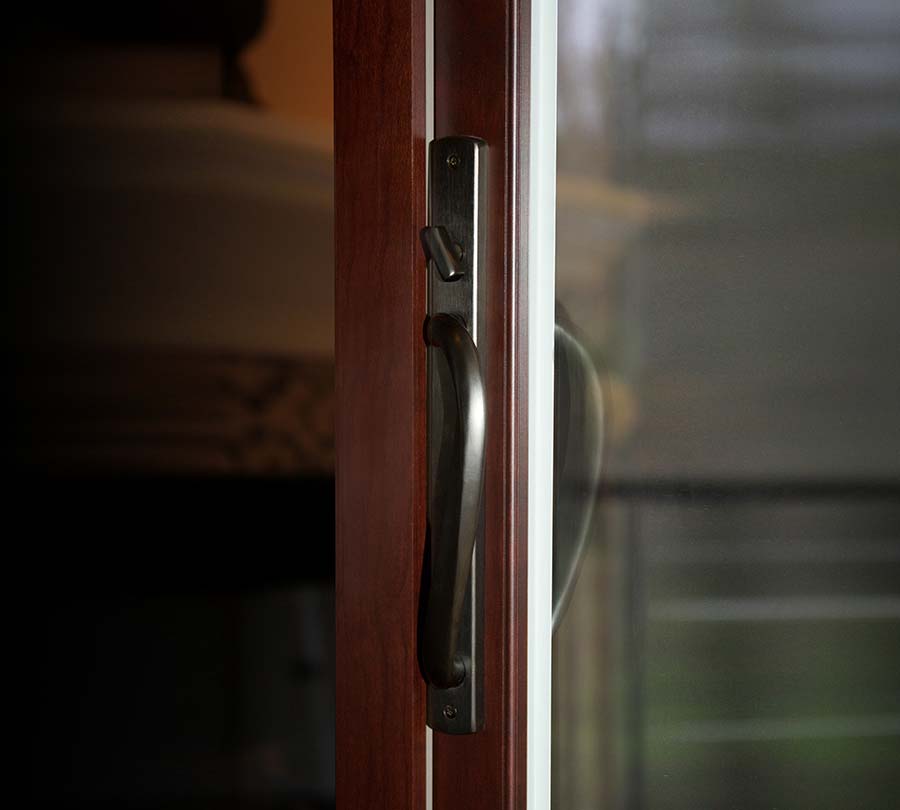 Distinctive hardware
Handle sets are available several styles and colors.
Multiple paint and stain options
Choose from either a painted or stained door with over 20 color options. Or order the door factory-primed to apply your own finishing touch.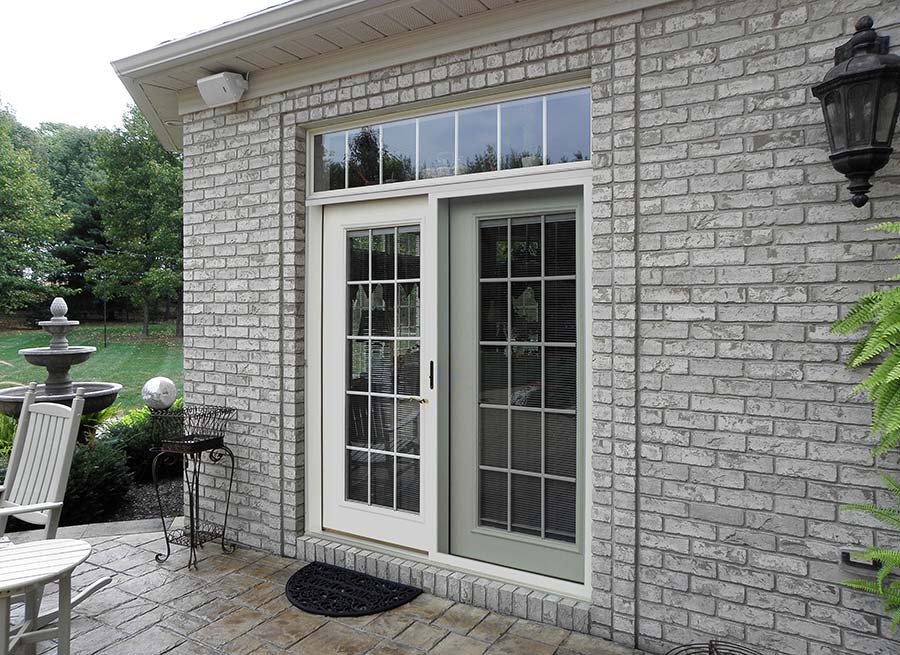 Transom windows
This option can be added over 3' doors, double doors, or doors with sidelights.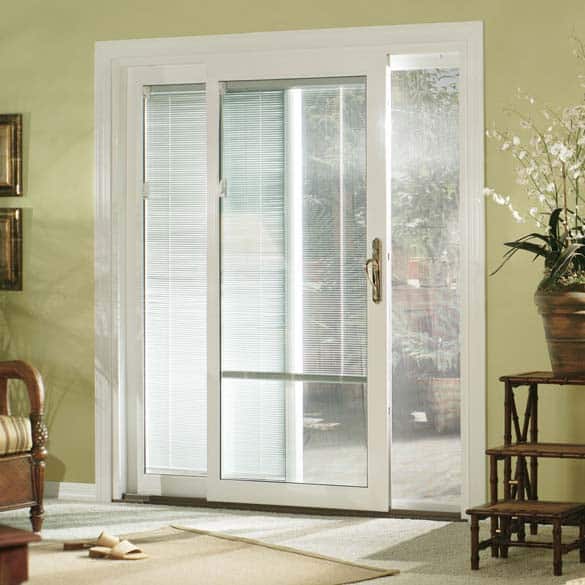 Internal tilt mini blinds
Mini-blinds that raise and tilt can be added into the tempered safety glass doors, eliminating the need for dusting and the rattling of blinds against the door.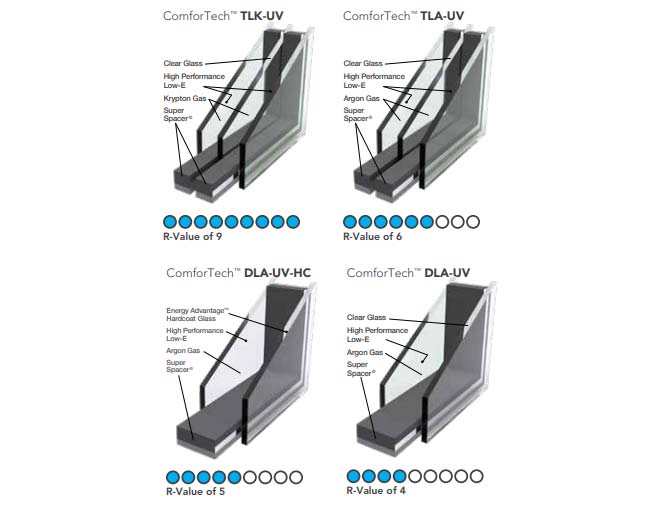 Upgraded glass packages
Opting for a glass upgrade will lower home heating and cooling costs by increasing energy efficiency. R values can be as high as 9 in the ProVia line.
Frequently Asked Questions
About Sliding Patio Doors
Why choose Cleveland Window and Door as your sliding patio door contractor and supplier?
Whether you live in Shaker Heights, Strongsville, or Solon, or Grandview, Gahanna, or Groveport, we know there's no lack of companies you can hire to install your sliding glass patio doors. And we know you want quality project, built to last, and designed to work for your needs. You also want it backed by a company who stands behind their work. Here's 10 reasons your neighbors have chosen Cleveland Window and Clear Choice Window and Door for their French or sliding glass patio doors.
Reason #1 – No pushy salespeople – Nobody wants to deal with a salesperson 'pushing' products and demanding you buy today, or this 'deal of a lifetime' will be gone. This IS NOT how Cleveland Window and Clear Choice Window and Door works. We educate. We guide you through the steps in replacing patio doors. We provide practical ideas to save money. It doesn't matter whether you need to replace a patio door which barely opens in a ranch in Rocky River or to replace worn out aluminum door in Whitehall, we're here to help.    
Reason #2 – We're locally owned professionals in the remodeling industry. We've served 190,000 customers in Cleveland, Akron and Columbus Ohio. We've been around for 43 years and installed over 1,000,000 windows and doors– You've supported us, and we've appreciated the opportunity to serve you for 43 years. During this time, we've completed over 190,000 home improvement projects. We're locally owned and have done projects from Mentor to Medina and from Westerville to Worthington. If you choose Cleveland Window and Clear Choice Window and Door your hard-earned dollars are staying in the local economy, not siphoned off to an out-of-town franchise. We're accredited members of the Better Business Bureau and NARI (National Association of the Remodeling Industry).
Reason #3 – Low maintenance, high-style and safe vinyl, fiberglass, and vinyl-clad wood glass patio doors –Cleveland Window and Clear Choice Window and Door offers many energy efficient and decorative glass options, handle set finishes and door styles. We have products for any budget from a fancy French door to a no-frills white sliding vinyl patio door for the side of your home.
Reason #4 – We believe what you 'don't see' is every bit as important as what you do see – The insulation used around your door, careful measuring to ensure the best fit, and installing long-lasting products are small things which make a big difference in how your door performs. We know this – and WILL NOT skimp on what you 'don't see.'
Reason #5 – We focus on education and helping you make informed decisions –There's a lot to learn to make smart (and cost-effective) decisions for a sliding glass door for your side or backyards. Innovate has a library of more than 400 articles and 45 videos to guide your selections and understanding of various home improvement projects. Check out our News from The Block blog to educate yourself.
Reason #6 – Industry leading guarantees – Ask about our industry-leading lifetime guarantees on sliding and French patio doors. We represent quality manufacturers (ProVia and Polaris) who've been around. They'll support your door for the long run.
Reason #7 – We offer flexible payment options – We know new doors can be a big expense. We also know not everyone has pre-planned and budgeted for the job. It's for this reason we offer financing plans so you can make small monthly payments, yet still get the project done in the time frame you need.
Reason #8 – A 'one-stop-shop' for all your window and door needs – With Cleveland Window and Clear Choice Window and Door you'll be not only be able to get a high-quality door, but also vinyl replacement windows and glass block windows. There's no need to waste time trying to find the right contractor to handle all your window and door needs. You're safe with us.
Reason #9 – Cost-effective door pricing – Our philosophy is not to be the biggest door company in the market, it's to provide the best value for your money. Towards this end we ARE NOT big spenders in advertising to 'get in the door' (no pun intended) and use high-pressure sales tactics to get jobs closed today. We concentrate on working with our past customers and referrals and offer a wide variety of products at fair prices. You'll find our lower sales and marketing costs allow us to be more competitive than 'big companies' like Pella, Renewal by Anderson, Rosati and Champion.
Reason #10 – A wide variety of products – Our philosophy is to offer a wide range of products from high-quality manufacturers like Polaris and ProVia. These offerings suite any size budget or project.
A Trustworthy Patio Door Installer in Cleveland and Columbus Ohio
Cleveland Window & Door or Clear Choice Window & Door (in Columbus) can professionally install any entry door in your home—and give you the peace of mind of a company who has installed over 1,000,000 doors and windows since 1977.
Click map markers for service area info
4566 East 71st St.
Cuyahoga Hts, OH, 44105
Serving greater Cleveland, Lorain, Elyria, Akron & surrounding areas
3091 East 14th ave.
Columbus, OH 43210
Serving greater Columbus, Zanesville & surrounding areas