Welcome to Clear Choice Window & Door…we're not your typical 'window and door contractor.' We're an educator and professional installer rolled into one!
Improving your drafty or deteriorated windows and sliding glass doors IS NOT something you do every day. When you're looking for a vinyl replacement window or sliding door contractor for your Columbus home, one thing becomes perfectly clear… There's A LOT of companies and A LOT of products out there.
Clear Choice Window & Door
3091 East 14th Ave.
Columbus, OH, 43219
Serving Columbus (and the surrounding suburbs) with replacement windows and installation
So, how can you figure out if Clear Choice Window and Door (or any other company for that matter) is right for you? Here's 3 factors to keep in mind.
Factor #1) – You'll want to know if this company has the right windows and is ready, willing and able to do the project you're looking to have done. Is the company you're considering a 'one-size-fits-all' contractor who will use high pressure sales tactics who tells you they have the 'one and only' solution to your window or patio door problems?
Factor #2) You'll want to know why other Columbus homeowners have chosen this company in the past.
Factor #3) – You'll want to research a company's history. NO ONE wants to be 'taken' by a 'fly-by-night' contractor who promises you the moon but is nowhere to be found if you need service down the road.
Towards this goal, I'll explain who Clear Choice Window and Door helps, and the products we offer to improve your home. Second, I'll look at reasons Columbus homeowners have chosen us to help on their projects. And lastly, I'll outline our history.
Who we help. What types of projects and innovative products does Cleveland Window and Door offer?
Clear Choice Window and Door was created to help homeowners with any sized budget with these projects:
Why buy from Clear Choice Window & Door?
Whether you live in Worthington, Westerville, or Whitehall (or anywhere in Central Ohio for that matter), we know there's no lack of companies you can hire to do your vinyl replacement windows and sliding patio doors. And we know you want quality project, built to last, and designed to work for your needs. You also want it backed by a company who stands behind their work. Here's 10 reasons your neighbors have chosen Clear Choice Window and Door for their vinyl replacement windows and sliding patio doors.
Reason #1 – No pushy salespeople – Nobody wants to deal with a salesperson 'pushing' products and demanding you buy today, or this 'deal of a lifetime' will be gone. This IS NOT how Clear Choice Window and Door works. We educate. We guide you through the steps in replacing your windows and doors. We provide practical ideas to save money. It doesn't matter whether you need an easier to open window for a ranch home in Powell or to replace your deteriorated wood windows or sliding patio door in your colonial in Canal Winchester, we're here to help.   
Reason #2 – We're locally owned professionals in the remodeling industry. We've served 190,000 customers. We've been around for 43 years and installed over 1,000,000 windows– You've supported us, and we've appreciated the opportunity to serve you for 43 years. During this time, we've completed over 190,000 home improvement projects in Ohio). We're locally owned and have done projects from Granville to Grove City. If you choose Clear Choice Window and Door your hard-earned dollars are staying in the local economy, not siphoned off to an out-of-town franchise. We're accredited members of the Better Business Bureau and NARI (National Association of the Remodeling Industry).
Reason #3 – Low maintenance, high-style, safe vinyl, steel or fiberglass window and door products –Clear Choice Window and Door offers many glass packages, colors, decorative glass options and architectural window and sliding patio door features. We have products for any budget (from fancy to no-frills).




Reason #4 – We believe what you 'don't see' is every bit as important as what you do see – The insulation used around the sides of your window or door, measuring each product for proper fit, and having a sturdy product are small things which make a big difference in how your windows and doors perform for you. We know this – and WILL NOT skimp on what you 'don't see.'
Reason #5 – Clear Choice Window and Door focuses on education and helping you make informed decisions –There's a lot to learn to make smart (and cost-effective) decisions for a replacement window and patio door project. We have a library of more than 400 articles and 45 videos to guide your selections and understanding of various home improvement projects. Check out our News from The Block blog to educate yourself.
Reason #6 – Industry leading guarantees – Ask about our industry-leading lifetime guarantees on vinyl replacement windows and doors.
Reason #7 – We offer flexible payment options – We know new windows and doors can be a big expense. We also know not everyone has pre-planned and budgeted for the job. It's for this reason we offer financing plans so you can make small monthly payments, yet still get the project done in the time frame you need.


Reason #8 – A 'one-stop-shop' for all your window and door needs – With Clear Choice Window you'll be able to get all the windows and doors completed for your home at one time. Whether it's first floor, second floor or even glass block basement windows through our Columbus Glass Block division, you'll know you're safe with us.
Reason #9 – Cost-effective window and door pricing – Our philosophy is not to be the biggest window and door company in the market, it's to provide the best value for your money. Towards this end we ARE NOT big spenders in advertising to 'get in the door' (no pun intended) and use high-pressure sales tactics. We concentrate on working with our past customers and referrals and we offer a wide variety of products at fair prices. You'll find our lower sales and marketing costs allow us to be more competitive than 'big companies' like Pella, Renewal by Anderson, and Champion.
Reason #10 – A wide variety of products – Our philosophy is not to sell one manufacturer but to offer a wide range of products from manufacturers like Alside, Polaris, Larson and ProVia. These offerings suite any size budget or project.
Our History
(1977) Our company was started in the Flats area of Cleveland. It started in the garage of a commercial masonry company owned by my late father Joe Foti, who was an Italian immigrant to this country. We were launched as a glass block company some of you may have used – and still operate under the name of our 'flagship' business – Cleveland Glass Block.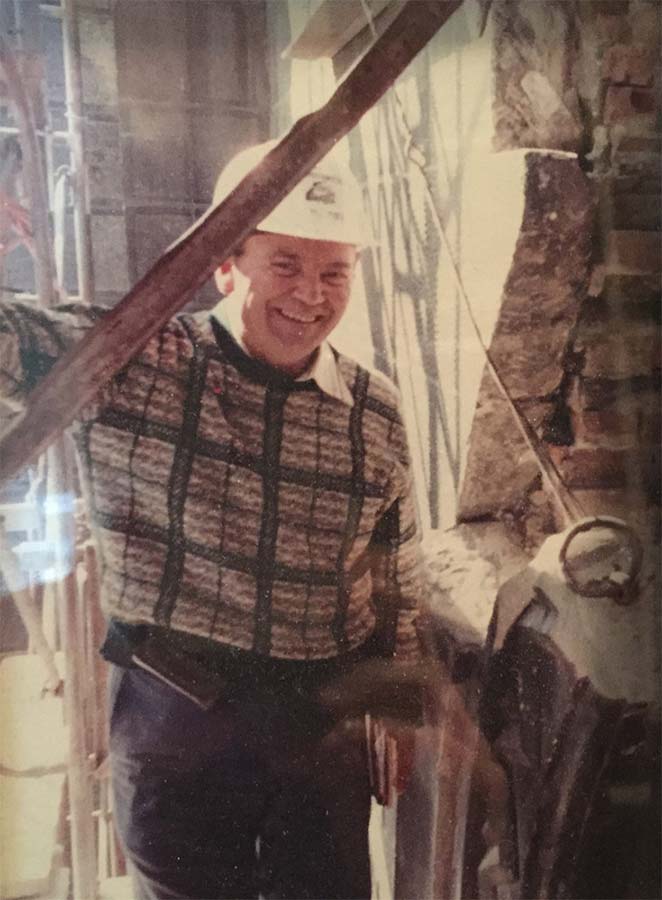 Joe Foti
His youngest son ('er me) wants to 'buy in'
(1985) As the saying goes the 'entrepreneurial apple doesn't fall far from the tree.' In 1985, (during my last semester finishing my MBA from Case Western Reserve University in Cleveland) I decided to do a Strategic Plan on my Dad's glass block business (note we didn't do upper floor vinyl replacement windows and doors at this time). I was working a corporate job in Cleveland at the time.
While doing the plan I thought Cleveland Glass Block had a lot of potential. I asked Dad to 'buy in.' He sold me half the business. He floated me the loan. And yes, I paid him back WITH INTEREST. I chucked my 3-piece suit and started wearing jeans more fitting for my entrepreneurial construction life.
And since I haven't introduced myself to you yet, I'm Mike Foti – President of Innovate Building Solutions (which includes our Cleveland Window and Door division). I'm also the blogger behind News from The Block. And yes, I had zero gray hairs before getting into this business and starting this blog!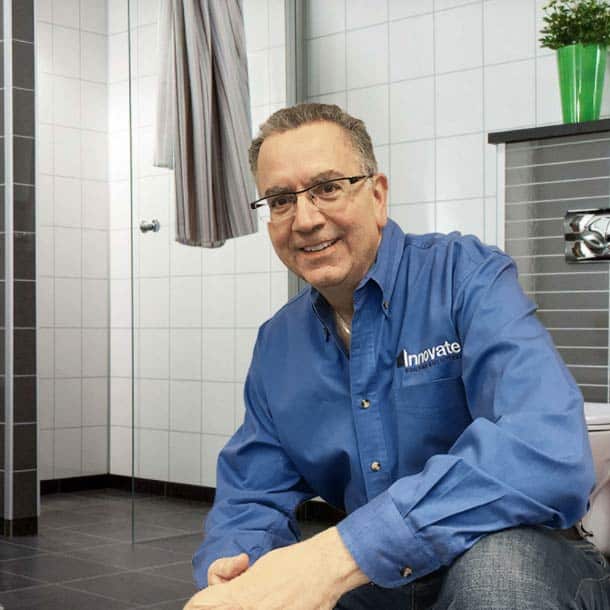 Mike Foti
We add products and services to help Clevelanders with more projects
(1988) We open Columbus Glass Block. Columbus Glass Block (which is the largest supplier and installer of glass blocks in Central Ohio) was launched in Central Ohio to provide a local source for high-security and stylish basement and bathroom windows. This brand is the most highly recognized company in its product category today.
(2002) We start offering vinyl replacement windows and doors. Many of our glass block basement and bathroom window customers asked for help with upper floor vinyl replacement windows and doors. This resulted in us launching Clear Choice Window and Door. This division makes it simpler for our customers to get their windows and doors done without 'looking all over town' for them.

(2007) We add a bathroom remodeling division. We go beyond window and door installations. When we opened our Bath Doctor division, we built the team remodel bath and shower 'wet spaces' and add any bath and shower windows needed at the same time. This multi-product coordination makes a bathroom remodel simpler for you.
(2008) We start selling our glass block windows and shower and tub wall panels, bases, and glass systems nationwide. The growing popularity of grout free shower wall panels, sturdy shower bases, glass enclosures and glass block bathroom windows (and our work educating through blogging and videos) helped us build a nationwide market. We started a nationwide wholesale supply program. This has helped our local Columbus window and door customers with better prices and a wider range of innovative products.

(2012) We bring all our brands together under one name – Innovate Building Solutions.
As we saw our products and services used together (for products we install and wholesale regionally and those we shipped nationally) we recognized the time had come to 'bring everything together' under one site and one name.
And since our goal is to offer innovative building products (not the 'same-old, same-old' building products most 'stuck-in-the-mud' contractors want to force you to use)– we chose the name Innovate Building Solutions.
We've kept our local names to respect our history and make it easier for 180,000 past customers to find us. And in the end, here's what you need to know, The Bath Doctor (and our overall brand, Innovate Building Solutions) is about much more than a single product or service. Our overreaching goal is simply one thing…
Today, Innovate Building Solutions is about much more than products or services. Our overreaching goal is simply one thing…it's to help you!
Thanks for taking the time to learn about us. It's our pleasure to serve you. Call me any time.
Mike Foti
President, Innovate Building Solutions