Sliding Replacement Windows
in Cleveland & Columbus Ohio
Why put up with sliding or gliding windows which are hard to open, don't seal well or rattle from side to side? New vinyl slider windows not only give you the large unobstructed views , but are also more energy efficient and water-tight than old aluminum, wood or steel units in most homes today.
Easy to operate. Sliding windows move along tracks with dual brass rollers. This makes them easy to open and close. And for members of your family who lack strength or dexterity, a sliding vinyl replacement window can be the perfect choice. 
Durability and longevity. Gliding windows don't need operable cranks (like casement or awning windows) or springs or pulleys (like found in older double hung windows). Sliding windows simply glide along an inside track, which improves performance .

A perfect solution for hard to reach windows – Slider windows are perfect behind a soaking tub or kitchen window which is tough to reach. 
Increased airflow and views . This window fits in the space of a single, double, or triple sized window (horizontal in design) and offers great views with the advantage of airflow.
Affordability. Due to its simple design, a sliding window is less costly to manufacture and less expensive than casement style windows.
Energy efficiency. Vinyl sliding windows can replace old storm windows, eliminating the difficult task of taking down, cleaning, and storing the storm windows each year.
Sliding Window Features & Uses
Product Features
Sliding windows from Cleveland Window and Door and Clear Choice (in Columbus) have these features:
Vinyl frames and sashes that won't crack, chip, or peel
Fusion-welded frames and main structures for strength and rigidity (available on most models)
"Swing and clean" sliding window has sashes that tilt in for easy cleaning
Insulated glass and warm edge spacer system
Hidden screen track has clean lines and adds modern beauty
Multi-chamber sash and mainframes for improved energy efficiency
Theft-deterrent locks for security and an airtight seal
Half window screens (standard) and full window screens (optional)
Sloped sills that drain water to the outside
Double barrier weatherstripping for improved protection from air and water entering
Can be manufactured in a wide range of sizes
Sliding Window Design Options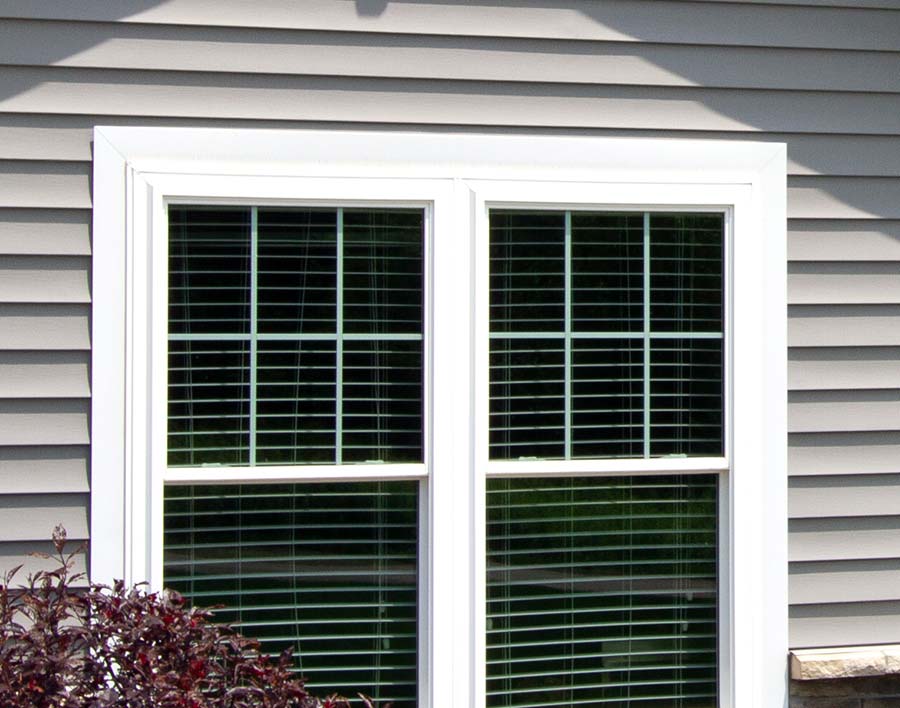 Decorative grids and grilles
Grids placed inside insulated glass keep window cleaning simple. Various options include Colonial, Diamond, Prairie, Double Prairie and Mid-Century Modern styles.And if you want to change colors of your grided windows down the road, external grids will be the way to go.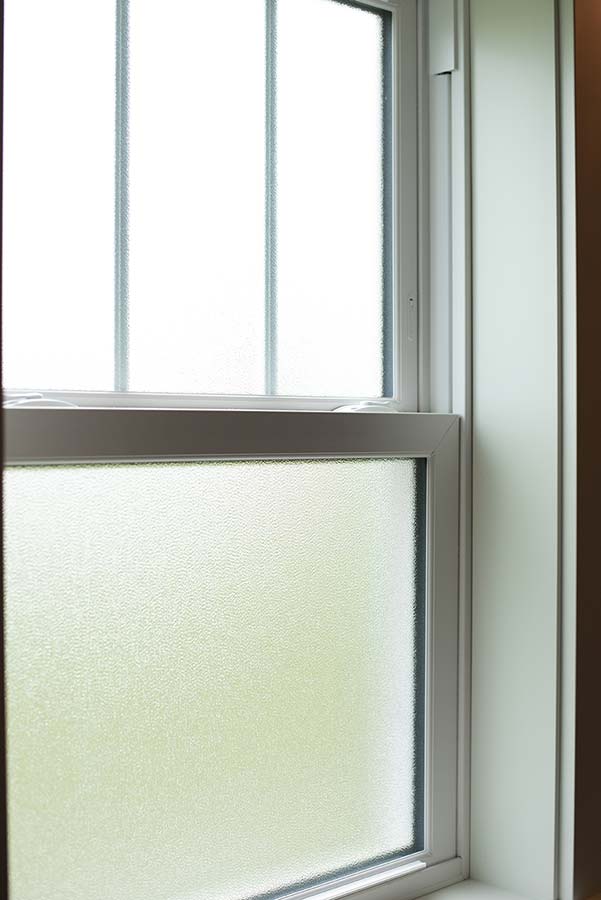 High privacy glass
While getting air flow is critical, so is maintaining your privacy…..especially in bathroom windows. This is where high privacy glass is perfect.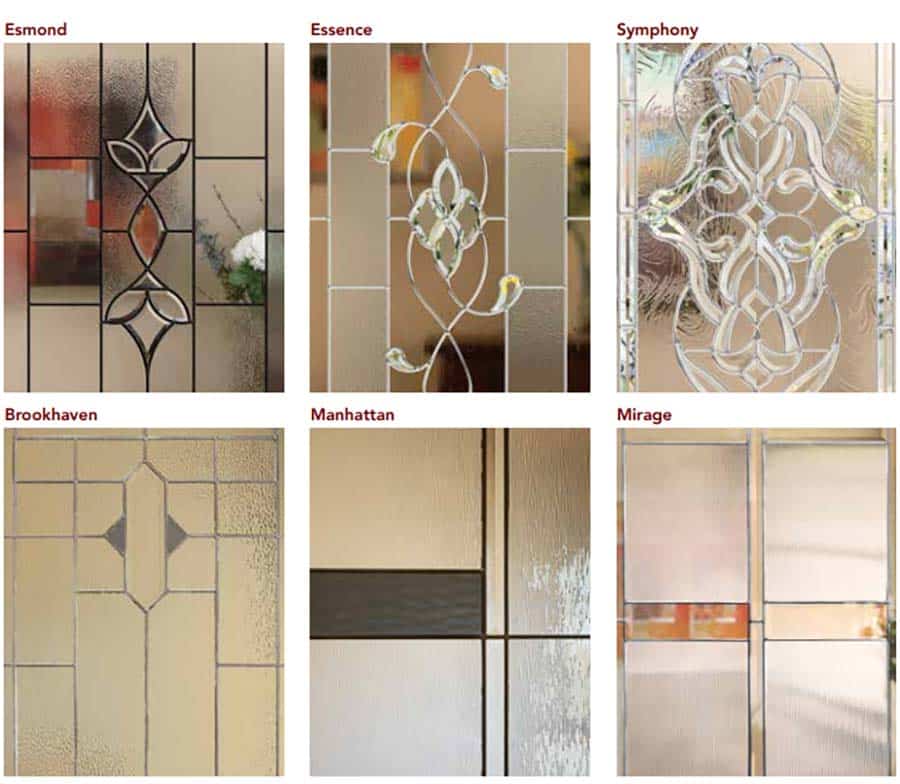 Decorative glass
Use decorative glass to make personalization (and architectural decor) come to life in your replacement windows. Create a one-of-a-kind look with different color caming and artistic glass designs.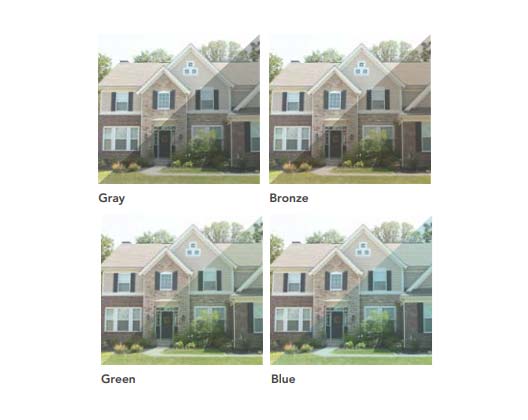 Tinted glass
If you're looking to reduce the harmful affects of UV light and solar heat gain impacting expensive living and dining room furniture, then tinted glass is an option to put on your wish list. Choose from gray, bronze, green or blue tinted glass.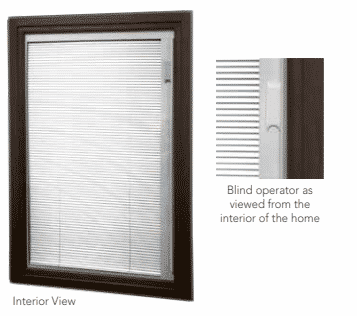 Internal tilt mini blinds
Blinds placed inside the window never need to be cleaned and provide shade from the sun. It's cool not to have to hassle dusting blinds in front of your windows!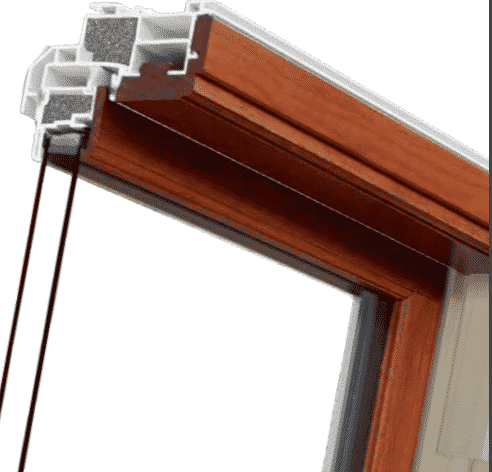 Wood grain interior veneer finishes
We offer a wide range of interior wood grain looks to complement any décor. Options vary per window type and include light, medium, and dark oak, cherry, and foxwood. Why have a generic window when you can add style to your home? And if you want the ultimate in high-end style our vinyl clad wood windows will give you the 'best of both worlds.' The low maintenance benefit of a vinyl frame, with the rich, warm look of stained or painted wood on the inside.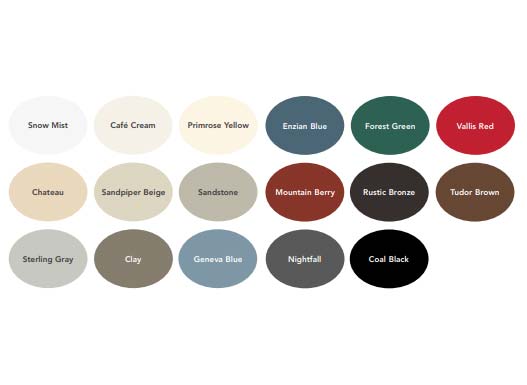 Exterior paint or vinyl frame colors
Choose colors to match or contrast with your home's exterior. We offer many trim options to accent the curb appeal of your home, including tan, brick red, green, white, brown, black, beige, bronze, clay, gray and more. These color selections add curb appeal and value.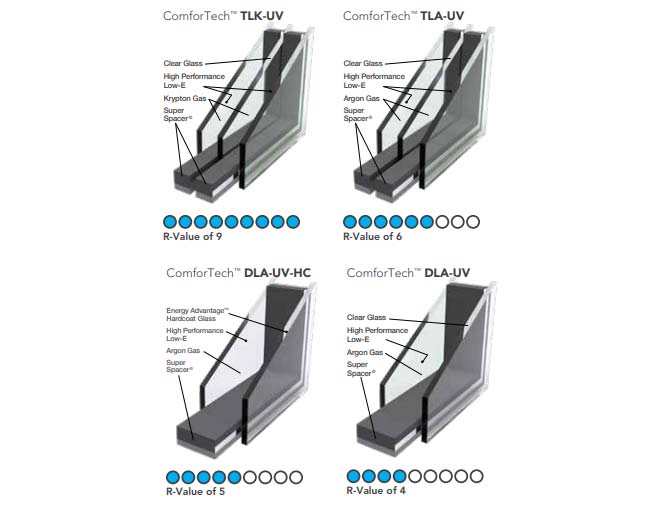 Insulated glass packages
Lowering your heating and cooling costs is a big reason people replace their double hung windows. And whether you choose a triple-pane window with an R-Value of 9.0 or get a more cost-effective double pane glass window with an R-Value of 4.0, they'll be far superior to what you own today.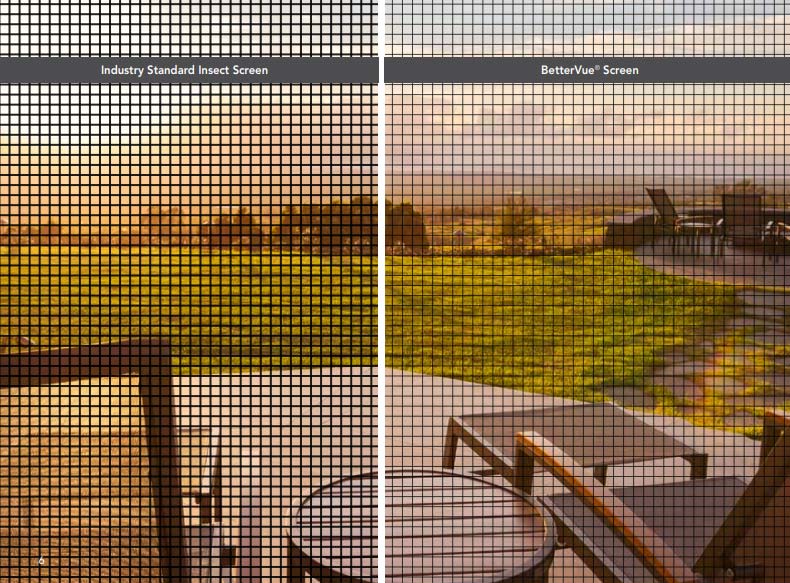 Window screens
This largely overlooked feature makes you love (or hate) your windows. Window with screens which are hard to see out, are a lesson in frustration. Ask about our SeeVue (stainless steel) or BetterVue screens to not only see better, but also improve air flow by 20%.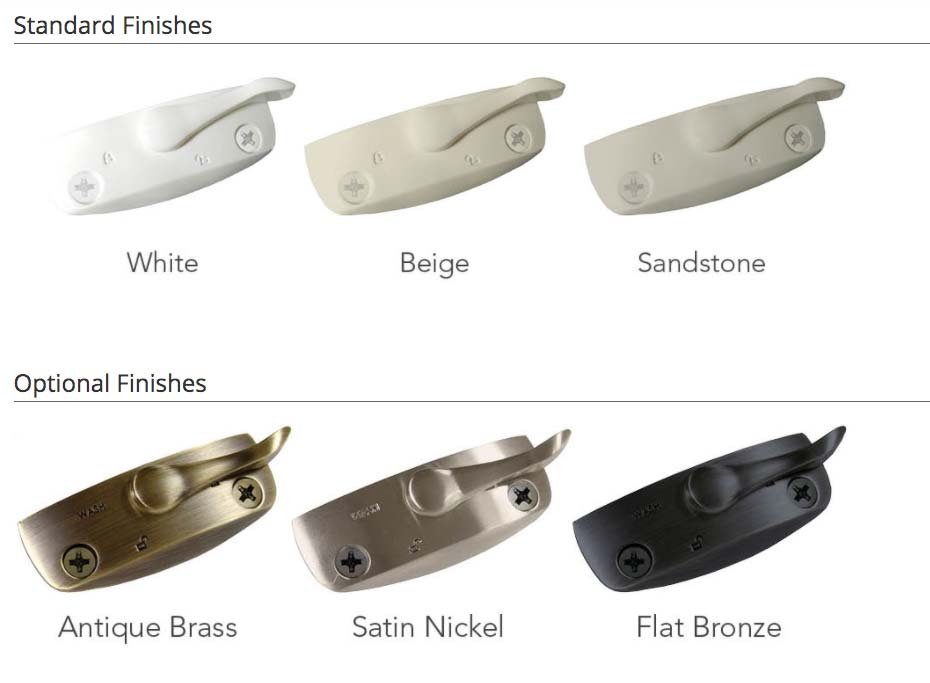 Decorative hardware
Why not have your window hardware flow with your pulls, nobs and handles in your bedrooms, kitchen or bathrooms? Select from white, beige, sandstone, antique brass, satin nickel and even flat brass locks and hardware. 
Our 5-step Sliding Window Replacement Process
We know thinking through the products and installation of sliding window IS NOT something you do every day (or even every 10 years). Our goal at Cleveland Window and Clear Choice Window and Door is to simplify this project for you with this 5-step process:
Step 1 – Set an appointment (live or virtual) to understand your needs – Our process begins by learning the problems with your existing windows and how you want your new ones to work (and look) better.
Step 2 – Custom measure every window opening – Whether you're using a double hung, casement, sliding or picture window, the key to a quality installation begins with an accurate measurement. This ensures a good fit with enough space to plumb and square the new window in place.
Step 3 – Your gliding windows are manufactured to exact sizes with high quality standard features and decorative options– Your windows are custom made with standard features like fusion welded frames, thermal pane glass packages, heavy-duty cams, dual brass rollers and integrated lift rails at the factory. And ask about our decorative glass, grid, miniblinds and woodgrain looks for a one-of-a-kind window. All units include an NFRC (National Fenestration Rating Council) label to verify their performance in your home.
Step 4 – Remove the old windows and install new double hung windows – During the removal process we'll respect your property with tarps and surface protection systems. Once the old windows are removed, we'll ensure the new windows are square and plumb in the opening.
Step 5 – Custom exterior capping installed (most installations)– Our installer will custom cut and fit aluminum capping around your double hung windows to protect water from coming in. In addition, you'll never have to paint the exterior casings of your home.
Frequently Asked Questions
About Sliding Windows
Why choose Cleveland Window and Door or Clear Choice Window and Door (in Columbus) as your vinyl replacement window company?
Whether you live in Brecksville, Beachwood, or Bexley Ohio, we know there's no lack of companies you can hire to do your vinyl replacement windows. And we know you want quality project, built to last, and designed to work for your needs. You also want it backed by a company who stands behind their work. Here's 10 reasons your neighbors have chosen Cleveland Window and Clear Choice Window and Door divisions for their vinyl replacement windows.
Reason #1 – No pushy salespeople – Nobody wants to deal with a salesperson 'pushing' products and demanding you buy today, or this 'deal of a lifetime' will be gone. This IS NOT how Cleveland Window or Clear Choice Window works. We educate. We guide you through the steps in replacing your windows. We provide practical ideas to save money. It doesn't matter whether you need an easier to open window for a ranch home in Reynoldsburg or to replace your deteriorated wood windows in your colonial in Cleveland Heights, we're here to help.    
Reason #2 – We're locally owned professionals in the remodeling industry. We've served 190,000 customers in Cleveland and Columbus. We've been around for 43 years and installed over 1,000,000 windows– You've supported us, and we've appreciated the opportunity to serve you for 43 years. During this time, we've completed over 190,000 home improvement projects). We're locally owned and have done projects from Parma to Pataskala. If you choose Cleveland Window or Clear Choice your hard-earned dollars are staying in the local economy, not siphoned off to an out-of-town franchise. We're accredited members of the Better Business Bureau and NARI (National Association of the Remodeling Industry).
Reason #3 – Low maintenance, high-style, safe vinyl window products –Cleveland Window and Clear Choice Window and Door offers many glass packages, colors, decorative glass options and architectural window features. We have products for any budget (from fancy to no-frills).
Reason #4 – Innovate believes what you 'don't see' is every bit as important as what you do see – The insulation used around the sides of your widow, measuring each window for proper fit, and having a window with a sturdy frame are small things which make a big difference in how the window performs for you. We know this – and WILL NOT skimp on what you 'don't see.'
Reason #5 – Innovate focuses on education and helping you make informed decisions –There's a lot to learn to make smart (and cost-effective) decisions for a replacement window project. Innovate has a library of more than 400 articles and 45 videos to guide your selections and understanding of various home improvement projects. Check out our News from The Block blog to educate yourself.
Reason #6 – Industry leading guarantees – Ask about our industry-leading lifetime guarantees on vinyl replacement windows.
Reason #7 – We offer flexible payment options – We know new windows can be a big expense. We also know not everyone has pre-planned and budgeted for the job. It's for this reason we offer financing plans so you can make small monthly payments, yet still get the project done in the time frame you need.
Reason #8 – A 'one-stop-shop' for all your window needs – With Cleveland Window and Clear Choice you'll be able to get all the windows completed for your home at one time. Whether it's first floor, second floor or even glass block basement windows through our Cleveland Glass Block and Columbus Glass Block divisions, you'll know you're safe with us.
Reason #9 – Cost-effective window pricing – Our philosophy is not to be the biggest window company in the market, it's to provide the best value for your money. Towards this end we ARE NOT big spenders in advertising to 'get in the door' and use high-pressure sales tactics. We concentrate on working with our past customers and referrals and we offer a wide variety of products at fair prices. You'll find our lower sales and marketing costs allow us to be more competitive than 'big companies' like Pella, Renewal by Anderson, Rosati, and Champion.
Reason #10 – A wide variety of products – Our philosophy is not to sell manufacturer but to offer a wide range of products from manufacturers like Alside, Polaris and ProVia. These offerings suite any size budget or project.
Dependable Replacement Window Installers in Cleveland and Columbus Ohio
Cleveland Window & Door or Clear Choice Window & Door in Columbus can professionally install all of your replacement windows—and give you the peace of mind of a company whose installed over 1,000,000 windows since 1977.
Click map markers for service area info
4566 East 71st St.
Cuyahoga Hts, OH, 44105
Serving greater Cleveland, Lorain, Elyria, Akron & surrounding areas
3091 East 14th ave.
Columbus, OH 43210
Serving greater Columbus, Zanesville & surrounding areas