Welcome to Columbus Glass Block…we're more than just a regional glass block installer.
Glass block windows or walls aren't something you buy every day. You need a company who knows what they're doing (and yes, we've been supplying and installing glass blocks for 44 years now). However, you also want someone who will be glad to work with you (whether you need one small basement, garage or bathroom window, or a complex glass block shower wall or large commercial windows for your factory). 
Columbus Glass Block
3091 East 14th Ave.
Columbus, OH 43219
Serving Columbus (and surrounding suburbs) with installation service and glass block product supply
Below are people we're honored to help with glass block projects.
Homeowners with projects big and small – Basement, bathroom and garage windows or shower walls, partitions, or a glass block bar for your rec room are jobs we've been doing since 1977 in Ohio – and in Central Ohio since 1988. In fact, with glass block shower walls we'll not only design and build the glass block wall, but also the entire shower for you!
Home builders and remodeling contractors – If you need a glass block window or wall, we can design and install it for you.
Architects and building owners for commercial or residential projects – If you need old windows replaced in a factory or are designing a stylish entrance for a prestigious firm, we're here to help.
Why buy from Columbus Glass Block?
You have options for prefabricated and installed glass block windows, shower walls or bars. So, why choose Columbus Glass Block? Here's 10 reasons (besides the fact our Mother's still love us):
Reason #1 – We're not rookies – With over 1,000,000 windows installed since 1977 in Ohio, you'll know this isn't 'our first rodeo.' We've 'been around the block.' Yes, this bad pun was intended.
Reason #2 – Award winning service – We've won Angie's List Super Service Award for countless years. Check out our service by clicking 'Google reviews.'
Reason #3 – We offer professional installation or simple-to-install DIY systems – We want to make glass block windows or walls are simple for you. If you're in Columbus, or Circleville or Zanesville we can provide professional installation service, or we'll prefabricate windows and shower walls for you to DIY the job (no matter where you live in the United States).




Reason #4 – We stand behind our work (warranties to make you feel safe and secure) – You'll get a lifetime warranty with our installations and products. Rest easy.


Reason #5 – We work hard to educate you – We understand a successful project begins with education. If you want to learn about glass blocks, you'll find over 250 articles on glass block windows, shower walls, partitions and commercial jobs on our News from The Block blog. We even get over 200,000 visitors to our blog every month now! What's maybe more amazing is I started writing these articles before I had gray hair.
Reason #6 – No pushy salespeople – Who likes high-pressure home improvement salespeople? This would be no one! That's why our goal is to educate you, provide solutions to your problems and let you decide without having to 'sign today.' Our sales process begins by learning what you don't like. We answer your questions. We provide straightforward answers (not technical mumbo-jumbo).  
Reason #7 – Largest inventory of glass blocks and accessories in Ohio – Visit our 7,000 square foot facility near the Columbus airport or our 15,000 square foot facility in Cleveland and you'll see we're serious about glass blocks.
Reason #8 – Strongest (and most waterproof) glass block prefabricated windows available– Ask about our Protect-All Glass Block Windows. They're 21% more energy efficient. They're stronger than standard mortar or silicone windows. They seal better.
Reason #9 – We want you to know who you're dealing with – Before sales appointments we'll send a bio of who will be showing up on your doorstep. We want you to feel secure every step of the way.
Reason #10 – Our experience goes beyond 'glass blocks only.' While we're certainly glass block specialists (and have been doing this work since 1977), we've learned a lot more about remodeling along the way. For example, if you have a shower, we'll not only design and build the glass block walls, but also provide durable solid surface shower pans and waterproof grout free shower wall panels. There's no need to coordinate with multiple contractors to get the glass block shower and bathroom remodeling project you desire.
Our History – our roots started in a city up north (but not in 'THAT state up North!)
(1977) Our corporation was launched in Cleveland Ohio under the name of Cleveland Glass Block. It started in the garage of a commercial masonry company owned by my late father, Joe Foti. You see Dad was recruited by a glass block manufacturer to launch this product in Ohio, and he jumped at the chance.
The manufacturer (and my Father) saw an opportunity to grow glass blocks to not only be used in schools and factories, but also in homes for basement and bathroom windows or shower and partition walls. However, there were challenges.
Simple to install systems didn't exist.
Qualified installers were nowhere to be found.
Products to make the product more useful (like air vents for glass block basement windows) or fun (with etched and colored glass blocks) were as invisible as Casper the Friendly Ghost.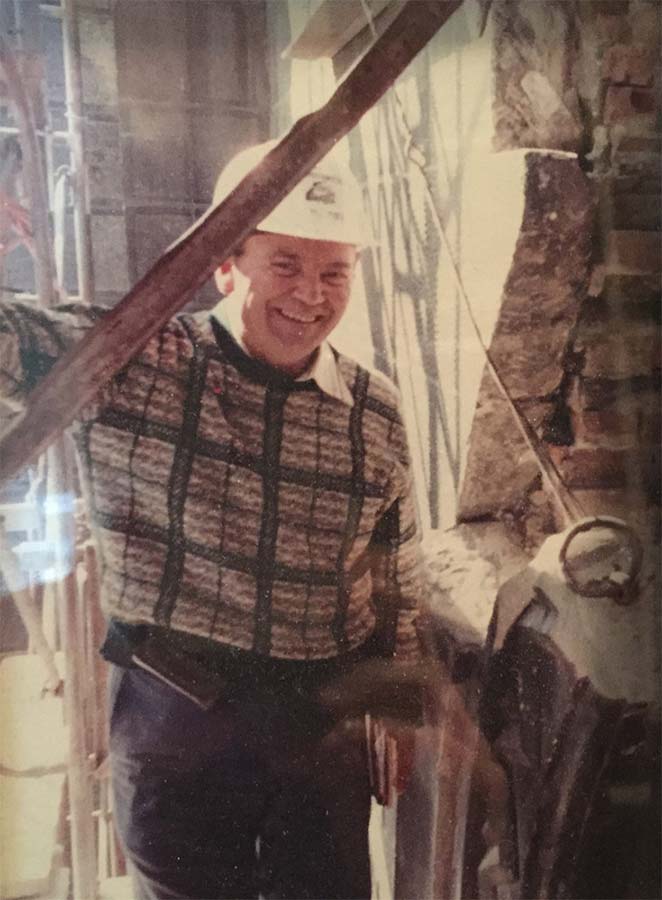 Joe Foti
An innovative company was needed to grow glass blocks in Ohio (and beyond). Enter my Dad. He wasn't simply an Italian immigrant. And he wasn't simply a doggone smart guy (which he was). He was determined to grow. He was determined to make homes and businesses better with glass blocks.
His youngest son ('er me) wants to 'buy in'
(1985) As the saying goes the 'entrepreneurial apple doesn't fall far from the tree.' In 1985, (during my last semester finishing my MBA from Case Western Reserve University in Cleveland) I decided to do a Strategic Plan on my Dad's glass block business. I was working a corporate job in Cleveland at the time.
While doing the plan I thought Cleveland Glass Block had a lot of potential. I asked Dad to 'buy in.' He sold me half the business. He floated me the loan. And yes, I paid him back WITH INTEREST. I chucked my 3-piece suit and started wearing jeans more fitting for my entrepreneurial construction life.
And since I haven't introduced myself to you yet, I'm Mike Foti – President of Innovate Building Solutions and blogger behind News from The Block. And yes, I had zero gray hairs before getting into this business and starting this blog!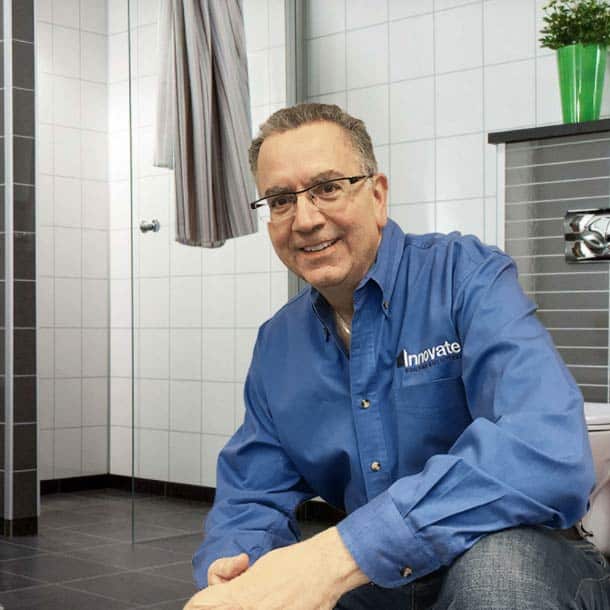 Mike Foti
We grow geographically. We add products and services. We sell our products nationwide
(1988) Opened Columbus Glass Block. Columbus Glass Block was launched in 1988 because we saw a need for a competent glass block supplier and installer in the Central Ohio market. We have grown into larger and larger warehousing spaces and now you'll find us out by the airport on the East side of town at 3091 East 14th Ave. in Columbus.
(2008) We start selling our glass block windows and shower walls nationwide. The growing popularity of glass block pre-made windows and walk in shower walls (and our work educating through blogging and videos) helped us build a nationwide market for our glass block walls and windows. We started a nationwide wholesale supply program.
(2009) We start offering vinyl replacement windows and doors. Many of our glass block basement and bathroom window customer asked for help with their upper floor vinyl replacement windows and doors. This resulted in us launching Clear Choice Window and Door. Sure, we're not as well known as a company like Rosati, but we can supply you with just as stylish windows and patio doors at more cost-effective prices.

(2011) We started offering unique bathroom and shower products – some which didn't even exist in the United States market before. When we opened our Bath Doctor division, we saw an opportunity to go beyond (just) selling a glass block window or shower wall – but to also bring you innovative grout free shower panels and shower bases to not only Central Ohio, but to distribute across the country.

(2012) We bring all our brands together under one name – Innovate Building Solutions.
As we saw our products and services used together (for products we install and wholesale regionally and those we shipped nationally) we recognized the time had come to 'bring everything together' under one site and one name.
And since our goal is to offer innovative building products (not the 'same-old, same-old' building products most 'stuck-in-the-mud' contractors want to force you to use)– we chose the name Innovate Building Solutions.
We've kept our local names to respect our history and make it easier for 180,000 past customers to find us. But Innovate is about much more than a single product or service. Our overreaching goal is simply one thing…
Today, Innovate Building Solutions is about much more than products or services. Our overreaching goal is simply one thing…it's to help you!
Thanks for taking the time to learn about us. It's our pleasure to serve you. Call me any time.
Mike Foti
President, Innovate Building Solutions